Choosing The Perfect Furniture Sets For Your Bedroom
If there's one place in the home that should be tailored to maximize comfort and meet your every need, it's your bedroom. The place where you relax, unwind and rejuvenate, your bedroom needs to be inviting, invigorating and a little bit luxurious.
If your current setup isn't working, now's the perfect time to upgrade your furniture and create the bedroom you truly deserve. Here's a little inspiration to help you find the perfect furniture set for your bedroom and build an interior that really reflects your lifestyle.
How Do You Use Your Bedroom?
Before you start investing your hard-earned money in new furnishings or accessories for your bedroom, it's important to think about how you use the space. This will help to ensure you create a room that really works for you.
For example, do you need lots of storage for clothes and shoes? Space to get ready for a night out? a place to relax and escape the rest of the household? or a room that will help you find peace at the end of a busy day? Once you've decided how you're going to use the space and what your priorities are, you can get on with the fun bit and start shopping.
Bedroom sets, and specifically sets that allow you to build your own layout, are a great place to start. Incredibly convenient and offering good value for money, they make it easy to purchase all the furniture you need in one go.
If you prefer a more eclectic look, you could choose pieces from different collections and put a set together yourself.
Measure Twice, Buy Once
Unless your bedroom is big enough to accommodate an entire furniture shop, you'll need to measure it first to check you've got enough space to fit everything in. If you've just moved into a new home, think about where you're going to put your bed, where your wardrobe is going to go and where your other furnishings can sit.
The bed will definitely be the most important feature. So, start by measuring the space available for this integral focal point. Double bed frames come in three main sizes, standard, queen and king. You can also find three-quarter doubles for small rooms and super king frames for larger spaces.
Once you've decided on a bed size, you can start looking at bedroom sets to see which has the style and functionality you're looking for.
Bedroom Styling
Speaking of style, this is the next big decision you'll need to make. If you haven't yet chosen a bedroom look, you can find interior design inspiration from all sorts of places. For example, you might want to choose a color scheme that reflects the tones in your favorite bed sheet. Or you may want a look with a vintage feel or Scandi-cool aesthetic.
A great option for a mid-century modern themed room is the Emery Build-Your-Own Bedroom Set. The dark wood finish gives these furnishings a luxurious, retro look, while the brass detailing lifts pieces and brings a little playfulness to the layout.
For a lighter, more Scandinavian feel, opt for the Seb Bed with Bedside Table Set. The rounded corners help to soften the look of these beautifully crafted furnishings, while the fluted legs add a mid-century feel to the contemporary design.
The Seb Bedroom Set works itself easily into any look, particularly Scandinavian looks.
Functionality for Bedrooms
Although looks are of course important, functionality is crucial to the success of your new bedroom.
Both the Seb and Emery beds come with matching dressers and bed side tables. And as both are build your own sets, you can add as many extras to your layout as you need. This allows you to maximize the functionality of your space while ensuring all your furnishings work perfectly together.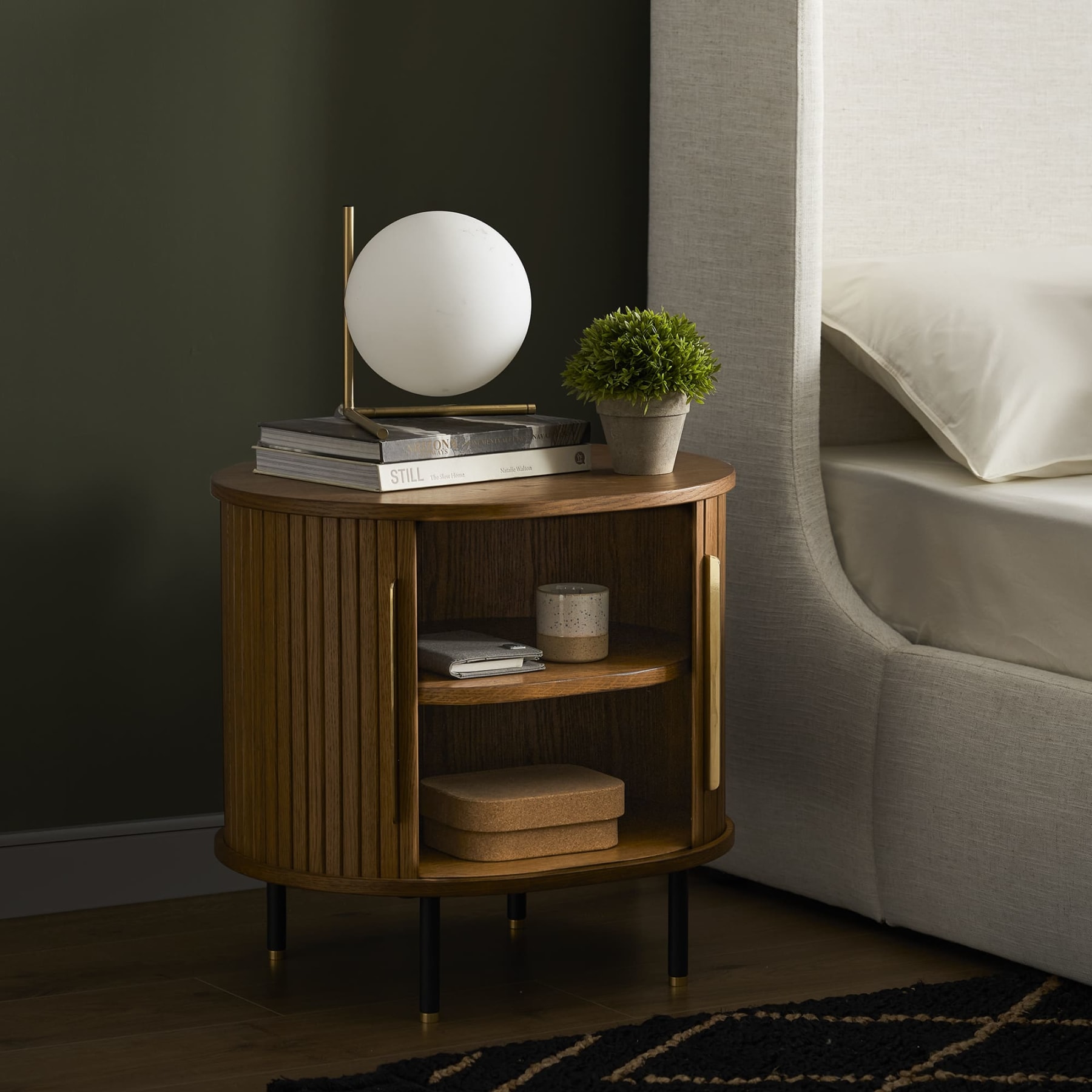 Add some mid-century flair to your bedroom with the latest addition to the Harper series, the [Harper Side Table].(https://www.castlery.com/sg/products/harper-side-table)
Most people like to have a nightstand on either side of the bed as they provide somewhere handy to put lamps, books and glasses of water. Choose a set of nightstands with built in storage, like drawers or cupboards, to make it even easier to tidy away books, chargers and other accessories and keep your bedroom neat.
Adding a dresser to your room will give you even more great storage space and help to tie your layout together. As well as being the perfect place to keep your socks, dressers can also be used as display areas. Put photo frames, plants, mirrors and other objects on top of the dresser to add personality and style to your bedroom.
Accent pieces
Now you've decided on the key elements of your new bedroom, you can have a little fun with the accessories. Think about adding a bright, bold accent chair to the room to bring a little color and create a different 'zone'. Chaise sofas and small two-seaters can also look great in larger bedrooms.
If you don't have space for a chair or sofa, you can add color to your room by placing scatter cushions on the bed or draping a throw over your duvet. Bright wall art and large plants can also help to give your room a little more life and personality.
Investing in a stylish and convenient bedroom set will help you to create a layout that looks great and works for you. Get more ideas and inspiration, and start shopping for your favorite furnishings, by taking a look around today.