With HDB flats becoming the most common housing choice for Singaporeans, the limited square footage can pose a challenge when it comes to creating an open and spacious feel in your home.
But, while you don't have the luxury of a two- or three-story bungalow, you can still create the illusion of a bigger space!
With the right styling techniques and expert advice from Adrika, our in-house interior stylist, you can transform your HDB into a seemingly larger and more inviting space.
10 tips to make your HDB seem bigger
Choose furniture that floats off the ground
Floating furniture creates the illusion of more visual space. As the floor is still visible, this gives the impression of a large and less crowded room.
@wethejays maintains a light and airy home with raised furniture. Pictured: The Harper TV Console and Isaac 3-Seater Sofa.
"It also promotes airiness and a sense of lightness in the room. It doesn't obstruct the floor, which makes it easier to move around and maintains an open feel," says Adrika.
Use multi-purpose furniture
Multi-functional furniture can help you optimize space by serving more than one purpose, which is especially advantageous in smaller living areas.
"Look for sofas that can convert into beds, nesting coffee tables, drop-leaf dining tables, and storage ottomans. These versatile pieces can make the most out of your limited space, so you have fewer things in a confined HDB."
Don't be afraid of repurposing furniture as well, such as repurposing a sideboard into a vanity or work desk to maximise space in the bedroom, or perhaps even a makeshift bar in the dining room.
Recommended read: How to Create Your Own Coffee Shop at Home
@cozyspaceinterior and @hausonthehorizon brilliantly repurposed the Lily Sideboard into a drinks bar in the dining area.
Opt for benches instead of chairs
Benches offer more flexibility when it comes to seating and are typically narrower than individual dining chairs.
"As benches can often accommodate more people in less floor area compared to traditional chairs, this is particularly advantageous in HDBs where maximizing space is crucial," says Adrika.
The Seb Dining Bench and Vincent Dining Table in Oak create an airy space. Picture credits: @urbanhomedesign_sg
Embrace light colours
"Light colours work wonders in creating an open and airy atmosphere. Soft hues like whites, creams, and pastels can reflect and bounce natural light around the room, making it feel more expansive," says Adrika.
Use these colours for your walls, furniture, and decor elements like curtains, rugs, and bedding. If possible, opt for light-coloured flooring, such as light wood, pale laminate, or white tiles.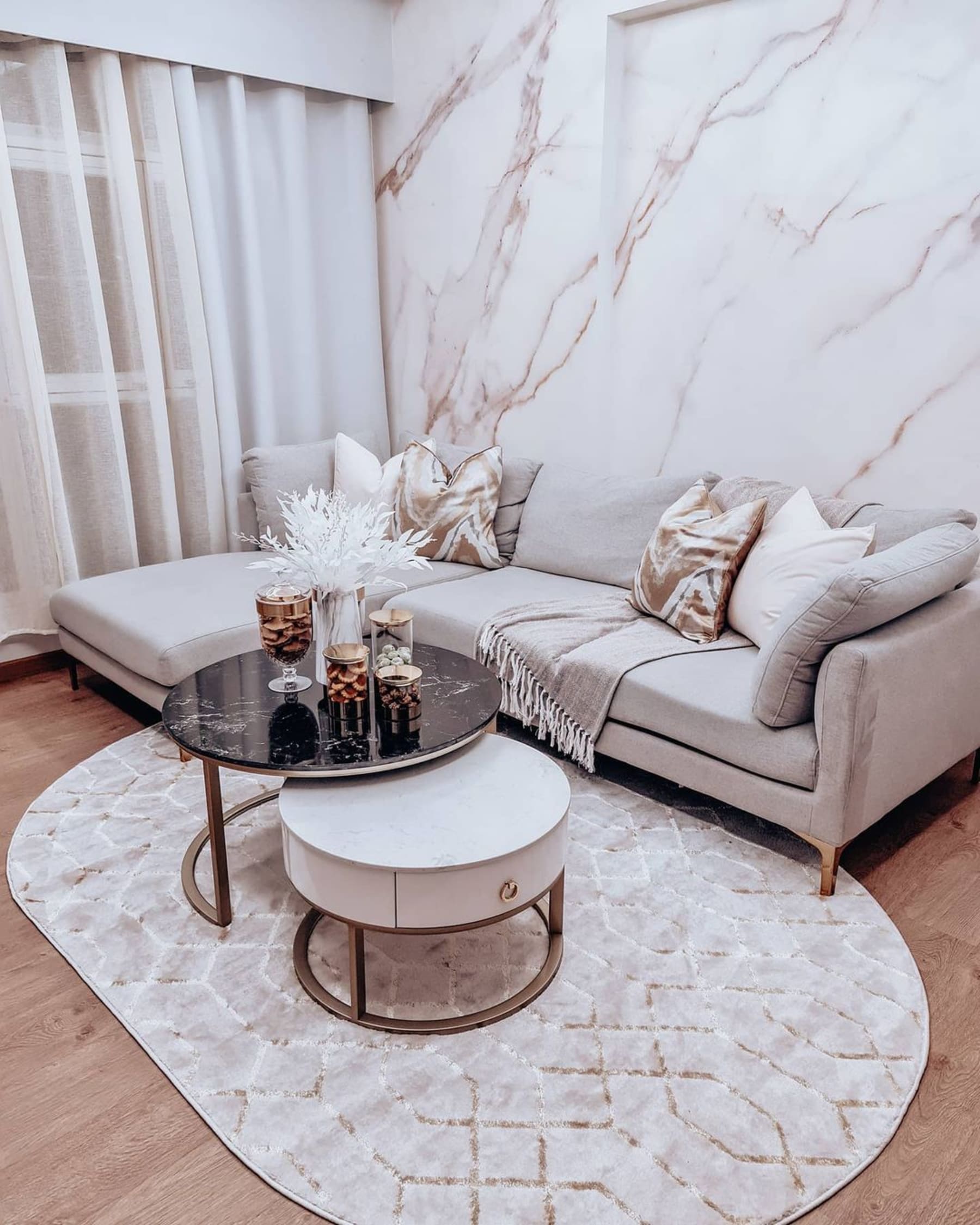 @atinymodernluxe pairs the Adams Chaise Sectional Sofa with the white and grey palette in their home, alongside gold accents for that luxury vibe.
To add visual interest, consider using subtle contrasts within your light colour palette. For instance, you can choose slightly different shades of light grey or pastel colors for different elements in the room, creating a layered and cohesive look.
Warmth can also be added to the home with wood accents like coffee tables and TV units. "Don't be afraid to mix timbers to add extra depth and interest to a space," she adds.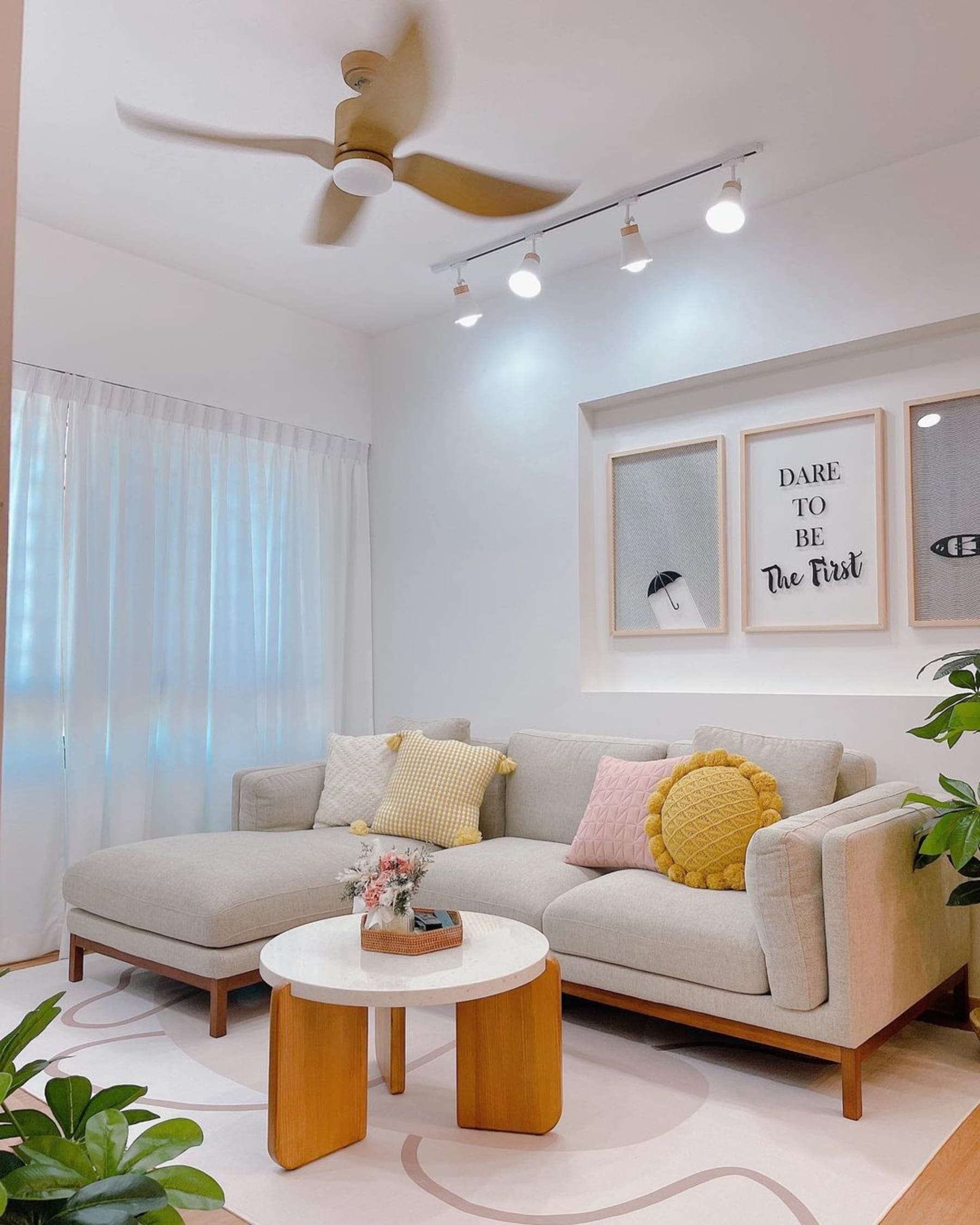 @shuangclinmen matches the Owen Chaise Sectional Sofa in Natural Leg with their wooden flooring and coffee table.
Choose storage solutions carefully
"Effective storage is key to keeping your HDB organised and spacious. Invest in furniture that has ample storage space so you don't leave things lying around - think coffee tables with storage, storage beds, and wall-mounted shelves," says Adrika.
Stow away remotes, books, or board games in the Seb Coffee Table with Storage.
Hooks and racks are also great options to make use of space behind doors or on walls for hanging bags, keys, and other items.
Don't forget about lighting
Lighting can significantly impact the perception of space and the overall ambiance of your home.
Firstly, maximise the amount of natural light in your HDB to create a bright and spacious atmosphere. "Keep windows unobstructed, and use sheer curtains to allow light to enter while maintaining privacy."
@jacylnchan allows ample natural sunlight to enter the bedroom. Pictured: The Dawson Bed.
In HDBs with lower ceilings, consider using ceiling lights that don't hang too low. Flush-mount or semi-flush-mount fixtures are good options as they don't encroach on headspace and create a sense of height.
Go vertical
"In a small space, don't neglect your walls and use them to their full potential!"
Vertical shelving units and tall bookcases can make the most of your available height, keeping the floor clear. With less clutter lying around, this makes the space look clutter-free and larger.
@apt.batok creates a clean and uncluttered space with the Esther Bookshelf.
As vertical lines draw the eye upward, Adrika recommends hanging floor-to-ceiling curtains to create a feeling of height and grandeur.
"Mirrors are a secret weapon in making any space seem larger," Adrika remarks.
Strategically place mirrors on walls opposite windows to reflect light and create the illusion of depth. A well-placed mirror can visually double the size of a room and add a touch of elegance to your decor.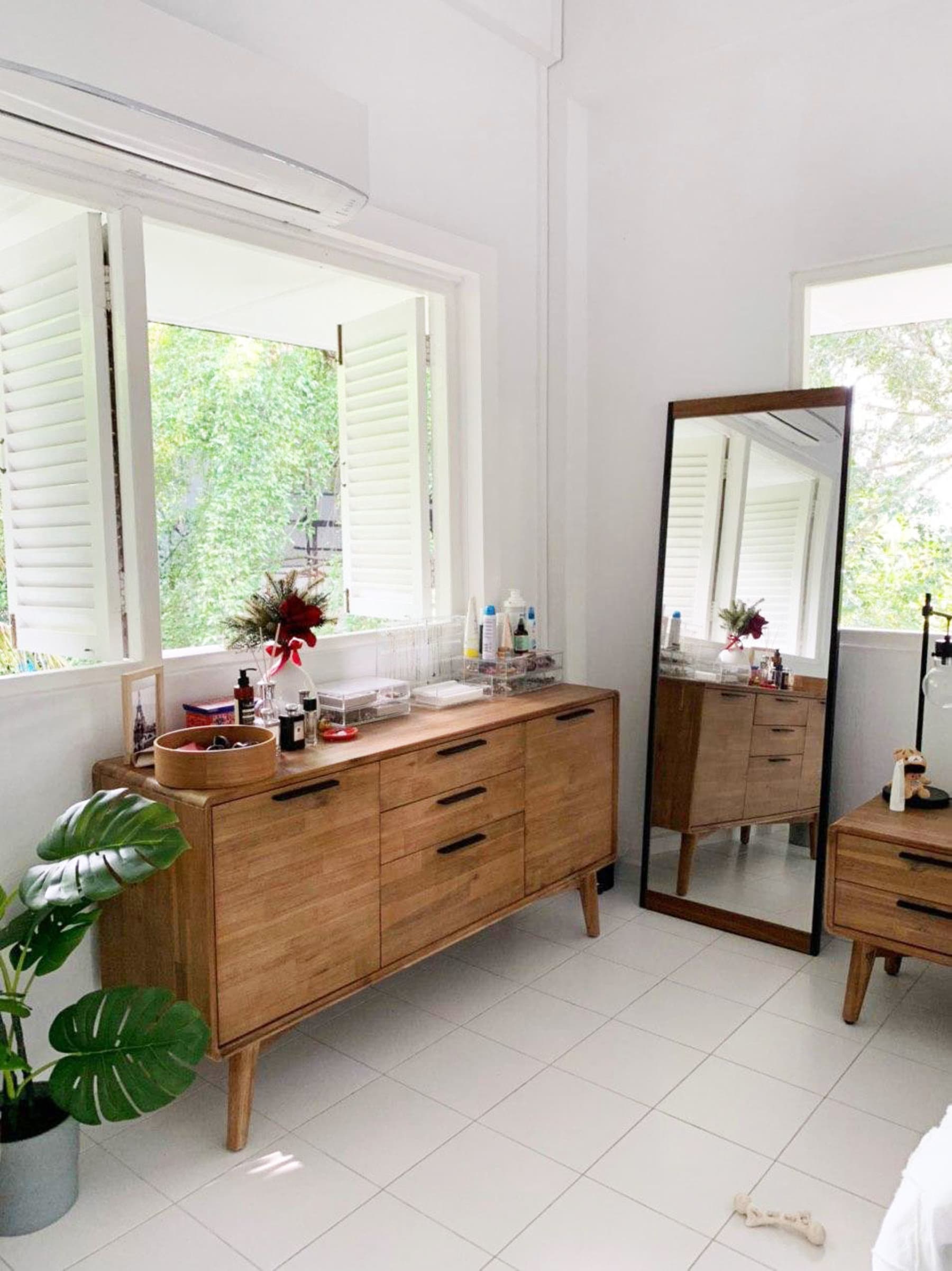 Placing a mirror near the window can help to reflect light and make the room brighter. Pictured: The Seb Sideboard.
However, when placing mirrors in your bedroom, be careful not to place them facing your bed as this is not a good feng shui bedroom practice.
Delineate the space with rugs
With an open floor plan in most HDBs, especially in the living, dining, and kitchen areas, rugs can help define spaces and create individual zones.
"You can use a large area rug to outline your living room area, and another one under your dining table to establish the dining zone. Choose rugs that complement each other in terms of colour or style to maintain visual harmony."
@tidplus_design designates the living room with a rug in this open-layout home. Pictured: The Harper TV Console, Amber Bouclé Swivel Chair, and Peri Coffee Table.
Adrika also shares that it's important to leave some space between the edge of the rug and the walls, as this helps define the zone without making it feel cramped.
Recommended read: How to Place Area Rugs in the Living Room
Create a feature wall
"A feature wall is designed to stand out and draw attention. When done thoughtfully and in the right context, it can effectively make your HDB look bigger," she mentions.
Carefully choose which wall to turn into a feature wall. Ideally, it should be a wall that naturally draws the eye, such as the one behind a bed or the wall opposite the main door.
Designers at Thexton Smith created a feature wall behind the wall-mounted TV in the living room. Pictured: The Odette Performance Bouclé Sofa.
Opt for lighter colours like whites and pastels to make the wall seem further away, giving the impression of a larger room. "You can even use reflective materials like glass or mirrored tiles that can add depth and brightness to the wall."
Aside from paint, you can consider options like wallpaper, wood panelling, stone veneer, or decorative tiles.
Transforming your HDB into a more spacious and stylish haven doesn't have to be a challenge. By implementing these expert tips, you can make the most of your limited square footage and enjoy a more open, inviting living environment.
Remember, it's all about smart furniture choices and clever design strategies that maximise both aesthetics and functionality in your HDB. So, get started on your styling journey and watch your home become a bigger, more beautiful place to live.