A living room is a space where you relax, entertain, and spend quality time with family and friends. One essential element that can transform the look and feel of your living room is an area rug. It adds warmth, comfort, and style while also serving practical purposes such as defining seating areas and protecting your flooring.
In this comprehensive guide, we will explore the art of placing and choosing the perfect area rug for your living room. Whether you're looking for guidance on area rug placement, size selection, or style, we've got you covered.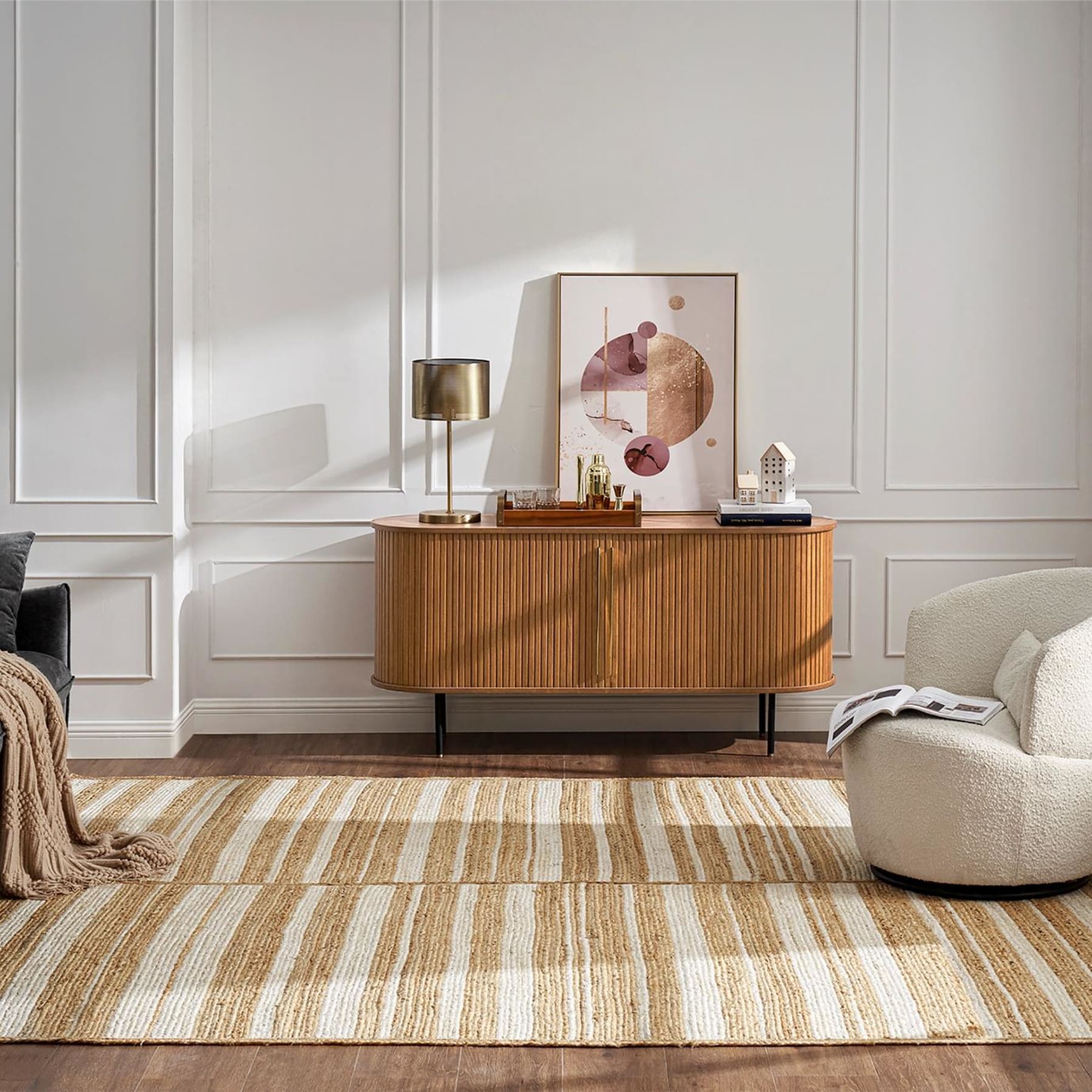 Pictured: Yara Jute Rug. Made of natural materials, jute rugs are durable options that hold up well in busy spaces.
Understanding Area Rug Placement in Your Living Room
Placing an area rug correctly in your living room can make a significant difference in the overall aesthetics and functionality of the space. Here are some tips to help you achieve optimal area rug placement:
Define Seating Areas: Use an area rug to anchor and define specific seating areas within your living room. This creates a cohesive and organized layout.
Front Legs On or Off: When placing an area rug under furniture, a general rule of thumb is to have the front legs of the larger pieces (such as sofas and armchairs) either fully on or slightly off the rug. This visually connects the furniture while maintaining an open and spacious feel.
All Legs On: Alternatively, for a more intimate and cozy arrangement, you can opt to place the entire furniture piece, including all legs, on the area rug. This works particularly well in smaller living rooms.
Furniture Placement: Pay attention to the placement of your furniture in relation to the area rug. Ensure that the rug extends beyond the furniture footprint to create a harmonious and balanced look.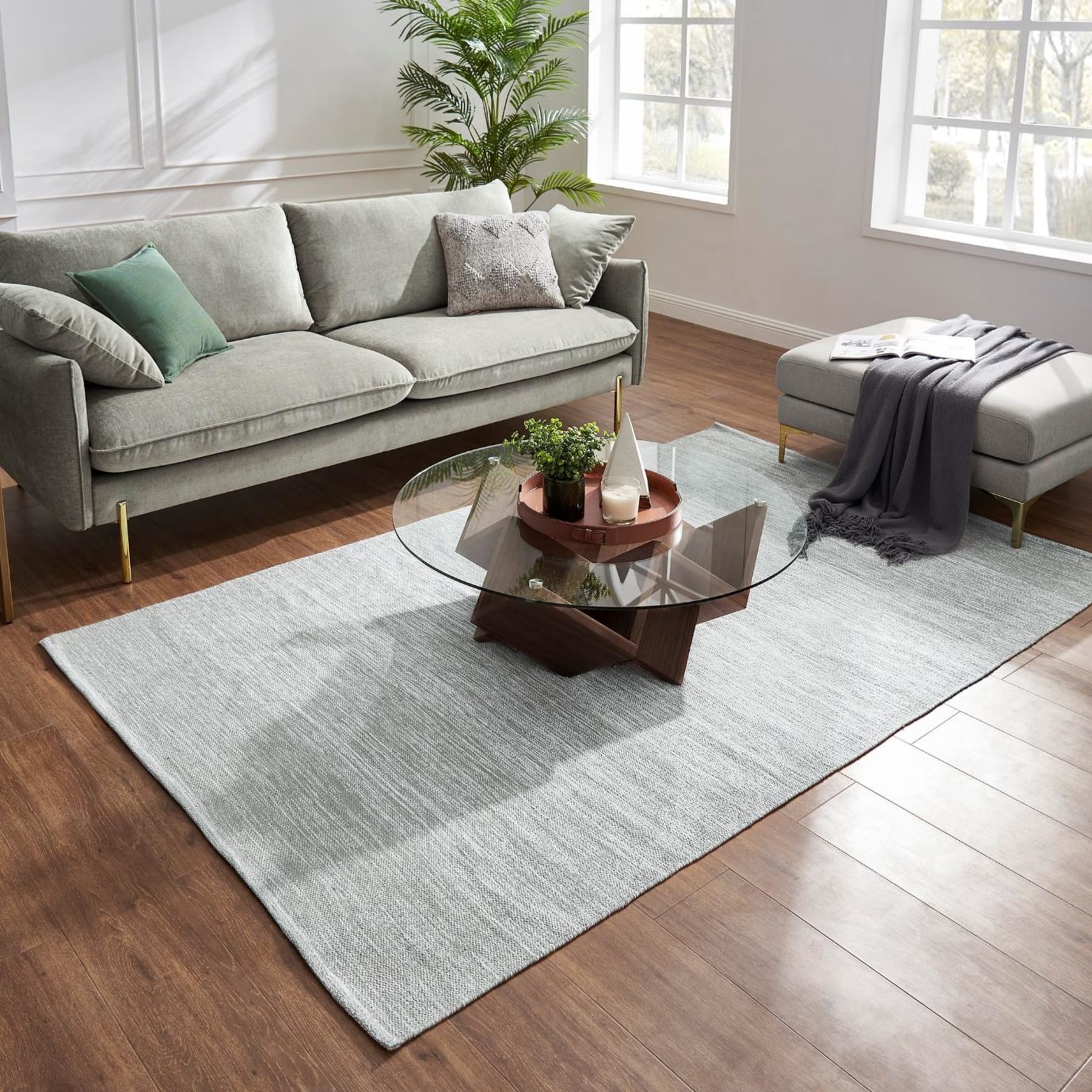 Rugs are soft furnishings that do wonders for anchoring a large space. The Nova Cotton Rug's neutral appearance makes styling an absolute breeze.
Choosing the Right Size for Your Living Room Area Rug
Selecting the appropriate size for your living room area rug is crucial for achieving the desired visual impact and functionality. Here's how to determine the right size:
Room Size Matters: Consider the dimensions of your living room when choosing an area rug. Larger rooms can accommodate larger rugs, while smaller rooms require appropriately sized rugs to avoid overwhelming the space.
Standard Rectangular Sizes: Common rectangular rug sizes for living rooms include 4' x 6', 6' x 9', 8' x 10', and 9' x 12'. These sizes work well for most seating arrangements and allow for a balanced placement of furniture.
Round and Square Options: If you have a square seating area or prefer a more unconventional shape, consider round or square area rugs. Popular sizes for these shapes range from 6' to 10' across.
Visualize with Tape: To envision how a specific rug size will look in your living room, use painter's tape to mock the rug's dimensions and placement on the floor. This technique provides a helpful visual reference before making a purchase.
Exploring Different Area Rug Materials
The material of your area rug plays a crucial role in its durability, comfort, and overall appearance. Here are some popular rug materials to consider:
Natural Fibers: Wool, cotton, and jute are natural fiber options that offer a range of textures, patterns, and colors. These rugs work well in both casual and elegant living rooms, as they are durable and easy to clean.
Synthetics: Polypropylene and viscose rugs are woven synthetics known for their affordability and stain resistance. These rugs are suitable for high-traffic areas or if you frequently update your decor.
Hides: If you're looking to make a bold statement, consider sheepskin or cowhide rugs. These luxurious options add texture and sophistication to your living room. However, they may require extra care and are better suited for low-traffic areas.
Enhancing Your Living Room with Stylish Area Rug Designs
Choosing the right style and color for your living room area rug can tie the entire space together and enhance your existing decor. Consider the following tips:
Pop of Color: In neutral rooms, use an area rug as an opportunity to introduce a vibrant pop of color. Whether it's a solid-colored rug or one with patterns, it adds interest and personality to your living room.
Patterned Hideaways: Patterned rugs are not only aesthetically pleasing but also practical for hiding spills and dirt. They can be an excellent choice if you have children or pets.
Balancing Dark Colors: Dark-colored rugs can show fading, dirt, and particles more easily. Regular cleaning may be necessary to maintain their appearance. However, they can provide an elegant and sophisticated touch to your living room.
Harmonizing with Decor: If your living room is already filled with colorful elements, opt for a neutral woven rug. This allows your furniture, wall art, and decor to take center stage while creating a cohesive and balanced look.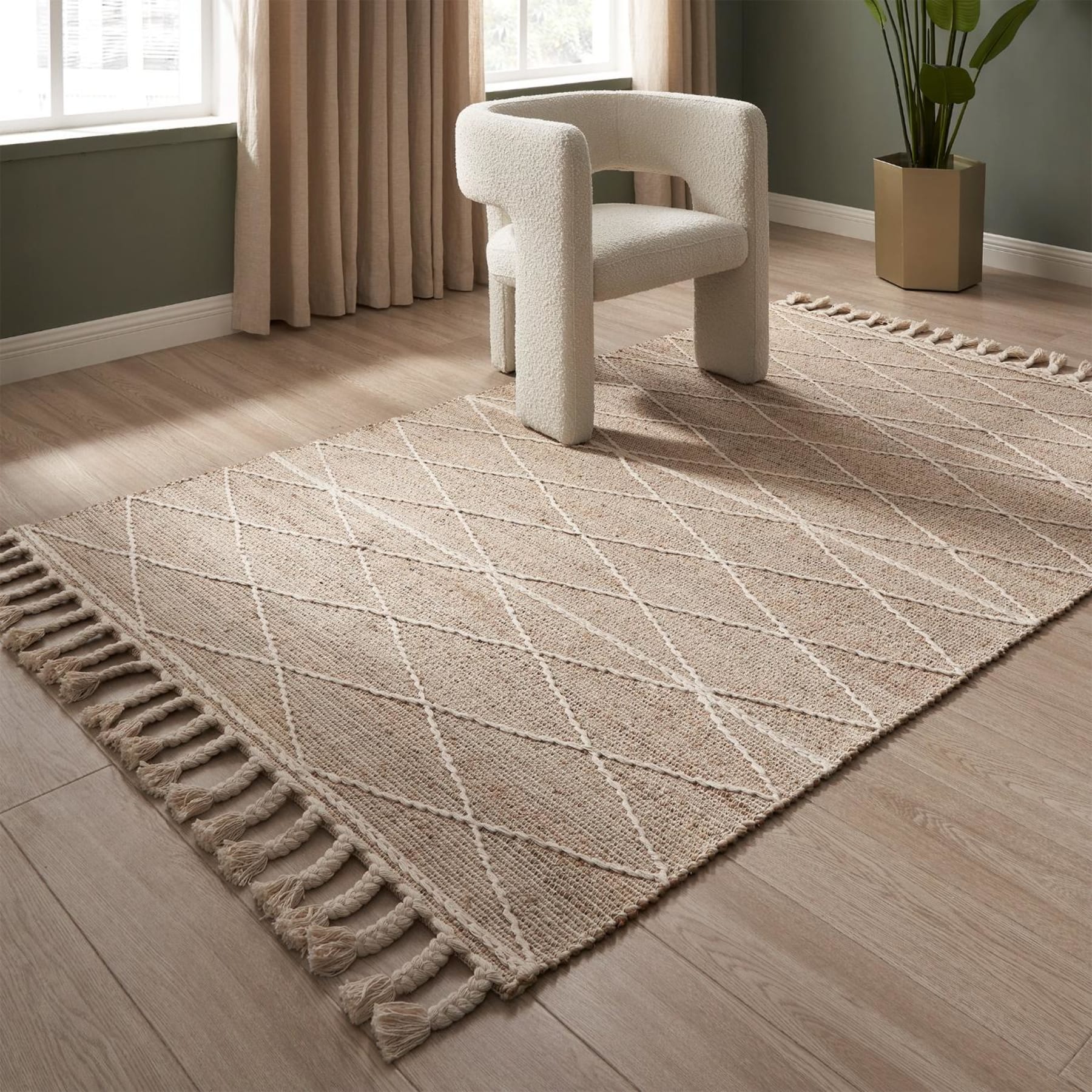 Pictured: Lilou Rug. Complement your interior with a rug that matches the textures of your home.
Stylish Ideas for Living Rooms with Area Rugs
To inspire your creativity, here are some stylish ideas for incorporating area rugs in different living room setups:
Layered Rugs: Experiment with layering rugs of different sizes and textures to create a visually appealing and cozy atmosphere. This technique works well in eclectic and bohemian-inspired living rooms.
Geometric Statements: Choose a rug with bold geometric patterns to add a modern and contemporary touch to your living room. This works particularly well in minimalist or mid-century modern decor styles.
Natural Elegance: Embrace the beauty of natural materials by opting for a sisal or seagrass rug. These woven textures bring a touch of organic elegance to your living room.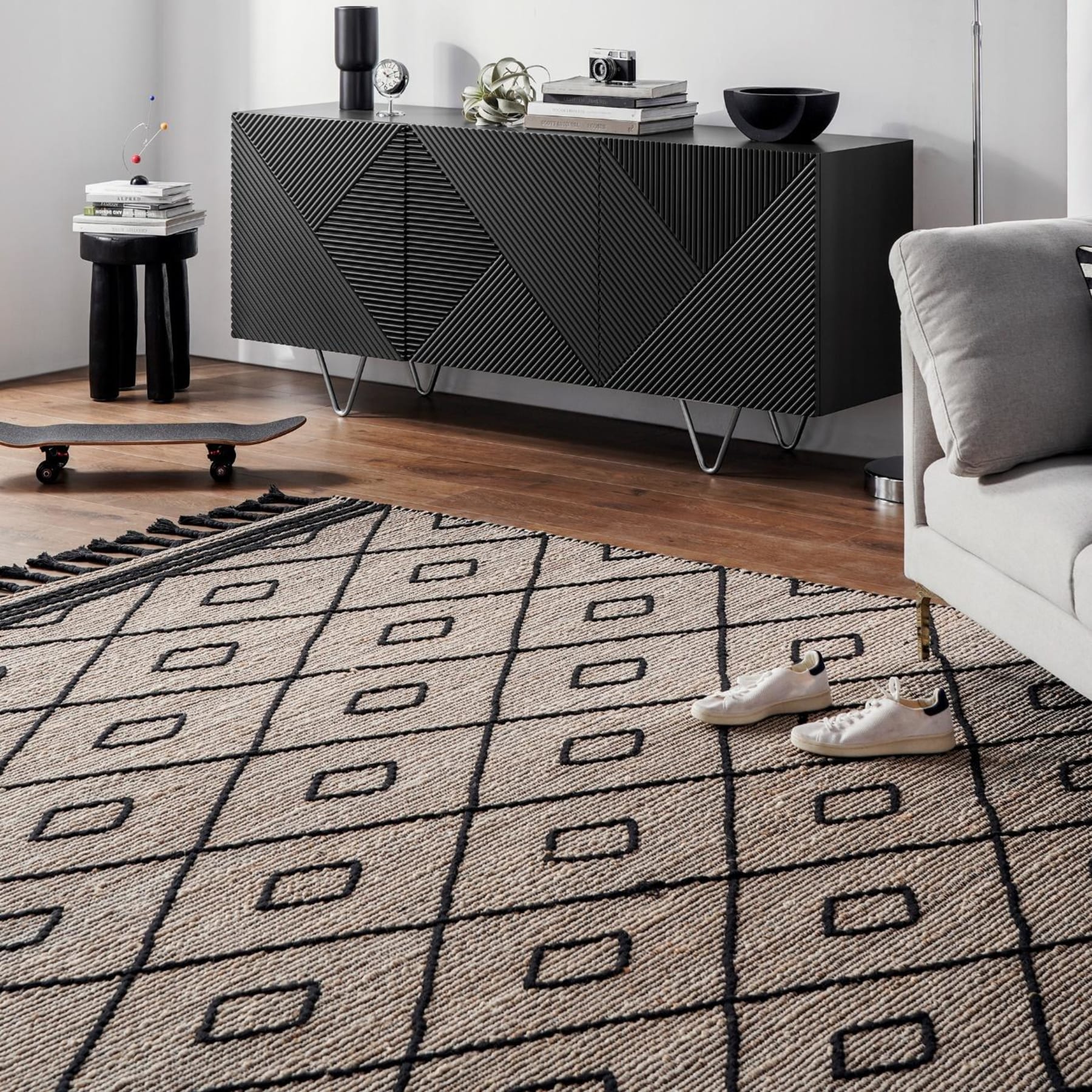 Take a bold approach to interior styling with the Ventura Rug. This handwoven piece makes a statement with its eye-catching diamond patterns.
Choosing and placing an area rug in your living room is an art that can elevate the overall ambiance and functionality of the space. By following the guidelines in this comprehensive guide, you'll be equipped with the knowledge and insights needed to select the perfect area rug that complements your living room's style, enhances comfort, and creates a welcoming atmosphere for you and your guests. Transform your living room with the power of an area rug and enjoy the benefits it brings to your everyday living.