With your house on the cosier side, the limited space to accommodate loved ones during large gatherings can be a challenge.
But fret not! The amount of space you have doesn't define how memorable the experience can be. With a bit of creativity and some strategic planning, you can create a warm and inviting atmosphere that your guests will adore.
Let's dive deeper into some tips and ideas on how to make the most of your small space as the holidays draw nearer.
6 tips for hosting in a small space
Get an extendable dining table
Extendable dining tables are great options to consider, even if you have a small space. They can easily be extended to seat more guests and collapsed when not in use. This ensures that all guests have a comfortable spot when dining even in a small dining area.
The Seb Extendable Dining Table can fit up to 6 people when extended. Picture credits: @weekendsarelove
Go for dining benches
Instead of dining chairs, dining benches are a great alternative if you have a small space. Dining benches can often accommodate more people in a smaller space compared to individual chairs. Additionally, since benches don't have chair backs, they can be pushed closer to the table, allowing for more seating capacity and clearance space around.
@homedeco creates a beautiful dining nook with the Seb Extendable Dining Table and Seb Dining Bench.
Arrange a cosy seating area
The living room is where you and your guests will spend a good amount of time, but don't worry if it's small.
Modular sofas, coffee tables with storage, and ottomans will be your best friends here. These furniture pieces are space-saving and multi-purpose, allowing you to make the most of the small space.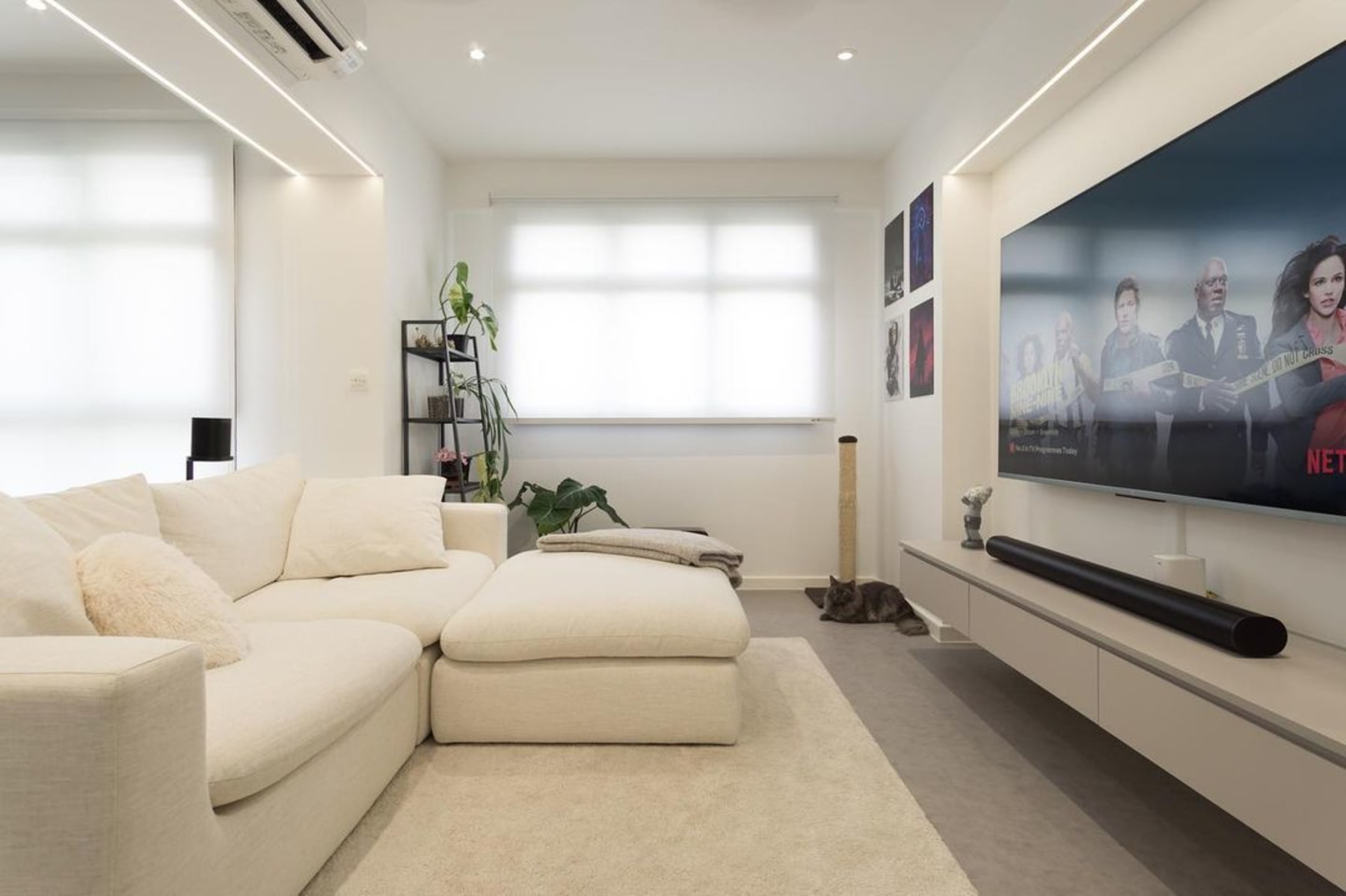 @1618design pieces the Dawson 3-Seater Sofa with Ottoman together, forming an L-shaped sofa.
For example, modular sofas can be rearranged to form individual seating units around the room - allowing ample seating for guests. Coffee tables with storage help you keep the space uncluttered, storing remotes and magazines away so there's more surface space for food and drinks. And, ottomans can be used as footrests and additional seats!
Create an outdoor extension
If you're restricted by the indoors, take the gathering outdoors too! If you have a small balcony, patio, or even a backyard, keep the doors open and host part of the gathering outside. This can significantly increase your available space, allowing guests to mingle indoors and outdoors.
The Balcony Round Foldable Table with 2 Como Chairs Set is a compact set for small outdoor spaces.
Opt for weather-resistant and durable outdoor materials for your outdoor tables and chairs, such as teak or aluminium.
Have a potluck-style dinner
Encourage your guests to contribute dishes to the gathering. Potluck-style dinners not only reduce the cooking load in the small space but also ensure that there's a variety of dishes to suit everyone's tastes. You can coordinate the menu to avoid duplicates and ensure a well-rounded meal.
@wah.wuu cooks a simple hotpot dinner on the Rio Outdoor Teak Dining Set.
Declutter your space
Ensuring a clean and decluttered space creates a clean and inviting space. Also, less clutter creates the illusion of a bigger home!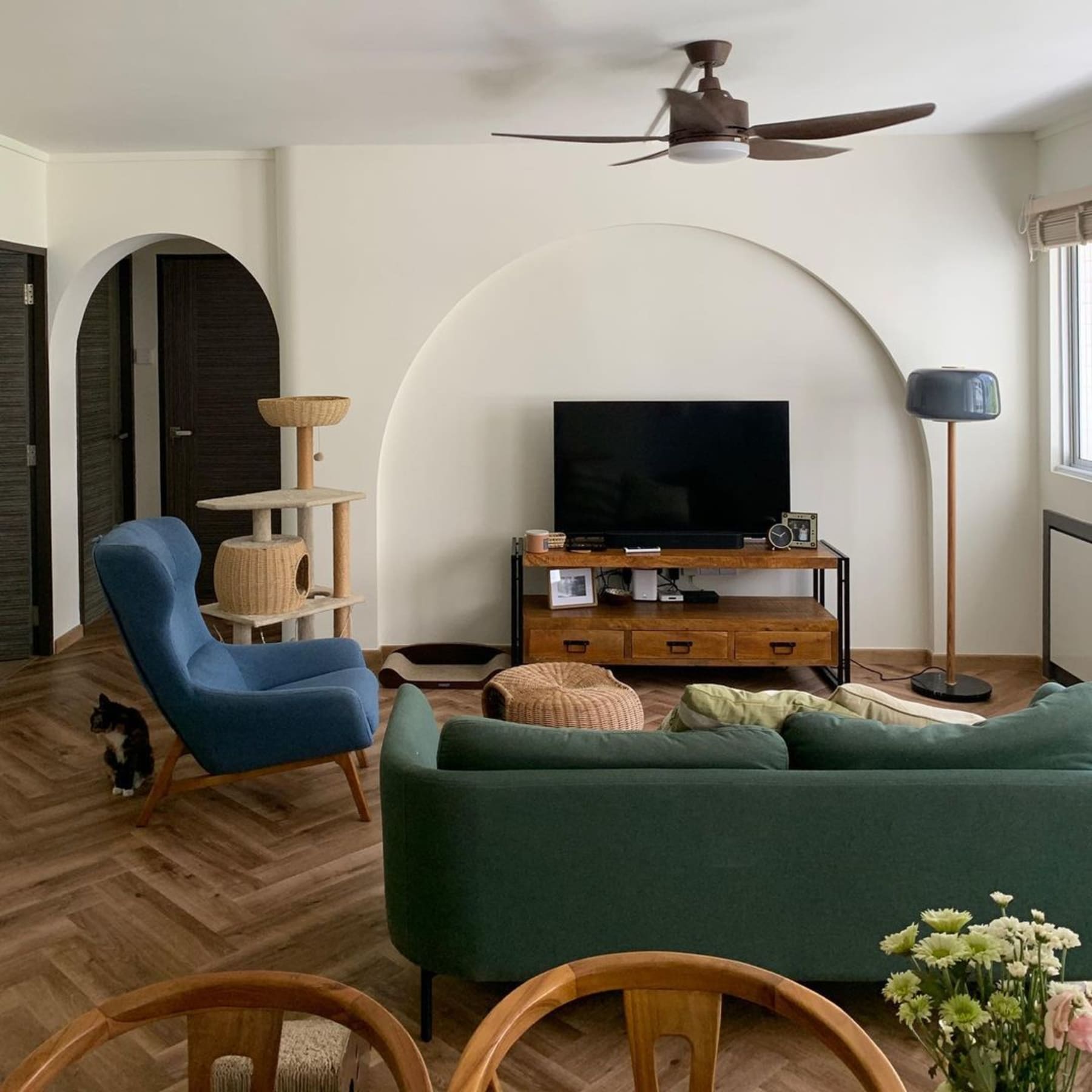 @ourwhampoahouse maintains a clutter-free home. Pictured: The Pebble 2-Seater Sofa in Forest Green.
Give yourself some time to declutter and be ruthless in your decluttering efforts. Donate, sell, or discard items that are taking up valuable space. Focus on surfaces such as countertops, coffee tables, and shelves by clearing away excess decor and items that aren't essential for the gathering.
Hosting gatherings in a small house may require some adjustments, but it can result in an even more intimate and cherished gathering. With these space-saving tips and cosy decor ideas, you'll create an atmosphere that your guests will love and remember for years to come.