Does your dining room need that little extra something to bring the design scheme together? Do you need to delineate the dining zone more effectively, or add or add a burst of colour to the space?
These are just some of the very good reasons why you might want to add a rug to your dining room. The big question is: how do you choose the right one?
In this article, we'll help you navigate the challenge of finding the perfect rug by considering several factors like the shape, size, and style of your space.
Think about the size
You might be wondering, 'how big should a rug be under the dining table?'. Well, this is dependent on several factors like the size of your dining room and the size of the dining table.
For example, if you have a small 4-person dining table, then you don't need a huge rug as this can dwarf the dining area and make it look small. Similarly, if you have a large dining table suitable for 8 or 10 diners, a small rug won't be big enough and will get lost beneath the table surface.
Rugs generally come in standard sizes, which means it is possible to create a loose guide to what size rug goes with what kind of dining table. Here are some simple rules for matching rug sizes to your dining space:
When picking the right rug, the general rule of thumb is to select one that leaves breathing room around your dining set-up.
If you have a 4-6 seater dining table: Pair it with a rug size of around 153 by 244cm. Place the rug in the center, beneath the table. This would work well for a table size of up to 180cm in length.
Ensuring that your rug is larger than your dining area will allow guests to pull out their chairs without tripping over the rug.
If you have a 6-8 seater dining table: Pair it with a rug size of around 244 by 305cm. A rug of this size works well with extendable dining tables or fixed tables that go beyond 180cm in length.
Of course, not all rugs come in these standard sizes but you can use the above as a useful guide to gauge what sizes are suitable for your dining room.
Consider the shape
While size is important, don't forget about the shape of the rug. In fact, rugs can come in almost any shape you can imagine, especially when it comes to animal skin rugs. But in general, they fall into a few main categories: rectangular, circular, and oval-shaped.
Again, your choice of shape is dependent on the size and shape of your room, the style and size of the dining table, and the number of dining chairs you have. Here are a few simple tips that can help you to decide what shape to choose:
Use an oval rug to: Match with oval tables and mimic the rounded furniture for continuity.
Use a round rug to: Pair with round tables.
Use a rectangular rug to: Pair with rectangular tables, ensuring the rug is larger than the table's surface.
The most common rug shapes are oval, rounded and rectangular.
The guidelines above are not hard and fast rules, you can definitely mix up the shapes of a round rug with a rectangular table. If you have a round table in a square room or a square table in a round room, this can add another dimension to your choice of rug shape.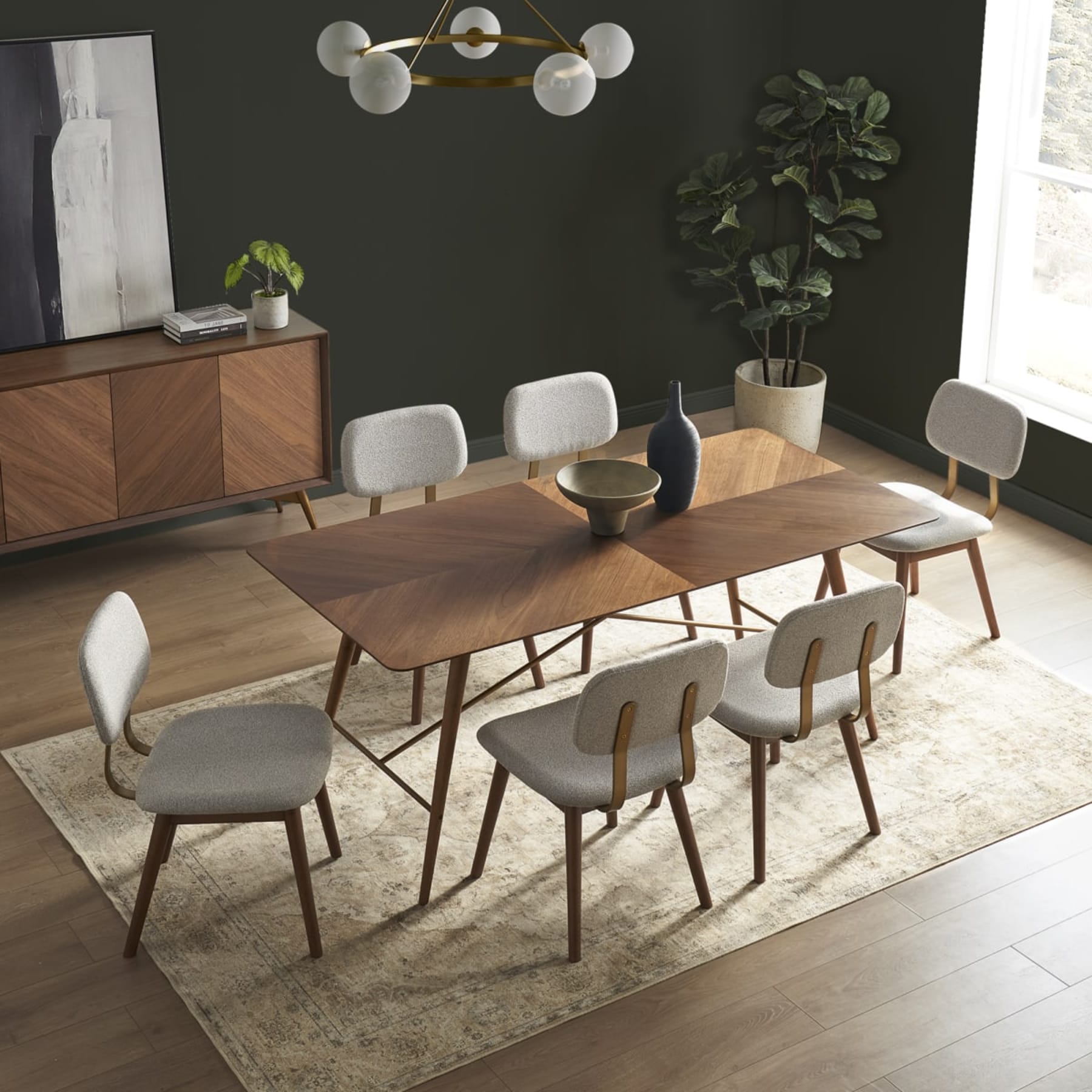 If your dining room is spacious or open-planned, a large rug beneath your table will help to ground the space.
Don't forget about the functionality
Aside from aesthetics, it's important to think about the practicality and functionality of the rug in your dining room. Consider factors such as comfort underfoot, especially if you have hardwood or tile floors. A rug with a thick pile or a rug pad can provide additional cushioning and make your dining experience more comfortable.
Additionally, think about the placement of the rug in relation to the dining table and chairs. Make sure the rug is positioned correctly to prevent tripping hazards and ensure that the chairs sit securely on the rug.
Consider material and durability
Another essential aspect to consider is the material of the rug and its durability. Since dining rooms are high-traffic areas prone to spills and stains, it's crucial to choose a rug that is easy to clean and can withstand regular use.
Materials such as wool, nylon, or polypropylene are known for their durability and resistance to stains, making them suitable options for a dining room rug. Additionally, consider the pile height of the rug, as a lower pile is easier to clean and maintain than a higher pile.
Choose a style you like
The style and design of the rug you choose should complement the overall aesthetic of your dining room and decor.
Consider the colour, pattern, and texture of the rug to ensure it harmonises with the existing furniture and design scheme. For a classic and timeless look, a neutral-coloured rug with a subtle pattern or a solid rug would be a safe choice.
Alternatively, if you want to make a bold statement, you can opt for a rug with a vibrant colour or eye-catching pattern. Keep in mind that the rug should enhance the visual appeal of the dining room without overpowering or clashing with other elements.
In a nutshell, selecting the ideal dining room rug requires the consideration of multiple factors, like the ones we listed above. With these tips in mind, you can confidently choose the perfect rug that adds warmth, style, and charm to your dining space for years to come.
FAQs
What is an area rug?
Area rugs are large rugs that generally cover a whole area of a room, without stretching wall to wall or being fixed to the floor like a carpet.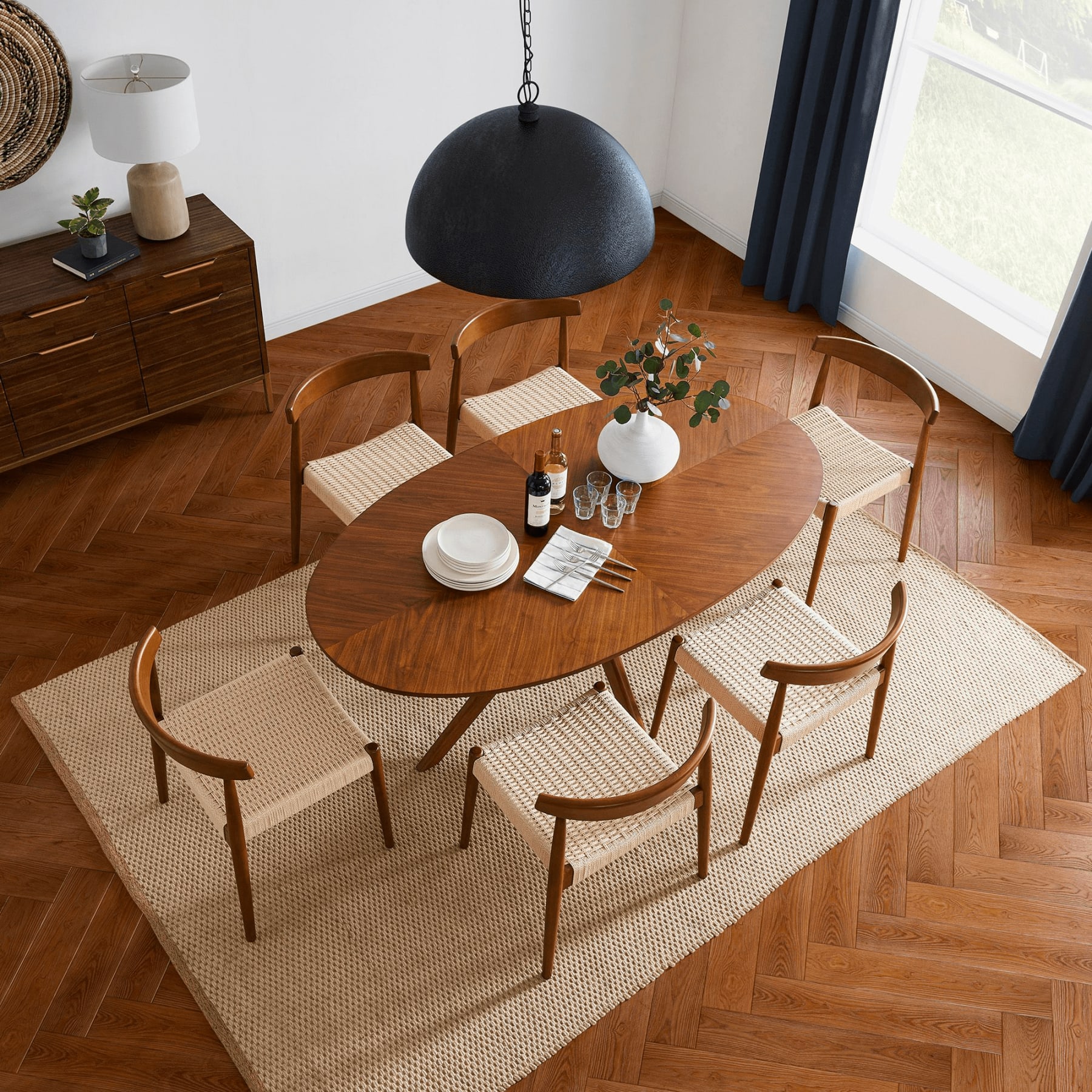 If your dining set features curved edges like the Brighton Oval Dining Table, pairing it with a large rectangular rug can lend visual appeal to your space.
You can also use area rugs to create zones in an open-plan living area. One large rug might be used to mark out the dining area, for example, which means that the above guidelines about rug size can be overridden. It is also possible to choose a larger area rug for a separate dining space, especially if you have wooden or laminate floors.
Recommended read: How to Style Area Rugs in the Living Room
Should you have a rug under your dining table?
You don't have to place a rug under your dining room table, but doing so will help to mark your dining zone in open-plan areas. Styling your dining room with a rug can also help to create a cohesive design scheme, making your dining area look more homey.
If you have kids or pets, you might want to consider a durable rug material when placing it under the dining table, something that is resistant to staining. Or, you could completely do away with a rug if you are cautious about the cleaning and maintenance.