In the realm of interior design, a moody ambiance has the power to transform a space into something captivating and alluring. It brings forth a sense of depth, intrigue, and emotion that leaves a lasting impression.
However, it's easy to cross the line between creating a moody aesthetic and a dark cave. If you're not sure where and how to start, we've got you covered! From incorporating black sofas to using lighting to your advantage, follow this guide on creating a moody interior design in your home.
What is a moody interior design?
A moody interior design refers to a style that creates a captivating and evocative atmosphere. Some key elements of the moody interior include dark colours, dramatic lighting, rich textures, and statement pieces.
The moody style is characterised by its ability to evoke emotions, such as introspection, romance, or even a touch of melancholy.
6 ways to create a moody interior
Incorporate black furniture
Black furniture pieces are essential in establishing a moody interior design. Opt for pieces made from materials such as mahogany, walnut, or black leather. These deep finishes create depth and a sense of drama in the space.
The Sloane Sideboard features dark oak veneer, brass handles, and ample storage space.
Opt for larger furniture items, like sofas, dining tables, or bed frames, in dark hues to serve as anchor pieces in the room. These statement pieces instantly create sophistication and set the mood for the rest of the furniture and decor.
Do keep in mind to incorporate lighter elements like light-coloured walls, neutral accessories, or pops of contrasting colours. The balance between dark furniture and light elements will create a dynamic and visually appealing space.
Create a dark accent wall
Another effective way to set the stage for a moody interior is by creating a dark accent wall.
Select a wall in the room that you want to highlight as a focal point. This could be the wall behind a bed, a fireplace, a dining area, or any wall that you want to draw attention to. Paint the wall or cover it with wallpaper in deep, rich hues like charcoal, navy, or emerald green.
The caramel tone of the Jonathan Leather Extended Sofa complements the dark navy accent wall perfectly. Also pictured: The Jonathan Leather Ottoman, Amber Bouclé Swivel Chair in Snow, and Vincent Coffee Table Set in Walnut.
This focal wall will serve as a backdrop for the rest of the design elements, instantly infusing the space with a sense of depth and mystery.
You can then further enhance the impact of the dark accent wall with spotlights, wall sconces, artwork, or decorative mirrors.
Introduce natural elements
To balance the darkness and add a touch of earthiness, incorporate natural elements into your moody interior.
Opt for dark-stained or richly-grained woods like walnut, mahogany, or oak. Wooden coffee tables, sideboards, or bookshelves can provide a grounding effect while adding elegance to the space.
The Desmond Armchair in Iron Black exudes a sophisticated charm with its wooden frame and brass-tipped legs.
Consider incorporating leather elements into the design to bring a rich texture and timeless appeal to enhance the moody ambiance. Leather sofas can help to anchor the space, while a leather armchair can create a sense of refinement and comfort. Choose leather upholstery in deep shades like black or espresso to complement the moody aesthetic.
Add indoor plants, such as ferns or tall leafy trees, to bring life and freshness to the space. The greens help to complement and contrast the dark interior, creating a well-balanced moody room.
Play with lighting
Lighting is a critical aspect of creating a moody ambiance. Opt for warm, soft lighting options to cast a gentle glow throughout the space.
Use dimmable fixtures and table lamps with warm-coloured bulbs to create a cosy environment. Install sconces or pendant lights to highlight specific areas and create captivating shadows, adding to the overall intrigue.
However, don't forget about natural lighting too. Natural sunlight is a great way to create a moody space without it looking like a cave, especially if you have dark-coloured walls or several pieces of dark furniture. Use sheer curtains or window treatments in neutral colours so most of the sunlight can still enter the space.
@lonefoxhome creates a moody vibe with dark furniture and vintage aesthetics. Pictured: The Harper Sideboard.
Curate statement pieces
When creating a moody room, you want to choose furniture and decor items that make a bold statement. Look for pieces with unique shapes, intricate detailing, or bold patterns so that they stand out.
Opt for pieces with unconventional silhouettes or distinctive architectural details. For example, an ornate mirror, an art sculpture, or this Cupid Coffee Table with an interesting base.
The Cupid Coffee Table combines beauty and function in one piece. Picture credits: @chicklet.hf
These statement pieces add character to the room and contribute to the overall moody aesthetic.
Harness the power of contrasts
Having too much black in one space can create a room that is drowning in darkness - which doesn't quite achieve the moody aesthetic. That said, it's always good to maintain a balance with contrasts.
Pair light walls with darker furniture (and vice versa) or add pops of vibrant colours in the form of accent pillows, rugs, or artwork. Some colours that work well with the moodiness include jewel tones, vibrant oranges, and golden yellows. The contrast will create a dynamic and visually stimulating environment that captivates the senses.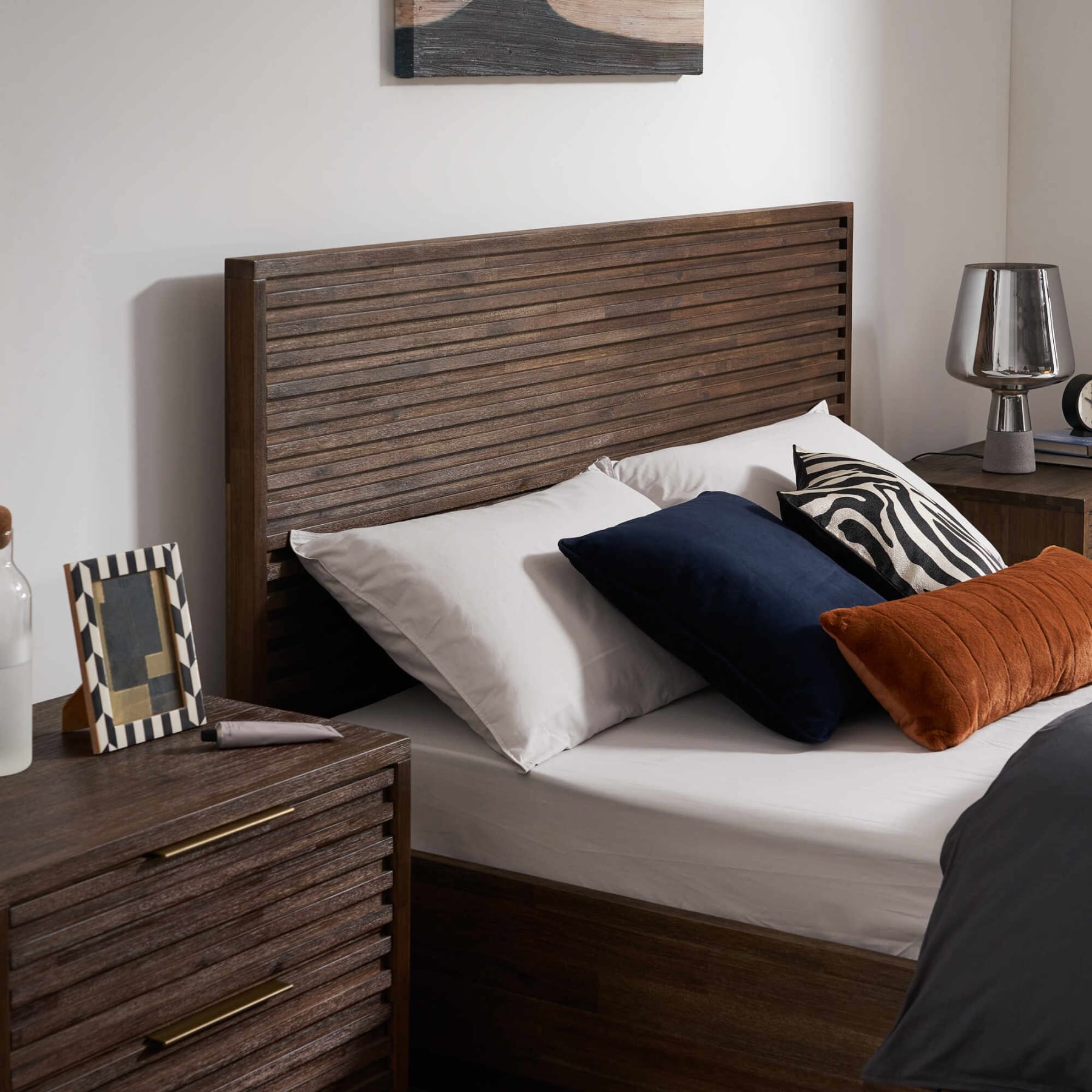 Adding pops of colour helps to balance the moodiness of the space. Pictured: The Emery Bed and Emery Bedside Table.
Aside from colours, you can also contrast different textures like polished wood or glass alongside rougher textures like distressed leather or cane. The interplay between these contrasting textures adds richness and complexity to the space.
Creating a captivating moody interior design style isn't just having all things dark and black - it involves creating a good balance between your furniture pieces, walls, and lighting. By following the tips outlined in this article, you can transform your space into an alluring moody aesthetic that is inviting and cosy.