How do you choose the right coffee table? It's an interesting question, possibly because it's not only a piece of furniture that is much used (although not always for coffee) but also one that plays a key role in bringing living spaces together. You might have the perfect sofa and armchairs, a beautiful rug, shelves full of fascinating books, and exactly the right level of lighting but the coffee table is the linchpin that holds the whole room together.
Choosing the right coffee table is all about balance. You need to pick a model that serves a practical purpose while also adding its own stylistic element. So, keep reading to find out how to choose coffee tables that will really shine in your living room.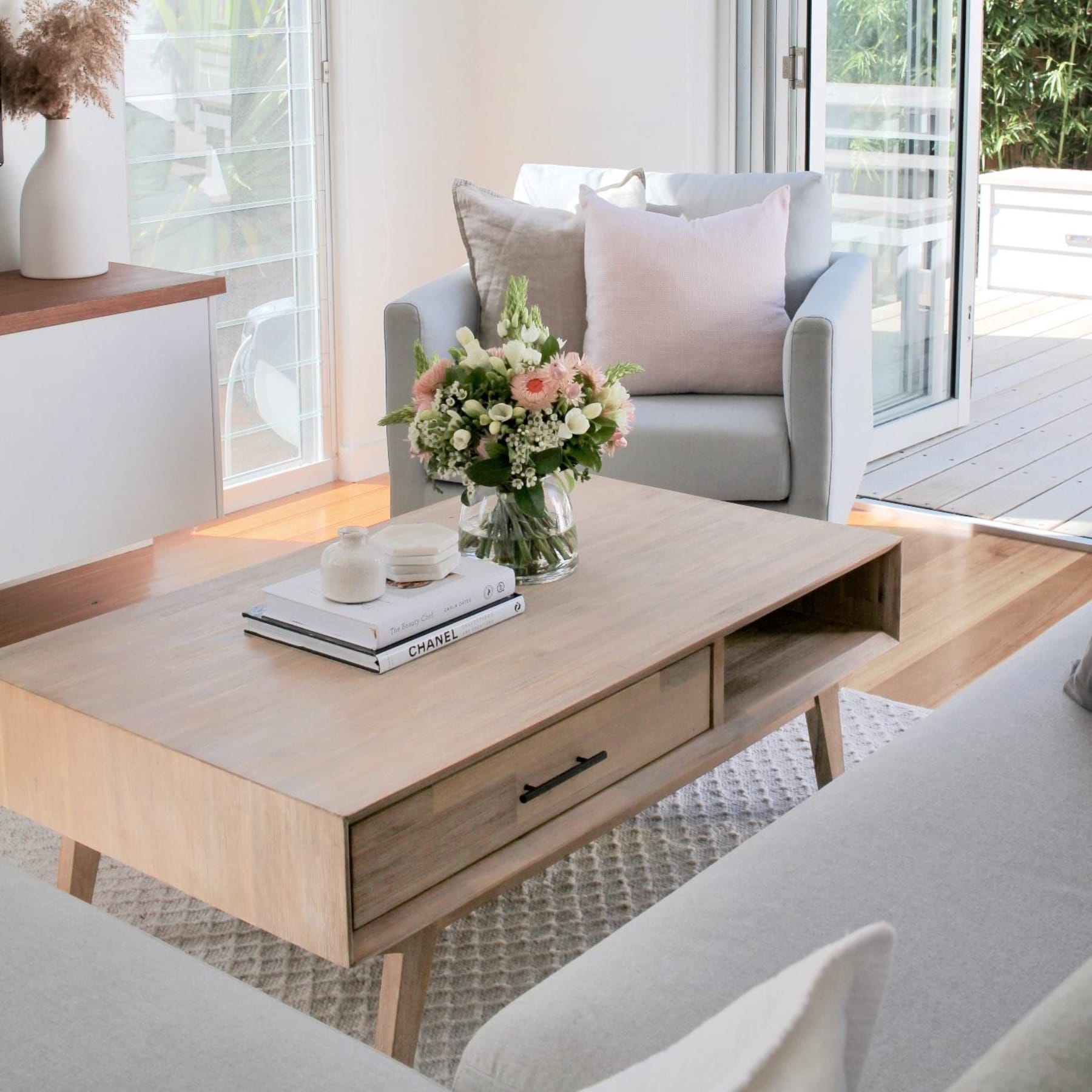 Marrying form and function is easy with the Miles Coffee Table, a sturdy piece that oozes understated charm. Picture credit: @everyday.home
The practical considerations of a coffee table
The first rule is that it is important to use a suitable size based on your sofa and space available in your living room. A good general rule of thumb is that a coffee table should be 2/3 length of sofa, this will create the correct proportions for your living room as well as providing enough surface space for each seated person, should you have a full living room.
Of course, with modular or sectional sofas with corners or chaise elements, you should use the longest side of the sofa as the basis to make your decision. But you also need to weigh this up with the available space that you have to play with, so you don't always have to follow these rules to the letter.
In addition to size, shape can also be a key consideration. Round shapes match well with sofas with curved features, or in spaces that are slightly smaller. Square and rectangular shapes are more proportional with larger 3-seater or sectional sofas, or sofas that are designed with clean or straight lines.
Round coffee tables can take up more space than square or rectangular designs, but it all depends on how your living room is set up. If you have a small space in the center of your living area, then a round table will help to create the illusion of space. Rectangular coffee tables can create a more intimate atmosphere and bring seating areas together.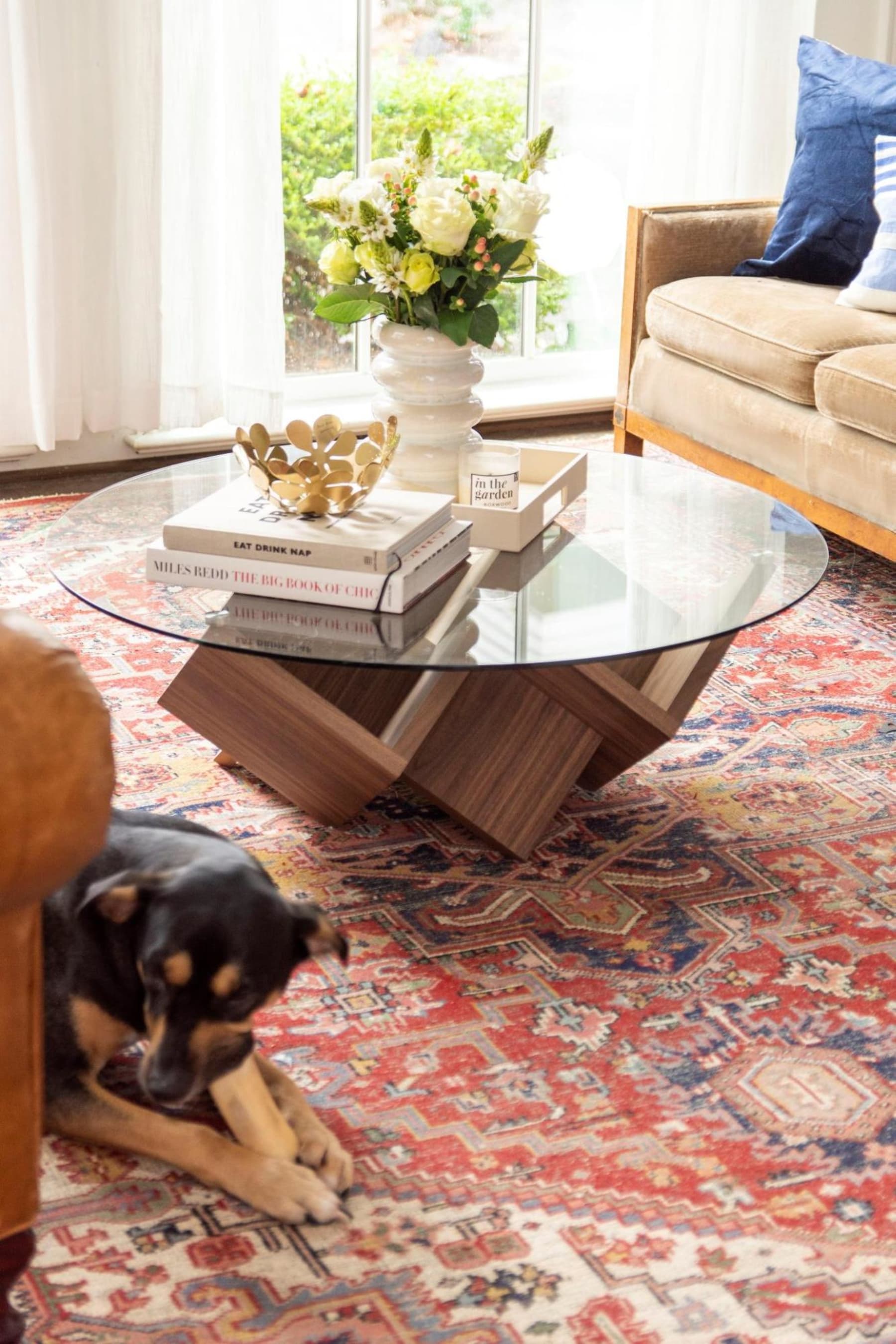 Visually appealing and equally functional, the Cupid Coffee Table definitely adds value to your space. Picture credit: @kfogara.
Consider usage and functionality of coffee tables
Of course, the size and shape you choose will depend on how you use your coffee table. If you like to keep things uncluttered and need a coffee table for keeping the odd hot drink or the remote control, then it doesn't need to be too large. However, if you're using it to store books and magazines, phones, or even as an occasional dinner table, then a larger surface area will be more useful.
It's not all about surface area on top though. Coffee tables can also come with integrated storage. Coffee tables with storage can feature drawers or cabinet sections where you can store magazines, remotes, chargers, and other clutter, leaving your surface free and easy to clean. This also allows you to reduce the width and length dimensions of your unit. This is especially useful if you are dealing with a smaller space. You need to ask yourself: is storage a priority or not at all? Or Is minimal storage needed, but aesthetics is still the priority? This will help you to narrow down your design options when choosing your coffee table, as well as helping you work out what kind of size and shape unit you will need.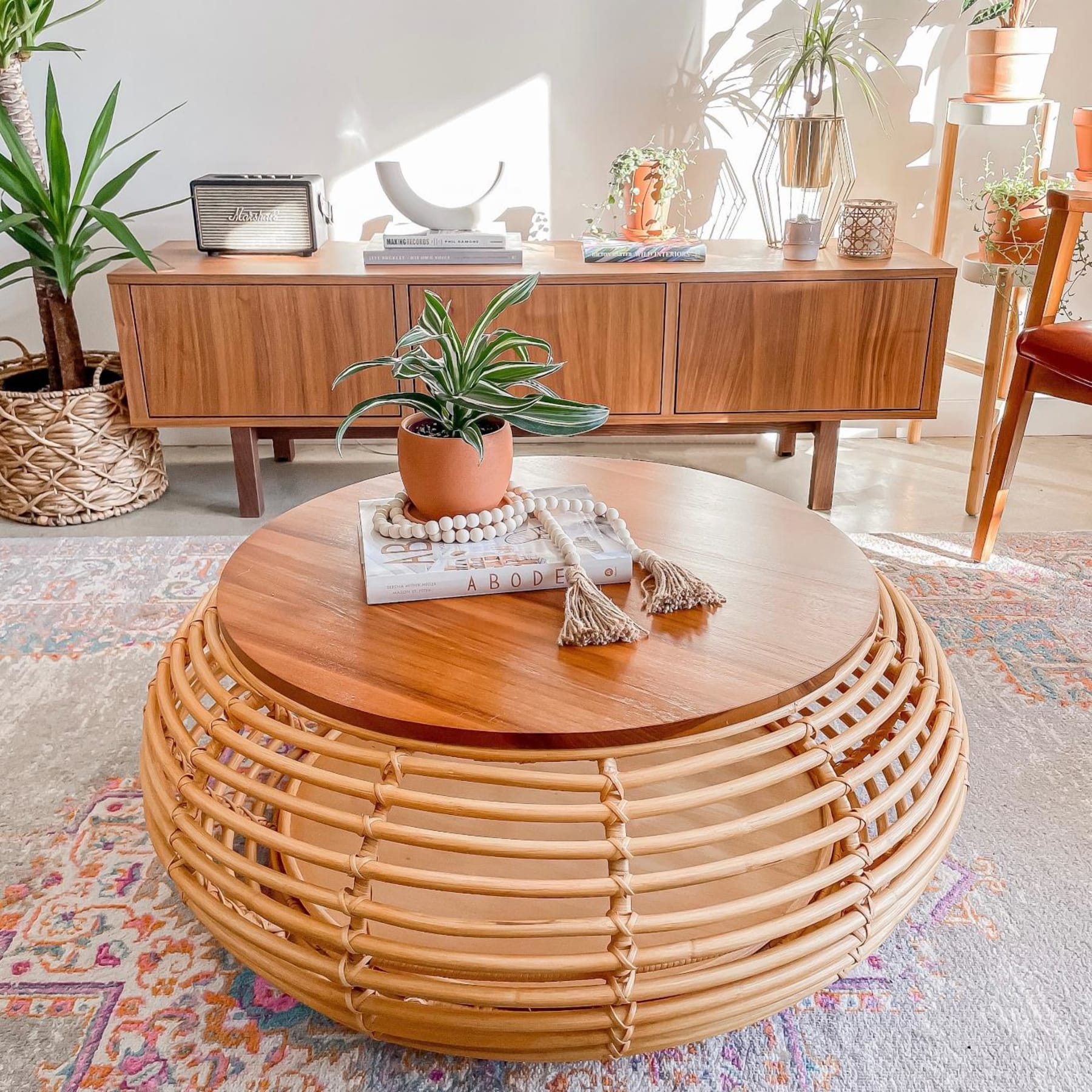 Boho meets mid-century modern in @thisurbanretreat's home. The Mico Rattan Coffee Table is a trendy piece with natural elements that prove to be timeless all year long.
What style of coffee table do you need?
Once you have worked through all the above and found out what size and shape table you need, whether storage is a must or simply a luxury, and figured out what you will use your coffee table for, then you will be in a much stronger position to make the right choice. Yes, it is sometimes very tempting to buy furniture just because we love it. But when it comes to coffee tables, it can really stand out if you make your decision on style choices alone.
So, if you have an idea of what you are looking for, you now need to try and find a design in a style that suits your material choice, colour scheme and overall design style. Will that be a modern design with minimalist appearance, the retro chic of a mid-century modern design or a more classical looking piece? This is perhaps the most subjective part of the process.
The above practical considerations apply to everyone, the style of your choice is down to just you. Ultimately, you should choose a design that you love and will enjoy looking at. As it's going to be right in front of your eyes every time you sit down.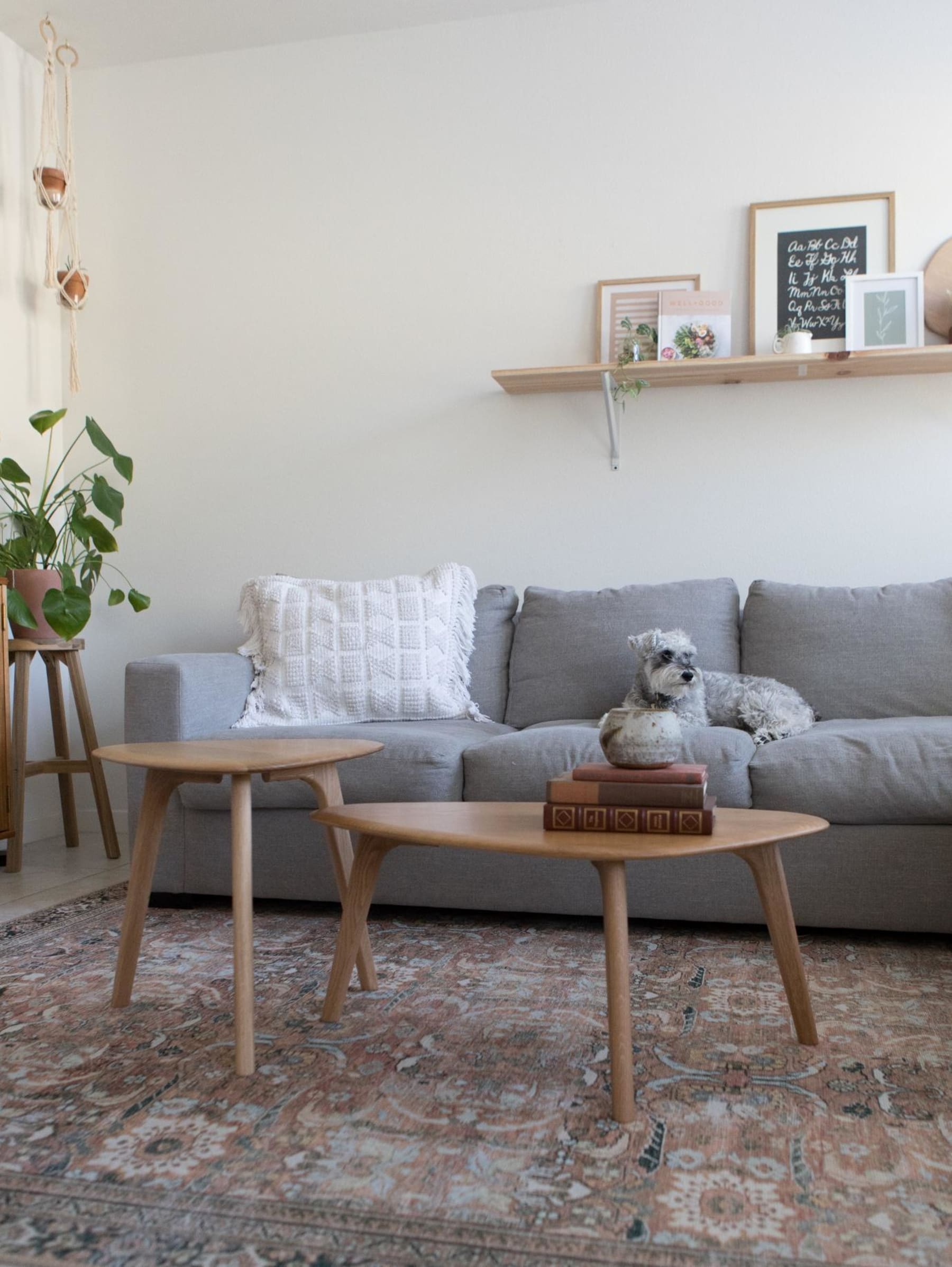 Prefer a little flexibility in your home styling endeavours? The Vincent Coffee Table can be easily styled anyway you like, and anywhere you need it to be. Picture credit: @kristen.lemmon.
How do I choose the right coffee table for me?
It's all about finding the right balance between practical considerations and style. You need a coffee table that is functional, fits the space and looks great. It's easy to overlook one part of this equation but do that and you might find yourself with a piece of furniture that doesn't work the way you want it to. So, try and make this a head and heart decision.
How do I choose a coffee table size?
There are no hard and fast rules as every space is different. But start from a position of choosing a table that is two thirds the length of the longest section of your sofa. You might decide that bigger or smaller is the way to go but this is a good starting point.
What kinds of coffee tables are in style?
One great advantage of the coffee table is that you can be more flexible about your style choices. Unlike a sofa or soft furnishings, coffee tables give you more scope to experiment with your style choices, with modern or vintage designs having equal appeal.