The holiday season is just around the corner, and that means it's time to prepare your home for festive gatherings, parties, and celebrations. Whether you're hosting a small family dinner or a grand holiday soirée, a well-prepared and beautifully decorated home can make a significant difference.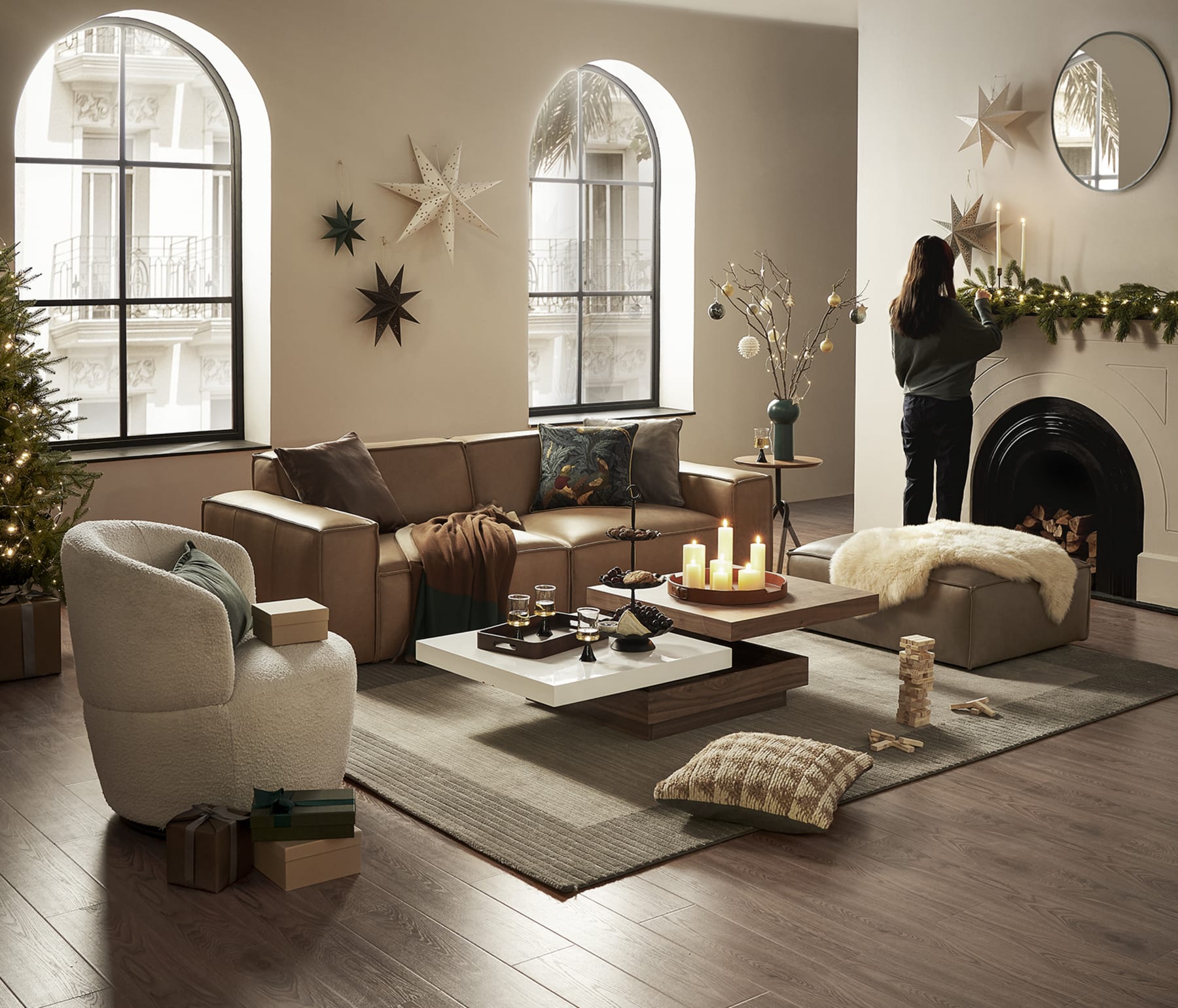 Extend warmth and cosiness to your living room with the Jonathan Sofa.
If you're scratching your head wondering how to get started, we've got some ideas on how you can make it a special season for all to enjoy. We've also prepared a furniture wishlist if you're in the market for properly spoiling your loved ones (and yourself!).
The most wonderful time of the year is about to get even better with a sprinkling of traditions – some old and some new. Ready to bring the party home?
Christmas preparation tips
All hands on deck
This time of the year can often be hectic, but there's no reason fun can't be on the agenda. Get the whole family involved in party prep and take the opportunity to bond – be it through activities like crafting a DIY festive wreath on the front door, decorating the gingerbread cookies, or choosing which ornaments to display on the Christmas tree.
The Andre Coffee Table features panels that swivel out to reveal ample storage space.
When it comes to gifts, we all agree it's the thought that matters most, but who can deny that a beautifully wrapped present definitely adds on to the festive touch?
To take it up a notch this season, turn gift wrapping into a little family competition – winner of the best wrapped gift gets to pick a prize!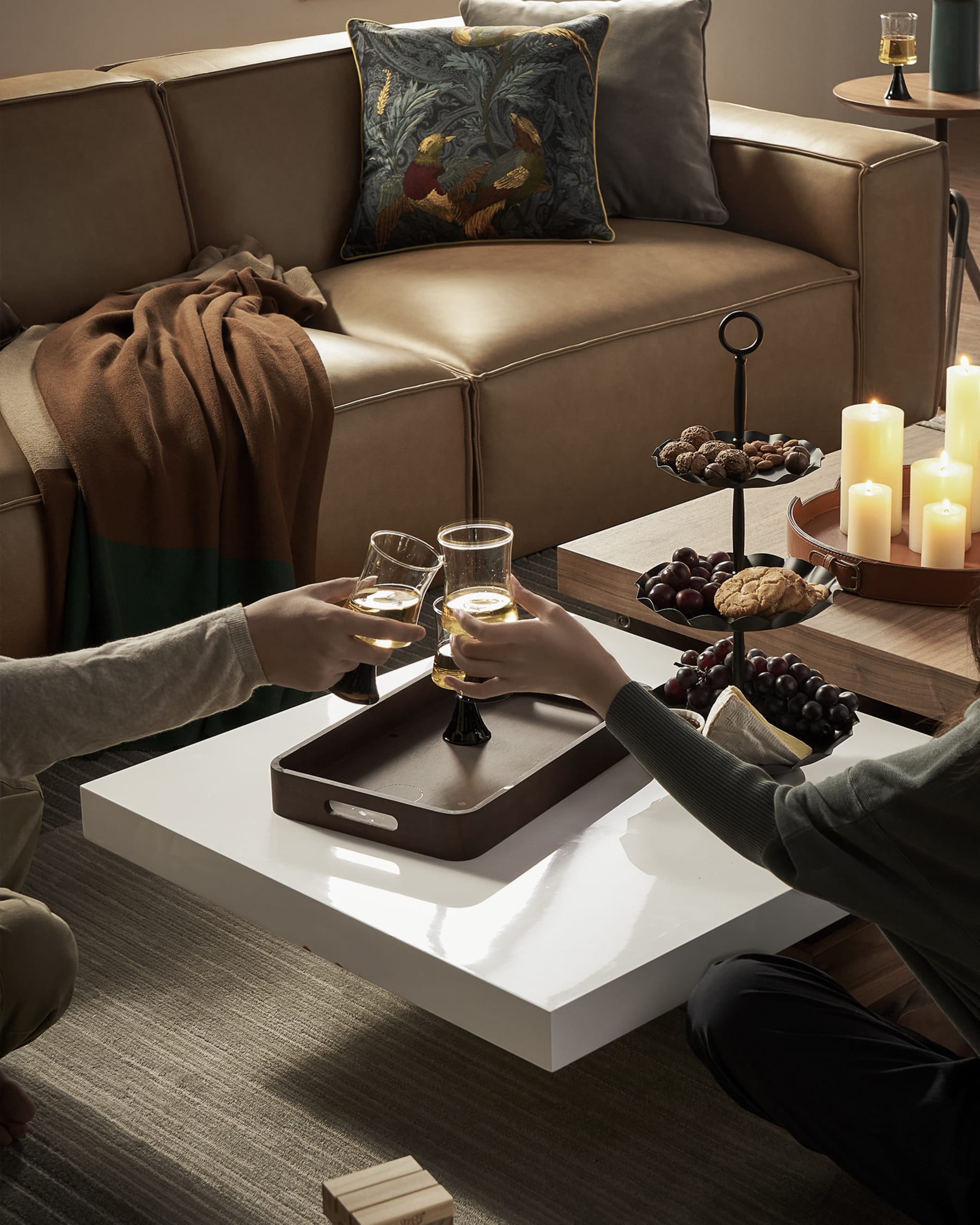 Transform your living room into a space for casual, cosy gatherings.
Keep it casual
Low-key, casual parties are just as enjoyable as large-scaled ones, if not more.
Bring the warm, cosy feelings of the festive season into your living room with a simple set up of snacks put out on the coffee table. This creates a nice nook within the heartbeat of your home for loved ones to gather around.
Plus when the mid-day munchies hit, the snacks are already in front of the sofa that you're lounging on.
Get ready to be crowned host of the year with the stunning Lily Dining Table.
Planning holiday meals can easily be one of the most daunting aspects of holiday hosting. This year, instead of preparing an entire meal from your kitchen, how about hosting a potluck dinner or ordering from your favorite restaurant?
Whatever the food options are, be sure that your dining table accommodates everyone comfortably.
If space is a tight pinch, a classic round table will do the trick. Alternatively, an extendable table is always a good addition to the dining room, offering the flexibility to be compact or spacious, whatever the occasion calls for.
Put a twist on it
There are multiple ways of enjoying the festivities with your nearest and dearest, regardless of the size of your home, or whether you've got family scattered across the country. One of the simplest, tried-and-tested tricks is to stay connected via a video call.
Set up your base camp wherever you're most comfortable at – the dining table, around the coffee table, or even snuggled up in bed. All you need is your laptop and some snacks (it's the holidays, after all!).
Gather your group around the living room and get the party started.
Virtual entertainment aside, the final moment of the video call is also the perfect time to unbox some gifts together. There's nothing quite as rewarding as watching a smile spread across your loved one's face. And since it is the season to reflect on love, a great way to end the night is by sharing your favorite moments of the holidays. This little activity definitely goes a long way in strengthening the bonds between you and your loved ones.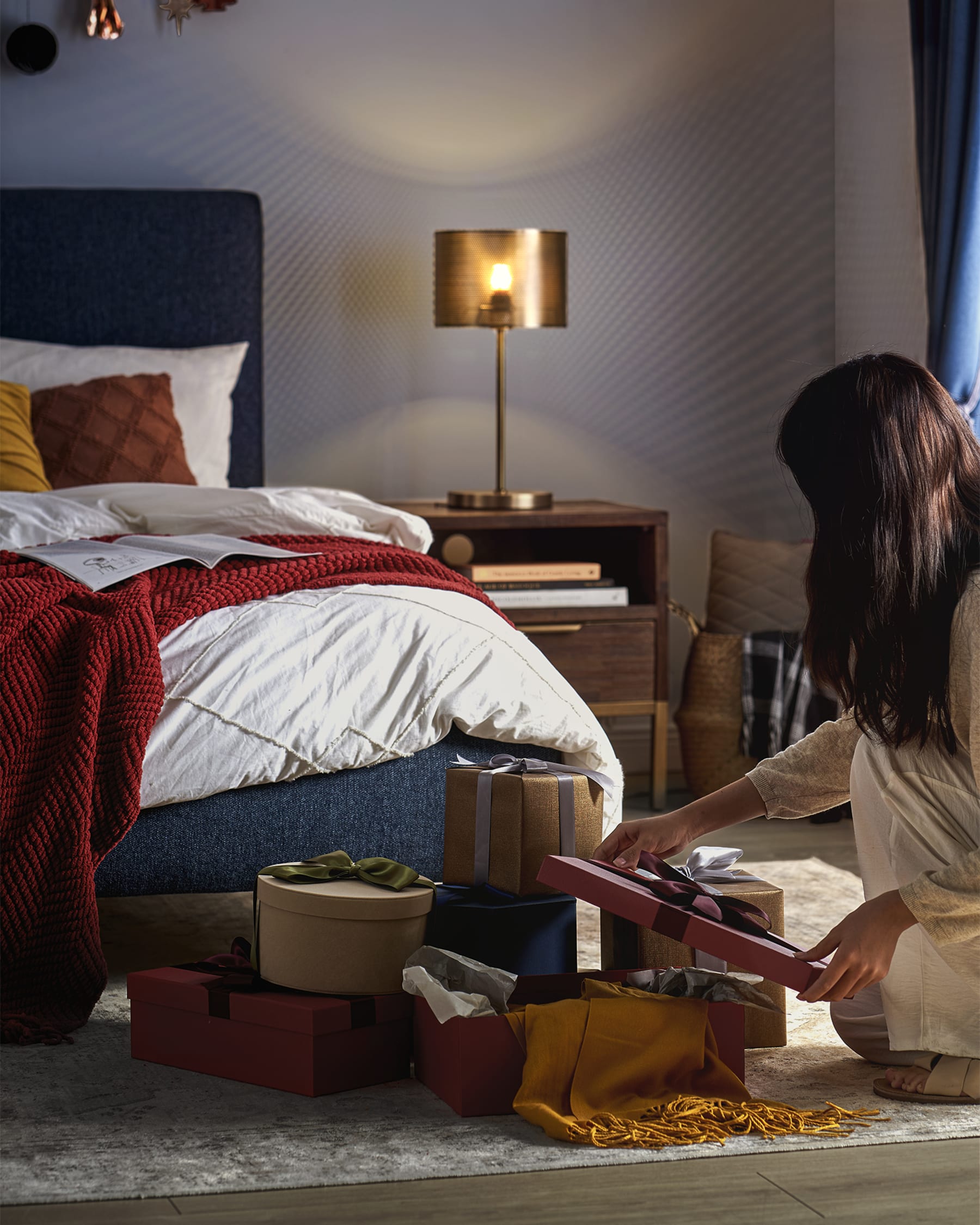 Open-based bed frames are not only made for easy cleaning, they're also a great hiding spot for surprise gifts.
As the evening comes to an end and the gift wrappers are strewn all over the ground, how about a final hurrah before turning in for the night?
Turn your bedroom into a cosy sanctuary – complete the experience by dimming the lights, getting comfy in snuggle-worthy PJs, and of course, some snacks and a nightcap (we can never say no to caramel popcorn and hot chocolate!). Fluff up some pillows, prop yourself up on the padded headboard and stream a rom-com on the TV.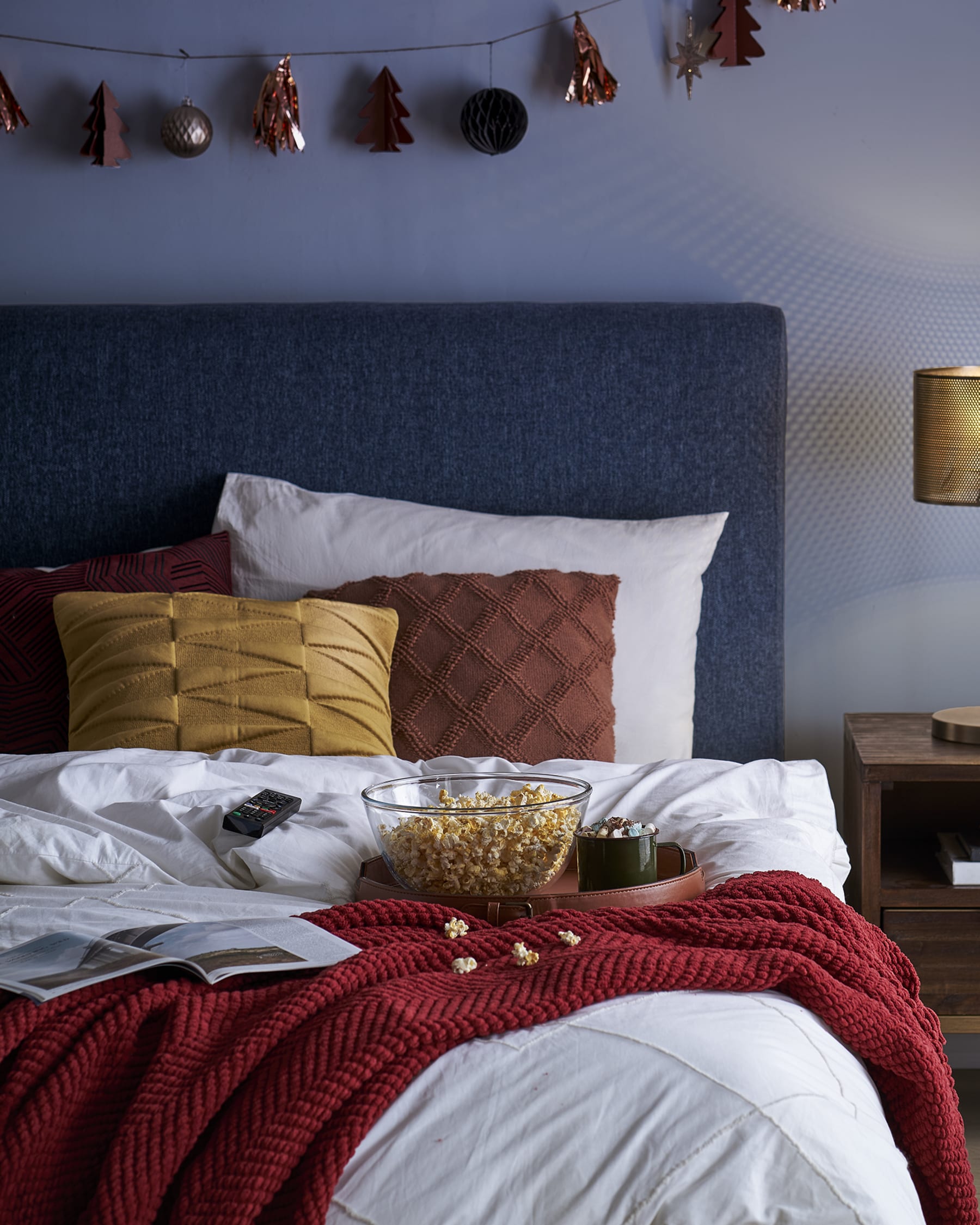 The Adams Bed is our favorite place to wind down for the night.
Castlery's Christmas furniture wishlist
We've prodded intrusively asked our fellow Castlery teammates about what's on their holidat wishlist, with furniture designs they've been eyeing for their own homes.
Party-friendly furniture
With parties back in full swing for the holidays, it's important to ensure your house is ready to accommodate the celebrations.
A quality dining set-up will go a long way in facilitating conversations and connections during your festive gatherings, while a party-friendly sofa that's spill-proof and modular will have you at ease while you make the most of the season with your closest and dearest.
Nest and chill
The holiday season is also that time of the year when its socially acceptable to be a complete homebody and recuperate within the restful confines of your home. Spending extra hours in our happy place is the peak hibernation mode we deservedly can aspire to.
Snug armchairs, stylish storage additions and upholstered beds are a few of the ways you can get set for nesting and chilling for the season and beyond.
Preparing your home for holiday celebrations involves can be a challenge, but getting help from loved ones and making it fun can certainly ease the burden. Follow these ideas and get inspired to create a welcoming home for the holidays - ready to welcome guests and create cherished memories during this special time of the year.