For those who prefer a more post-modern contemporary or gothic themed home, black would be the ideal furniture colour to go for. Black sofas are statement pieces that add an air of elegance and sophistication, and are also very versatile and can seamlessly blend with various interior design styles.
If you're wondering how you can style a black sofa to create a stunning and inviting atmosphere, we've got you covered. In this article, we explore some ways you can style your sofa to make the most out of this timeless furniture piece.
Colours that go with a black sofa
Classic black and white
The Lorenzo Wool Area Rug has black lined patterns that will add depth to your home.
This timeless colour combination never fails to make a statement. Pair your black sofa with crisp white walls and flooring for a clean and sophisticated look. Add interest by incorporating black and white patterns in the form of curtains or rugs. To prevent the space from feeling too stark, introduce subtle pops of colour through accessories like artwork, vases, or plants.
Neutral colours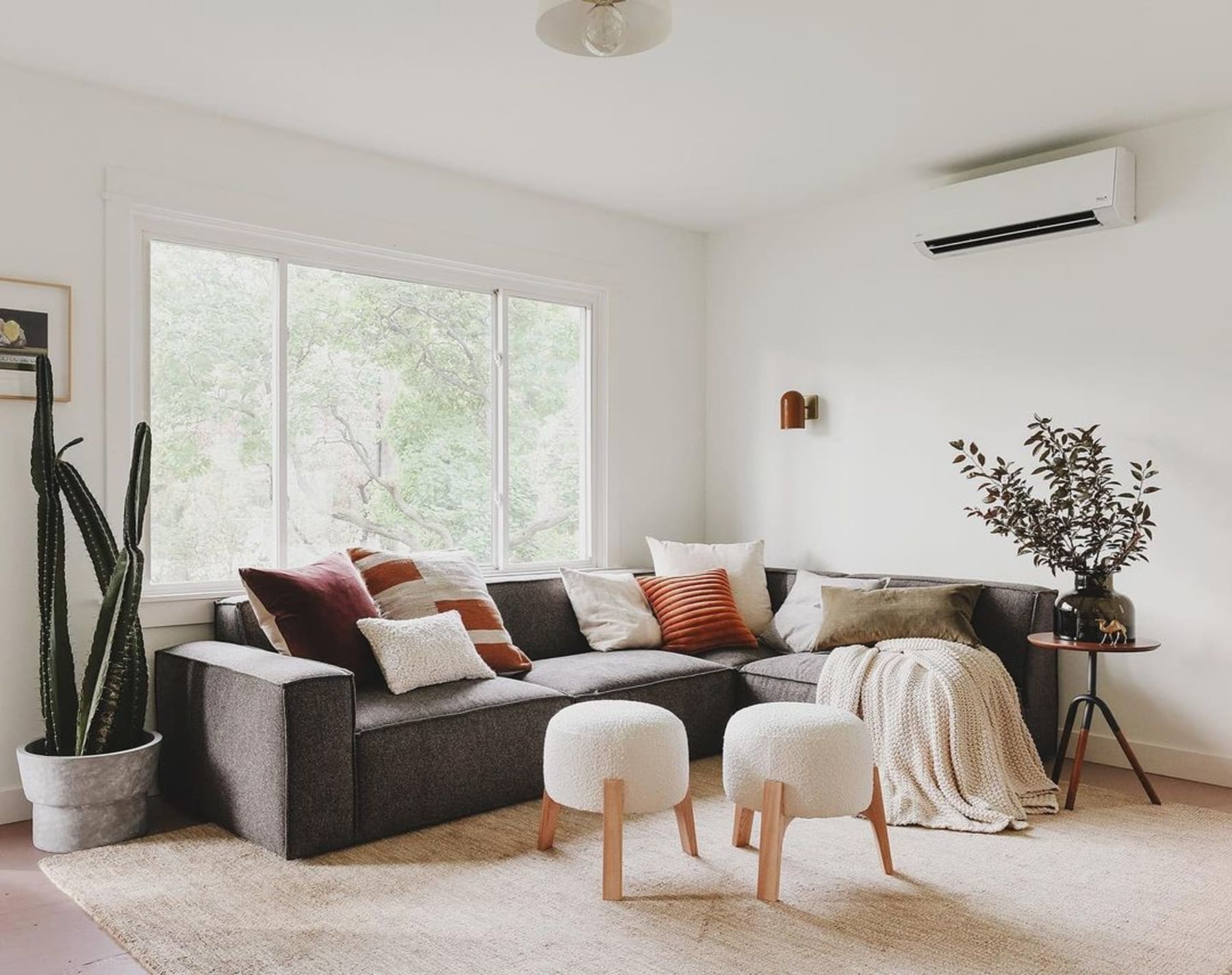 @yellowbrickhome complements the Jonathan Sofa in Dark Granite with a neutral colour palette.
Create a calming and elegant atmosphere by pairing your black sofa with a neutral colour palette. Choose soft shades of beige, cream, or taupe for the walls and flooring. These light neutrals will beautifully contrast against the black sofa, allowing it to take center stage. Enhance the cosy factor by layering different textures like faux fur, knit blankets, and ottomans in similar neutral tones.
Moody jewel tones
For a rich and luxurious vibe, opt for a colour palette inspired by jewel tones. Deep emerald greens, sapphire blues, and regal purples work exceptionally well with a black sofa. Paint one or two accent walls in these bold hues to create a striking backdrop. If you want something more low maintenance, incorporate the jewel tones with accessories like throw pillows and rugs. Balance the richness with metallic accents like gold or brass for a touch of glamour.
Warm earthy tones
Embrace the cosy and inviting vibes by pairing your black sofa with warm earthy tones. Opt for earthy colours like terracotta, rusty orange, deep browns, and warm greys. These colours will create a harmonious and grounded feel. Consider using natural materials like wood and rattan in your furniture and decor to enhance the earthy theme. Add pops of colour through vibrant accent pieces like mustard yellow or burnt orange cushions or artwork.
Modern monochromatic
Create a sleek and modern look by sticking to a monochromatic colour scheme. Use different shades of grey to complement the black sofa. You can paint the walls a light grey, or use textured grey wallpaper for added dimension. Add depth by incorporating various grey tones in your furnishings and accessories, and add depth with metallic accents like silver or chrome.
8 tips to style a black sofa
Pick the right wall colour and flooring
When styling a black sofa, it's essential to consider the surrounding elements. Begin by selecting the right wall colour and flooring to create a harmonious backdrop. Lighter wall colours, such as soft neutrals or pastels, can help balance the boldness of the black sofa, creating a sense of contrast and visual interest. Alternatively, if you prefer a dramatic look, consider a dark accent wall to complement the sofa's richness.
As for flooring, hardwood or light-coloured carpets provide an excellent contrast to the dark sofa, enhancing its visual impact.
Embrace contrasting cushions
One of the most effective ways to style a black sofa is by incorporating contrasting colours. As black works with pretty much every other colour out there, you can choose accessories in a shade that works with the rest of your décor. You can make your black sofa even more striking by pairing it with bold accent chairs, a colourful pouf, or a contrasting throw. These vibrant hues can create a visual contrast, adding a modern and chic touch to your living space.
Additionally, don't shy away from bolder colours like vibrant red, deep blue, or sunny yellow to showcase personality and create focal points within the room.
But, try to choose accessories that fall within the same colour palette to ensure your space doesn't look too busy or too crowded.
Complementary colours
Another option is to pair your black sofa with complementary neutral colours like grey and beige. This will give your room a slightly softer feel and can work well if you have other bright pieces, like wall art or curtains, in the space.
@rachelnorstrom's sleek monochrome lounge features the dreamy Adams Chaise Sectional Sofa in Jet Black Velvet amidst the white and grey hues of her accessories.
You could also opt for white or light grey accessories and create a modern monochrome theme. Smart and contemporary, this black and white look can work really well and give your interior a timeless aesthetic.
Layer up your textures and patterns
To prevent a black sofa from appearing monotonous, experiment with textures and patterns. Layering up textures and patterns can help you to create a rich, welcoming look as well as add a flair to your home.
The iron black selection of the Wayne Collection features a Sofa, Armchair and Ottoman to give your living room a classy retro look without comprimising on style. Also pictured: The Lorenzo Wool Area Rug.
Mix and match different fabrics, such as plush velvet, cosy knits, and smooth leather, to create a tactile experience. Incorporate patterned cushions or a patterned rug to add visual interest and depth. However, be mindful not to overwhelm the space with too many patterns. Striking the right balance between textures and patterns will elevate the overall aesthetic of your living room.
Add a touch of luxury
Adding a touch of luxury when styling a black sofa can elevate the overall ambiance and create a more sophisticated and opulent feel. For example, you could incorporate plush velvet or smooth satin textures into your black sofa in the form of throw pillows or blankets. These fabrics instantly add a sense of glamour to your lounge.
Additionally, consider introducing metallic or glass accents to enhance the luxurious appeal of your black sofa. Choose gold, silver, or brass accessories like side tables, lamps, or decorative objects to exude luxury. Crystal chandeliers or glass pendant lights can create a focal point while illuminating the space with elegance.
You can also choose furniture with metal or marble accents can help to elevate the space and make your interior feel more sumptuous.
Balance with natural elements
Bringing natural elements into your living space can create a harmonious and balanced look. Consider adding indoor plants or flowers to breathe life into the room and introduce vibrant colours. Large green plants work really well with black sofas as they can soften the look of the sofa and make the space feel homey. If possible, try to choose large plants as these will have a bigger impact on the space and add a little drama to your interior layout. Plants with big, waxy leaves look fantastic when placed next to dark sofas.
Style an easy-to-pair piece like the Jonathan Sofa in a complementary way to the surrounding furniture pieces, like the lighter wood hues of the coffee table and the white shades of the dresser and pillows. Picture credits: @breekish
Natural materials like wood and rattan can also complement the black sofa, providing warmth and texture. Incorporate these elements through side tables, shelves, or dressers to create a well-rounded and inviting environment.
Play with light and accessories
Lighting plays a crucial role in styling a black sofa. Well-placed lighting fixtures, such as floor lamps or table lamps, can create a warm and inviting atmosphere. Consider placing a floor lamp near the sofa to provide focused lighting for reading or create a cosy ambiance. Mirrors are also excellent accessories to incorporate, as they can reflect light and make the space appear more spacious and open.
Personalise with art and decorative pieces
Lastly, add a personal touch to your black sofa by incorporating art and decorative pieces that reflect your taste and personality. Hang artwork above the sofa to create a focal point and add character to the room. Decorative items like sculptures, vases, or statement clocks can further enhance the visual appeal of the space. Remember, the key is to strike a balance between personalisation and maintaining a cohesive design.
A black sofa offers endless styling possibilities and can be the centerpiece of a stunning living space. By following the styling tips above, you can create a sophisticated and inviting lounge space that showcases the timeless beauty of your black sofa.
FAQs
What black sofas are suitable for my home?
We offer a range of black sofas, including armchairs, sectional sofas, and regular sofas. Considering the size and interior design of your home, you can opt for a bigger or smaller sofa, of various design styles. You can also opt for black leather sofas to enhance the retro aesthetic.
How do I clean and maintain my black sofa?
Black fabric sofas usually have removable cushion covers that can be machine or hand washed to your convenience. For regular maintenance, wipe down any spills or dust with a damp lint-free cloth. For black leather sofas, do an occasional dry wipe to keep off the dust. Also, keep your black leather sofa away from direct sunlight to prevent it from cracking.