As the magpies start to cry and the weather begins to warm up, it is high time to get your patio ready for Spring. While an unusually cold Winter kept us cooped up in the warmth of the indoors, the warm breeze of Spring is a perfect excuse to step out and enjoy the outdoors again. Go shopping for the perfect outdoor patio furniture set and get ready to have some fun this Spring outdoors!
Sleek and modern black legs with teak detailings, Sorrento pieces are perfect for breezy days out hosting your loved ones. @dwellingontheridge gets her patio spring-ready with the 3-seater sofa, lounge chairs, and coffee table.
While Summer break for the kids is still a while away, you will find that there are many simple, relaxing activities that you can include them in as a family, or even in your own time. Here are some ideas of activities you can partake in to make the most out of the Spring season, all from the comfort of your own front porch.
Stargaze and watch the sky
Be it day or night, there is always something new to discover from the outdoors! Sometimes all you need to do to relax is to sink in the Riley Lounge Chair and watch as the white clouds slowly change to a dazzling night sky. Let your imagination run wild as you spot shapes in the clouds, or constellations in the stars. With its unique curved silhouette, Riley ensures optimal lumbar support yet still maintaining its own original flair in your yard.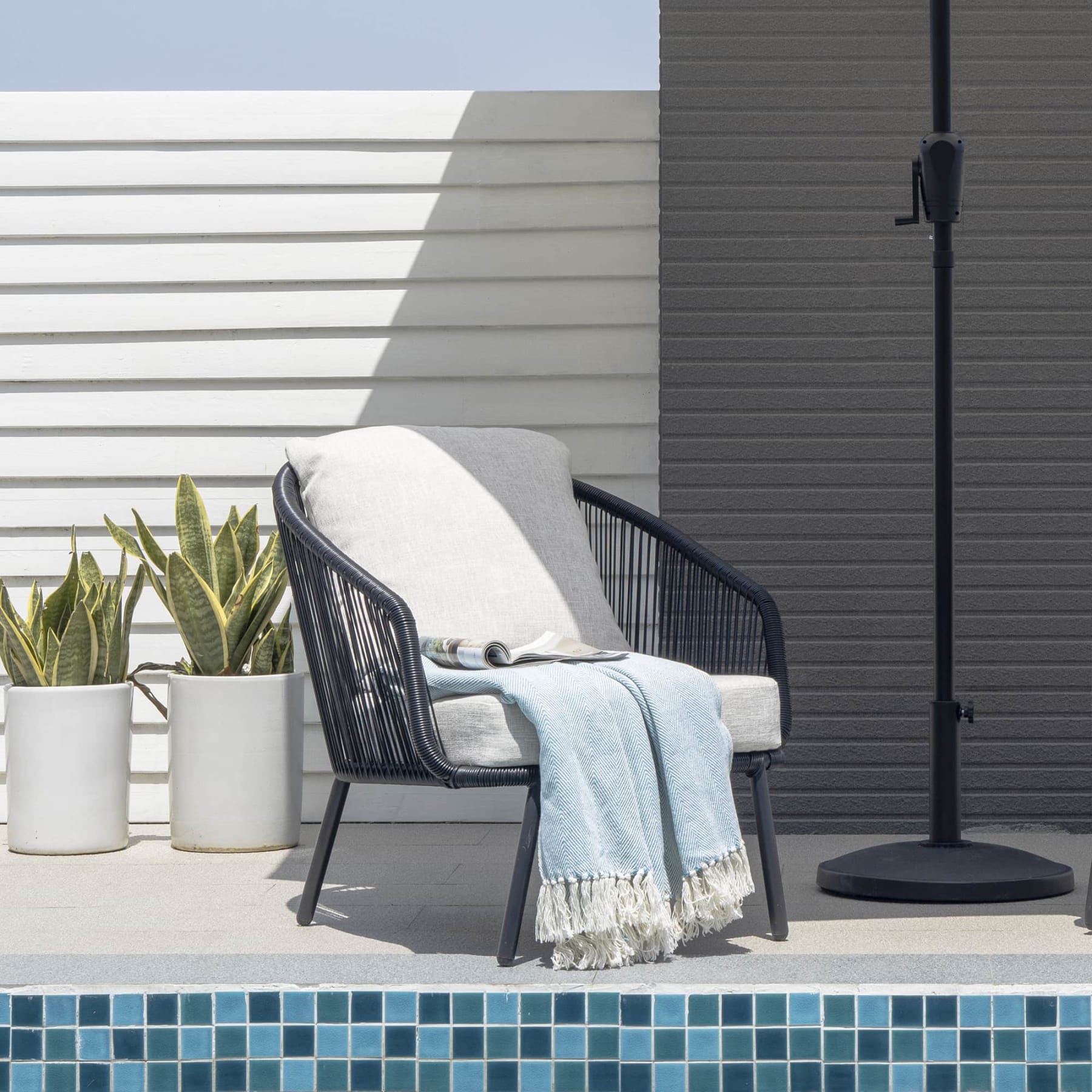 Keep things cosy as you lounge by the poolside in maximum comfort and style in the Riley Lounge Chair - don't forget a soft throw for chilly nights.
As it may get chilly when stargazing at night, our outdoor sofas and lounge chairs all come equipped with removable seat cushions that keep you warm. Otherwise, style your outdoor sofa with some fashionable cushions, that are not only easy to clean but also keep you warm and comfy.
The Riley Lounge Chair also comes equipped with cushions that can be easily removed and cleaned, allowing you to sink in and enjoy maximum comfort and minimum worry. Its smooth, round curve also ensures your back is supported throughout the night for a comfortable stargazing experience.
Arranging your seats around a heat source or fire pit will not only encourage conversations, but also ensures everyone stays warm and comfortable under the stars.
Reconnect over brunch
What better way to welcome Spring into your home than with the good ol' Aussie culture of brunch? Invite your friends or family over for a day of reconnecting and bonding over some eggs and toast. The Rio Teak Dining Table in particular is a great background to present your Instagrammable avocado toast. Remember to shade yourself from the UV rays with some cover, luckily, the Rio dining table also offers the space to fit an Outdoor Umbrella in the middle.
Turn outdoor entertaining into seamless hours of alfresco enjoyment with the Rio Dining Set for 6; its teak promises durability and a rustic charm. Picture credit: @houseofhanes
For a more intimate dining experience, the Rio Dining Chairs also come in sets of 2 for you and your significant other. The strong teak wood used for these chairs is weather resistant and versatile, ensuring the set can last throughout the seasons.
Make space for gardening
Spring is the time for the earth to reawaken and for its flora and fauna to thrive again. Discover a new hobby by getting into gardening and restore the yard to its former beauty with your own hands. Gardening is not only a great stress reliever but can also save you grocery costs by growing your own vegetables; instead of rushing to the market for the freshest produce, you have them ready right at your doorstep. Wine and dine in your newly furnished garden with our outdoor dining furniture such as the Sierra Dining Table, and pair it with the Newport Dining Chairs. Wicker outdoor furniture is back in trend — by pairing wicker with metal, Newport skilfully combines two elements into one. The contrasting textures between hard metal and flexible wicker allows it to be both lightweight yet durable, for easy transport to the patio with no worry of breakage.
Sleek black frames are given a natural touch with the wicker seat of the Newport Dining Chair and wood-slatted table top of the Sierra Dining Table, which is why they form a powerful pair.
Take a break from gardening and rest on the Sierra 3-Seater Sofa, while immersing yourself in the new look of the yard that you cultivated. With its cushions and covers being easy to wash and remove, Sierra is an optimal choice as an outdoor lounge piece; so you won't need to worry about making a mess after gardening or playing.
Whether you are planning a more active or restful Spring on your patio, Castlery is here to provide you with the most suitable outdoor furniture to match your Spring vibe and activity.
How do I maintain my outdoor yard furniture?
Castlery's outdoor furniture comes with fabric seat cushions that are removable, and can be washed for easy maintenance. Outdoor furniture is also weather and mostly scratch resistant and made of durable materials such as wood and metal.
What are some outdoor Spring activities I can do from my yard?
If you prefer to relax, unwind on your outdoor lounge sofa and enjoy the stars and garden view. If you are one for nature and getting your hands dirty, you may enjoy gardening or having a fun day in the yard with your pets or kids. Finally, finish the day off with a nice dinner on your outdoor dining table.
How do I choose the right outdoor Spring furniture for my patio?
Wicker outdoor furniture is a great pick for any patio. It is easy to clean and pair with any style of home. Alternatively if you're searching for long-lasting, durable wood furniture for your outdoor space, timber and teak are great options. Made for hours of enjoyment under the sun, the Rio Dining Chairs are a sturdy teak option that pair well with any other furniture tone or material.