If you're facing the challenge of limited space, it can be difficult to arrange your bedroom to make the maximum use of space.
But fear not! With a little creativity, strategic planning, and the right tips, you can transform your small bedroom into a functional and stylish oasis. In this article, we'll share practical advice, clever storage solutions, and design ideas to help you make the most of every inch. From optimising furniture arrangements to decluttering effectively, let's dive into how you can organise a small bedroom.
10 tips for small bedroom organisation
Assess and plan
Before diving into the organising process, it's essential to assess your bedroom's layout and make a plan. Consider the natural flow of the space and determine your primary needs, such as sleeping, dressing, studying, or relaxing.
Measure the dimensions of your room and take note of any architectural features or obstacles. Keep in mind the size of your bed and where you plan to place it - in the middle or flush against the wall?
This initial step will guide your decision-making process throughout the organisation journey.
Choose multipurpose furniture
Instead of getting separate pieces of furniture such as a bed, dresser, and bedside tables, why not look for pieces that can double up?
For example, choose a bed with built-in storage or a wardrobe with interior storage sections. A bench or trunk at the foot of the bed can serve as both seating and storage, ideal for spare duvets, bedding, and blankets.
The Dalton Storage Bed provides ample storage space for bulky items like duvets and bed sheets.
Choose pieces that are narrow, slim or that don't take up a lot of floor space. A wall-mounted headboard can help to make the room feel bigger, and slimline furniture can offer storage without extending too far out into the room. Instead of getting your extra-large king or superking bed, why not scale it back a bit with a queen bed to create more floor and traffic space around the room? And choose nightstands and sideboards with a slimline presence to maximise floor space.
Use vertical space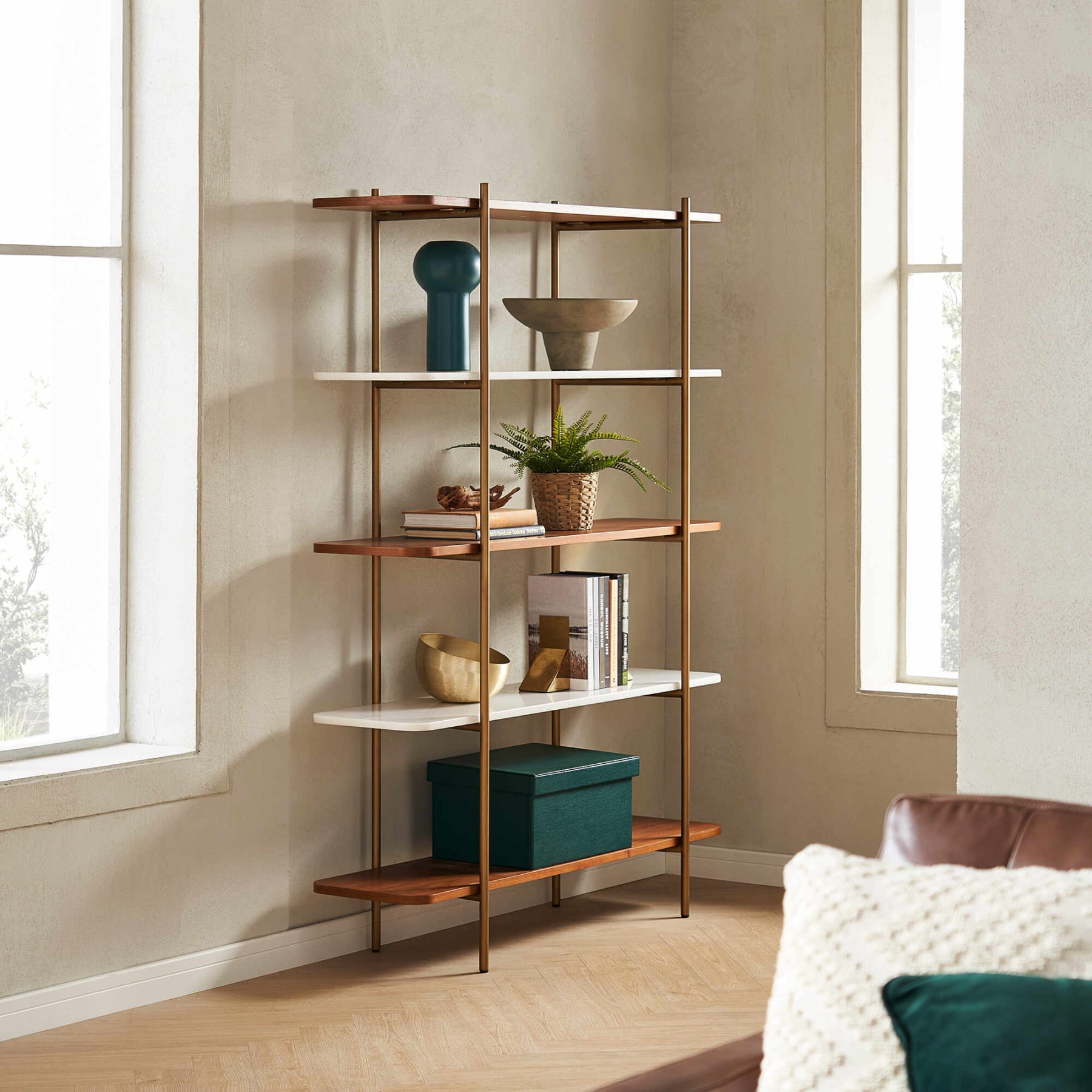 Use tall shelving units like the Esther Bookshelf to add storage area without taking up too much footprint in your bedroom
With valuable floor space, make use of the walls and ceiling! Install shelves, hooks, and hanging organisers to store items like books, hats, and bags. A hanging rod can be used to store clothes, and a wall-mounted drying rack can be used to get laundry out of the way or to free up traffic spaces. Think about extending your storage up too, making full use of the floor to ceiling space with some overhead storage options or extra tall wardrobes.
Use under bed storage boxes
If you have a bed with lots of space beneath, there are still ways you can make use of this otherwise dead floor space. Think about under bed storage boxes, specially designed to slide or roll in and out from under the bed frame. These are great for creating storage solutions for items you don't need on a regular basis or for storing your winter or summer wardrobe when out of the season.
Create an illusion of space
Mirrors can help to make even the smallest bedroom feel more spacious by reflecting light and creating the illusion of more space. You can hang a large mirror on the wall above a dresser or, if space allows, use a standing mirror to reflect light into the room. You can also get creative by creating a feature wall with small mirrors so light can bounce off.
Additionally, consider using curtains that hang from ceiling to floor to add height to the room.
Use rugs to define the space
If your small bedroom is also a relaxation space or even a home office, then you can use rugs to define the different areas or zones of the room. This can help to create a sense of separation and make the room feel more organised, creating a distinct separation of space and making the room feel larger than it is.
Choose lighter colours
Lighter wood shade pieces like the Seb 4-Drawer Dresser keeps your space looking brighter and bigger
Lighter colours reflect light and make spaces seem bigger. So, choose lighter tones for your walls and furniture. Think white furniture or lighter woods such as pine and keep dark hues to a minimum.
Use overflow storage
In small spaces, it can be hard to find enough storage space to keep everything stowed away neatly and out of the way. This can mean that sometimes items end up on the floor, stashed in corners or even blocking traffic spaces. So, try and use effective overflow storage solutions such as free-standing baskets and boxes to keep spaces free from clutter. These don't have to be simply utilitarian, and can even be used to make a design statement of their own.
Maintain a clutter-free bedroom
Clutter can make a small bedroom feel even more cramped. Establish a clutter-free bedroom to maintain the organisation you've worked hard to achieve. Make your bed daily, put away items after use, and regularly declutter and reevaluate your belongings. Sort items into three categories: keep, donate/sell, and discard. Consider whether each item is essential or holds sentimental value.
By adopting these habits, you can ensure your small bedroom remains a serene and functional space. Be mindful of the space constraints and let go of items that no longer serve a purpose.
As you can see, organising a small bedroom doesn't have to be overwhelming. By following the tips and strategies outlined in this article, you can transform your limited space into a well-organised and stylish haven. With a little planning and creativity, your small bedroom will become a functional and inviting retreat where every inch is maximised to its full potential.