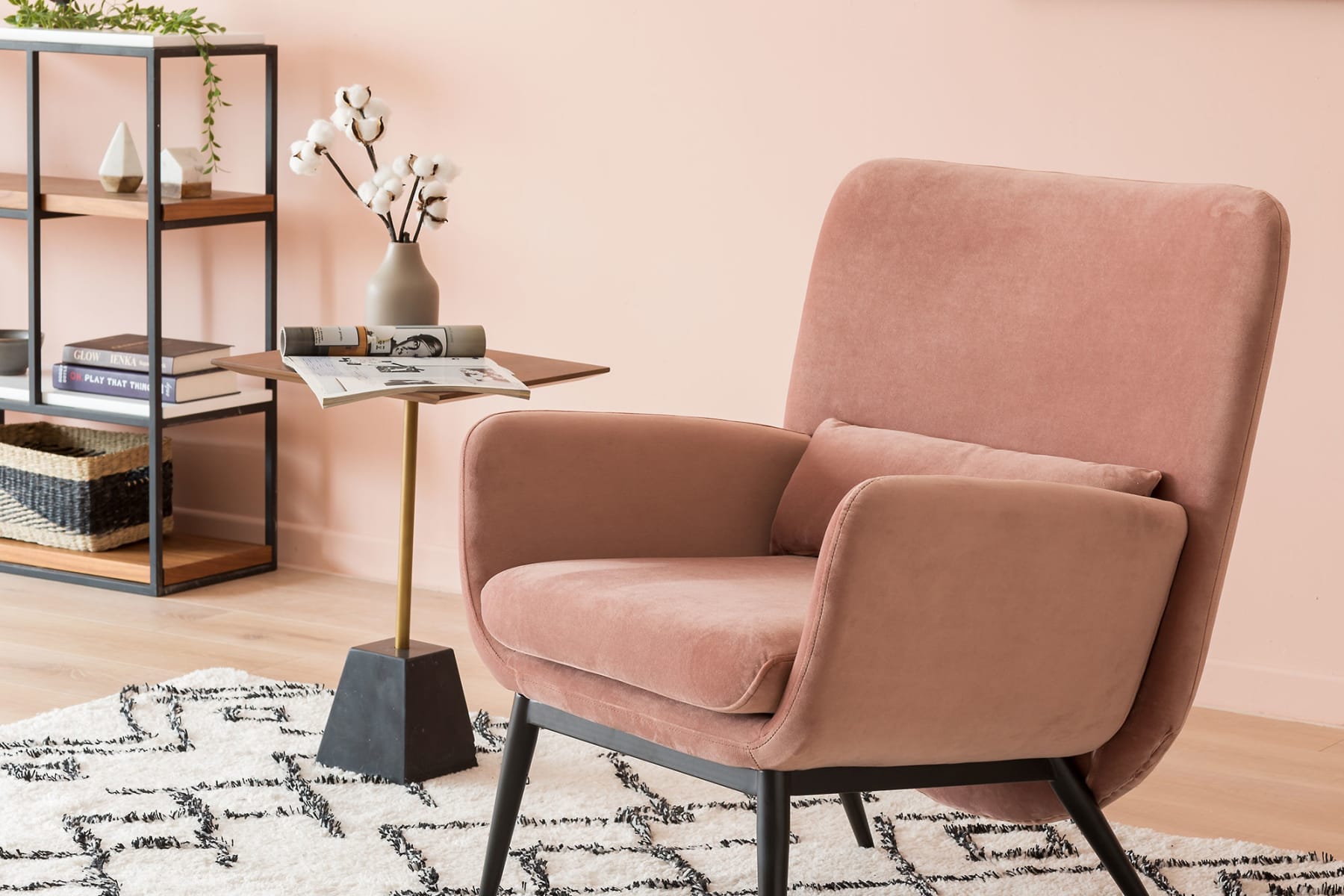 Sitting pretty. The Cammy Armchair creates the perfect reading nook and also works well as a standalone statement piece.
Velvet furniture really makes a bold style statement. As a material, it is notoriously hard to clean and maintain, so having velvet upholstery in your home adds a touch of opulence and elegance. At least, that's the way it used to be. Choosing velvet for everyday furniture such as sofas or couches was considered a bold choice as old-fashioned cotton or silk velvet was so sensitive and delicate. The material stained easily, and cleaning was hard because the pile became compressed. But that was then, and this is now.
Today, a lot of velvet furniture is made using a synthetic velvet, generally from a polyester base. While maintaining the sheen and soft touch finish, synthetic polyester is much harder wearing and stain resistant. Other liquids do not penetrate as far into the pile, which means they are easier to remove. However, as with any fabric sofa, when accidents happen you need to act quickly and correctly to prevent stains from causing permanent damage. And in a busy family home, this can happen more often than you would like.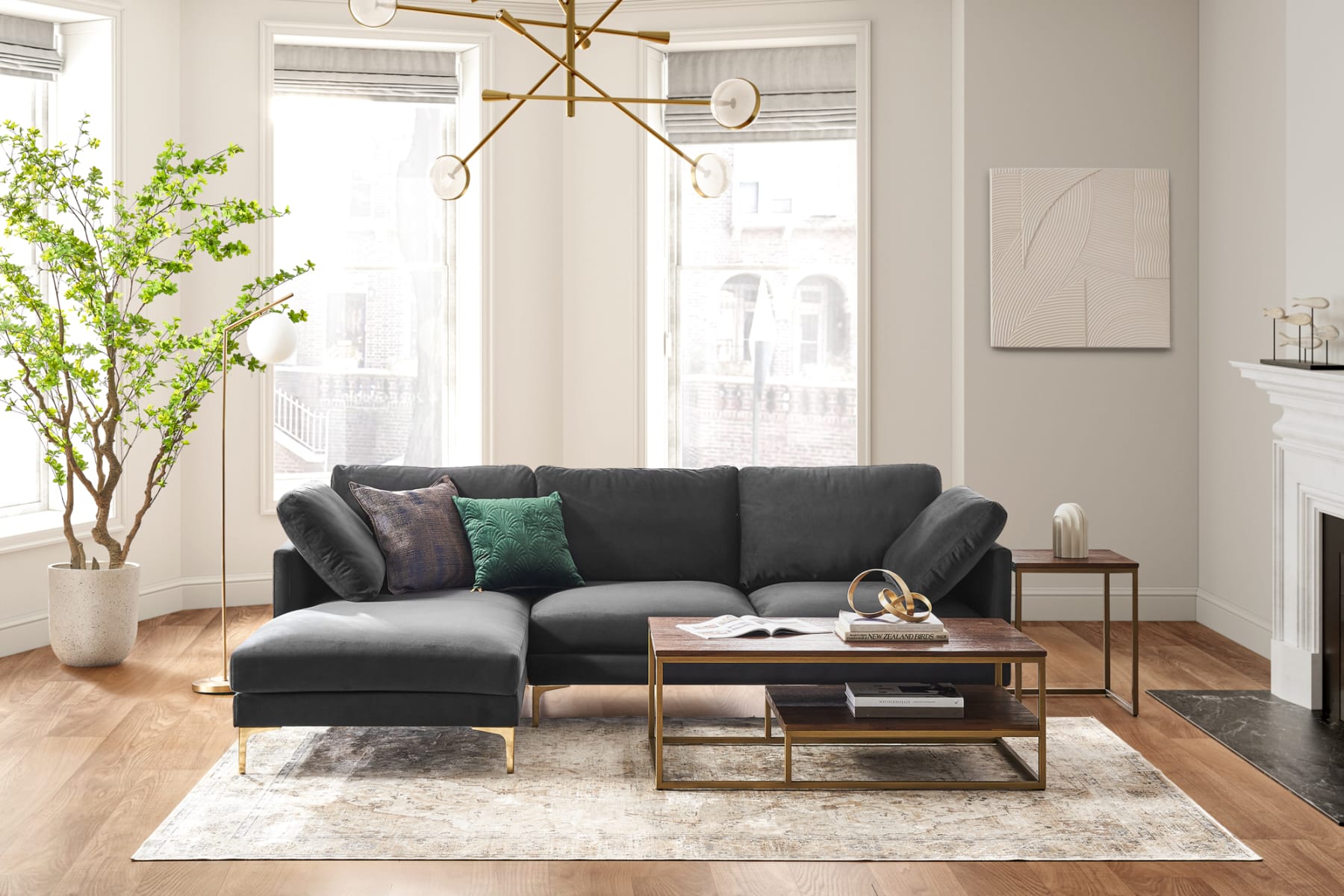 The Adams Chaise Sectional Sofa in black velvet would be an ideal choice for busy households bustling with activity.
This guide aims to tell you everything you need to know about cleaning velvet furniture, from general maintenance to emergency measures. There are also some top tips about how to prevent damage and where best to position your sofa to ensure the longest possible life span for your investment.
In order to effectively clean a velvet sofa, all you will need are a few pieces of basic equipment. For basic maintenance and cleaning you will need to give the sofa a regular going over with the vacuum cleaner. It might be worth given the sofa a quick dust down with a very soft brush to release some of the more stubborn dust beforehand. It's also worth using the nozzle attachments for the vacuum cleaner to get to the harder to reach parts of the sofa. Using a brush attachment, vacuum the sofa regularly to remove any dust particles, and this will help to keep it looking its very best for longer.
When spills happen, be sure to blot immediately and gently with a clean white cloth. Do not rub as this can cause the pile to be compressed, which may create a visual appearance of spoiled or discoloured material. Gently blot up any excess liquids or materials and then you can use other more intensive cleaning methods to remove further staining subsequently.
Older or more stubborn stains can often be removed using either a furniture steamer or iron set on low. To straighten light creases, set your steamer at a low heat setting and steam the velvet in the direction of the pile. Remember to place a cloth between the surface of the iron and velvet.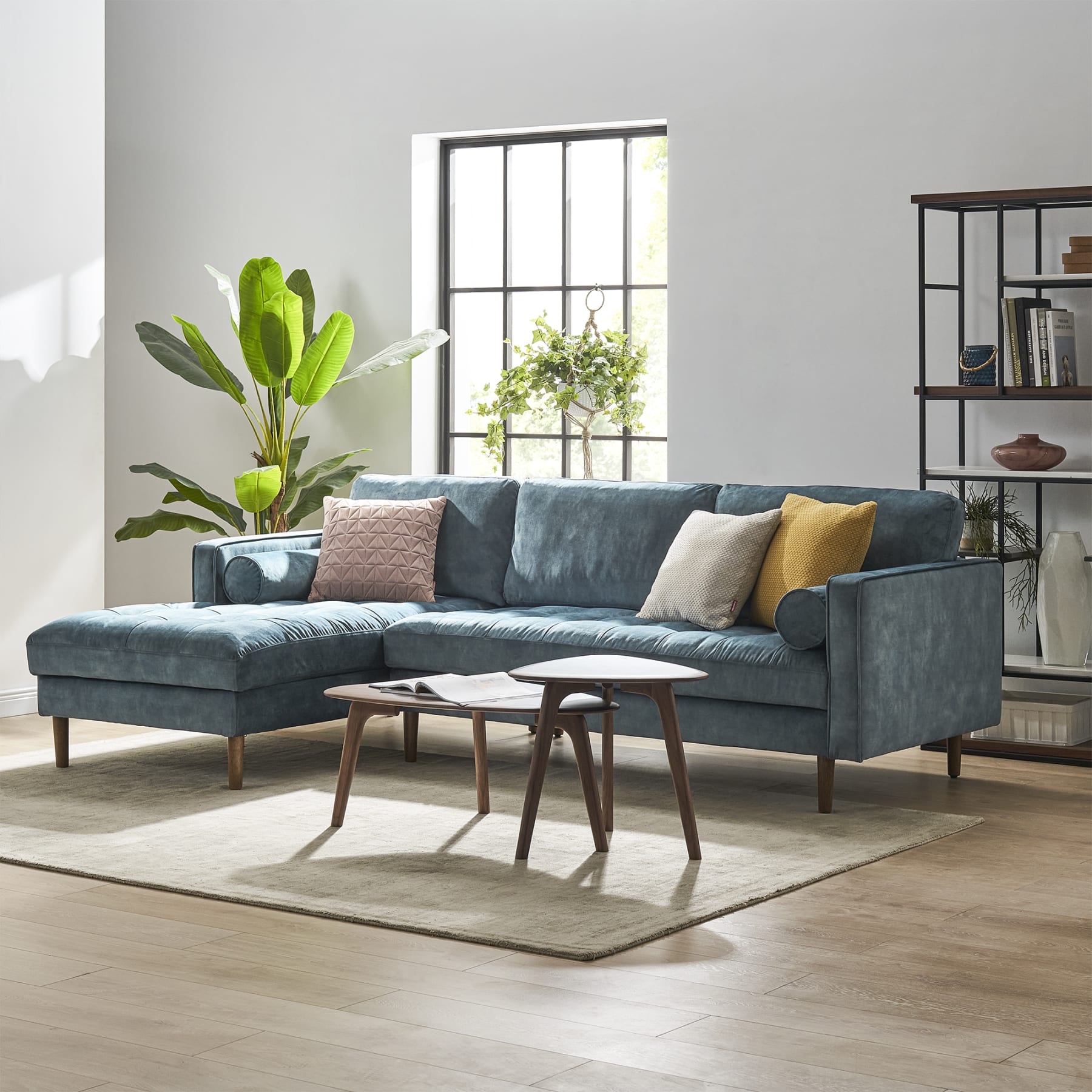 Pictured: Madison Chaise Sectional Sofa. Keep your velvet piece looking as fresh as day one by cleaning regularly and gently.
How to choose the right cleaning products
Whether it's a velvet sofa bed, 3 seater sofa or just a single velvet sofa cushion, the materials you need to clean are always the same. Most stains are usually easily removable with a simple solution of soap and water, or a light specialist upholstery cleaner. You don't need aggressive cleaning chemicals or shampoos, and all cleaning should be gentle and working with the pile of the fabric rather than against it or across it.
Steam is a very useful tool for removing dry or baked in stains, but make sure that the device you're using is on a low setting, and don't forget to protect the fabric using a cloth. If the stain is still not coming out, then you may be able to enlist the help of a specialist upholstery cleaning professional.
General velvet sofa maintenance
On top of the above cleaning methods and products, there are a few things you can do to ensure your velvet couch looks its best for longer. First, avoid prolonged exposure to direct sunlight and keep the sofa away from any heating source to prevent fading or discolouration. If this is not possible, then you can use either a throw or cushions to limit the damage caused by sunlight to the fabric. The same advice applies to all fabric sofas and leather sofas.
You should also try and brush the velvet pile regularly to reverse the effects of wear and tear that might temporarily crush the pile. Avoid placing heavy objects on the sofa for long periods of time as this can cause indentations in the pile that can be hard to remove or can even be permanent.
Are velvet sofas difficult to clean?
Pure cotton or silk velvet can be sensitive and difficult to clean. However, modern day velvet sofas are generally made of synthetic materials which are much harder wearing and easier to clean. So it is possible to have a velvet sofa even in a busy family home that looks great and keeps its sheen.
How do you get a stain out of velvet?
Acting quickly is key. Always try and remove as much of the stain as possible at the time. Do this by blotting any excess liquids or staining with a clean cloth. Do not rub as this will drive materials further into the pile and cause unsightly compressions in the fabric.
How to clean a velvet sofa without a vacuum?
Once a week or every couple of weeks, clean the velvet sofa using the brush attachment of the vacuum cleaner. This will remove dust and dirt from the pile and help to keep your sofa looking better for longer.