Your living room is one of the most important spaces in your home. It's where you gather with family and friends, unwind after a long day, and entertain guests. And as you design and decorate this space, one question may come to mind: Does living room furniture have to match?
The answer is yes and no because it all boils down to your personal preferences! Mixing and matching different styles and pieces of furniture can create a more personalized and unique feel, while opting for living room sets create a cohesive look.
If you've decided to match your living room furniture, we dive deeper into the pros, cons, and some tips to help you get started.
Pros of matching living room furniture
The main benefit of matching living room sets is that it creates a cohesive and uniform look.
If you choose a matching sofa and ottoman, for example, they'll all have the same style, colour, and fabric, which can make your space feel more put together and organised. Plus, matching furniture sets are often designed to complement each other, so you don't have to worry about clashing styles or colours.
The Remi Chaise Sectional Sofa with Ottoman Set.
Another advantage of matching living room furniture is that it simplifies the decorating process. When all your furniture pieces have the same style and colour, it's simpler to choose complementary decors, such as throw pillows, rugs, and curtains. This can be especially helpful if you're not confident in your interior design skills.
Cons of matching living room furniture
On the other hand, while matching living room furniture can create a cohesive look, it can also be a bit boring and predictable.
When everything looks the same, there's less opportunity for creativity and personal expression. Plus, matching sets can feel a bit outdated and old-fashioned, especially if they're overly ornate or formal.
Another drawback of matching living room furniture is that if one piece gets damaged or needs to be replaced, it can be challenging to find an exact match.
Tips for matching living room sets
If you've still decided to opt for the route of matching your living room furniture, let's take a look at some tips to keep in mind:
Choose a colour scheme
A colour scheme can help tie your furniture together and create a cohesive look. You can choose one colour and use different shades of it throughout the room, or choose a complementary colour scheme (colours that are opposite on the colour wheel, like blue and orange).
You can also use a neutral colour as a base and then add pops of colour with accent pieces.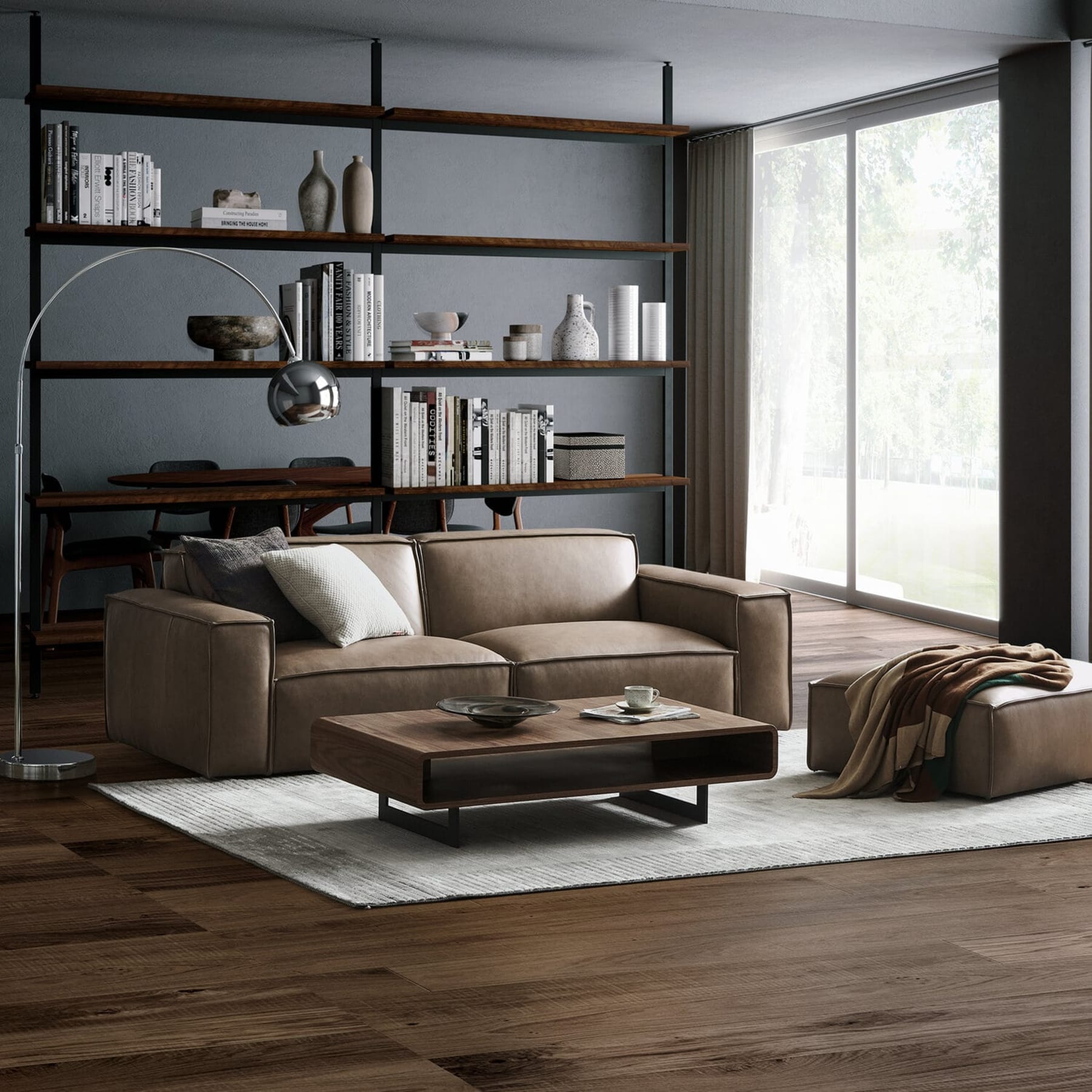 The Jonathan Leather Sofa with an Ottoman in Taupe.
Consider the style
As you're going for a matching set, your furniture should also gel with the overall style of your living room. For example, if you have a Japandi living room, you may want to choose furniture sets with wooden or natural elements; while a modern living room may call for sleek lines and minimalist designs.
The Todd Left Chaise Sofa with Ottoman would make a great fit into a minimalistic home. Picture credits: @nastazsa
Choose matching materials
If you have one type of material that dominates the space (like wood or metal), try to incorporate that material in all of your furniture pieces. This can help tie everything together and create a uniformed look.
Don't forget about scale
When investing in furniture sets, many people don't think about the scale of the living room. As there can be several pieces in a living room set, it's important to find one that works best for the space you have.
For example, if you have a small living room, choose a sofa and coffee table set that is compact and doesn't overwhelm the space so there's more room for other activities.
The Vincent Coffee Table Set can be stacked to reduce space. Also pictured: Marlow Performance Bouclé Armless 3 Seater Sofa
In addition to choosing the right scale for your furniture, it's also important to consider the scale of different pieces in relation to each other. For example, a small accent table next to a large sofa can make the table look insignificant.
Add accent pieces
Once you have your main pieces of furniture, you can add accent pieces to tie everything together. This can include throw pillows, rugs, and decorative accessories to complement the main furnishings.
When you choose accent pieces that complement your living room furniture, you can create a harmonious look that feels intentional and put together. For example, if you have a blue sofa, you could choose pillows in a complementary shade of blue.
In addition to helping tie furniture together, accent pieces can also add personality and interest to your living room. They can be used to introduce new colours, patterns, and textures, or to highlight your personal style.
Create a symmetrical layout
When you have matching living room furniture, creating a symmetrical layout is the ideal way to arrange your furniture as it can help to showcase these pieces and make them stand out. It also helps to create a sense of continuity in the space, which can make it feel more welcoming and comfortable.
For example, if you have two identical sofas, place them facing each other with a coffee table in between. You can also place matching armchairs on either side of the sofas to create a balanced and cohesive look.
Don't be afraid to mix and match pieces
While matching furniture can create a cohesive look, you don't have to buy the same exact pieces. Mixing different styles and pieces of furniture can create a unique and personalized look - just make sure they are of similar materials and colour tones to ensure your living room doesn't look cluttered.
Try colour matching furniture and walls
colour matching the walls to your living room sets can be a great way to create a cohesive and polished look in your space. However, it can go south if not done correctly.
If you have a bold or colourful living room set, consider using neutral colours for your walls like white, beige, or grey can help to create a clean and modern look. This is to ensure that your living room isn't too loud and complicated.
You can also match the wall colour to a dominant colour in the furniture - such as having a dark coloured accent wall to match a black sofa.
Recommended read: How to Style Your Living Room with a Black Sofa
Living room furniture doesn't have to match, but it also doesn't have to be completely mismatched. By mixing and matching different styles, textures, and colours, you can create a unique and personalized living room that feels cohesive and stylish. Whether you opt for matching sets or an eclectic mix, the key is to choose pieces that reflect your personality and taste.