The holiday season is a magical time of year when families and friends come together to celebrate and create cherished memories.
One of the central elements of these celebrations is the joyous feasting around a beautifully adorned table. To make your Christmas gatherings even more special, we're here to help you elevate your dining table decor with 5 creative tablescaping ideas.
Christmas tablescape tips
Choose a theme and colour palette
Deciding on what theme and colours you plan to incorporate for your dining table decor helps to guide your design and decor choices. Some common themes include rustic, modern, or even a whimsical winter wonderland.
Choose a colour palette that aligns with your chosen theme. Classic Christmas colours like red, green, and gold work well, but you can also opt for a more unique palette, such as silver and blue or blush and rose gold, to give your table a distinct personality.
Focus on a striking centrepiece
Your centrepiece should be the focal point of the dining table. Depending on your theme, consider a beautiful floral arrangement, a cluster of candles, a mini Christmas tree, or a thematic display with ornaments and figurines.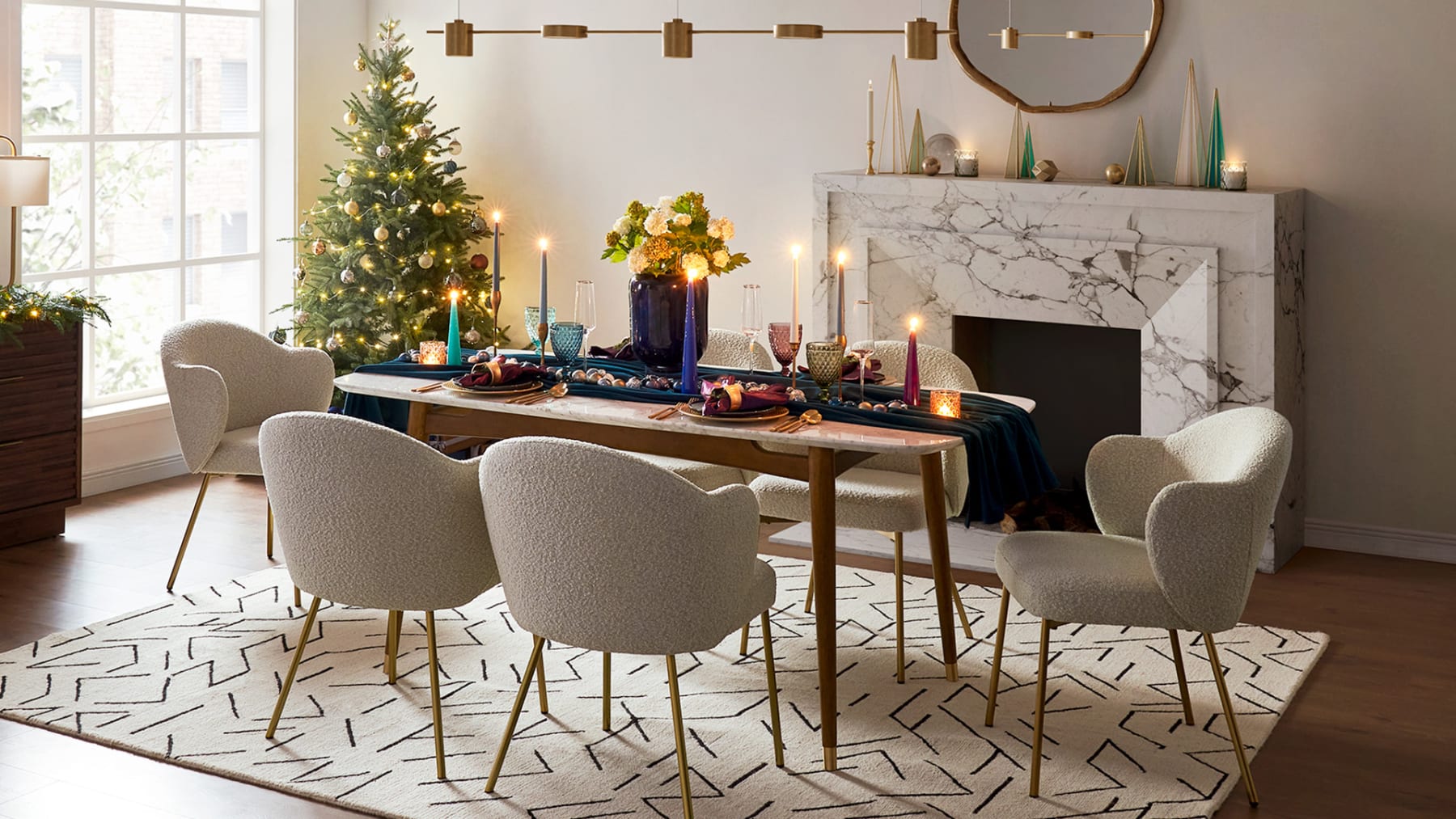 A tall black vase of flowers used as a centrepiece on the Kelsey Marble Dining Table in Walnut. Also pictured: The Simone Performance Bouclé Chair.
Layer your table settings
Layering is a key technique to creating an inviting tablescape for Christmas. Stack dinner plates and layer them with plate chargers or placemats.
Between the layers of dinnerware and flatware, you can add decorative elements such as a sprig of fresh herbs, a small floral arrangement, or a thematic ornament. Consider layering different textures and colours to enhance the overall visual appeal.
Add greenery and natural elements
Incorporate fresh greenery, pinecones, holly, or evergreen branches into your tablescape to infuse freshness and a pop of colour. These natural elements bring a touch of the outdoors inside and create a cosy, festive atmosphere.
@daniellepiercee creates a beautiful centrepiece comprising of holly sprigs and a white runner. Pictured: The Seb Extendable Dining Table.
You can also extend the natural theme to the dining chairs by placing small wreaths on the backs of the chairs. Secure them with ribbons or twine for a rustic look.
Be mindful of table size
More often than not, the decor and plates of food on the dining table will likely leave little room for a comfortable and practical eating experience.
To prevent this, invest in an extendable dining table or a sideboard. Extendable dining tables provide ample seating and dining space for guests and can be folded down when not in use.
Sideboards provide extra surface space for food and drinks, keeping them within reach without overcrowding the dining table.
Recommended read: 8 Key Dining Table Measurements You Should Know About
5 Christmas table decorating ideas (based on your dining table type!)
Modern farmhouse charm
If you're drawn to a more rustic or farmhouse style, incorporate natural elements into your tablescape.
Start with a wooden dining table as your base to add warmth and texture. Wooden plate chargers or placemats can also create a rustic foundation for your place settings.
Keep your colour palette neutral with shades like beige, cream, and grey. These colours mimic the natural tones found in farmhouse decor and provide a clean and timeless backdrop for your table. Add some fresh sprigs of holly or pine branches to evoke the scent of the season and add freshness to the set-up.
Create a rustic modern farmhouse tablescape with the Miles Dining Table and Kelsey Leather Chair in White Wash. Also pictured: The Marc Oval Jute Rug.
Embrace traditional Christmas colours
You can't go wrong with the classic Christmas colours of red, green, and gold. Start with a wooden dining table, preferably one with dark wood like walnut wood to mimic the colour of a tree trunk. Add a red tablecloth or table runner adorned with green garlands and golden accents creates a timeless and festive atmosphere.
To add an extra touch of elegance, consider using rich, deep shades of red and green, which can be beautifully complemented with metallic gold or silver elements.
To fully embrace the Christmas spirit, incorporate seasonal accents like ornaments, pinecones, mistletoe, and festive ribbon. These elements can be used as part of your table settings or scattered throughout the table for a cohesive look.
Create a Christmas colour-themed tablescape with the Lily Dining Table Set. Also pictured: The Nova Cotton Area Rug.
Creating a glamorous Christmas tablescape involves infusing your dining table with opulence and a touch of extravagance.
To create this look, opt for a marble dining table for that luxurious vibe. Go for metallics like silver, gold, or even rose gold for your tablescape. A shimmering tablecloth runner paired with metal accents can create a dazzling effect. Add crystal glassware, such as wine glasses and champagne flutes, to add a touch of elegance and refinement.
Use gold candleholders, cutlery, and even a pendant light to add a sophisticated flair to the space.
Create a glamorous gold and metallic tablescape with the Kelsey Marble Dining Table Set. Also pictured: The Tessa Cotton Area Rug.
Wooded winter wonderland
This theme is all about embracing the cosy, rustic charm of a winter forest - bringing in the beauty of nature while capturing the enchantment of a snow-covered woodland.
To start, opt for a wooden dining table as your canvas. A rustic farmhouse-style table or one with a distressed wood finish works beautifully for this theme. Keep the colour palette soft and neutral. Use whites, creams, light greys, and pale blues to mimic the serene, wintry landscape.
Create a stunning centrepiece by using tree branches or wooden logs. Arrange them in a vase or a wooden box, and drape them with faux snow or white spray paint to evoke the look of snow-covered trees. Scatter pinecones throughout the table for a natural, woodland feel.
Don't forget to hang some snowflakes or star ornaments along the table edges or on the backs of chairs to dramatize the snowy theme.
Create a wooded winter wonderland with the Theo Round Dining Table Set and Desi Wool Area Rug. Picture credits: Brian Woodcock
Candy-cane themed
Creating a candy cane-themed Christmas tablescape is a delightful and whimsical way to infuse your holiday dining experience with the classic colours and charm of this iconic Christmas treat.
This theme revolves around the classic red and white colours. Begin with a white or wooden dining table and place a red and white striped tablecloth or table runner as the foundation for your tablescape. This instantly sets the candy cane theme and adds a playful touch.
Fill a glass jar up with candy canes for your centrepiece, or place a small bouquet of red and white flowers, such as roses or carnations, in the centre of the table. Hang decor with red and white ribbons for that extra pop of colour.
Create a candy cane-themed tablescape with the Brighton Oval Dining Table Set and Aziza Area Rug. Picture credits: The Lily Pad Cottage
Creating a memorable Christmas tablescape is all about blending your personal style with festive elements. Whether you prefer the classic Christmas look or a fun and whimsical theme like candy canes, these ideas and tips will help you set the stage for a magical holiday gathering.