Brighten up your bedroom and revitalise your interior by investing in a brand-new bed. A cosy bed will give your bedroom a whole new look, providing a stylish focal point to your space, as well as a lush spot to lay your head at the end of a busy day.
However, before you can enjoy your new bed, you'll need to put it together. If you're a natural with tools like hammers, you'll have your new frame up in no time. But if you don't know your screwdriver from your Allen key, following the instructions and taking things one step at a time will get your new bed assembled pretty quickly too.
A properly put together frame will give you a solid base for your bed, creating a foundation for a good night's rest. Here are our top tips for getting your bed frame up and ready as soon as possible.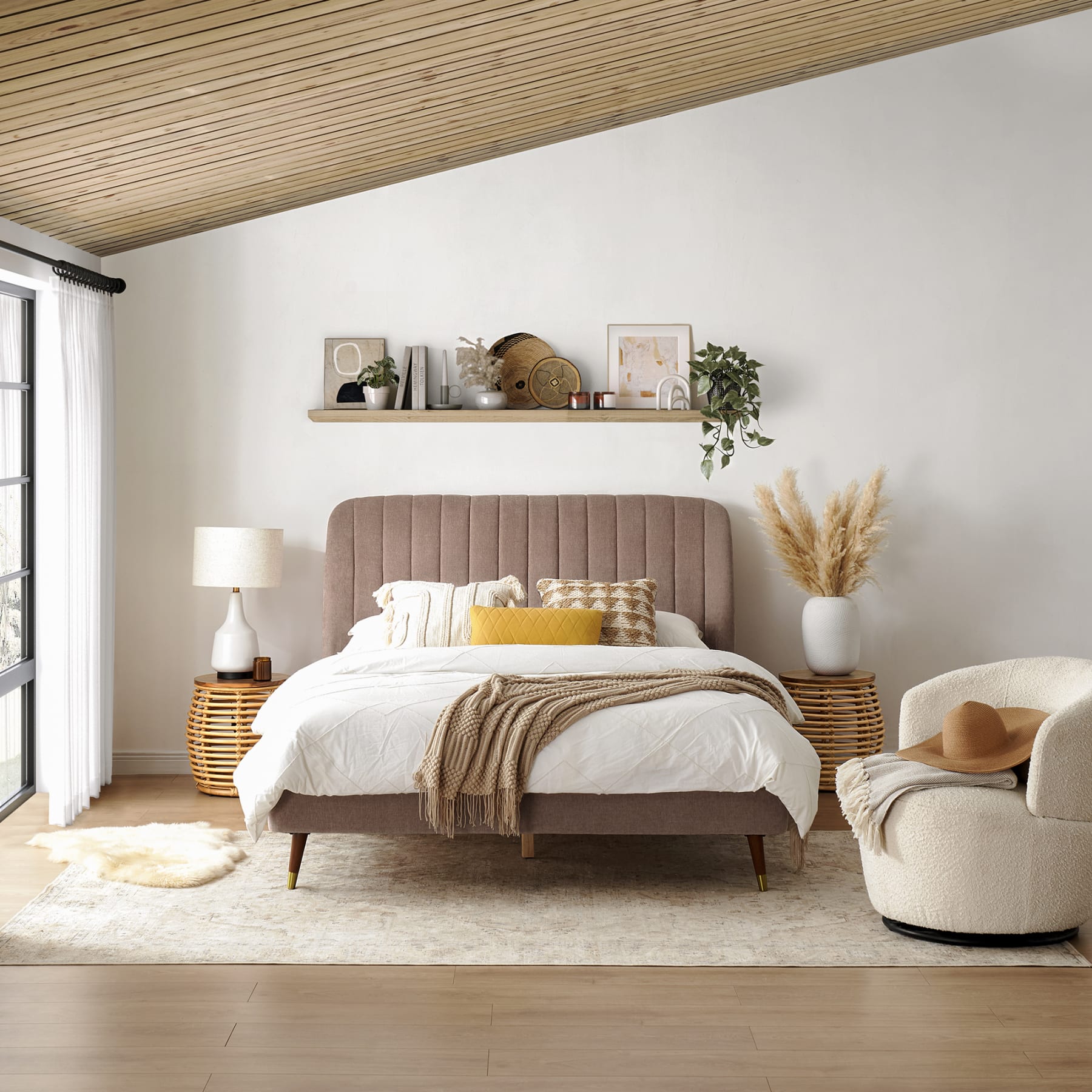 Consider this your favourite spot within your home. The Lexi Bed is made for slow mornings and restful evenings.
Can you put a bed frame together yourself?
In most cases, bed frames are delivered in parts. This is because it makes them a lot easier to transport and get into position. Most manufacturers will design their king and queen bed frames so that they can be easily assembled at home. However, as all bed frames are designed differently, you'll need to check the instructions before you begin putting your dream bed together.
If your frame is designed to require the help of professionals, your manufacturer may offer a paid-for assembly service. Choosing this option will help to ensure that your new bed frame is as durable and hard wearing as possible.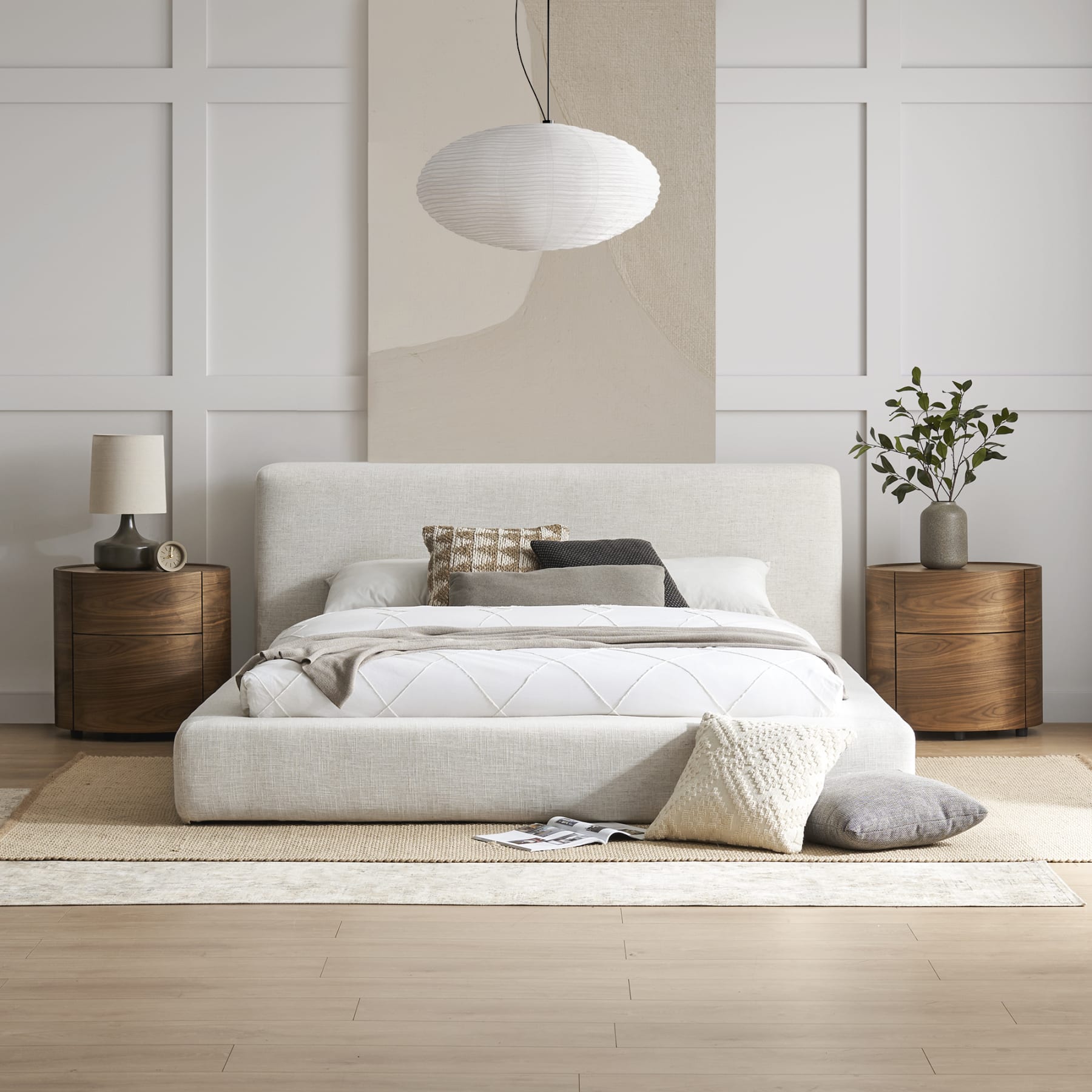 Dawson's minimalist platform design doubles up as a convenient spot to place your phone or a good book.
How to assemble a bed frame at home
In general, the key to successful assembly is taking things slowly. If you rush the process, you may find that parts are missed, mistakes are made, and the resulting bed doesn't look as good as it should.
Whether you're putting a single, double, queen or king size bed frame together, the first thing you should do is read the manufacturer's instructions. Most companies will include detailed steps on how to put the product together quickly and easily.
In many cases, manufacturers specify that you'll need two people for the job. This is because many of the parts that go into making queen and king size beds are too long for one person to hold steady by themselves. If you live alone, try roping in a friend or family member to help you put your new bed frame together.
To properly assemble your wooden or fabric bed frame, you may also need some hardware. While some brands supply small tools like Allen or hex keys, you might also need other basic items like a screwdriver, spirit level and hammer.
Tips on how to put a bed frame together
When putting your new bed frame together, try to work slowly and methodically. Take a look at all of the screws, brackets and other wood and metal fixings that have been supplied with the frame before you begin. This will give you a good idea of what tools you have at your disposal.
Take a close look at photos of your bed frame before you begin to remind you how the finished piece is supposed to look. This can make it easier to get the various elements in the right places and ensure the end product looks exactly as it should.
Some of the most difficult pieces to attach are the long sides of the frame. If you have someone helping you put the piece together, make sure they hold the frame straight and steady as you attach the sides together. If you don't have a helping hand, rest these long lengths on a cushion or low table to keep them still while you complete the job.
Once the frame is assembled, go around the furnishing checking that all screws, bolts and brackets are tightened up as far as they can go. This will ensure that the product is solid and won't come apart when it's time for bed.
Seeking extra storage under the bed? The Adams' open-base silhouette offers just that.
Assembling bedroom furniture
Often, it's not only wood bed frames that need assembling – other bedroom pieces may well need to be put together too. If you've bought new bedroom storages, like large wardrobes, you might need to get the tools out again to put the pieces together. However, smaller items like bedside tables and sideboards will probably come fully assembled.
You can learn more about bed frames of all sizes, and find the perfect piece for your home, by exploring our thoughtfully-designed collection today.
How do you put a wooden bed frame together?
In almost all cases, new wooden bed frames will be delivered in separate parts. To put your new frame together, you'll need to read the manufacturer's instructions step by step. A lot of frames require two people to assemble them correctly, so see if you can find a friend or family member to help.
The tools that you need to put a bed frame together will vary depending on the design of the product. Often, you'll need a selection of Allen keys and a screwdriver. Most times, small tools will be provided by the bed frame manufacturer. This will make it quick and easy to assemble your frame before moving your bed into its position.
Is it difficult to assemble a bed frame?
If you follow the instructions, putting your bed frame together should be straightforward. You can make the process easier by taking your time, keeping your tools and fixings organised and finding someone to help you assemble the furnishing.