In the world of interior design, furniture plays a pivotal role in transforming a space from ordinary to extraordinary. Among the myriad of furniture pieces available, ottomans stand out for their versatility, charm, and multi-functionality. These compact yet stylish additions can bring a new dimension of comfort and aesthetics to your living room.
In this article, we delve into 6 compelling reasons why ottomans should find their way into your living room.
Need somewhere to rest your feet or place decorative trinkets? The Adams Ottomans' tailored silhouette will sit perfectly in any home. Picture credit: @thedcdarlings
Why you should have an ottoman
Adds seating without taking up valuable space
Ottomans are one of the most compact options when it comes to seating. They're usually smaller than armchairs, allowing you to add additional seating space to your living room without taking up too much valuable floor space.
@homewithstefani adds style and functionality to her space with the Dawson Ottoman' placed between the Dawson Sofa and Madison Sofa.
Having an additional element in your seating layout can benefit your living area both practically and aesthetically. Allowing you to host more guests and add charming accents to your interior design scheme, ottomans are the perfect way to bring a little extra visual interest and sense of togetherness to your home.
Ottomans are incredibly versatile
Another great reason to have an ottoman in your living space is that they're incredibly versatile. Despite their small size, ottomans offer a lot when it comes to maximising the purpose of your lounge area. Aside from being used as occasional seating when friends and family drop around to visit, they can also double up as a handy coffee table.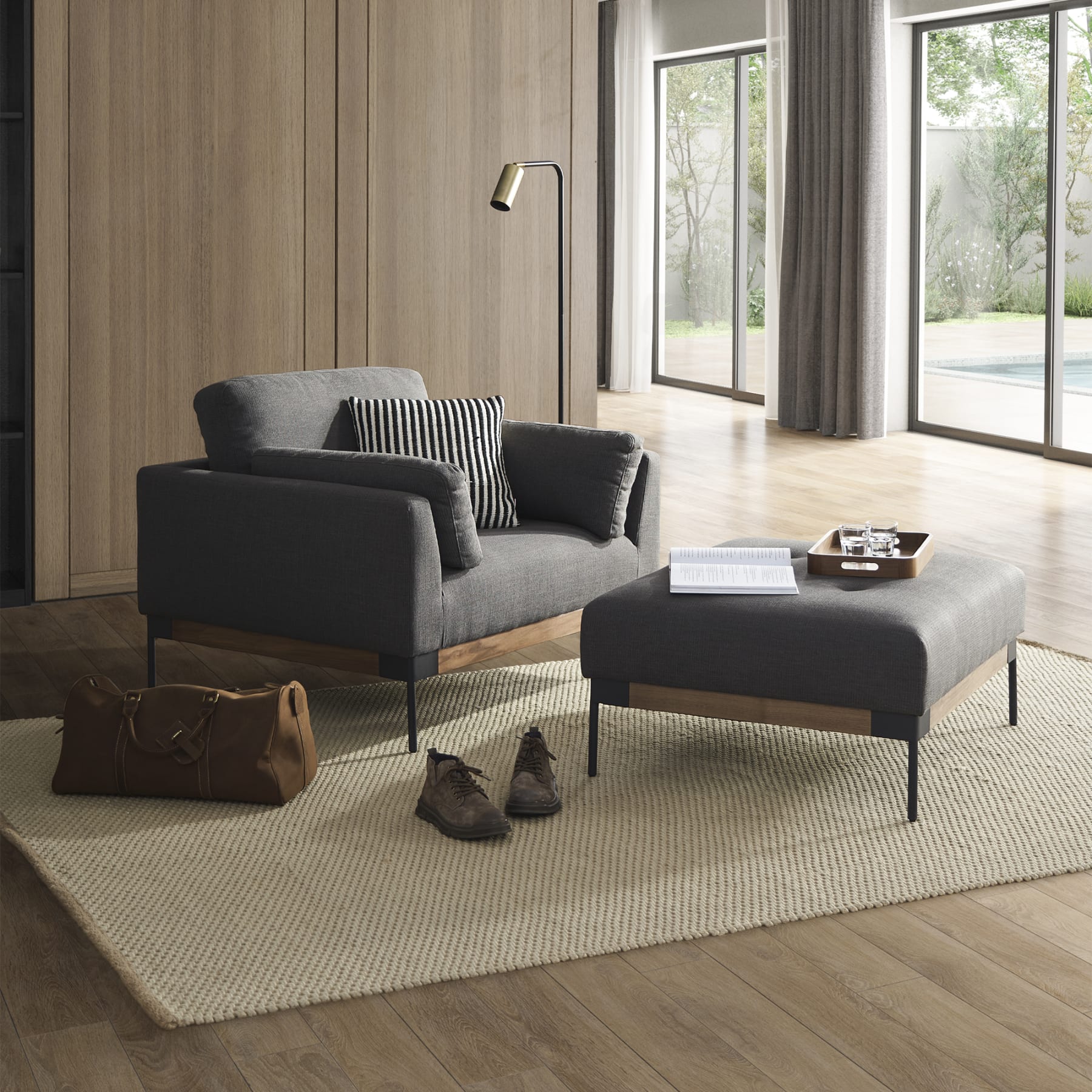 The Ethan Armchair and ottoman is the perfect invitation to kick your feet up and unwind.
Ottomans are equally adept at acting as storage units, concealing items like blankets, magazines, or remote controls, helping maintain a clutter-free environment.
Transforms your sofa into a luxurious chaise
Positioning an ottoman at the end of your 2 or 3-seater sofa instantly converts it into a luxurious chaise lounge. For smaller living rooms, this allows you to enjoy the spaciousness of a sectional sofa without sacrificing limited floor space. This makeshift L-shaped sofa provides more space for lounging and hosting guests - or simply for you to kick up your feet for a comfortable midday snooze.
Lets your design creativity flow
Ottomans provide an opportunity to experiment with textures, fabrics, and colours that tie your living room's design elements together. They can be chosen to complement your sofa or armchairs, creating a sense of design harmony. Alternatively, you can use them to introduce a pop of colour or pattern, breaking away from the monotony and infusing energy into the room.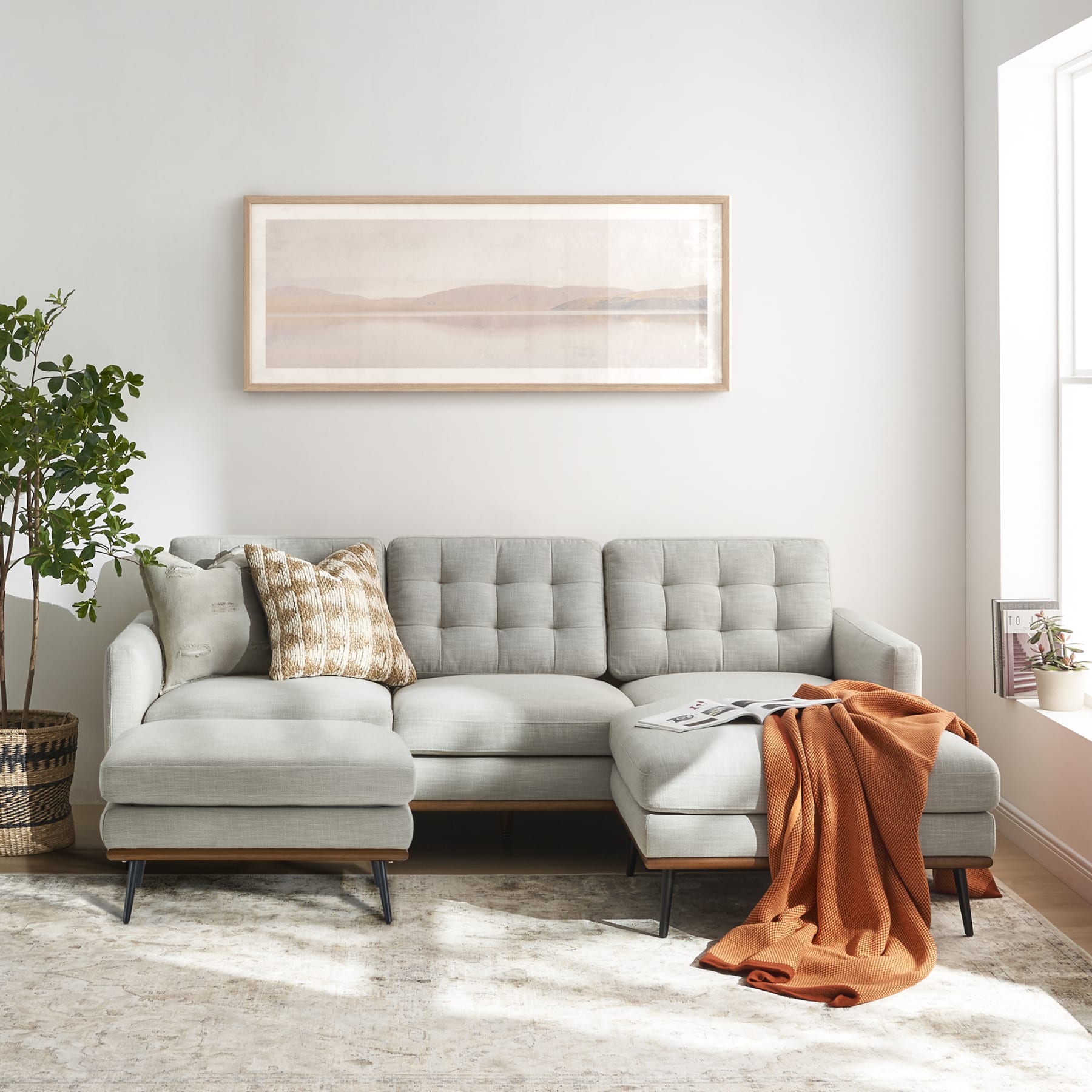 Complement your chaise sofa with a matching ottoman, just like we did with the Isaac Reversible Sectional Sofa.
Family-friendly option
When selecting furniture for young children, safety is paramount. Thanks to their soft upholstery and rounded corners, ottomans are great family-friendly pieces of furniture. With no sharp edges to worry about, you can be safe in the knowledge that your kids or pets can sit and play around your ottoman without causing any harm.
Suitable for any room in the home
Although a lot of ottomans are placed in the living room and used in conjunction with sofas and armchairs, they can be used in any part of the home. Place an ottoman in your bedroom and you'll have a comfortable place to sit while you pull on your socks in the morning or get ready for the day.
Another great option is to put your ottoman in your entryway. Just like the bedroom, keeping an ottoman close to your front door gives you somewhere convenient to put shoes on and take them off. It will also give you somewhere to rest when you come home with hefty bags of shopping. Placing an ottoman in your entryway can also make your home appear more welcoming and colourful.
Ottomans offer a myriad of reasons to be embraced in your living room, far beyond their reputation as footrests. From creating additional seating space to accommodating children's play, ottomans enhance the aesthetic, functionality, and livability of your living space. With their diverse design options and inherent versatility, ottomans aren't just furniture pieces – they're transformative elements that infuse your living room with comfort, style, and a sense of connection.