Rugs are the perfect soft furnishing to completely transform your space without breaking the bank. An area rug could be the perfect choice, delivering a splash of colour to your interior as well as tying your room together.
To get the most from your area rug, you need to place it and style it just right. Once you've got the location of your rug spot on, you'll create a space you will love coming home to. To help you find the right area rug for your living room, we're looking at how to style and position these eye-catching interior accessories.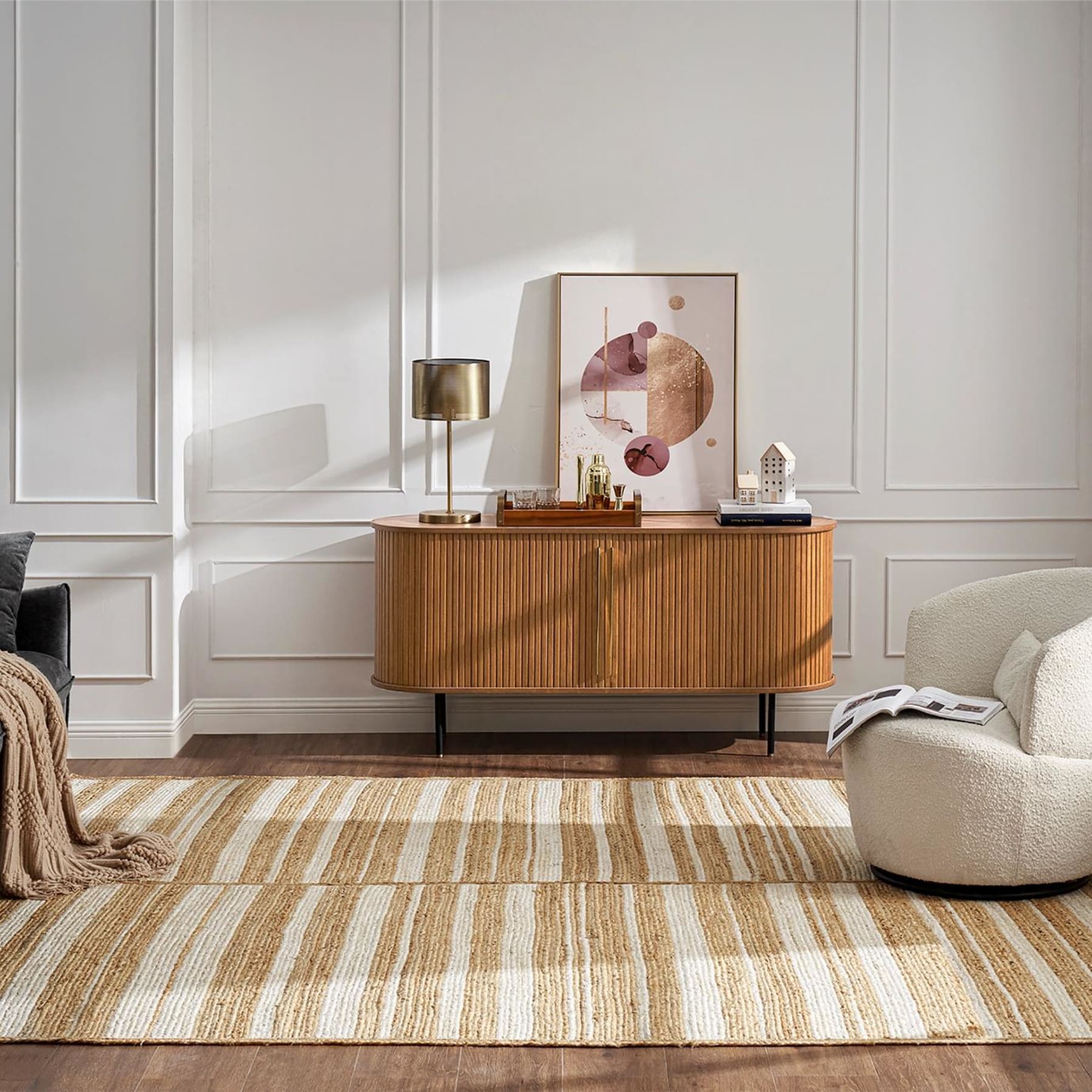 Pictured: Yara Jute Rug. Made of natural materials, jute rugs are durable options that hold up well in busy spaces.
The perfect fit
As you'd probably expect, area rugs come in a variety of different sizes. Large rectangular rugs can measure around 250cm x 300cm while small rugs are often in the region of 150cm x 250cm. Oval rugs come in in roughly the same dimensions while circular area rugs are generally around 200cm in diameter.
If you're not sure what size rug to get for your room, take a minute to stand back and look at the space. Ideally, you want a rug that's big enough to make an impact but not so big it dominates the space. Measure out the different size options to get a better idea of how an area rug will work in your living room and how much space it will take up.
As a rule of thumb, there should be between 15 and 60cm from the end of your area rug to your living room walls. This will ensure your rug doesn't look out of place, while keeping the feel of your room balanced.
If you have a very large living room, don't worry too much about the space between the edge of the rug and your wall. Instead, you can use the rug to define your seating area and add warmth and character to the space. Place your armchairs and sofas around the edges of the rug to 'zone' your room and make your large interior feel cosy.
Area rugs also work well in smaller spaces. If you have a smaller, cosier living room, you can put your furniture on your area rug to give the illusion of a carpet. This is a great way to make the interior design of a small space feel more deliberate and more characterful.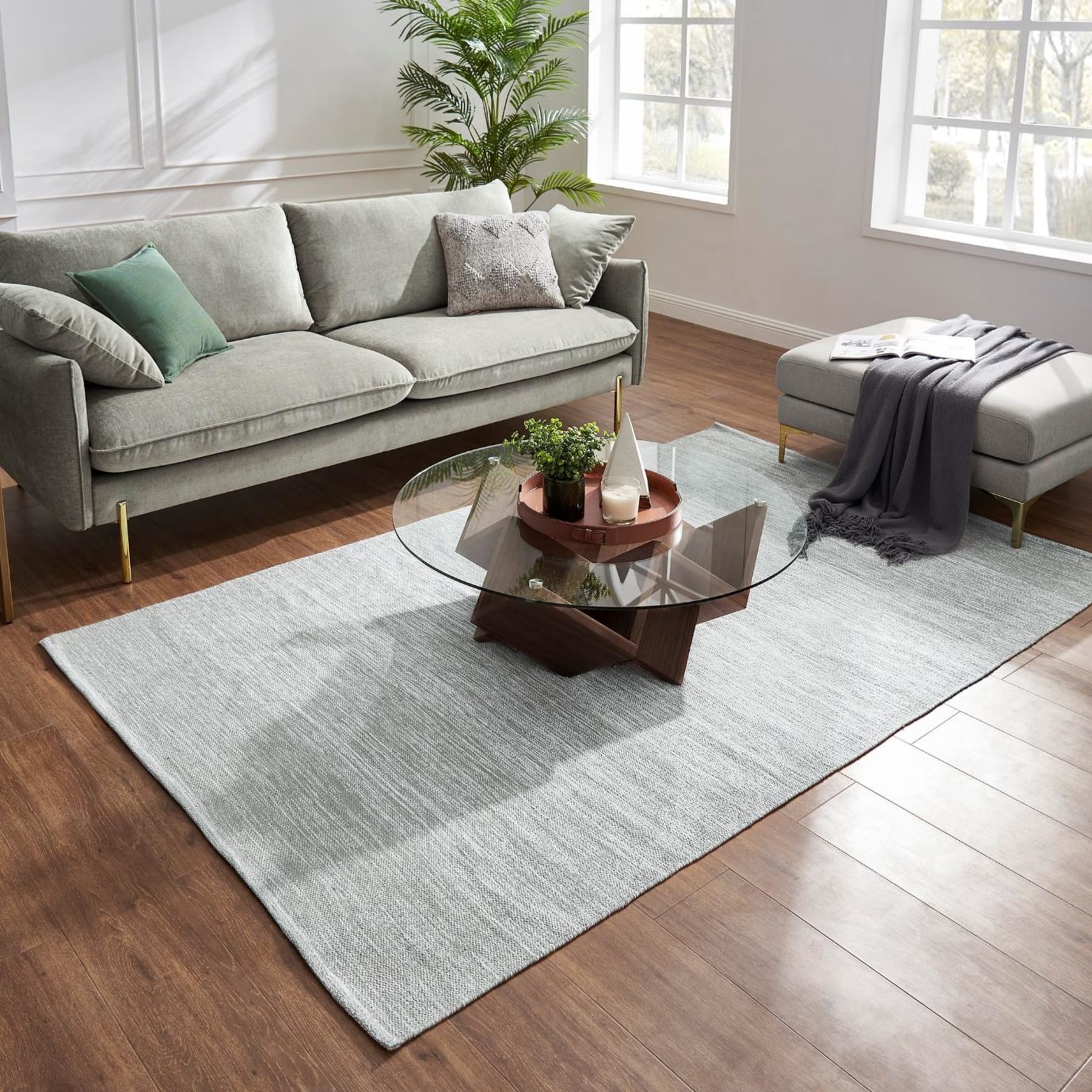 Rugs are soft furnishings that do wonders for anchoring a large space. The Nova Cotton Rug's neutral appearance makes styling an absolute breeze.
Anchor the space
In rooms without area rugs, the furnishings and accessories can feel a little disjointed and afloat. Adding an area rug to your space will bring your interior together and give your fixtures and fittings a central anchor or focal point to work from.
To create this effect, think about how your furniture relates to your rug when placing it in the space. While not everything needs to be exactly matching to your rug, it's a good idea if larger pieces complement the soft furnishing. For example, you could choose curtains that pair well with the colour of your rug, footstools that accent its style or wall art that reflects its patterns or designs.
By linking your area rug to your other interior design features - either physically or aesthetically - you'll create a scheme that's beautifully anchored and looks truly fantastic.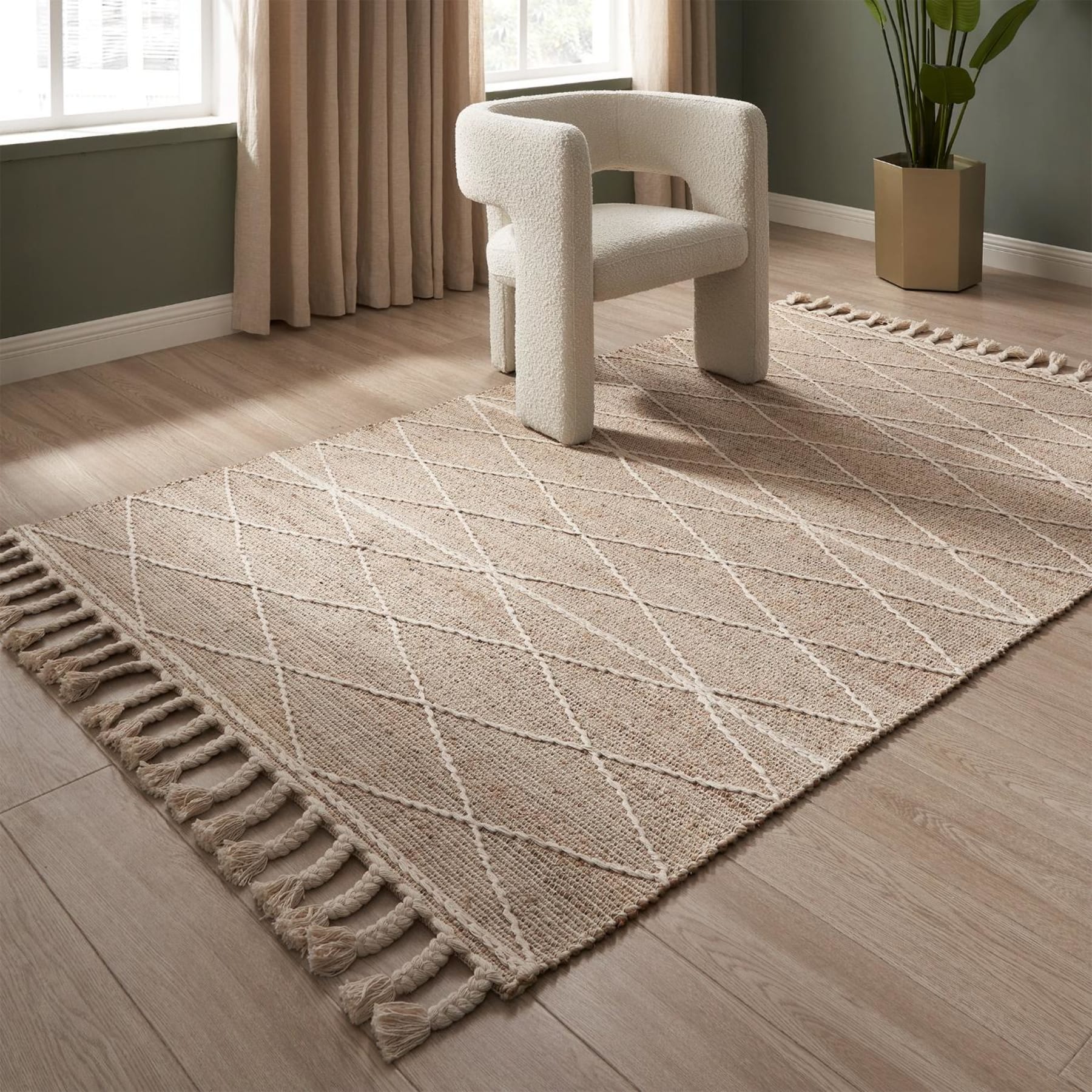 Pictured: Lilou Rug. Complement your interior with a rug that matches the textures of your home.
Work with your furnishings
Got your sofa and coffee table in place? Now all you need is a rug to complete the look. If you're wondering how to style area rugs such that they feel integral to the interior design, the secret is to work with your furnishings. The happier your sofas and armchairs are positioned around your rug, the better your interior is going to look.
So, before you invest in your new area rug, take a minute to sit down with a nice cup of coffee and think about how your new layout is going to work. Is your sofa going to sit on the rug, behind the rug or with just its front feet placed on the fabric? Are you going to have a coffee table on the rug? Or will you leave it open and unconstrained by furnishings?
Make sure you have at least a little spot of your rug free of coverings so that friends and family can admire its good looks. Leaving a little space in the layout is also important to avoid the room feeling overcrowded.
If you're moving into a new home, getting the layout right can be even easier. Place your rug in the space before anything else and then build your room from there. Start with the big pieces like the sofa, chairs and coffee table before moving onto smaller items like side tables and footstools.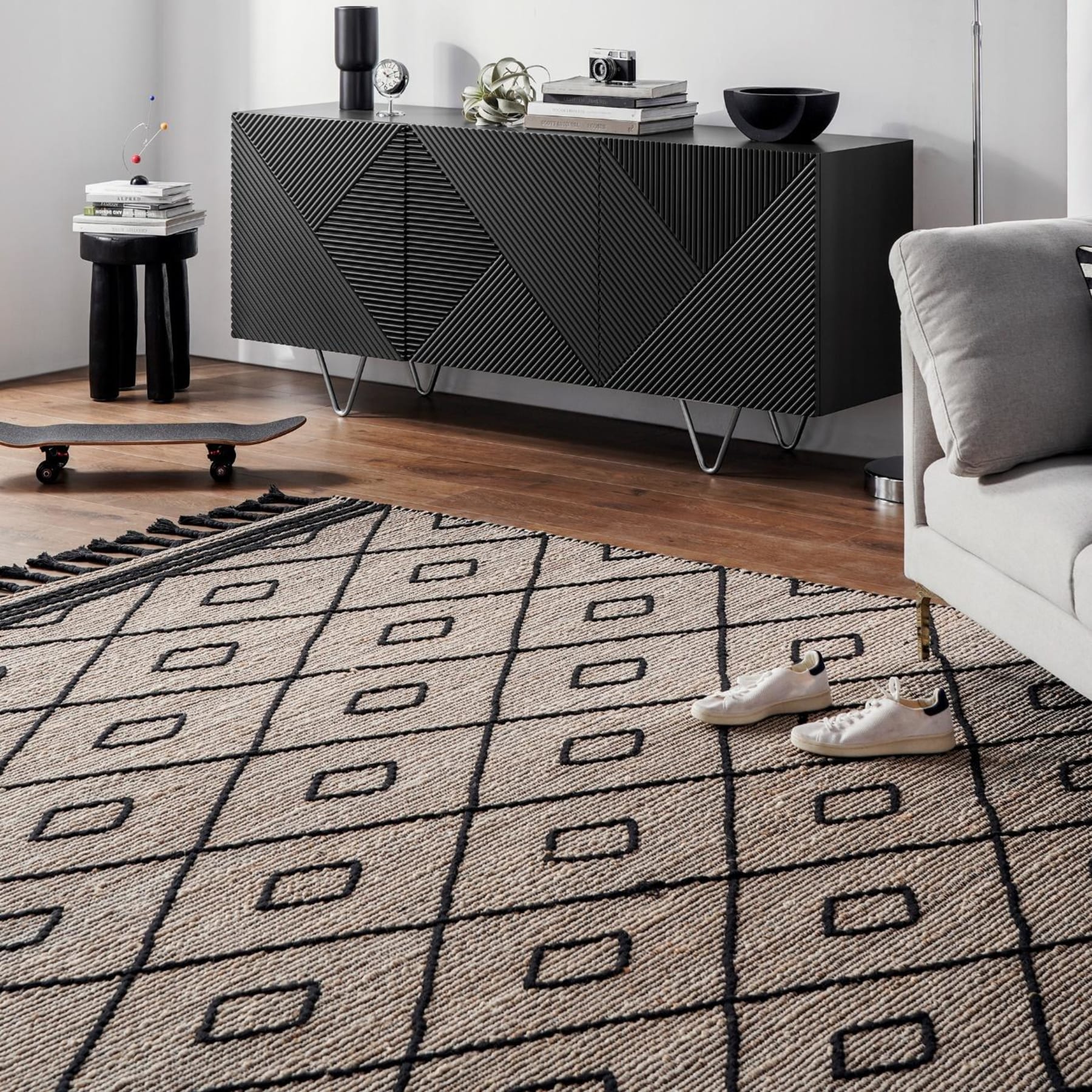 Take a bold approach to interior styling with the Ventura Rug. This handwoven piece makes a statement with its eye-catching diamond patterns.
How to find the right area rug for your living room
Because area rugs have a pretty big impact on the look and feel of rooms they're placed in, it's important to find the right rug for your home. In general, the most important things to think about are size and colour. You need a rug that's going to fill the space and complement the other tones in your interior.
Aren't sure which shades will work in your home? opt for a neutral colour like white, grey or beige. Choosing a rug made from natural materials like jute is also a good option as this can help to ground your interior design and make your home feel inviting and welcoming.
Adding an area rug to your living room is a fantastic way to bring your interior design theme together and make your home feel even more inviting. Explore our wide selection of area rugs and be inspired today.