Many people love marble aesthetics, adding them to their living room or dining room to infuse elegance and sophistication. However, few know how to clean and maintain them effectively. Proper cleaning techniques are crucial to preserve the beauty of marble and ensure it stays pristine for years to come
If you're planning on getting a marble dining table or countertop, this article will serve as a guide to help you effectively clean them. From routine maintenance to tackling stubborn stains, let's dive deeper into marble table cleaning.
Understanding the nature of marble
Before we jump into the cleaning process, it's important to understand the nature of marble.
Marble is a porous natural stone that can be easily stained and scratched. It is composed primarily of calcium carbonate, making it susceptible to acidic substances like citrus juices, vinegar, and harsh cleaners.
Marble tabletops exude luxury and elegance.
With this in mind, using gentle and non-abrasive cleaning methods are essential to protect the delicate surface of your marble table.
A step-by-step guide to routine marble table cleaning
To clean your marble table effectively, gather the following tools and materials:
Soft, lint-free microfibre cloths
Mild dish soap
Soft bristle brush or toothbrush
Marble sealer (optional)
Step 1: Clear the table
Before you begin cleaning, remove any decorative items or clutter from the surface of your marble table so you have a clear area to work on.
You can then wipe down the area with a dry cloth to remove any dust and debris. This prevents particles from scratching the surface during the cleaning process.
Step 2: Damp cleaning
Moisten a microfibre cloth and using gentle motions, wipe the entire surface of the marble table. This helps remove any remaining dust and dirt.
If you encounter stubborn stains or grime, you can add a small amount of mild dish soap to the water for extra cleaning power. However, remember to use mild, pH-neutral dish soap to avoid damaging the marble.
You can repeat the damp cleaning process multiple times as needed to remove the dirt. Remember to rinse the cloth frequently to remove accumulated dirt and soap residue before each wipe.
Step 3: Drying
After completing the cleaning process, it's crucial to dry the marble table thoroughly. Take a clean, dry microfibre cloth and gently dry the entire surface of the table.
Be sure to remove any moisture to prevent water spots or damage to the marble. Pay extra attention to corners, edges, and crevices where water may accumulate.
Step 4: Reassemble
Once your tabletop has dried completely, you can reassemble all your kitchenware, tableware, and decor back on the table.
Step 5: Protecting (optional)
This is an optional but highly recommended step to protect your marble tabletop from stains and dirt. Apply a marble sealant to create a protective barrier against stains, moisture, and scratches. As for the frequency of application, it's best to follow the manufacturer's instructions as this can vary by product.
Tackling stubborn stains
Organic stains (coffee, wine, food)
Blot the stain immediately with a clean, damp cloth to remove the liquid and residue. If the stain persists, create a paste by combining acetone and baking soda to form a paste. Apply the paste to the stain, cover it with plastic wrap, and let it sit overnight. Gently scrape off the dried paste and rinse the area with water.
You can also use a paper towel soaked in bleach and let it sit for 24 hours.
Oil-based stains (grease, makeup)
Absorb excess oil with a paper towel and apply a marble-safe, pH-neutral cleaner. Gently scrub the stain with a soft brush or toothbrush, then rinse with distilled water and dry thoroughly.
You can also create a paste with acetone and baking soda, letting it sit on the spot overnight.
Ink stains
Dampen a clean cloth with acetone and gently dab the stained area. Avoid rubbing the stain as this can distribute the ink and cause a larger ring. Rinse with water and dry it completely with a dry cloth.
Etch marks
Etching occurs when acidic substances react with the marble, leaving dull marks. To restore the shine, use a marble polishing powder following the manufacturer's instructions. If the etching is severe, it's best to refinish your marble table with a professional to avoid worsening the marks.
Preventive measures
Prevention is always better than cure. Here are some preventive measures to keep your marble table in pristine condition:
Regular cleaning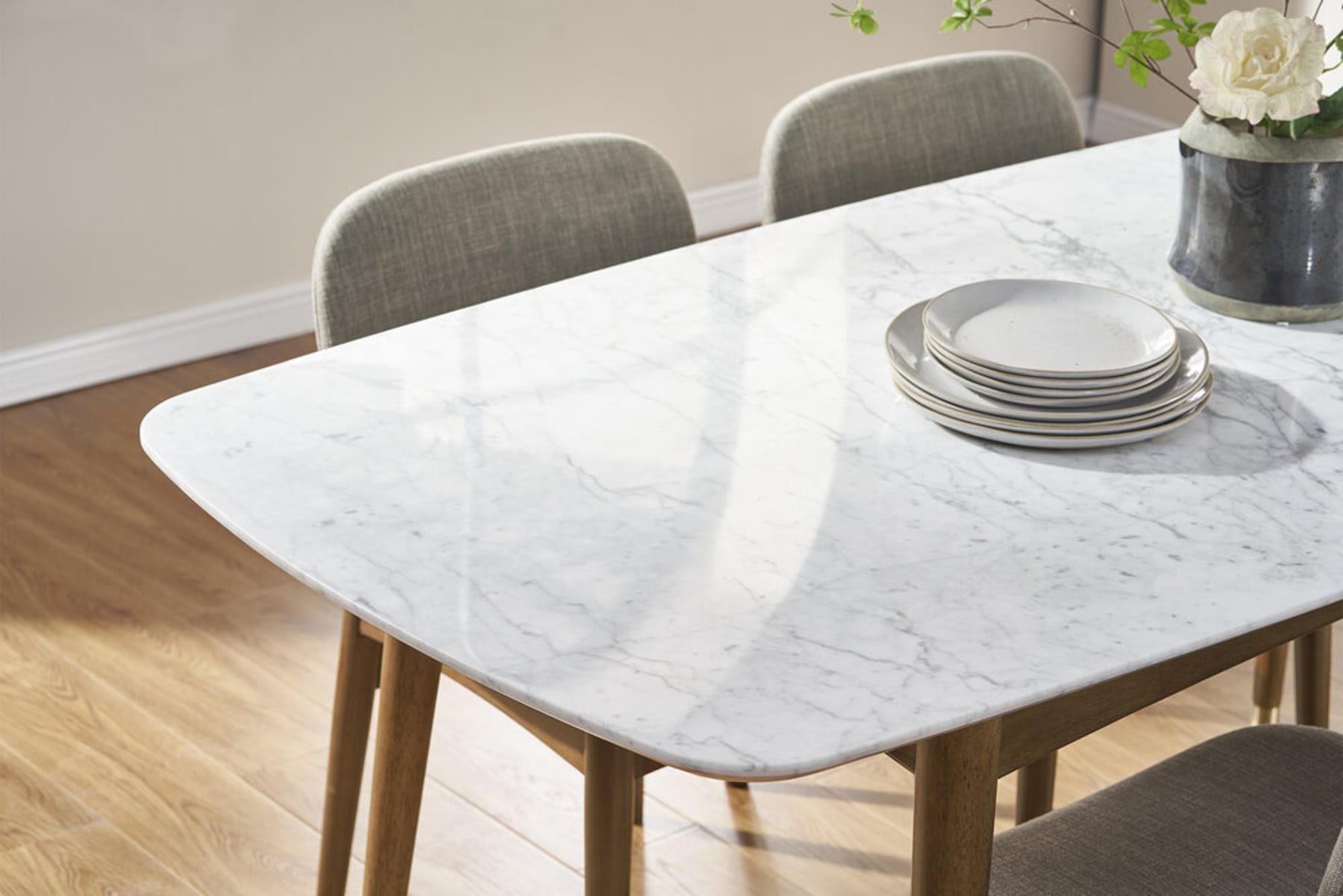 Regularly cleaning your dining table extends its lifespan and longevity. Pictured: The Kelsey Marble Dining Table in Walnut Stain and Kelsey Chair in Walnut Stain.
This goes without saying, but regularly cleaning your marble tables and countertops is the key to ensuring your furniture looks its best. Promptly clean up any spills and stains to prevent them from seeping into the marble, causing a permanent stain.
Use coasters and placemats
Coasters act as a barrier between glasses, cups, and the marble surface. Condensation or food spills can contain acidic substances that can seep into the pores of the marble, causing stains or etching.
@nestofpetals uses woven placemats as decor and to prevent spills on the marble tabletop.
Placemats also provide a cushioning effect, protecting the marble from scratches, abrasions, and excessive heat from bowls, pots, and cutlery. Even small particles or grit trapped beneath these items can cause micro-scratches over time, hence placemats help to act as a buffer and minimise the chances of damage.
Avoid acidic and abrasive substances
As mentioned, acidic solutions can corrode the surface of the marble table, which can lead to long-term damage, including the loss of the marble's natural shine, deterioration of the surface quality, and etching.
That said, keep citrus juices, vinegar, wine, and harsh cleaners away from your marble table as much as possible. You can use coasters, placemats, or plastic covers to protect your dining table, and use pH-neutral cleaners when cleaning the table.
Regular sealing
Sealing your marble table regularly can help create a protective barrier against stains, general wear and tear, and even UV rays. Day-to-day cleaning or spot treatment may wear off the sealant, so regularly reapplying ensures that you are protecting the surface to maintain the overall integrity of the marble.
Cleaning and maintaining marble tables and countertops require a delicate touch and a commitment to proper care. By following the techniques outlined in this comprehensive guide, you can keep your marble tables looking flawless and preserve their timeless beauty for years to come.