Your sofa is probably the most important piece of furniture in your living room. Comfortable, stylish and a fantastic place to curl up and watch your favourite TV shows, it's the ultimate relaxation space.
You can make your sofa even more irresistible – and even cosier – by adding some soft, sumptuous cushions to the furnishing. Pile your pillows high so you can sink into a cloud of comfort at the end of a busy day or arrange them in a precise pattern to add style and character to your home.
Whether you choose large, oversized pillows, brightly coloured scatter cushions or patterned throws, a considered selection of accessories can help to bring out the best in your sofa while ensuring a snuggle-worthy spot to lounge on.
If you like the idea of transforming your sofa with a few soft furnishings, we can help. Read on to find out everything you need to know about the perfect pillow arrangement.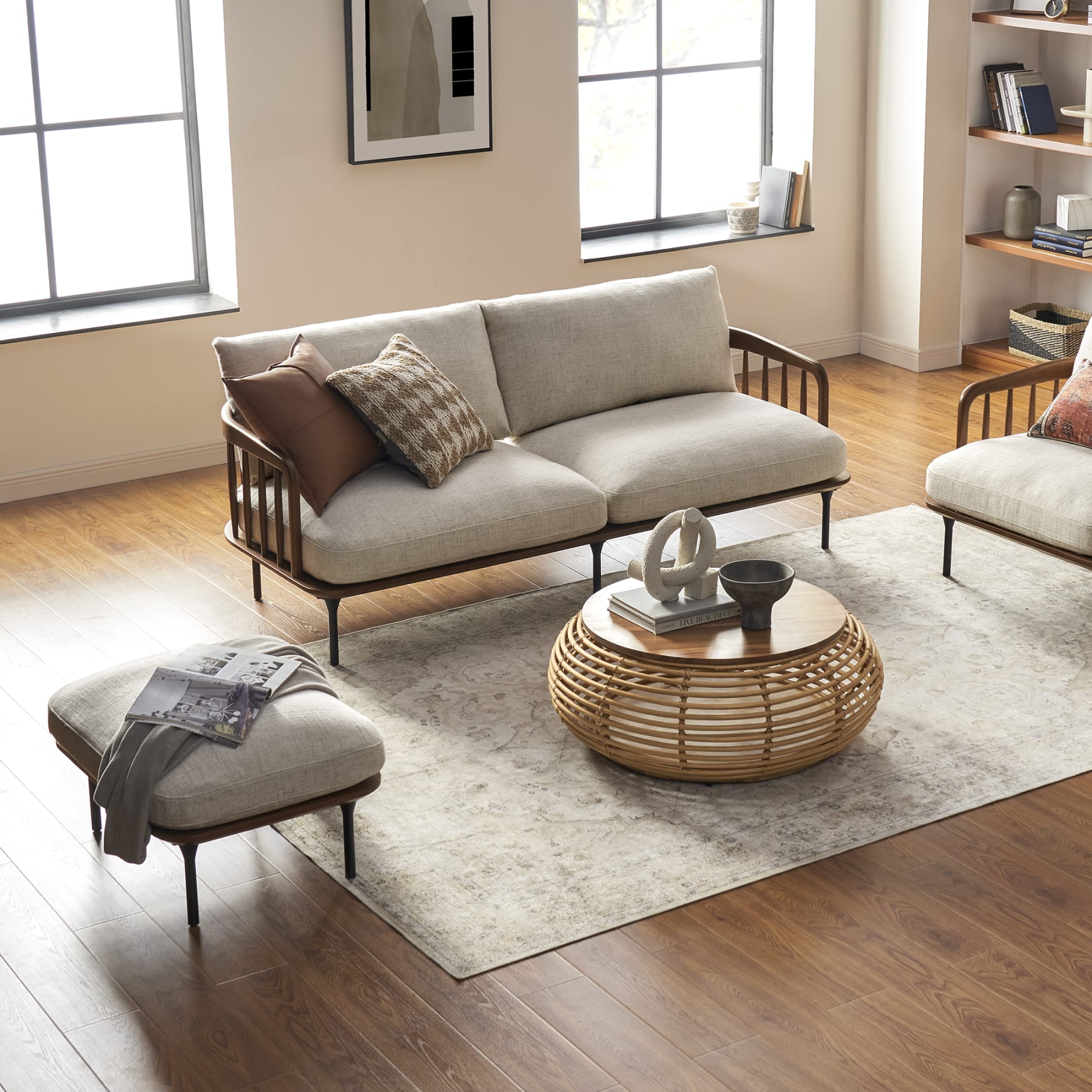 Pictured: The Wayne 3 Seater Sofa with Ottoman is styled with earth-toned cushions to create a complementary contrast that's warm and inviting.
How to choose cushions for your sofa
Before you can start arranging your sofa cushions, you'll first need to buy some soft, stylish new pieces. In most cases, both small and large sofas look great when accessorised with cushions that either match or contrast with their colour scheme.
So, for example, if you have a beautiful teal sofa, you could enhance the colour with yellow cushions or accentuate it with matching teal cushions. In general, using contrasting tones will make your living room more vibrant while complementary shades will help to create a calming, unified look in your interior.
You can add even more visual interest to the space by choosing cushions that have geometric or organic patterns. This can look especially good if your chosen pattern is echoed elsewhere in the room.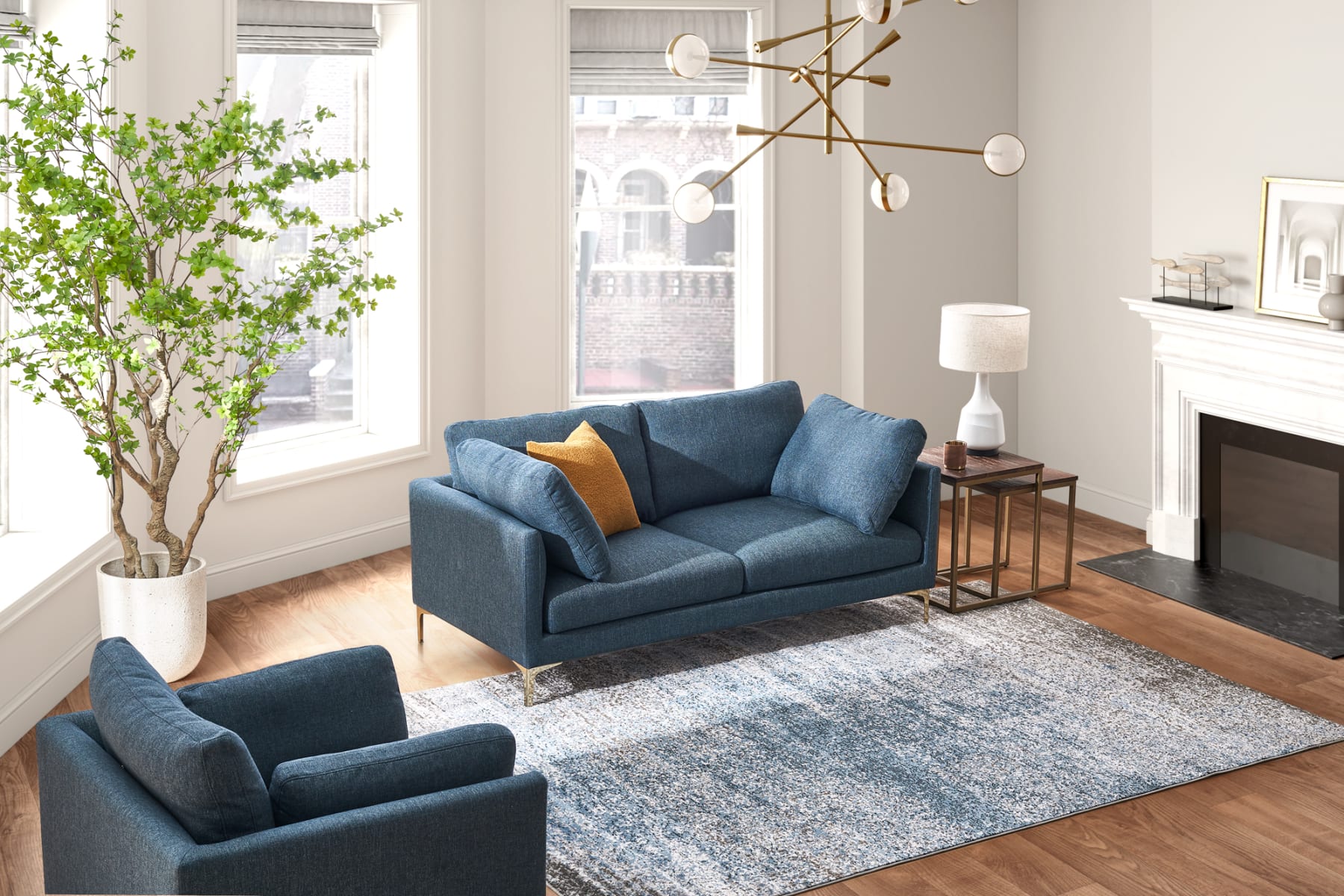 Allow the indigo blue of the Adams to stand out even more by adding a contrasting pop of yellow or mustard.
How many cushions for your sofa?
The number of cushions you need for a sofa will vary depending on the size of your furnishing and on your personal preferences. In general, you'll need fewer cushions for small 2 seater sofas than you will for large, modular sofas. However, if you're the sort of person who finds comfort in a sea of cushions, you may still want to pile your small sofa high with plenty of pillows.
At the bare minimum, you'll need one cushion on each end of your 2 or 3 seater. If you have a corner sofa or a chaise sofa, you might want to place another few cushions along its length to maximise comfort. If you want to up your cushion content a little, you could have two or even three cushions at each end of your sofa.
A timeless monochromatic colour scheme is also a great way to add soft furnishing, as styled here on the Verona 3-Seater Sofa.
How to arrange cushions on a sofa
Symmetrical and balanced
One classic and timeless approach is to arrange pillows symmetrically on the sofa. This approach relies on achieving a sense of balance and order by placing an equal number of pillows on both sides of the sofa.
To achieve perfect symmetry, work with pairs of pillows. Place one pair of pillows on the left side of the sofa and an identical pair on the right side. Make sure the pillows are evenly spaced and aligned with each other.
@breekish uses matching pillows on either side of the Jonathan Sofa in Dark Granite. Also pictured: The Jonathan Ottoman in Dark Granite.
Also, use matching or coordinating pillows to achieve a cohesive look. Opt for square or rectangular pillows with various textures and patterns to add visual interest while maintaining symmetry.
Don't be afraid to add a couple of accent pillows on each side of the sofa. These accent pillows can have different textures or patterns to add a touch of visual interest without disrupting the overall symmetry.
Layering for depth
Layering pillows is an excellent technique to add depth and dimension to your sofa, making the seating area more visually appealing and inviting.
Start with larger pillows at the back as a base. These pillows should have a solid colour or a subtle pattern that complements the sofa's upholstery. Then layer smaller pillows in front. This creates a plush and inviting appearance, perfect for sinking into after a long day.
@oakavehouse creates plush seating by layering cushions on the Jonathan Leather Extended Sofa.
Choose complementary colours and textures to ensure the layers blend harmoniously, resulting in an inviting focal point for your living room.
Pops of colour
Bring life to a neutral-coloured sofa by incorporating vibrant and colourful pillows. Choose a colour palette that complements your existing decor and injects energy into the space.
@locallovely decorates the Adams Chaise Sectional Sofa vibrant pillows and a throw.
Look for throw pillows that are vibrant, bold, and visually captivating. Solid-coloured pillows or those with lively patterns, such as florals or geometric designs, work well as pops of colour.
Position the colourful pillows strategically on the sofa. You can scatter them across different sections or concentrate them in one area for a focal point. Placing them near the armrests or corners of the sofa can help balance the visual impact.
Play with shapes
Ditch the conventional square and rectangular pillows and experiment with various shapes.
Bolster pillows, round cushions, or even novelty shapes can add a fun and whimsical element to your sofa. These unique shapes break the monotony and add a touch of personalization to your living room.
Pairing differently shaped pillows can create a visually engaging arrangement. Pictured: The Lucas Performance Bouclé Sofa.
Also, don't be afraid to mix and match different shapes to create an eclectic and visually engaging arrangement. Pair round pillows with square ones or place a bolster pillow alongside triangular cushions. The contrast of shapes adds visual interest to the sofa.
Incorporate different textures
Enhance the tactile experience of your sofa by incorporating textured pillows. Textures play a significant role in interior design, adding depth, tactile appeal, and a sense of cosiness to your living area.
Mixing different materials like faux fur and linen can create an inviting space. Pictured: The Dawson Chaise Sectional Sofa.
Opt for materials like velvet, faux fur, or chunky knits to create a luxurious and inviting atmosphere. To maximise the impact of different textures, layer the pillows strategically. Place pillows with richer textures at the back as a base and gradually add pillows with smoother textures or embroidery on top.
Arranging pillows on a sofa is an art that can transform a mere piece of furniture into a stunning and inviting focal point.
Whether you prefer a symmetrical and classic approach or a more eclectic and playful arrangement, the right pillows can elevate your living space and reflect your personal style. Go ahead and give your sofa a much-deserved makeover with these pillow arrangement ideas!
FAQs
How do I style pillows on a sectional sofa?
Don't be daunted by the extended chaise of a sectional sofa - the same tips we shared above can be applied when styling pillows on a sectional! Additionally, you could drape a cosy throw over the L-shaped section.
How do you arrange 3 cushions on a couch?
If you only have 3 cushions to play with, it's probably best to place one at each end of your couch and the third in the middle. This will create a visual balance that's easy on the eyes. However, if you prefer to lounge at one end of the sofa, you could place two cushions in your preferred spot to help you to maximise comfort.
How many cushions should you have on a 3 seater sofa?
Three-seater sofas are designed to accommodate three people. To ensure everyone sat on your couch is as comfy as possible, you'll need a minimum of one cushion for each person, although ideally, you should have around six cushions on your couch.
How do you match cushions on a sofa?
When selecting cushions for your sofa, you have several different options. You can choose a set that matches your sofa perfectly or a set that contrasts with the colour of your furnishing. If you'd like, you could opt for a boho-chic collection of mismatched cushions. The cushions you choose will depend on your style, your preferences, and your budget.