Your bedroom is your personal sanctuary, a place where you unwind, relax, and recharge. If you're not feeling that sense of peace and serenity, then it's time to give your bedroom a much needed makeover!
Whether you're working with a limited budget or have the freedom to splurge, there are numerous creative ways to breathe new life into your sleeping space. In this guide, we'll walk you through a variety of ideas that will help you transform your bedroom into a haven of comfort and style.
How to give your bedroom a makeover
Declutter and reorganize
Before you start shifting furniture around or painting walls, start from a blank canvas - decluttering and reorganizing! Transforming your bedroom into a sanctuary of peace and tranquility requires tidying up your space. An uncluttered bedroom not only elevates the beauty but also uplifts your mind and spirit. Furthermore, decluttering can help you identify things that spark joy, and throw (or donate) everything else that doesn't.
Invest in storage solutions like dressers or nightstands to keep your essentials within reach. You can even consider getting a bed with built-in storage to keep items out of sight.
Choose the right bed frame
Your bed is the focal point of the bedroom, and hence you should invest in getting the perfect bed. Whether you like wooden bed frames, king-sized beds, or beds with storage, find one that suits your sleeping habits, lifestyle, and aesthetic preferences.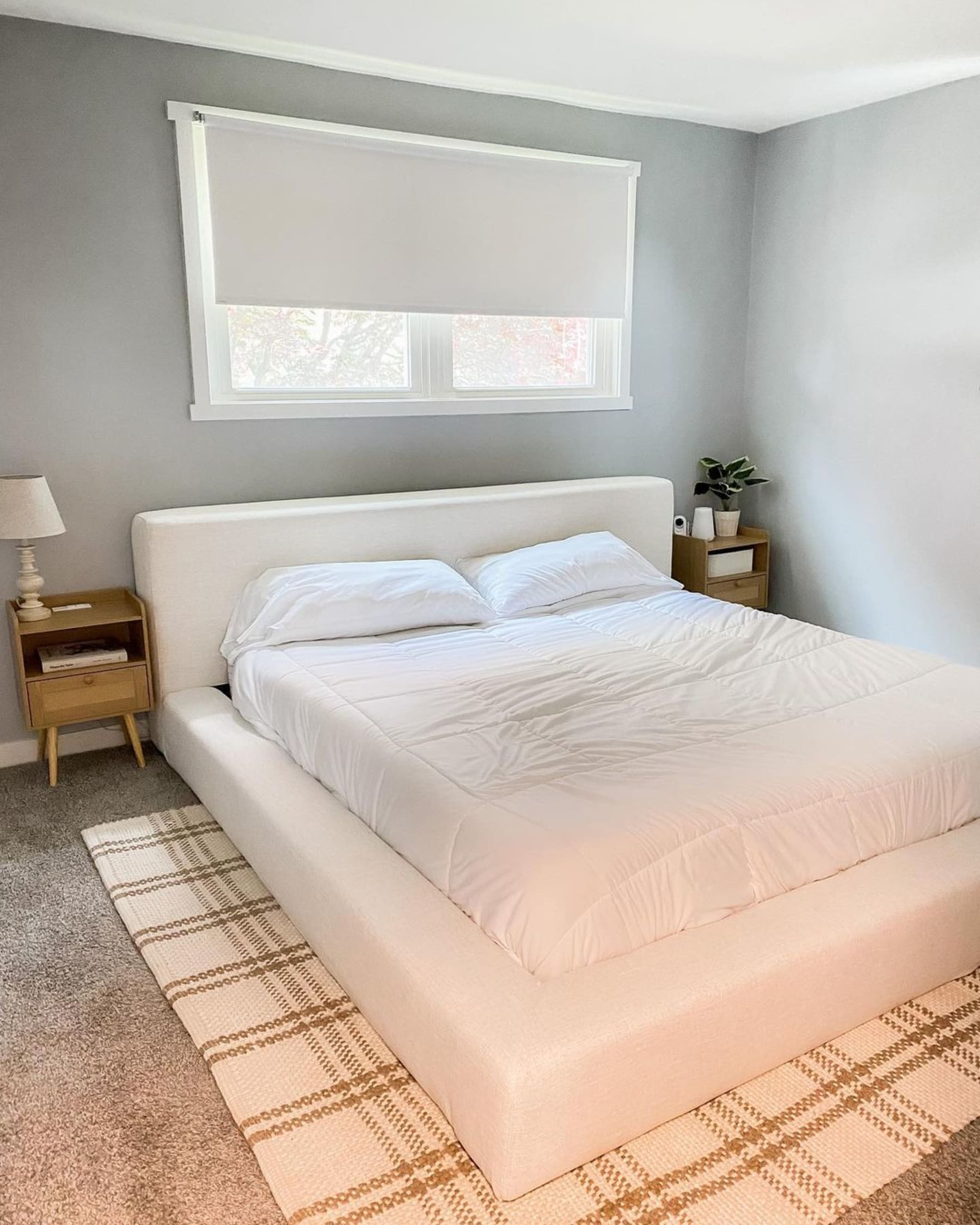 The Dawson Bed features a low-profile, boxy silhouette. Picture credits: @nicolethemom
Match your bedroom to the season
Changing your bedroom decor to match the season can refresh the space and make it feel new and exciting all year round. Each season has its specific color representations:
Spring: Think pastel colors, floral patterns, and light fabrics.
Summer: Opt for bright colors, airy linens, and beach-inspired accessories.
Fall: Incorporate earth tones, warm lighting, and cozy textiles.
Winter: Use deep colors, plush bedding, and add elements like a faux fur rug for extra warmth.
Play with color and accessories
@connieandluna demonstrates how a Octavia mirror can become an accessory by decorating it with flowers
Adding pops of color and unique accessories can instantly elevate the look and feel of your bedroom. Experiment with different color schemes like pastels, monochromatic, or even the classic black and white theme. Add decorative pillows in complementing colors, mirrors, or even statement rugs to add a layer of sophistication.
Create a cozy seating nook
The Amber Bouclé Swivel Chair in Snow is the perfect armchair for any room. Picture credits: @bekhalliday
Consider adding a cozy armchair or a chaise lounge for a touch of luxury and additional seating space. These pieces not only add a touch of elegance to any room but also provide extra seating space, making your bedroom more inviting and offering you a cozy spot to unwind. Complement the cozy corner with a side table for added functionality.
Set the mood with lighting
Lighting is a powerful element in any interior space, often overlooked but crucial in setting the tone and ambiance of a room. Aside from allowing as much natural light to enter the bedroom, introduce ambient and task lighting. Floor lamps and table lamps help to create a warm and inviting atmosphere, while desk lamps help you complete your tasks without straining your eyes.
Consider installing dimmers or adjustable bulbs so you have the flexibility to adjust color temperature or brightness depending on your preferences.
Add personal touches
A bedroom is just another room in the house if it didn't have your personal mementos in it! Adding personal touches not only infuses the room with your unique character but also makes the space more inviting and homey. Consider hanging picture frames of your family or accessorizing the space with your favorite vase.
A bedroom makeover goes beyond mere aesthetics; it's about creating a space that reflects your style and nurtures your well-being. By carefully selecting furniture and thoughtfully planning your decor, you can turn your bedroom into a retreat that rejuvenates your senses every day. Embrace these ideas, and embark on a journey to transform your bedroom into a haven of comfort and beauty.
FAQ
What is the fastest way to give my bedroom a makeover?
The fastest way to upgrade your bedroom is to incorporate pieces of home decor to change the style and mood of the room, such as lamps, rugs or mirrors. You can then gradually move onto bigger pieces like beds and wardrobes.
How do I upgrade my bedroom?
Aside from new furniture, you can also change up the style and colors of the room with new sheets or new decor.