While perhaps not the most important piece of furniture in the living room, a rug can really tie a whole room together. Even though we don't always pay them a huge amount of attention , the room feels completely different – almost barren, when the rug is absent. In short, that's the job of the living room rug, to quietly get on with the job of making the room feel cosy, complete, and comfortable. Of course, choosing the right rug can be difficult, and your choice will be affected by a number of factors which we will outline below.
Shapes of rugs
One of the main factors that will determine the rug you choose is the shape of the space you want to cover. If you are looking for a rug to sit under your coffee table between your three piece suite, then a large area rug is the best option. If you have an L-shape couch then you want a rug that can fit the space in the centre. Or you may want to soften some of the edges and right angles by choosing an oval rug, like the Marc Oval Jute Rug.
Of course, not all rugs are for living areas like this, and others such as runner rugs serve a more specific purpose such as delineating walkways or traffic spaces in an open plan living area. So, think about the space you are covering with your rug to determine the style. You will also need to consider the size of rug you require.
@designlovesdetail prepares her living space by unrolling the stylish Lorenzo Wool Area Rug.
Rug sizes
Rugs come in a variety of both standard and bespoke sizes, so you need to choose a rug that meets the needs of your space. This is not always as easy as it seems. For example, what size rug do you pair up with an extendable dining table? The rug needs to be small enough not to dwarf the table when collapsed but not get swallowed up when extended. Other rug size choices are easier, such as for placing under a king size bed or queen size bed.
There are also some standard size rugs for various spaces within the home that make selecting your size a little easier. For example, rectangular rugs for living areas come in a choice of sies, including (all sizes in feet):
2' x 3'
2.5' x 6'
5' x 8'
8' x 10'
Oval rugs for living areas are generally either:
And circular rugs are 6' in diameter.
Depending on the size of your dining area and the amount of chairs you will have around the table you will generally need a 5' x 8' for 4- to 6-seaters and 8' x 10' for 6-seaters or more.
In the bedroom, a 5' x 8' is perfect for a queen size bed and an 8' x 10' works best with a king size bed.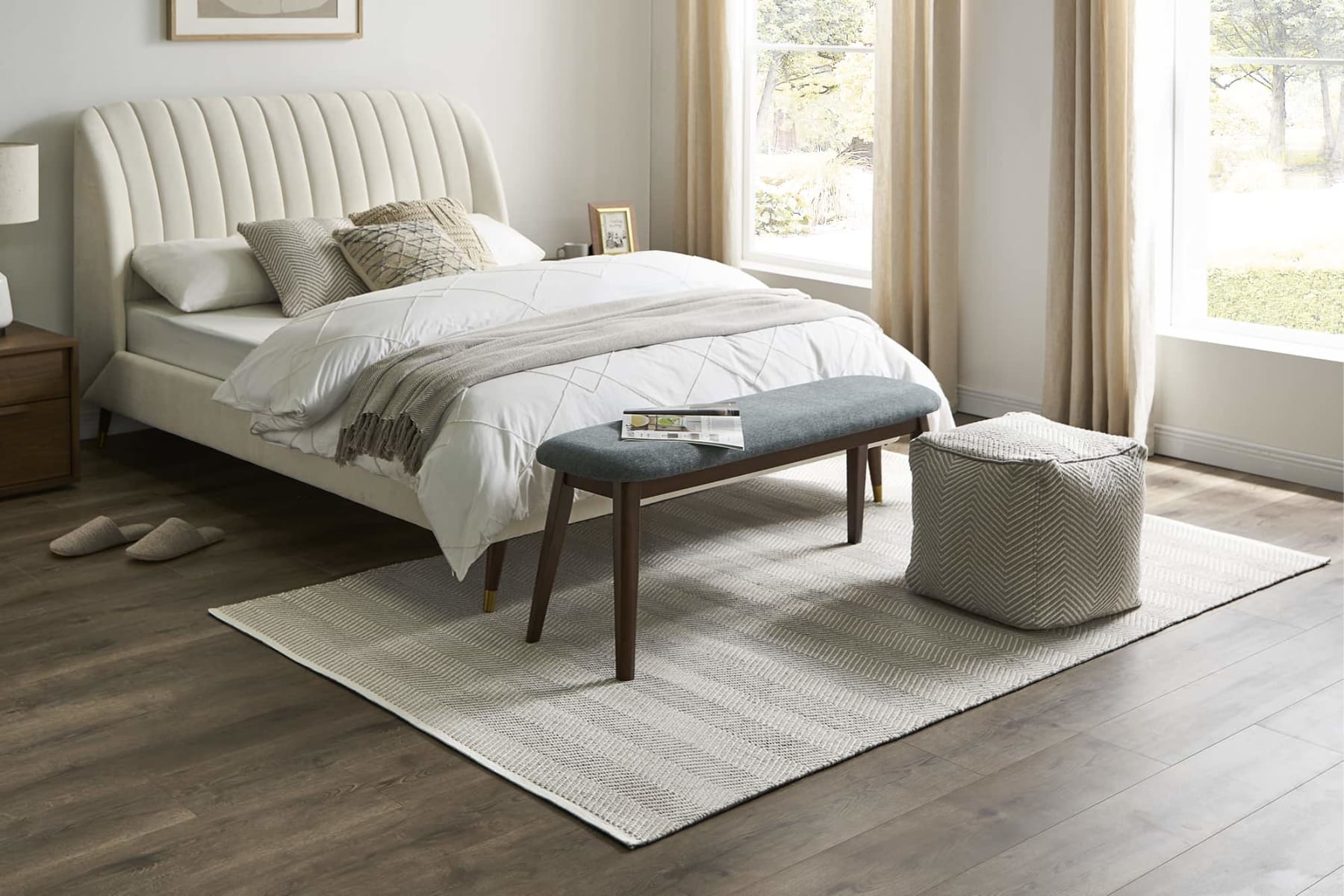 The Tessa Cotton Area Rug is the cherry on top of this bedroom - with its neutral shade and softness pairing well with the Lexi Tufted Bed and Doris Bench.
Colors and styles
Being fabric based, rugs come in a wide variety of colors and design styles, from plain block colors to geometric patterns, and more. Ideally, choose a rug that works within the color scheme and overall design context of your space. Remember that the rug is supposed to bring the various elements of the room together, to reflect the color choices of other soft furnishings and the larger items of furniture such as the sofa or armchairs.
Also, dare to choose a design style that works with the overall theme of the room; a classic middle eastern rug pattern may not work as well with a mid-century modern design scheme. However, don't underestimate the power of a quality rug to look at home in most settings.
Material choices
Rugs need to be relatively hard wearing to deal with the foot traffic and general wear and tear of everyday life. But rugs in dining spaces also need to be resistant to spills and food debris, so a shorter grade fabric is more suitable for these spaces. You can also choose between synthetic materials which are sometimes easier to clean and more natural materials such as jute which are very hard wearing.
Make your dining room an inviting one by using furniture pieces with light and natural shades, like the Lilou Jute Rug matched with Austen Chairs. Picture credit: @hausofcruze
What types of rug are good for living rooms?
Living room rugs are generally located in the centre of the living space and need to be cosy but also in context with the rest of the design and color scheme of the room. Choose a rug that does not dominate the space but that is also not too small and it can really tie the room together. Colors of other soft furnishings can be reflected in the rug for a subtle tying together of design scheme.
How do I choose a rug for my space?
Think about both the size and shape of your available floor space and choose a rug that is suitable. Rugs that are too big can swallow up furniture and too small leaves wide open spaces around the edges of the space.
What kind of rugs make space look bigger?
A well-proportioned rug will make the space look bigger. Lighter colors and rugs with no pattern are also good at increasing the sense of space.