Your sofa is probably the most important piece of furniture in your living room. Comfortable, stylish and a fantastic place to curl up and watch your favourite TV shows, it's the ultimate relaxation space.
You can make your sofa even more irresistible – and even cosier – by adding some soft, sumptuous cushions to the furnishing. Pile your pillows high so you can sink into a cloud of comfort at the end of a busy day or arrange them in a precise pattern to add style and character to your home.
Whether you choose large, oversized pillows, brightly coloured scatter cushions or patterned throws, a considered selection of accessories can help to bring out the best in your sofa while ensuring a snuggle-worthy spot to lounge on.
If you like the idea of transforming your sofa with a few soft furnishings, we can help. Read on to find out everything you need to know about the perfect pillow arrangement.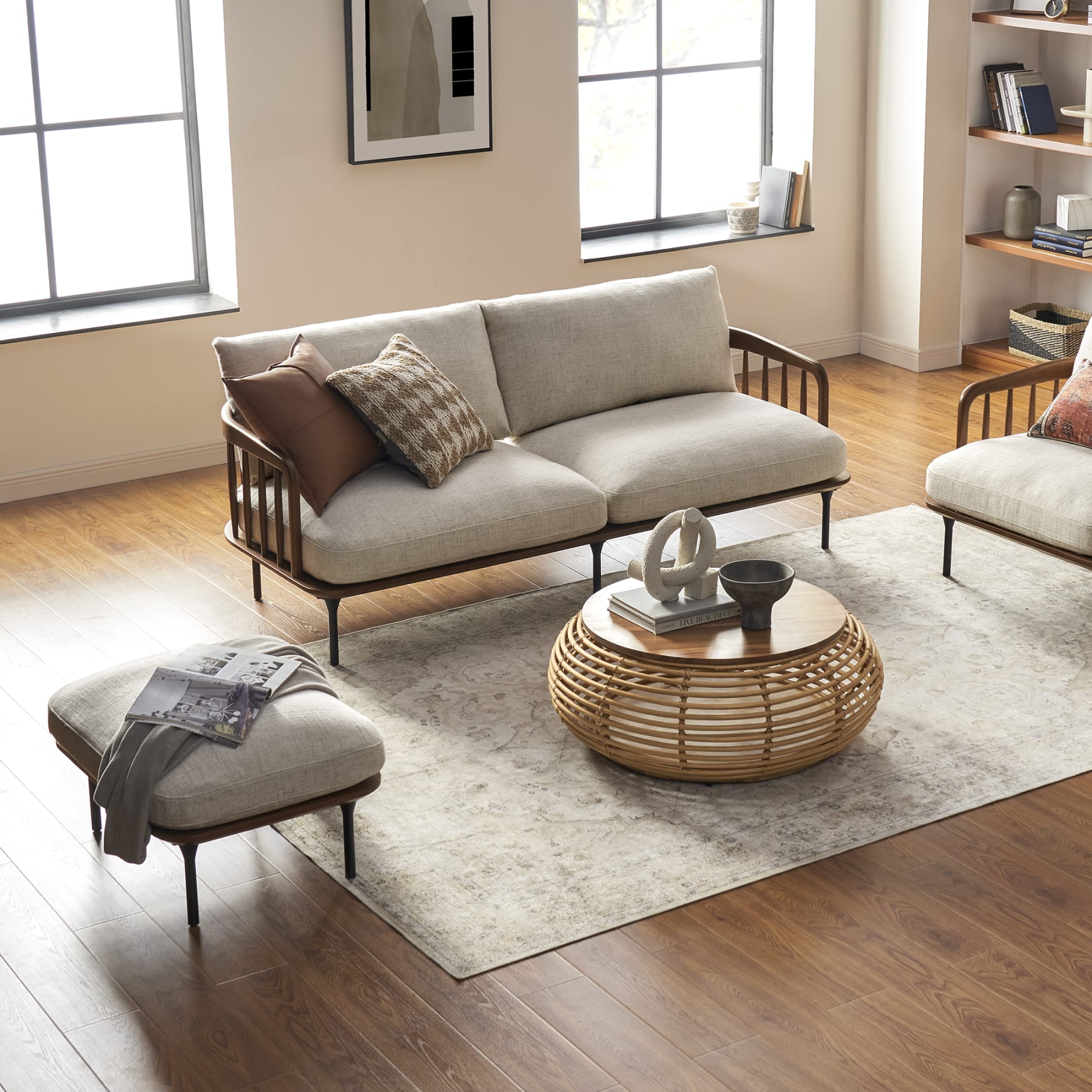 Pictured: The Wayne 3 Seater Sofa with Ottoman is styled with earth-toned cushions to create a complementary contrast that's warm and inviting.
How to choose cushions for your sofa
Before you can start arranging your sofa cushions, you'll first need to buy some soft, stylish new pieces. In most cases, both small and large sofas look great when accessorised with cushions that either match or contrast with their colour scheme.
So, for example, if you have a beautiful teal sofa, you could enhance the colour with yellow cushions or accentuate it with matching teal cushions. In general, using contrasting tones will make your living room more vibrant while complementary shades will help to create a calming, unified look in your interior.
You can add even more visual interest to the space by choosing cushions that have geometric or organic patterns. This can look especially good if your chosen pattern is echoed elsewhere in the room.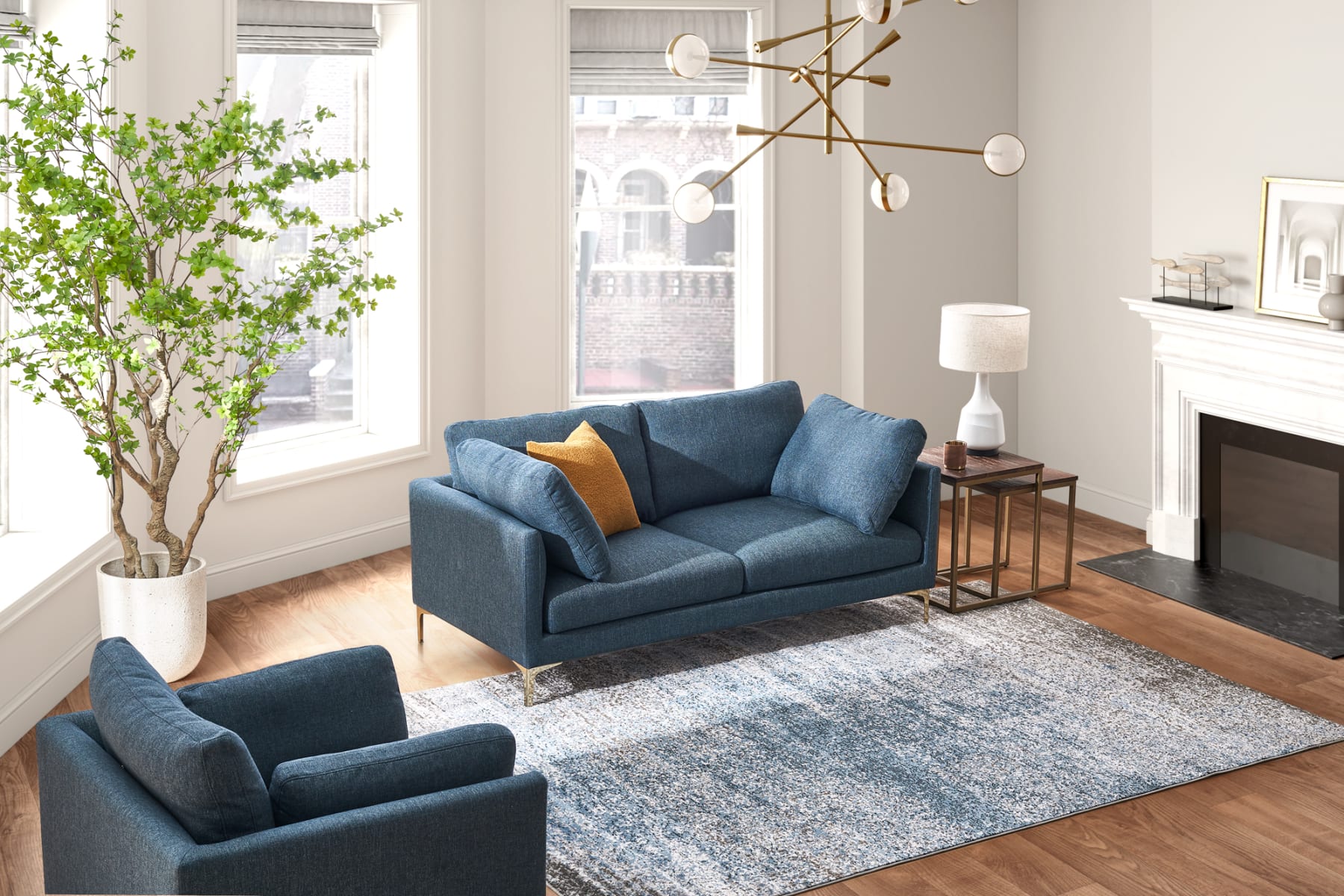 Allow the indigo blue of the Adams to stand out even more by adding a contrasting pop of yellow or mustard.
How many cushions for your sofa?
The number of cushions you need for a sofa will vary depending on the size of your furnishing and on your personal preferences. In general, you'll need fewer cushions for small 2 seater sofas than you will for large, modular sofas. However, if you're the sort of person who finds comfort in a sea of cushions, you may still want to pile your small sofa high with plenty of pillows.
At the bare minimum, you'll need one cushion on each end of your 2 or 3 seater. If you have a corner sofa or a chaise sofa, you might want to place another few cushions along its length to maximise comfort. If you want to up your cushion content a little, you could have two or even three cushions at each end of your sofa.
A timeless monochromatic colour scheme is also a great way to add soft furnishing, as styled here on the Verona 3-Seater Sofa.
How to arrange cushions on a sofa
When arranging cushions on a sofa, it's a good idea to place the largest cushions at the back and the smallest at the front. Not only does it create a visual balance, it also ensures as much of your cushions are on display as possible. This is a good rule to follow whether you have two, four, six or more cushions on your couch.
Another option is to have your cushions in a row all along the back of your sofa. To maximise their impact, place the cushions on their corners in a diamond pattern and slightly overlap each pillow with the next.
Leather sofas often look great when cushions are placed running along their length. Again, you can either choose matching leather cushions or opt to soften the design a little with fabric pillows. With a little arrangement here and there, both options can look equally great.
If you're not sure which arrangement will look best on your sofa, try each one out to see which works for you. The great thing about cushions is that they can be easily rearranged, allowing you to change up the look of your sofa whenever you want to. Keep your cushion arrangement looking its best by fluffing your pillows on a regular basis. Vacuuming the fabric will help to remove dust and dirt and keep the cushions looking like new.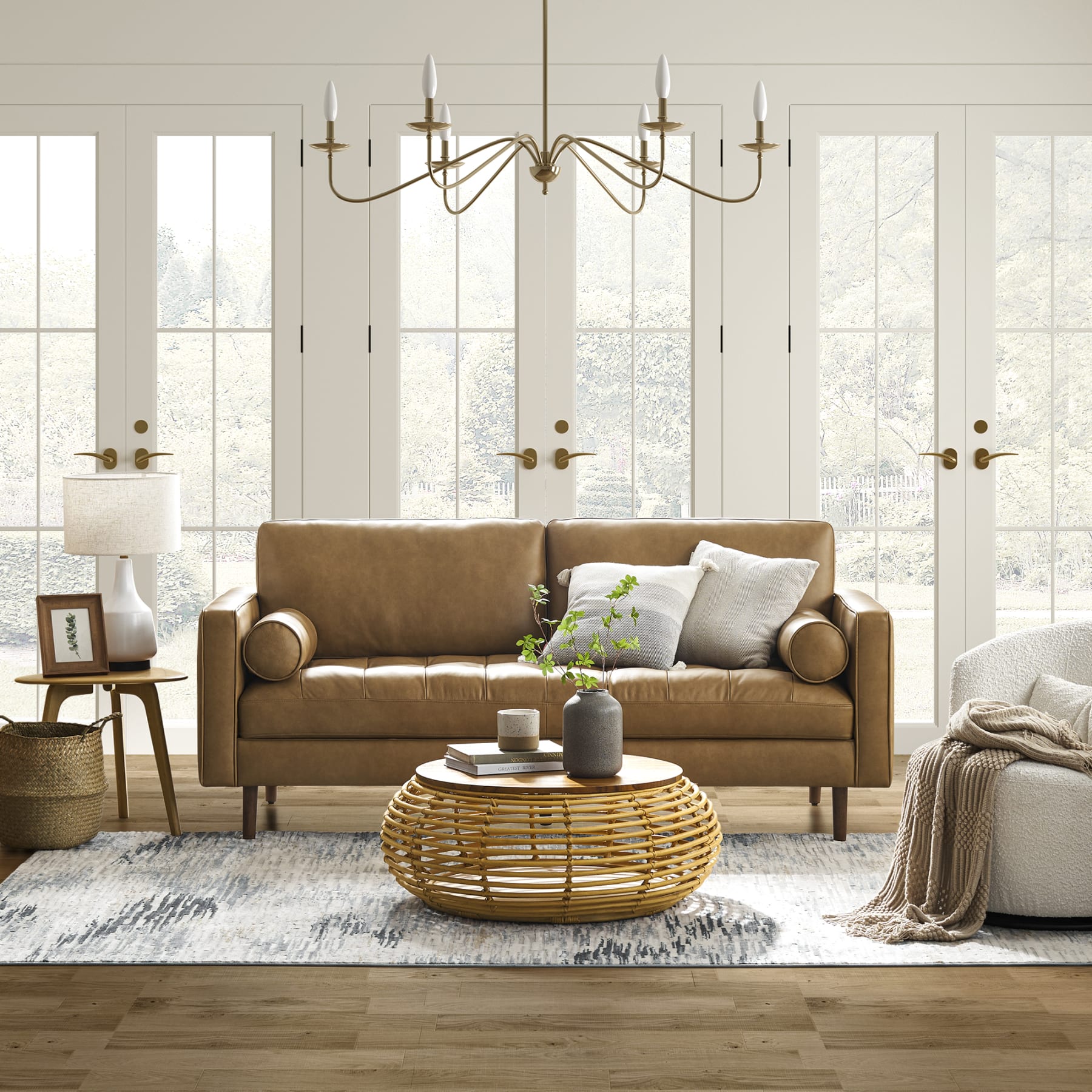 The Madison Leather 3 Seater Sofa comes with two rounded bolsters. For an even cosier lounge experience, feel free to pile on the cushions.
How do you arrange 3 cushions on a couch?
If you only have 3 cushions to play with, it's probably best to place one at each end of your couch and the third in the middle. This will create a visual balance that's easy on the eyes. However, if you prefer to lounge at one end of the sofa, you could place two cushions in your preferred spot to help you to maximise comfort.
How many cushions should you have on a 3 seater sofa?
Three-seater sofas are designed to accommodate three people. To ensure everyone sat on your couch is as comfy as possible, you'll need a minimum of one cushion for each person, although ideally, you should have around six cushions on your couch.
How do you match cushions on a sofa?
When selecting cushions for your sofa, you have several different options. You can choose a set that matches your sofa perfectly or a set that contrasts with the colour of your furnishing. If you'd like, you could opt for a boho-chic collection of mismatched cushions. The cushions you choose will depend on your style, your preferences, and your budget.