Leather sofas are timeless pieces of furniture. They have the ability to add a retro and vintage vibe to any space - which is why many homeowners (like yourself!) consider adding leather to their homes.
In your search for a leather sofa, you would have come across our collections: the Jonathan, Mateo, and Isaac leather sofas. But, what are their differences and which should you pick for your home?
To help you make an informed decision, we'll dive deeper into how these leather sofas compare. Let's first take a look at each leather collection and how they can fit in your home!
Jonathan Leather Sofa
The Jonathan Leather Sofa is a modern piece that would make a great addition to a minimal and contemporary-themed home. The sofa uses pigmented top-grain leather that is lightly embossed and hand-rubbed to create a two-tone effect.
The sofa has a flange seam detail that accentuates its clean straight lines and boxy silhouette that makes this piece unique.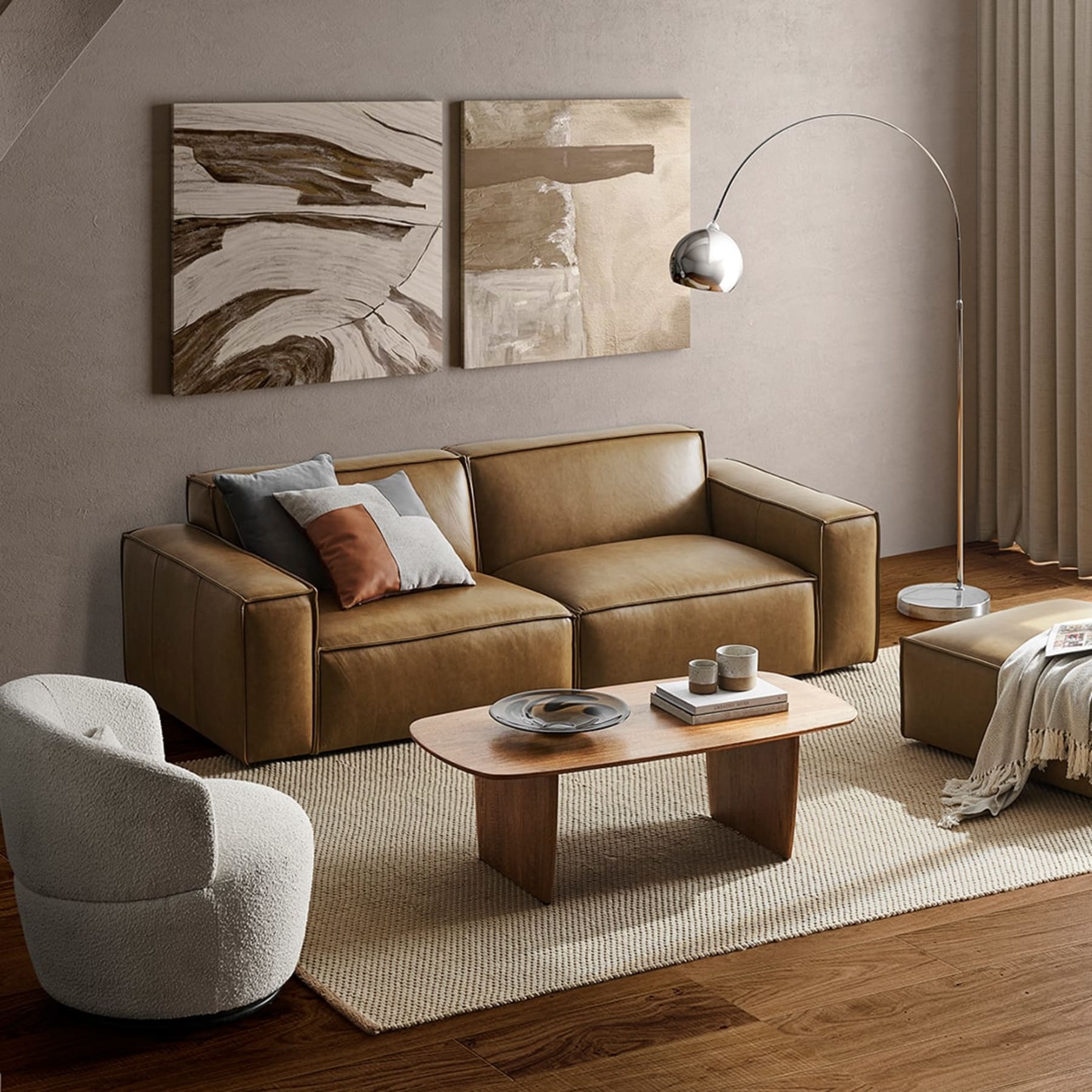 The Jonathan Sofa with an ottoman in Caramel complements the hardwood floors and wooden coffee table.
Aside from the regular 3-seater, the Jonathan sofa is available in an extended 3-seater and with an ottoman, allowing for more seating space.
Mateo Leather Sofa
Similar to Jonathan, the Mateo Leather Sofa is another modern sofa that would look great in any space. It also uses pigmented top-grain leather and has a two-tone effect, creating a luxurious yet natural appearance.
The Mateo Leather Sofa provides a natural yet luxurious vibe to the living room.
Furthermore, its deep seating and low back height make your living room appear taller and more spacious.
Unlike the modular design of the Jonathan Sofa, Mateo is a single-cushioned 3-seater sofa. This means that you would be able to sit comfortably on Mateo without having to sit in between the seat cushions, like for Jonathan.
Isaac Leather Sofa
Compared to Jonathan and Mateo, the Isaac Leather Sofa has grid tufted cushions and brass pencil legs to highlight its mid-century modern design. Made using full leather, the sofa has a slight gloss on its surface, creating a sleek look.
The Isaac Leather Sofa's grid tufted sofa creates a mid-century modern look and feel.
This sofa is extremely versatile and can be configured in multiple variations — a 3-seater, a reversible chaise sectional, a terminal chaise sectional, or with an ottoman. As Isaac has sofa legs, this creates an open base and makes it more convenient for cleaning, unlike Jonathan and Mateo which are low to the ground, providing a more sturdy look and feel.
Jonathan vs Mateo vs Isaac: An overview
Here's an overview of the main differences between these 3 leather sofa collections:
Specifications

Jonathan

Mateo

Isaac

Frame

Laminated Veneer Lumber (LVL) with plywood

Solid wood with plywood

Solid rubber wood with plywood

Leg frame

Black plastic

Plastic

Solid wood and steel

Suspension

Sinuous spring

Sinuous spring

Sinuous spring

Fabric composition

Top grain leather

Top grain leather

Full leather

Seat filling

Foam, fibre and pocket spring

Foam, fibre and pocket spring

Foam, fibre and pocket spring

Back filling

Foam and fibre

Foam and fibre

Fibre

Cushion type

Non-removable

Non-removable

Removable

Cover type

Non-removable

Non-removable

Removable (Seat cushion covers only)

Colours

Caramel




Warm taupe

Caramel

Cognac

Style

Modern contemporary




Minimal

Modern contemporary

Mid-century modern




Bold

Standout features

Flange seams




Deep seats




Closed base




Extendable 3-seater

Low back height




Deep seats




Large single seat cushion




Closed base

Grid tufted




Deep seats




Open base




Removable seat cushions and covers




Various configurations
Which should you pick?
Clearly, these leather sofa collections have similar traits yet are different in distinct ways. So, which collection - Jonathan, Mateo, or Isaac, should you pick to add a timeless and vintage look to your home?
If you've already got a fully furnished home and are just looking to replace your old peeling leather sofa, we would recommend going for Jonathan or Mateo. These two leather sofas are versatile and can easily gel with your existing furniture.
On the other hand, if you're going for a bolder theme for your new house, Isaac would be a good fit to add a vintage yet luxurious vibe. Its grid tufted cushions can easily elevate and add a striking contrast to your home. Furthermore, its open base allows for easy cleaning and maintenance.
To add on, if you regularly host parties or large groups, Jonathan and Isaac would be good choices as their larger seating configurations allow you to have ample space for your guests.
We hope that this article has helped you understand the differences between the three types of leather sofa collections and narrowed down your choice.
How do I clean my leather sofa?
Leather sofas are easy to clean and maintain. Simply wipe off any stains or botches immediately, and wipe down with a dry cloth every few weeks to ensure there is no dust buildup.
How long does leather usually last?
Leather is one of the most durable and timeless materials, and can last for decades if protected and maintained properly, with many leather furniture being passed from parent to child.
How do I care for my leather sofa?
To ensure the longevity of your leather sofa, here are some tips to follow:
Place your leather furniture away from direct exposure to sunlight to prevent fading and discoloration.
Vacuum regularly using a brush attachment to clear dust and debris.
Smooth the leather upholstery with your hands from time to time to reduce the effects of excessive puddling.
Be mindful of wearing dark or heavily dyed clothing that might cause dye transfer.
How do I prevent leather sofas from cracking?
By using a leather conditioner, you can keep the leather more supple and flexible. This will prevent cracking and keep your leather in better condition for longer. You should also avoid sitting on the leather sofa with keys or other sharp objects in your pockets as these can damage and cause rips, cracks, or tears.