If there's one place in the home that should be tailored to maximize comfort and meet your every need, it's your bedroom. It is not just a place to sleep - it's a sanctuary where style meets comfort, reflecting your unique lifestyle.
The right bedroom furniture set can transform this space into a haven of comfort, style, and functionality. Whether you're starting from scratch or looking to update your current setup, this guide will walk you through the essential considerations to help you make the perfect choice for your bedroom.
Tips to choose the perfect bedroom set
Understand your bedroom size
Before you start investing your hard-earned money in new furnishings or accessories for your bedroom, it's important to think about how you use the space. This will help to ensure you create a room that really works for you.
Whether you're working with a spacious king, a versatile queen, or a cozy single bedroom, we'll share some tips on how to select furniture for different room sizes.
King-sized comfort
A lager bedroom has the luxury of space. In spacious settings, look for large dressers, roomy nightstands, and king-sized beds to make the room feel grand and comfortable.
Queen-sized balance
For medium-sized rooms, a queen-sized bed is often just right. This size calls for furniture that's not too big but still adds character to the room which are perfect for adding style without taking up too much space, keeping your room comfortable and chic.
Single-bed simplicity
Small or single bedrooms are all about smart use of space. This means choosing furniture doesn't only look great, but serves multiple purposes. Think beds with storage, smaller dressers, and even wall shelves that don't take up valuable floor space.
Measure your room with accuracy
You'll then need to measure your bedroom first to check if you've got enough space to fit everything in. If you've just moved into a new home, think about where you're going to put your bed, where your wardrobe is going to go, and where your other furnishings can sit.
The bed will definitely be the most important feature, so start by measuring the space available for it. Beds usually sit in the middle of the bedroom, but depending on the layout of the space, you could decide to flush it against the wall.
Bedframes come in three main sizes - single (or standard), queen, and king. You can also find three-quarter doubles for small rooms and super king frames for larger spaces. Once you've decided on a bed size, you can start looking at bedroom sets to see which has the style and functionality you're looking for.
Mix and match your bedroom sets
Your bedroom furniture should be a reflection of your personal style and meet your specific needs. Customizing your furniture set is about more than just choosing pieces that fit your space; it's about creating a cohesive look that resonates with your personal aesthetic.
For example, if you're into a modern contemporary aesthetic, opt for pieces with clean, straight lines. Alternatively, for a mid-century modern vibe, you could mix in some dark wood and brass accents, like this Emery Bedroom Set.
For Scandinavian chic look, go for the Seb Bedroom Set, made from solid acacia wood in a muted honey tone for the perfect homey and cozy aesthetic.
The Seb Bedroom Set works itself easily into any look, particularly Scandinavian looks
Recommended read: Are Matching Bedroom Sets Outdated?
Enhance comfort and style with accessories
Transforming your bedroom into a personal haven is about more than just furniture – it's about the details that make it uniquely yours. Thoughtful accessorizing can elevate your space from ordinary to extraordinary. Here are some tips to help you select the perfect accessories:
Wall art and decor: Personalize your walls with art that speaks to you. Whether it's a serene landscape, abstract canvas, or a collection of your favorite prints, wall art adds character and color to your bedroom.
Lighting: The right lighting can dramatically alter the mood of your room. Soft bedside lamps create a cozy reading spot, while a statement ceiling light can add a touch of elegance. Consider dimmable options for adjustable ambiance.
Rugs: A rug can anchor your room, add warmth, and tie together your color scheme. Choose a size and texture that complements your space – a plush rug for a touch of luxury, or a patterned design for a pop of personality.
Mirrors: Mirrors are not only practical, but they can also make your room feel more spacious and light-filled. A large floor mirror adds depth, while a decorative wall mirror can serve as a piece of art.
Pillows and throws: Cushions and throws are an easy way to introduce color and texture. Mix and match different styles for a layered, cozy look. They're perfect for quick updates and can be changed with the seasons.
Plants: Bringing a bit of nature indoors, plants can refresh any room. They add color, improve air quality, and can be therapeutic. Choose low-maintenance varieties if you're not a green thumb.
Functional decor: Look for items that are both decorative and functional. A decorative tray can hold your bedtime essentials, a stylish clock can be a focal point, and a chic storage solution can keep clutter at bay.
Personal Touches: Finally, add elements that reflect your personal journey – be it travel souvenirs, family heirlooms, or handmade crafts. These items tell your story and make your bedroom truly yours.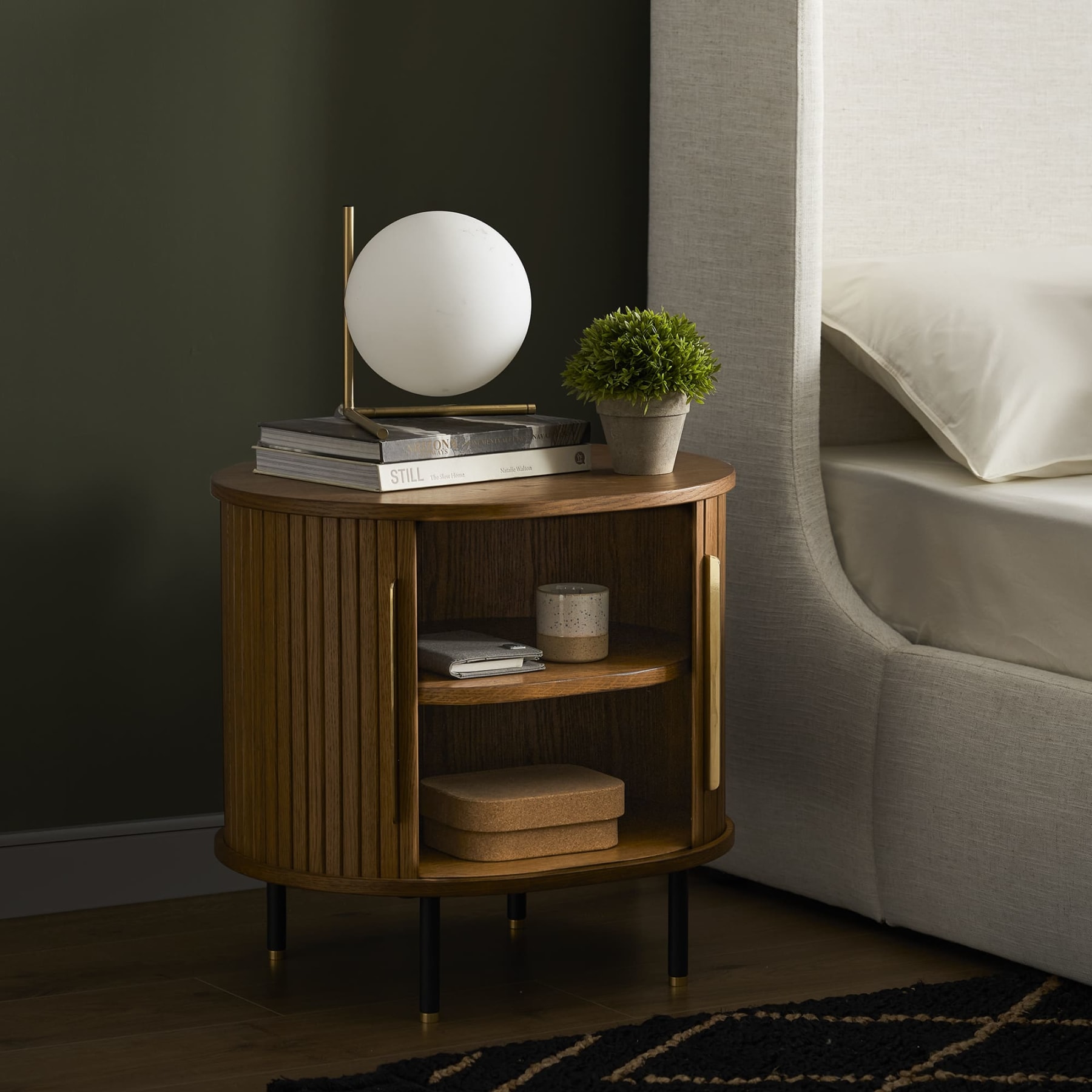 Add some mid-century flair to your bedroom with the Harper Side Table and Cedric Table Lamp.
Creating the perfect bedroom is a journey that combines practicality with personal style. From understanding the unique requirements of your space to customizing furniture sets that speak to your aesthetic, every step is an opportunity to make your bedroom more than just a place to sleep. With the right furniture, accessories, and a touch of your own personal flair, you can transform this space into a haven that truly feels like home.