When it comes to choosing the perfect sofa for your home, one of the most significant decisions you'll face is selecting the right material.
Two common materials you'll come across when shopping for sofas are leather and fabric sofas. They're both popular choices, with each offering distinct advantages and drawbacks.
But which is the better choice?
To help you make an informed decision, we'll delve into the characteristics of each material, outlining their pros and cons.
Aesthetics
When it comes to aesthetics, this can be relatively subjective as every individual has their own preferences. Nonetheless, each fabric type gives a different kind of vibe.
Leather sofas exude a luxurious and elegant charm that can instantly elevate the ambiance of your living room. They often give off a sense of sophistication and class, making them a popular choice for upscale and refined interiors.
The Madison Leather Sofa. Picture credits: @thistle.harvest
The smooth and sleek surface of leather creates a polished and formal look that can effortlessly elevate the overall aesthetic of a room. Furthermore, the natural grain and texture of the leather add depth to the sofa.
The Madison Sofa with Ottoman. Picture credits: @cherishing.lifes.sprinkles
On the other hand, fabric sofas offer a broader range of aesthetic possibilities. They come in an extensive selection of fabrics and colours, giving homeowners the freedom to match the sofa with their existing decor or create a focal point within the room.
Fabric sofas allow for more creativity in design choices, making them versatile and suitable for various interior styles. Whether you prefer a bold and vibrant pattern or a subtle and understated texture, there's a fabric sofa to match your taste.
Comfort and feel
The comfort of a sofa is paramount, as it's where you'll be spending a considerable amount of leisure time.
Leather is initially firm, but becomes softer over time. Pictured: The Jonathan Leather Sofa.
Leather sofas are known for their firm and supportive feel. The initial comfort level might be slightly firmer compared to fabric sofas and requires more time to break into. But, as they are used, leather sofas become more supple and comfortable. Over time, leather also softens and develops a beautiful patina, enhancing its appeal.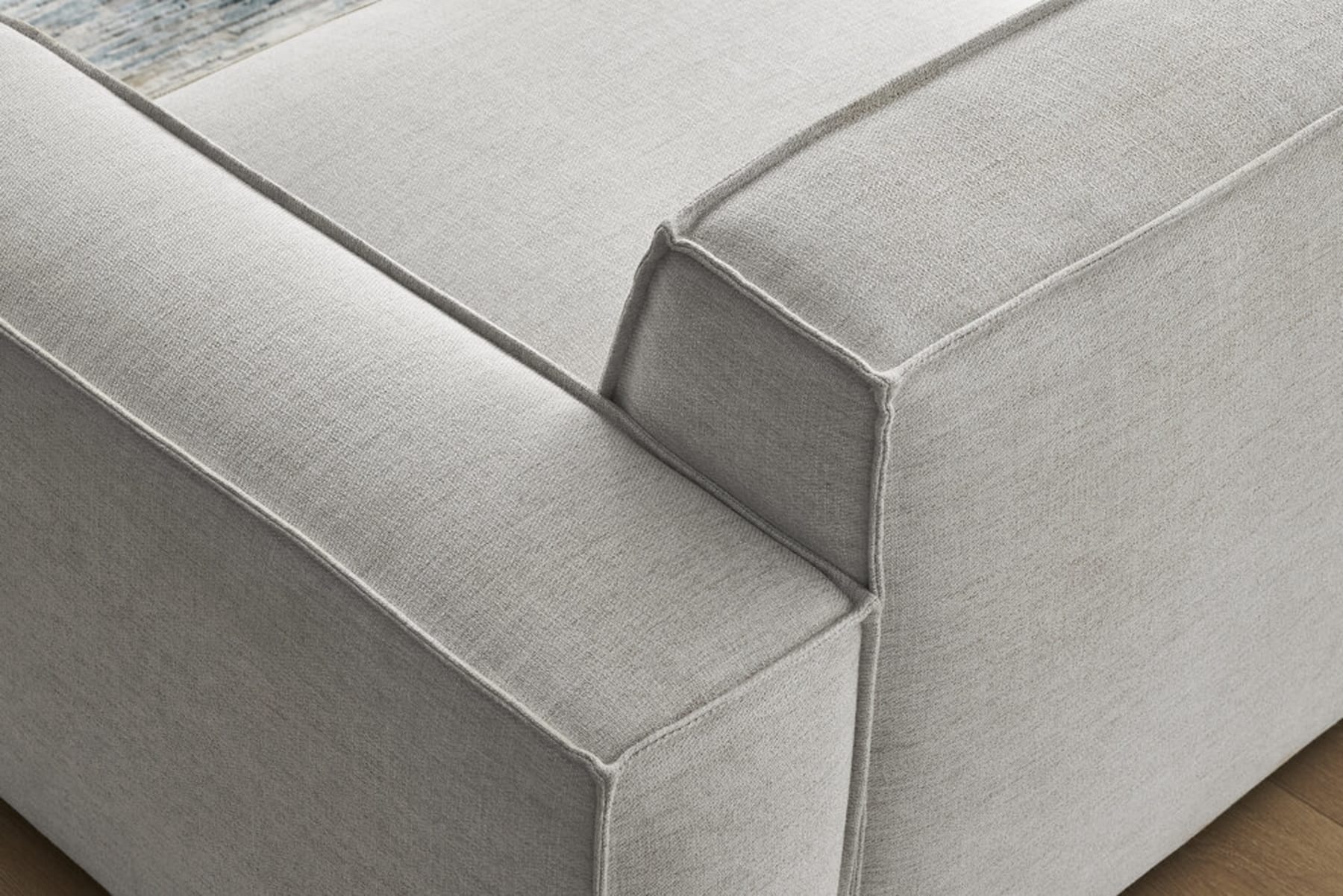 Fabric sofas have a softer initial feel compared to leather. Pictured: The Jonathan Sofa.
However, fabric sofas offer a range of cushioning options, providing various levels of comfort to suit individual preferences. They can be designed with soft, plush cushions that create a cosy and sink-in feel, making them ideal for relaxation and lounging. Some fabric sofas might have firmer padding for those who prefer more support.
The upholstery of fabric sofas can also vary significantly, depending on the fabric used. Different types of fabric, such as linen or velvet, can provide distinct tactile experiences that you don't get with leather.
Durability and longevity
One of the main factors many consider when purchasing a leather or fabric sofa is how long it can last.
Genuine leather is a sturdy and robust material that can withstand regular use and maintain its shape and structure for many years. With proper care, they can last for many years without showing signs of tearing or sagging.
Additionally, leather is also resistant to stains and spills. Since leather is a non-porous material, spills can be easily wiped off, preventing the absorption of liquids that could cause lasting damage.
Recommended read: How to Clean and Protect Your Leather Sofa
While fabric is generally more susceptible to stains and spills than leather, many modern fabrics like bouclé fabric are treated with stain-resistant coatings, making them easier to clean and maintain.
The Lucas Performance Bouclé Sofa is fully upholstered in performance fabric that is durable and resistant to stains.
The longevity of fabric sofas largely depends on the quality of the fabric. High-quality, tightly woven fabrics tend to be more durable and resistant to abrasion and fraying from daily use.
Recommended read: How to Clean a Fabric Sofa
Climate considerations
When choosing between a leather and fabric sofa, it's essential to consider the climate of your region, as each material can react differently to varying environmental conditions.
Leather sofas are more suited for dry and temperate climates. Leather is a natural material that can be sensitive to extreme environmental conditions, particularly high humidity. In very humid climates like Singapore, leather may absorb moisture from the air, which can lead to swelling and potential damage to the material over time.
However, using a leather conditioner, keeping the sofa away from direct sunlight, and using air purifiers can certainly prevent significant damage to your leather sofa.
The Isaac Leather Reversible Sectional Sofa. Picture credits: @homewithstefani
Additionally, leather can retain heat. As leather is a natural material that has low breathability, it does not allow air to pass through easily. As a result, when you sit on a leather sofa, your body heat can become trapped within the material, causing the surface of the sofa to feel warmer.
The Isaac Reversible Sectional Sofa. Picture credits: @tuxedofarmhouse
Fabric sofas tend to be more versatile and forgiving when it comes to climate considerations. They are generally less affected by changes in humidity and temperature compared to leather.
Price and affordability
Budget considerations play a significant role in the decision-making process.
Leather sofas, in general, tend to be more expensive than fabric ones. The type and quality of leather used in the sofa also significantly impact its price. For example, full-grain leather, which is considered the highest quality, is more expensive when compared to top-grain leather.
Recommended read: Full Grain vs Top Grain Leather
Fabric sofas generally offer a more budget-friendly option compared to leather sofas, but certain fabric types like linen, high-quality cotton, or performance fabrics may be on the pricier side.
However, it's essential to weigh the initial cost against the potential longevity of the investment if budget is a major factor in your decision-making.
Leather vs fabric sofas: Which is better?
Now that we've compared between both types of sofas, which is better for you?
Ultimately, the choice between leather and fabric sofas depends on your individual preferences, lifestyle, and budget.
Leather sofas boast elegance and durability, and are great for traditional or mid-century modern homes. However, they might require extra care in warmer climates. Also, they tend to be more pricey compared to fabric sofas.
Fabric sofas offer versatility, affordability, and numerous design possibilities - being able to fit well with any interior design style. But, they may require more attention when it comes to cleaning stains and spills, especially if you have kids or pets.
Assess your priorities and consider the factors outlined in this guide to make an informed decision that suits your needs and complements your home decor. Remember, whether you go with the timeless allure of leather or the customisable charm of fabric, a well-chosen sofa will be the heart of your living space for years to come.