Is your leather sofa starting to peel? Or are you concerned that it might and want to keep it in the best possible condition for as long as you can? Then you've come to the right place. This guide aims to tell you everything you need to know about how and why your sofa might be peeling and what you can do to prevent this and other forms of damage to your favourite leather furniture. You might even be a little surprised to find out the truth about why some types of leather sofa start to peel. Keep reading to find out more.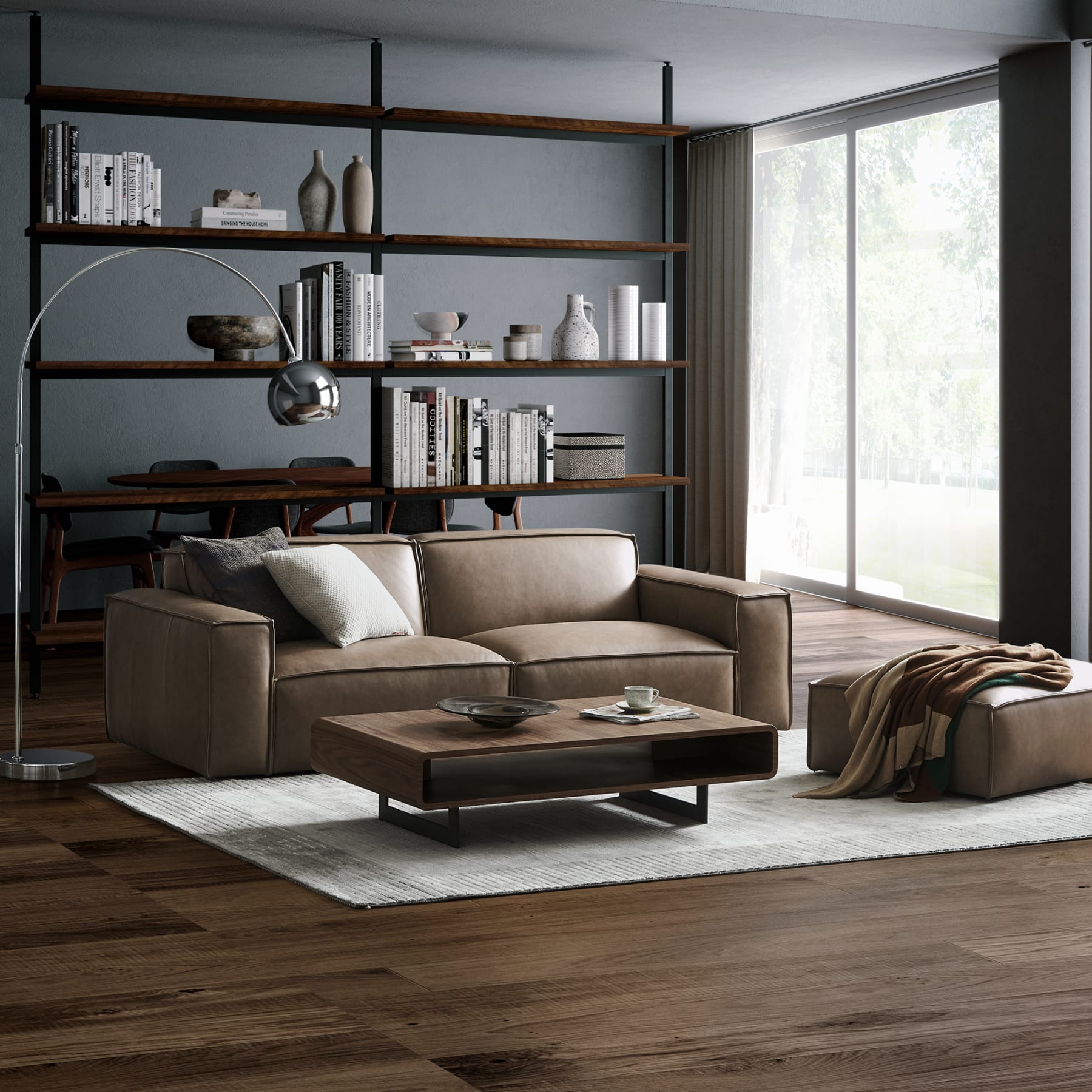 Pictured: the Jonathan Leather Sofa with Ottoman is made of top-grain leather and coated with a finishing, making it a great family lounge piece.
The truth about peeling on leather sofas
Leather is a beautiful material. If cared for correctly it can last almost indefinitely, with its looks getting better with age. But it does need to be maintained and moisturised to look its best. If it starts to dry out, then problems can occur such as cracking and even peeling. However, this is only part of the story.
In short, the answer to the question whether leather couches peel is both yes and no. Technically leather will not crack/peel, however pigment/finish that is applied to it might. Often this is because the wrong kinds of products were used when treating the leather, or can also be a result of a treatment the manufacturer has used. In order to make sure that your leather does not crack or peel, there are a few things you need to do. First, ensure that the sofa is not exposed to extreme temperature or direct sunlight. You should also regularly treat your leather couch to make sure it is moisturised and try to reduce humidity levels in any space where leather furniture is kept.
The higher the quality of leather, the less likely it is to crack. In fact, good quality natural leather that has been treated in the right way should never peel. Cheaper leather, which is usually of a lower quality grade, can be more susceptible to peeling. This is especially true of bonded leather.
The difference between genuine and bonded leather
Bonded leather is a cheaper alternative to top grain leather, and this is usually reflected in the price. Bonded leather is not as good but does come with a much cheaper price tag. Bonded leather is made from offcuts and smaller hides that are bonded or stuck together using adhesive before being attached to a polyurethane overlay. Because this type of leather does not have the same level of stretch or flexibility as real leather, the synthetic overlay can peel away.
Some argue that bonded leather is not real leather at all. However, while it differs from genuine leather, it is also a step above what would be regarded as 'fake' leather. This is material that has no genuine leather constituent and is entirely made using artificial materials such as PVC or PU. This kind of fake leather is generally cheaper still and will behave in a different way to both bonded and genuine leather. Fake leather has very little endurance and flexibility and will generally start to degrade after a short time, often as little as a few months.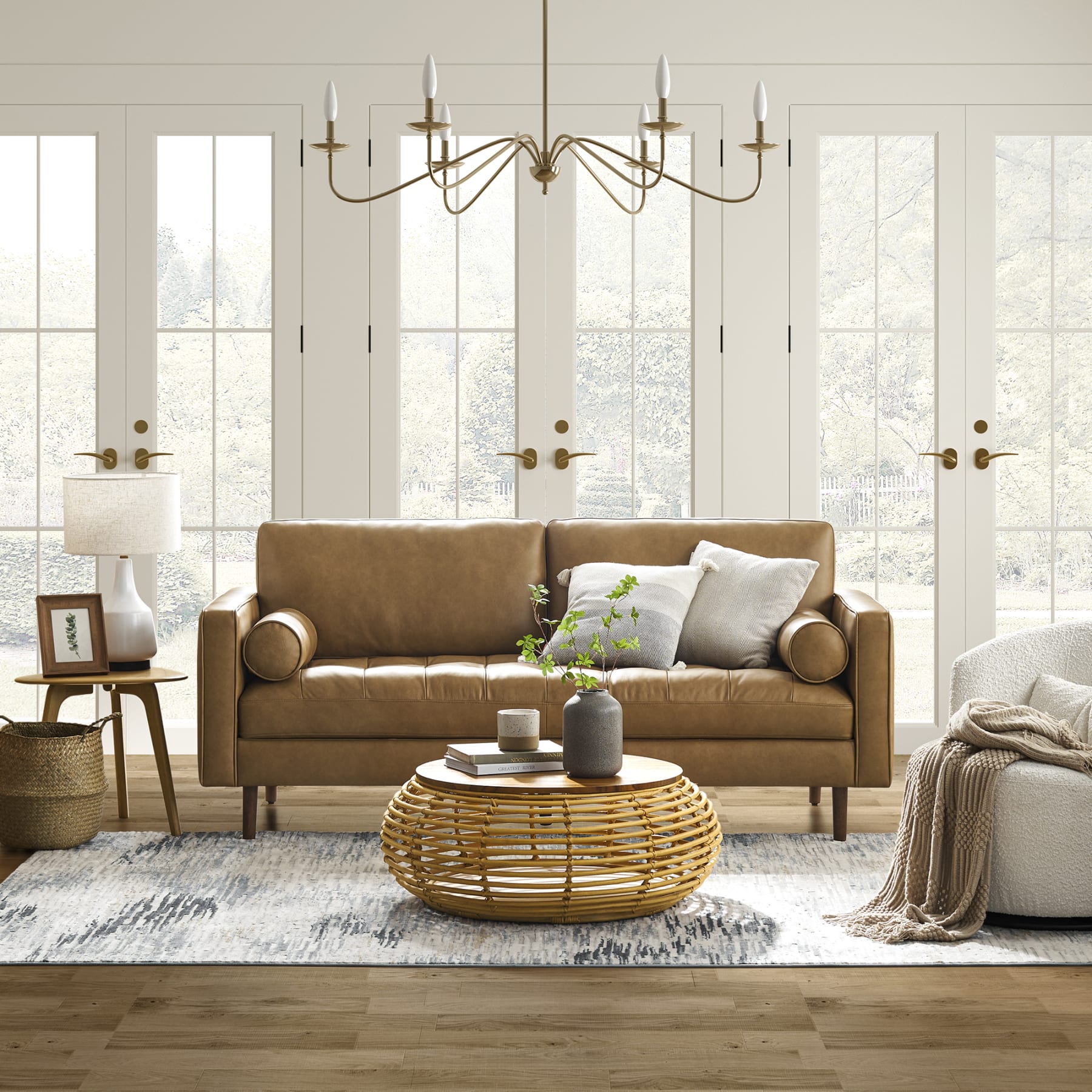 A classic mid-century modern style like the Madison Leather 3 Seater Sofa is the ultimate host's delight, featuring an open-based silhouette for easy cleaning.
So, does genuine leather peel?
The leather itself, if it is 100% genuine, should never peel. There is no part of the material that will come away from the rest in a peeling fashion (apart from surface treatments). Leather can degrade and become more fragile, however, if it dries out and is not cared for correctly. That's why it is so important to treat your products such as your leather armchair or sofa with a leather conditioner or moisturiser around once a year. Proper care and maintenance can prevent such issues from occurring.
If your leather sofa is peeling, then chances are it is actually a bonded leather product made from a lower grade leather backing, or that there is some kind of treatment or pigment/finish that is coming off the leather surface. It should be possible to remove this pigment or treatment using specialised leather cleaning products. But if you are unsure and want to protect your furniture, you can always enlist the help of a professional furniture cleaner or leather restorer.
The pros and cons of leather
So, you might be thinking, if leather requires so much care and attention, why should I choose a leather option and not a fabric sofa or velvet armchair? It's because genuine leather has many advantages. Yes, it might need a little TLC now and then, but even with a large sofa, it will probably take you less time than an hour per year. A gentle clean and rub down with some conditioner takes no time at all and could add years onto the life of your leather sofa.
This easy maintenance is what makes leather a great investment. The timeless material and design also lends a touch of warmth to your home, ensuring a piece of furniture you'll love and lounge on for years to come. Another added advantage is that leather furniture also comes with a huge range of colours and choices. A genuine leather couch is something you can design your whole room around.
Seeking a cosy leather option that instantly warms up your living room? The Jonathan Leather Extended Sofa in Caramel does just that.
Can you fix a leather couch that is peeling?
If a pigment or treatment is peeling away from your genuine leather, then it should be possible to clean or remove it entirely using specialist leather cleaners. If the peeling is occurring because it is bonded or fake leather, it will be much more difficult to repair.
With the right care and attention, there is no limit to how long a leather armchair or sofa can last. Leather is a natural material that can be treated with moisturisers and conditioners that maintain its condition almost indefinitely. Try to keep treatments regular, with once a year being a good starting point.
How do you keep leather from peeling?
If you treat your leather well and avoid using any pigments or treatments not recommended for genuine leather, then it should not peel. If your leather is peeling it may be a sign that it is bonded leather rather than 100% genuine. However, you can use sofa covers to add protection or change up your living room style if the structure of your sofa is still sound.