Mixing and matching furniture is an art that can inject personality into your living room and resonate with your interior design vision. It doesn't necessarily mean that you have to get furniture sets - you can mix and match different styles, materials, and colors.
But, if you aren't careful, you can end up creating a space that is cluttered and overwhelming.
Whether you're starting from scratch or giving your existing living room a makeover, fret not as we share some tips to help you create a cohesive and stylish arrangement.
6 tips for mixing and matching living room furniture
Define your preferred style(s)
Knowing your preferred style will guide your furniture choices and make mixing and matching easier. Too many competing styles can make a room feel disjointed.
Whether it's Japandi, Modern Farmhouse, Mid-century Modern, or a mix, it's a good idea to start with one primary interior or furniture style as the foundation for your room's design. Your secondary style should then complement your primary style and add depth or contrast.
@denisekellerofficial creates a harmonious living room with the Desmond Leather Armchair, Hamilton Chaise Sectional Sofa, Seb Coffee Table with Storage, and Lorenzo Wool Area Rug.
Adding a tertiary style is possible but should be done sparingly. This style should be used for accent pieces or small details rather than dominating the room.
Choose a dominant piece
Start by selecting a dominant piece of furniture, such as a sofa or sectional. This piece will set the tone for the entire room and act as the focal point.
The dominant piece should be proportionate to the size of your living room. In a larger space, you can opt for a larger dominant piece like a sectional sofa or a substantial coffee table. In smaller living rooms, a well-designed sofa or a unique accent piece can still take center stage without overwhelming the space.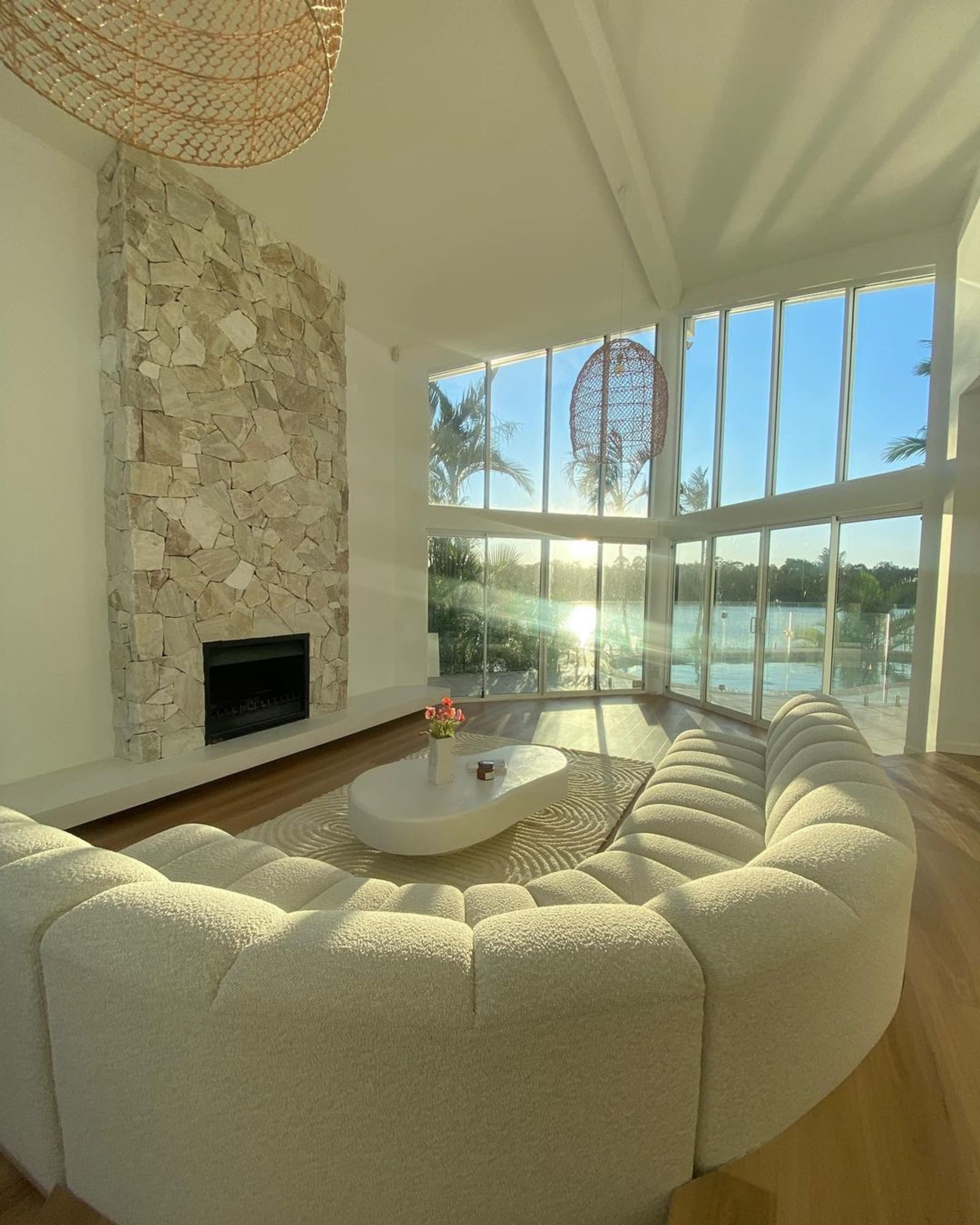 @sunset.palmas lets the Marlow Performance Bouclé Chaise Sectional Sofa take center stage in a spacious living room.
The dominant piece should also align with your chosen interior style. If your style is modern, go for a sleek and minimalist piece. For a modern farmhouse vibe, opt for a rustic piece or one with natural materials like cane.
Create contrast
Creating contrast is a fundamental principle of interior design, especially when mixing and matching living room furniture.
Pair your dominant piece with complementary yet contrasting furniture items. For instance, if you have a sleek modern sofa, balance it with a rustic wooden coffee table.
@havrillahome pairs the modern Parisian Hamilton Sofa with the modern farmhouse Casa Round Coffee Table.
Also, use contrasting colors to make furniture pieces stand out. For instance, if your dominant piece is a neutral color, add colorful accent chairs or accessories to create a vibrant contrast. Don't be afraid to experiment with a mix of light and dark colors as well to create a striking visual contrast.
Stick to a color palette
Maintaining a consistent color palette is essential to tie the room together and create a well-balanced look.
Choose a dominant color, a primary color, and accent colors. Then, use the 60-30-10 rule - allocate 60% of the room's color to the primary color, 30% to the secondary color, and 10% to accent colors. This balanced distribution helps maintain visual harmony even when mixing different furniture styles.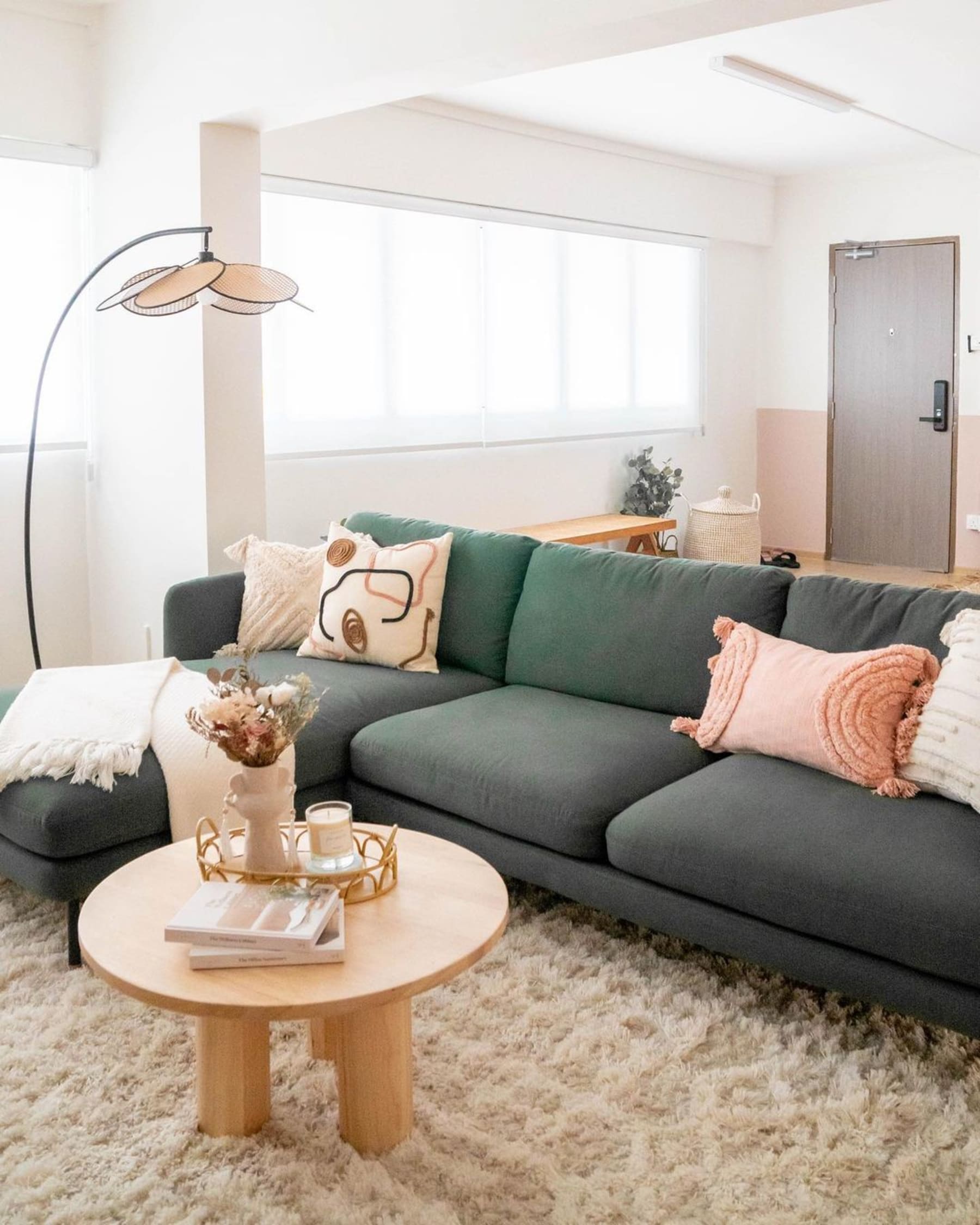 @hues.living's Pebble Chaise Sectional Sofa in Forest Green creates a striking contrast against the neutral colors in the space.
Alternatively, for a monochromatic look, choose colors from the same color family or color scheme to ensure they work well together. For instance, if your dominant color is a cool blue, select accent colors like soft gray and navy, which are also in the cool color family.
Balance patterns
Patterns can add visual interest and personality to a space, but they can also easily make a room look messy if you're not careful.
Create balance by pairing vibrant patterns with solid colors. Pictured: The Adams Chaise Sectional Sofa.
Maintain a sense of balance by pairing bold patterns with more subtle ones, or use solid-colored pieces to break up the visual intensity. Stick to a consistent color palette and ensure that the patterns complement each other in terms of style and mood.
Pick common materials
Another way to make your living room look balanced is by picking common materials across different interior design styles. This helps create depth and interest in your living room without it looking cluttered.
@michellereed maintains picks common materials like wood in the living room. Pictured: The Owen Chaise Sectional Sofa, Wayne Armchair, Seb Round Coffee Table, and Marc Oval Jute Rug.
Select one material as a dominant element that will be consistent throughout the room. For example, if you opt for wood as your dominant material, pick a mid-century modern sofa with wood accents coupled with a modern wooden coffee table.
We hope that this article has helped you in your journey to design your living room to express your style and personality. Mixing and matching living room furniture can be a fun and creative process, and can truly be rewarding when done right. Follow these tips and enjoy the journey of transforming your living room into a harmonious haven.
If you need more help visualizing how different furniture pieces can work together, try out our room designer tool!