What is the best sheet thread count for bedding?
There are few things better than climbing into a bed that's been freshly made up with soft, cosy sheets. Comfortable, relaxing and wonderfully indulgent, quality bedsheets can ensure a good night's sleep while adding visual appeal to your bedroom.
One of the most important things to consider when buying new sheets is thread count. In general, sheets with a higher thread count are softer, smoother, and more durable than those with fewer threads per square inch. However, while thread count can be an indicator of quality, this isn't always the case. So, to help you find the sheets that are perfect for your bed, we're taking a closer look at thread count and what this indicator really means.
No sweat – For those who tend to sleep warm, the Percale Duvet & Sheet Set is cool to the touch, keeping you comfy throughout the night.
What does thread count mean?
Before we take a dive into our in-depth discussion on the pros and cons of a high thread count, it's worth looking at what thread count means.
Thread count (TC) refers to fabric density. The thread count of a sheet tells you the number of yarn threads in a square inch of fabric. It's measured by counting the number of vertical warp threads and horizontal weft threads contained in the material.
Generally, bedsheets with a higher thread count are made with finer yarns, resulting in a smoother, denser, and more durable fabric. These fabrics cost more to make and are typically more expensive than other bedsheets.
When you run your fingers across good quality sheets with a high thread count, you'll notice that the fabric feels smooth and soft to touch. The sheets may also feel wonderfully heavy, something that can make bedding feel even more luxurious and indulgent.
What can affect the thread count?
Weave
There are several different factors that can affect thread count. One is the method of weaving used to make the sheets. There are two standard weaving methods used to make sheets: sateen and percale. In general, sheets made with a sateen weave are thicker and more tightly woven than those made using a percale design.
When a sateen weave is used, there are fewer intersections between vertical and horizontal threads compared to a percale weave. This means that more threads can be packed into the same area, resulting in a heavier fabric and a higher thread count. Sateen fabric often has a luminous finish while textiles made with a percale weave typically have a matte appearance. If you have lighting on your bedside tables, you may notice that your sateen sheets glimmer in the evenings when the sun goes down.
Lightweight yet extremely durable, the Percale Duvet & Sheet Set gets softer with every wash.
What can affect the thread count?
Metric vs Imperial
Another thing that can have a big impact on the thread count is the measuring system that's used. Most manufacturers use inches when discussing thread count. If centimetres are used instead, the thread count will be artificially inflated, without any corresponding improvement to the quality of the fabric.
To give you an example of just how big the difference is, a sheet with a 240TC in one square inch would be 300TC in one square centimetre. So, when choosing new sheets, make sure you check the small print to see exactly what you're buying.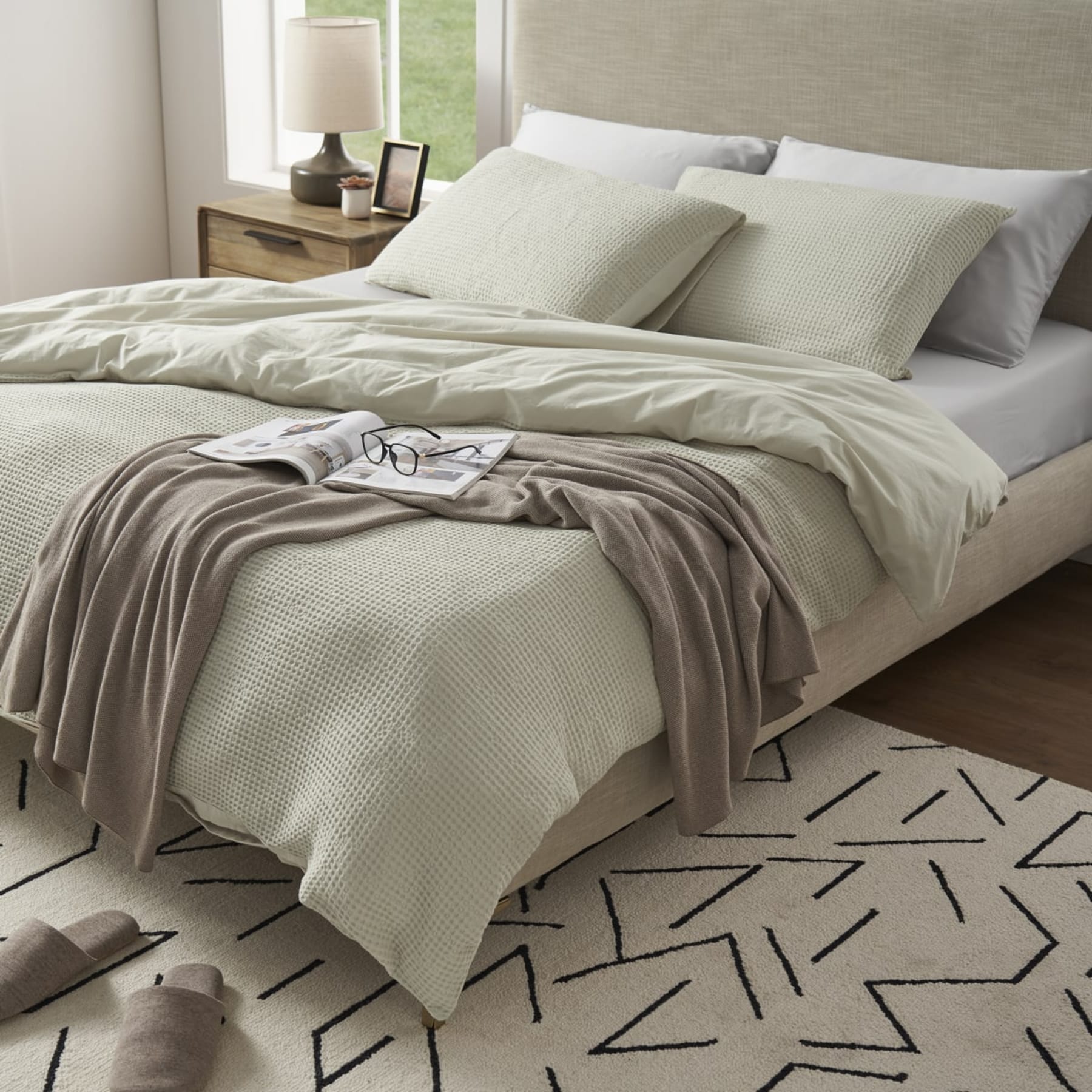 Subtly textured for a cosy, lived-in atmosphere, the Waffle Set features soft percale on the reverse.
What can affect the thread count?
Multiple thread
If sheets have a very high thread count, it could indicate multiple strands are being twisted together to create a single yarn. When this happens, the threads being used can be very thin. As a result, the fabric is likely to be weak and of low quality even though it has a very high thread count. Sheets made with multiple thread can also feel denser and less breathable than fabric made using a standard weave.
After all, remember that, while good quality sheets can feel magic, they can't defy the laws of science. Up to a certain point, it's just not physically possible to weave single-ply threads so tightly.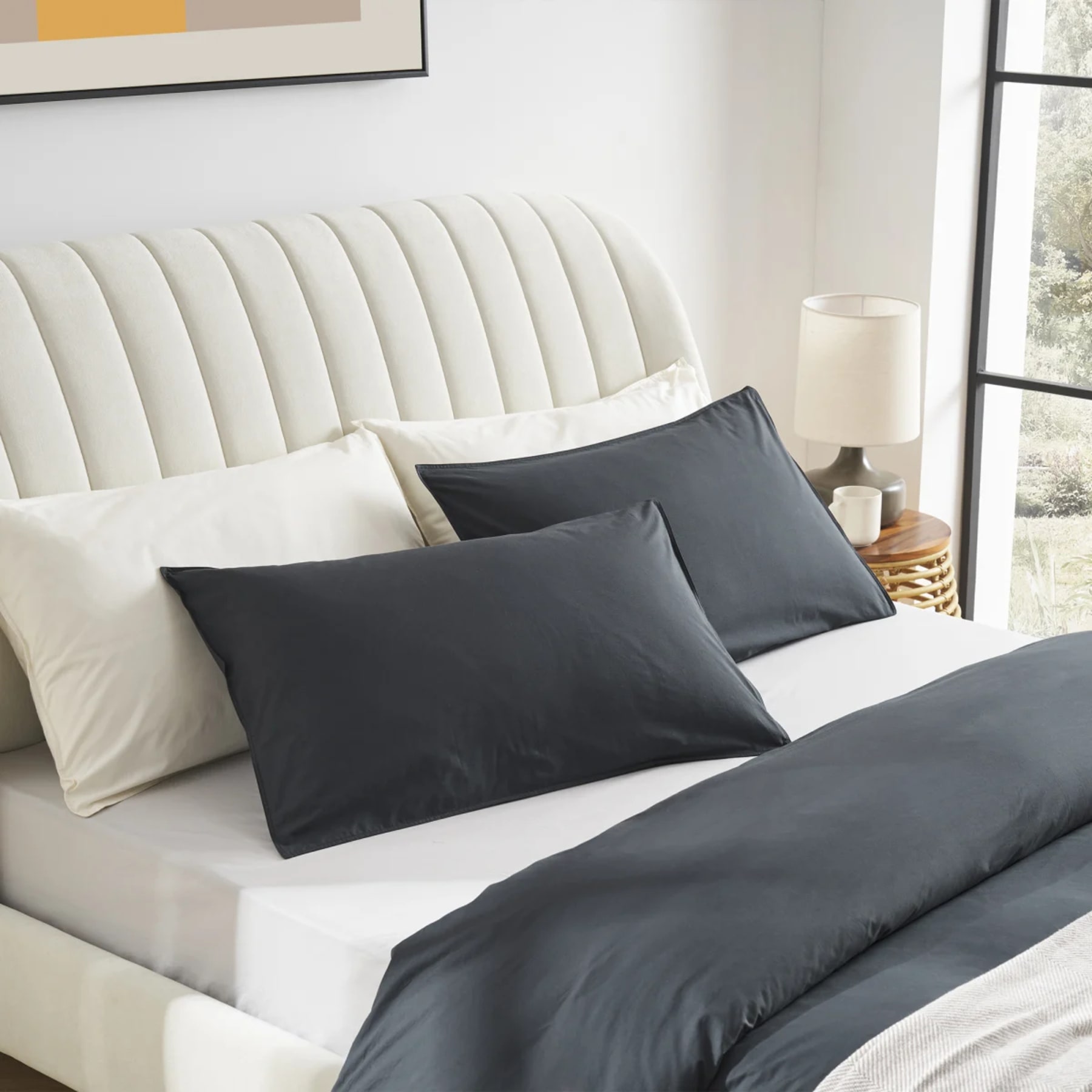 Sleep easy knowing that our beddings are OEKO-TEX certified and free of harmful substances.
How to choose the perfect thread count for your needs
If both a very high and very low thread count can mean the sheets are poor quality, what is the best sheet thread count for bedding? For most people, the perfect thread count will be somewhere around 300-500. Sheets with this sort of thread count are likely to feel soft and inviting, and are durable and long lasting.
However, that's not to say that sheets with a lower or higher thread count are guaranteed to be bad quality. It's possible to buy excellent sheets either side of this prime thread count, you'll just need to do a little homework to make sure the sheets you're investing in are as good as you want them to be.
A good way to ensure your mattresses are fitted with cosy, indulgent sheets is to buy your bedding from a trusted brand. If you know the people that made your sheets believe in good quality materials, you can be confident that your sheets will be soft and supple, no matter what their thread count.
Good quality sheets can make a comfortable and luxurious bedroom set even more inviting. Find out more about accessorising your bedroom, and explore the beautiful beds, bedside tables, and other furnishings we offer by exploring our collection.