If you love nothing more than a little bit of luxury, velvet will probably already be one of your favourite fabrics. Soft, tactile, and wonderfully decadent, it's almost impossible to resist. A great way to add warmth, colour and a touch of timeless style to your living room, velvet sofas and armchairs can look great in all types of interiors.
If, like many people, you're yet to be convinced by velvet, we're here to change your mind. While this material is unashamedly indulgent, it's also incredibly practical, making it a surprisingly good choice for households with young children or pets. A durable, hard wearing material like velvet will add style and character to your living room.
To prove how good velvet sofas are – and to show you just how good one could look in your home - we're breaking down some of the many benefits this unique material has to offer.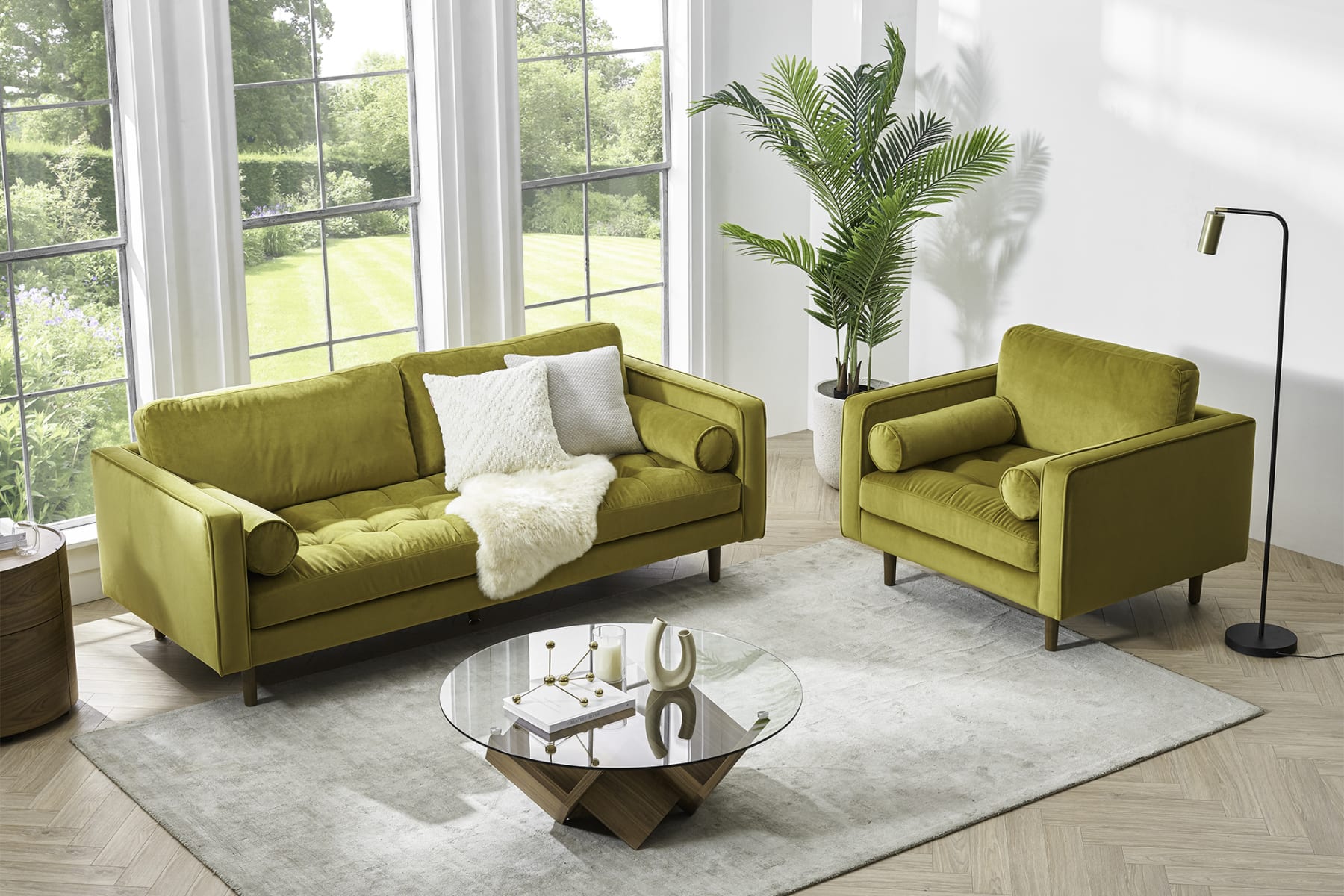 How about a little sunshine with the Madison 3-Seater Sofa?
Is velvet a durable material for a sofa?
A lot of people are wary of velvet because they think it's hard to care for and easy to damage. However, although velvet looks like a rather extravagant material, it's actually surprisingly durable.
This is because unlike many other types of fabric, velvet doesn't have a raised weave or loose threads. The resulting flat pile is resistant to snagging and is easy to clean, making it ideal for those who want a sofa that's resilient to daily wear and tear.
Are velvet sofas suitable for pet owners?
If you live with energetic dogs or a sofa-loving cat, you'll probably be looking for furnishings that can withstand claws, hair, furballs and all the other wear and tear your menagerie can throw at it. Thanks to the flat pile of velvet sofas, they're ideal for people living with cats and dogs. While it's not impossible for animals to damage small or large sofas made from velvet, the lack of loops in the fabric means it's less likely that their claws will catch and pull at the material.
It's also a lot easier to remove pet hair from velvet sofas compared to other fabric sofas. This is because pet hair won't get caught in the flat pile of the fabric, so it can be vacuumed out quickly and thoroughly. This makes it easy to tidy up after your pets and get your home party-ready in moments.
Pictured: The Adams Chaise Sectional Sofa is a stunning jet black velvet option that can be dressed for any look, style or space.
How to style a velvet sofa?
Velvet sofas come in a wide range of styles. From small sofas for two, to large corner sofas for the whole family. With many options available, you should be able to find the piece that works perfectly with your interior.
Putting a bit of thought into styling your sofa will help your furnishing to look fantastic – after all, even the most luxurious materials need a little creative touch to look their very best.
Velvet brings a naturally rich tone to the colour of its upholstery, making velvet armchairs and sofas ideal for those who want to add a bright and bold feature to their interior. If you want to give your home a mid-century modern feel, opt for a beautiful antique gold armchair. Perfect for your reading nook, and a great way to add extra seating to your living space, this stylish chair will bring a touch of luxury to your living room.
Another great style idea for velvet furnishings is to opt for an oversized corner or 'U' shaped sofa. Creating a large, sumptuous seating area will help to make your living space more welcoming and ensure there's plenty of room for friends and family to relax and stretch out.
Use cushions in contrasting tones to add 'pops' of colour to your sofa. Matching a teal sofa with gold cushions can look fantastic, especially if the blue and yellow shades are picked up in other soft furnishings in the space. Throws can also be used to add extra detail and softness to your space.
As velvet reflects the light beautifully, placing lamps and standing lights close to your velvet armchair or sofa is a great way to make the most of the furnishing. As well as bringing out the rich tones of the velvet, this will create warm pools of light in your living space and help it to look fantastic day and night.
How to clean a velvet sofa?
Like all fabric sofas, velvet couches need a little maintenance. While you don't need to spend hours scrubbing at stains or fluffing pillows, cleaning your sofa on a regular basis will help to keep it looking bright, fresh, and as new as possible.
Vacuum your sofa to remove any dust or dry dirt that's built up in the pile. If the fibres in your velvet sofa are crushed, you can fluff them up by steaming against the pile. This will revive your cushions and give your furnishing a new lease of life.
If your sofa has been stained by food, drinks, or other spills, you may need to use a specialist velvet cleaning solution to remove any marks. You can make your own detergent by mixing a few drops of washing up liquid with some water. Use a sponge to gently work the mixture into the velvet, removing any stains as you go.
To prevent fading of your velvet sofa, try to keep it out of direct sunlight wherever possible. Pulling the curtains closed at the brightest points of the day should help to shade your sofa and ensure it keeps its colour.
FAQs
Is velvet hard-wearing on a sofa?
Although sumptuous and luxurious, velvet is surprisingly durable. Because it doesn't have loops like other types of fabric, it doesn't catch easily and so will be more resilient to the wear and tear of daily life. What's more, when properly cared for, velvet can last for decades, giving you a furnishing that you can enjoy for years.
Are velvet sofas trendy?
Velvet is one of those timeless fabrics that never really goes out of style. This means it looks just as good in contemporary interiors as it does in period homes. If you're looking for something that will stand the test of time, a velvet furnishing is a great choice.
Are velvet sofas good for pets?
Velvet sofas are a surprisingly good option for pet owners. Unlike other types of fabric, velvet has a flat pile and isn't looped. This means that it's less likely to get ripped or pulled by claws and is easy to clean when muddy or hairy. In fact, velvet is one of the best upholstery options for people living with pets.