A wooden dining table is not just a functional piece of furniture - it's also a beautiful centrepiece that brings warmth and elegance to your dining area. Wood's natural grain and tone only gets better with age, and it can work in almost any interior design style.
However, a downside of choosing a dining table made of wood is that some time and effort has to be put into maintaining it But, the good news is that just a little care can go a long way in preserving its natural beauty and ensuring its longevity!
In this article, we explore the essential tips and techniques to help you safeguard and maintain your wooden dining table for years to come.
Identify your wooden dining table
Before you get started on cleaning and protecting your wooden dining table, the most important thing to know is what kind of wood is the dining table made of. Is it a soft wood like pine or cedar, or a hardwood like teak or oak? You should also ascertain whether the table is made from solid wood, a blend of materials, or veneer.
This will determine what kind of care and treatment it may require, and what kind of damage it will most likely sustain.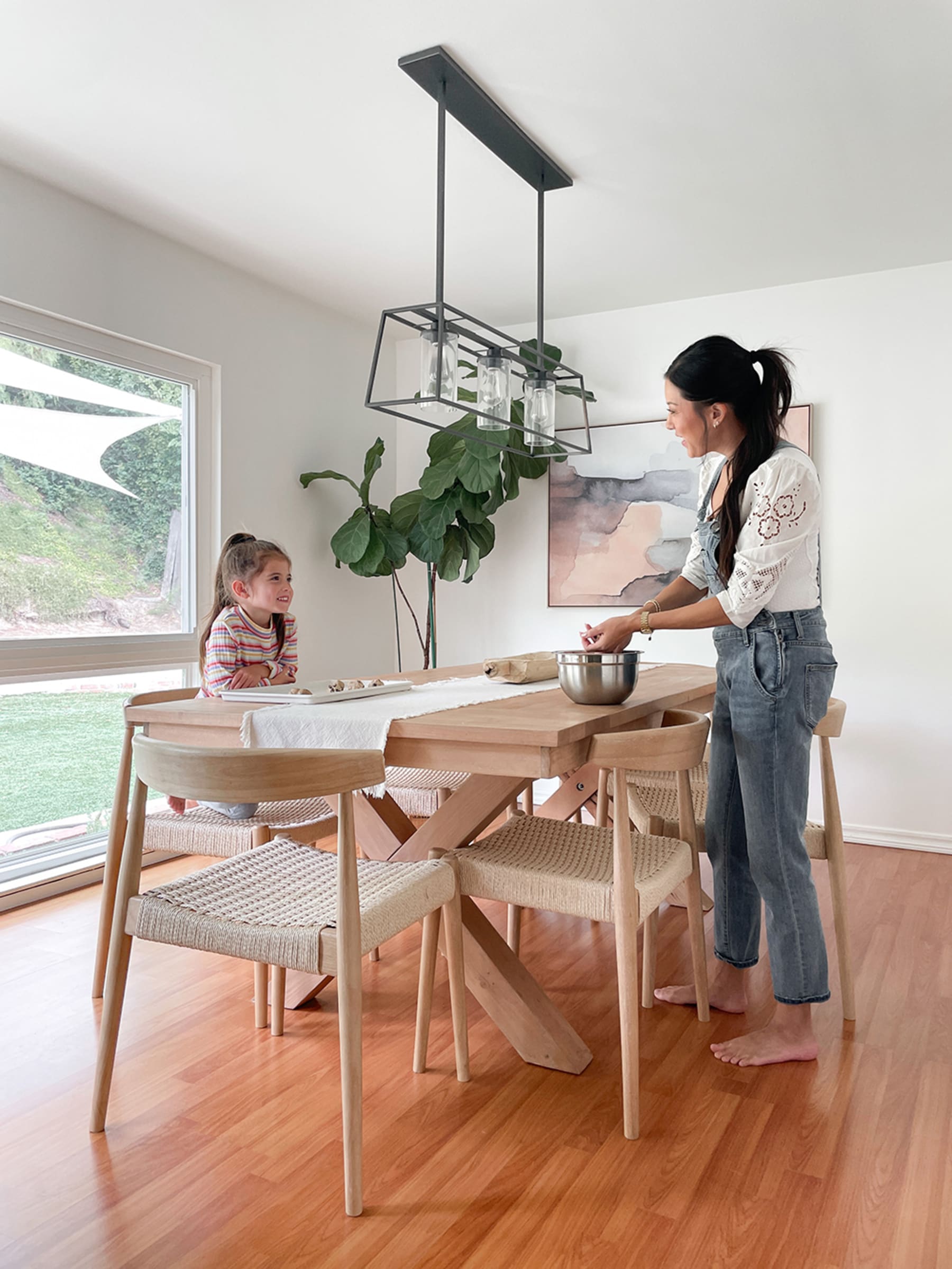 @leeann.braun and her daughter cleans the Rio Teak Dining Table before a meal.
You should also think about whether the table has already been treated, with either a stain, varnish, or oil. In some cases, it may be necessary to remove old treatments before applying new coats. Once you have figured out all the above, now you can start thinking about prevention and protection.
Prevention
Of course, as is usually the case, prevention is the best form of protection. Here are some tips to keep in mind:
Immediately wipe away any food or drink that gets spilled onto the table to prevent staining
Use placemats and coasters to act as a barrier between hot plates, liquids, and the table's surface, preventing heat marks and water rings
Cover your dining table with a tablecloth or table runner to add an extra layer of protection against scratches and spills
Position your dining table away from direct sunlight as prolonged exposure can cause fading and discolouration
Protection
Over the course of everyday life, your wooden dining table is bound to be exposed to accidents as well as wear and tear. But, here are some things you can do to protect the wooden dining table and ensure it remains pristine for many years to come.
Clean the table regularly
Needless to say, proper cleaning is essential for maintaining the appearance of your wooden dining table. For regular maintenance, use a lint-free cloth or feather duster to remove dust and debris from the table's surface.
Wipe down any food spills or residue using a damp cloth with mild dish soap. Gently wipe the table in the direction of the wood grain and avoid using abrasive cleaners or harsh chemicals.
For any food spills that can potentially cause a stubborn stain, like tumeric or beetroot, blot them immediately with an absorbent cloth. Avoid rubbing as it can spread the liquid and cause further damage. Clean the area thoroughly with a gentle cleaning solution.
Use specialised wood treatments
Add an extra layer of protection using wood treatments like oils or varnishes. Oils work by penetrating the grain of the wood and preventing any other materials from entering the wood. Varnishes create a hard barrier that acts as a first line of defense. This makes the clean up process much easier as there's already a surface layer to protect the natural wood.
Depending on the type of finish of your dining table, you can also consider using wax to protect the wood and add an extra layer of shine. It's best to consult the manufacturer's recommendations or seek professional advice for the appropriate waxing frequency.
Use furniture covers
If your dining table is used outdoors, it's important to invest in furniture covers and umbrellas to protect your wooden dining table from the elements. If possible, store the dining table in a dry space when not in use to prevent the build up of mold and mildew.
@jaimelyncarney ensures that the plates and décor used on the Sorrento Dining Table does not scratch or damage its surface
Your wooden dining table is an investment that deserves proper care and protection. By following the preventive measures, cleaning techniques, and maintenance tips mentioned in this article, you can extend its lifespan and keep it looking stunning for years to come. Remember, a little effort in protecting your dining table today will reward you with a beautiful and functional centrepiece that you can enjoy for generations to come.
FAQ
What can you put on a wood table to protect it?
You can use tablecloths, placemats, and coasters to prevent spills, stains, and heat damage when having your meals.
What can I use to protect my dining room table?
You can treat wooden dining tables with a range of products to provide it with additional protection. This includes wood oils, varnishes, and some stains. You can also paint wooden tables, although this does cover the natural wood grain and can be very difficult to remove should you change your mind, so think carefully before you get the paint brushes out.
How can I make my wood table last longer?
Using the above mentioned tips, such as regular cleaning, oiling, and using protective mats, this ensures that you extend the life of your dining table.