Does your dining room table need that little extra something to bring the design scheme together? Would a rug soften the expanse of floor space, delineate the dining zone more effectively or add a burst of colour in the middle of the space? These are just some of the very good reasons why you might want to add a rug to your dining room. The big question is: how do you choose the right one?
Rugs come in all shapes and sizes, with varying colours, patterns, and details – so it can be a little daunting trying to match the rug to the dining space. Fret not, this guide will help you make the right decision. While you should always choose a rug that you love and makes you happy, there are certain rules and tips that can help you to select a rug that really suits the shape, size, and style of your space.
How to choose the size of your dining room rug
One of the key considerations is the size of rug to choose. This will be dependent on several other factors: the size of your dining room and the size of the dining table itself. For example, if you have a small four-person dining table then you don't need a huge rug as this can dwarf the dining area and make it look small. Similarly, if you have a large dining table suitable for eight or ten diners, a small rug simply won't be big enough and will get lost beneath the table surface.
Rugs generally come in standard sizes, which means it is possible to create a loose guide to what size rug goes with what kind of dining table. Below are some simple rules for matching rug sizes to your dining space.
When picking the right rug, the general rule of thumb is to select one that leaves breathing room around your dining set-up.
Use a rug 153x244cm size to: Pair with a 4–6-seater dining table Place under table size of up to 180cm in length
Ensuring that your rug is larger than your dining area will allow guests to pull out their chairs without tripping over the rug.
Use a rug 244x305cm size to: Pair with longer dining tables, such as 6-8 seaters Place under extendable or fixed tables that go beyond 180cm in length
Of course, not all rugs come in these standard sizes but you can use the above as a useful guide to see roughly what sizes are suitable for your dining room.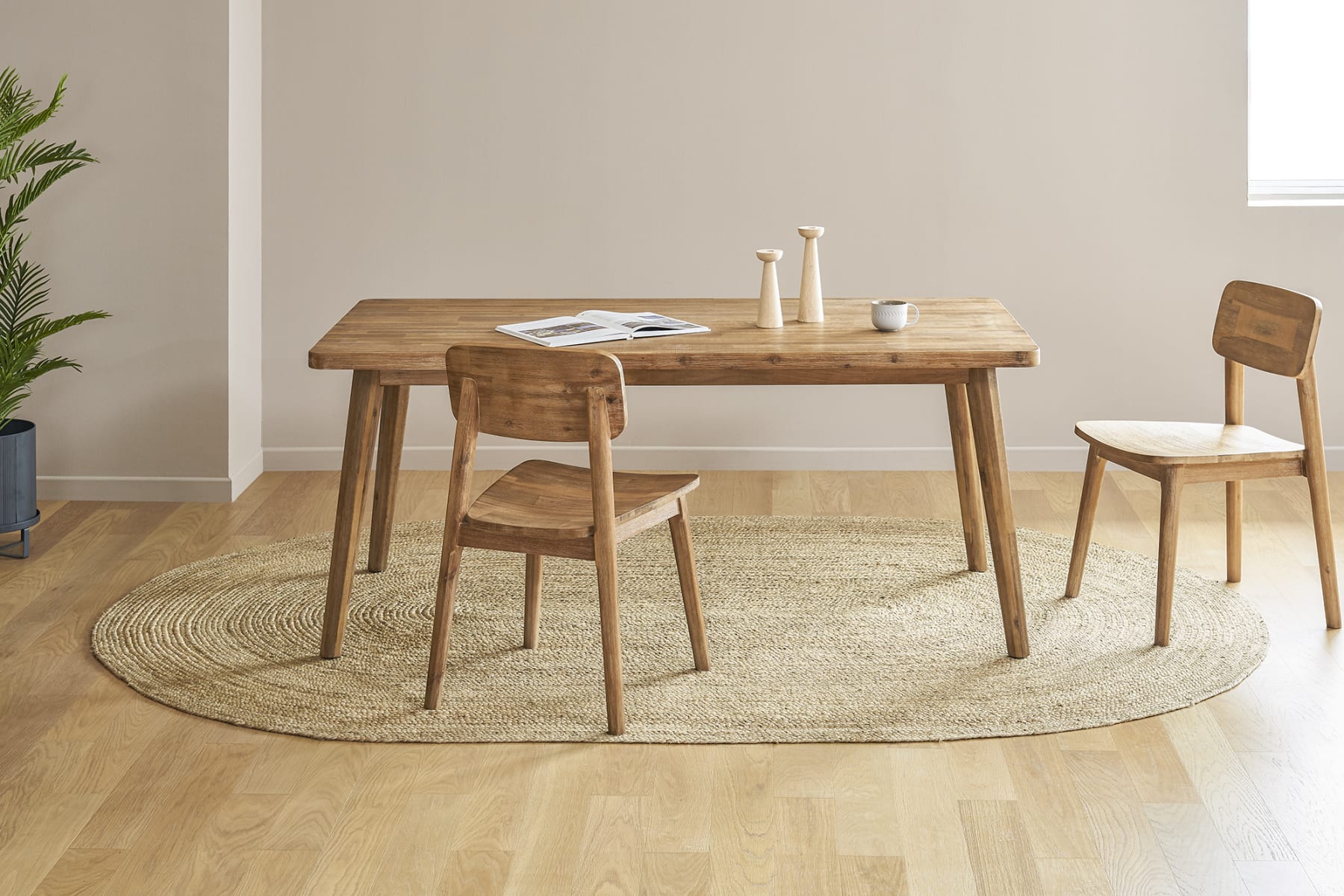 Durable and suitable for places with high traffic, the Marc Oval Jute Rug is a handwoven option that lends earthy charm to any interior.
How to choose a shape for your dining room rug
While size is important, rugs also come in a variety of shapes. In fact, rugs can come in almost any shape you can imagine, especially when it comes to animal skin rugs. But in general, they fall into a few main categories: rectangular, circular, and oval shaped.
Again, your choice of shape is dependent on the size and shape of your room, the style and size of the dining table and the number of dining chairs you have. Here are a few more simple tips that help you to choose what shape to choose.
The most common rug shapes are oval, rounded and rectangular.
Use an oval size rug to: Match with oval tables Mimic the rounded furniture for continuity
Use a round size rug to: Pair with round tables
Use a rectangular rug to: Pair with rectangular tables, ensuring the rug is larger than the table surface
Of course, the above guidelines are not hard and fast rules, and you can definitely mix and match the shapes of a round rug with a rectangular table. If you have a round table in a square room or a square table in a round room, this can add another dimension to your choice of rug shape. The size of the table is also important. For example:
Use a larger 244x305cm size to: Match with oval tables Offset rounded edges of the dining table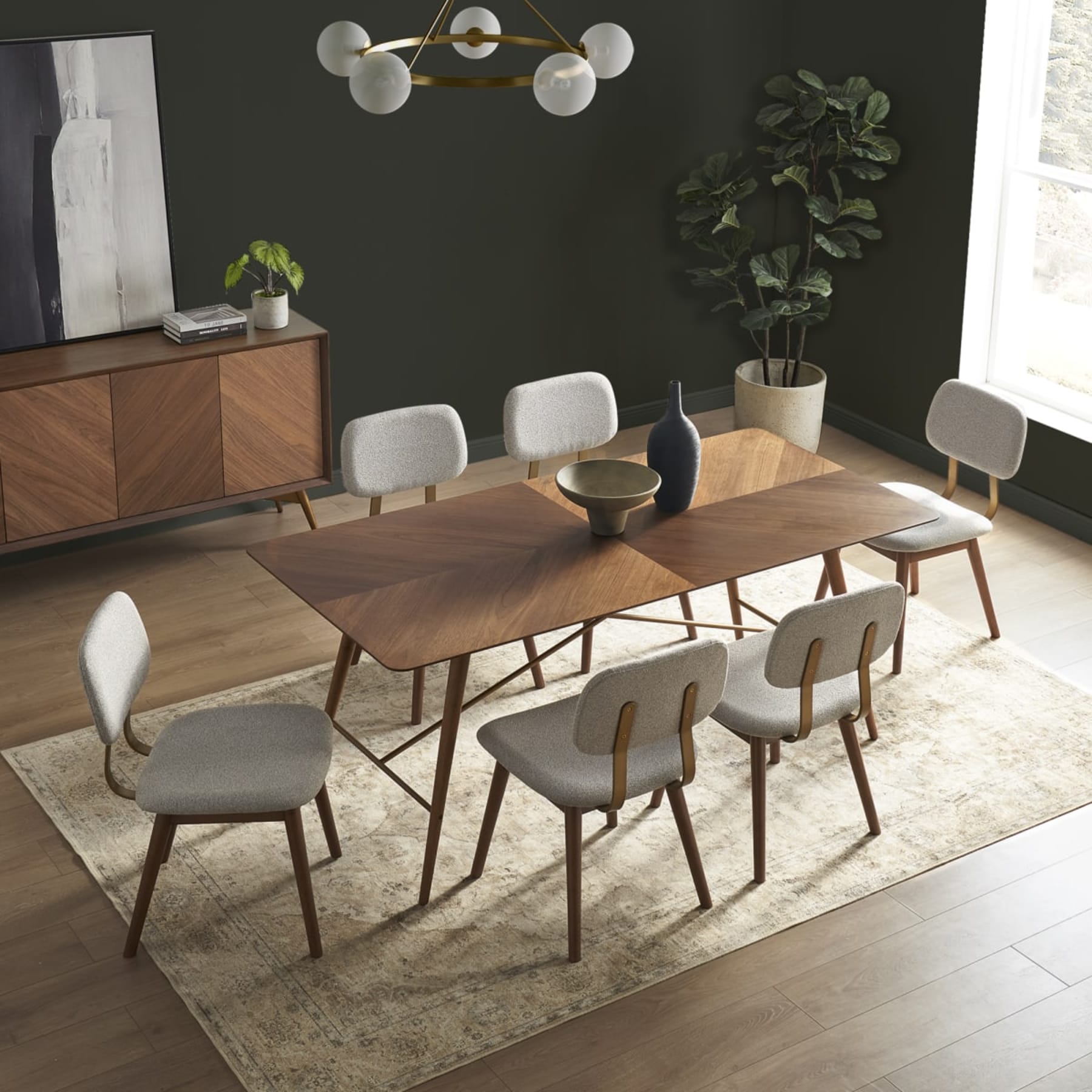 If your dining room is spacious or open-planned, a large rug beneath your table will help to ground the space.
What is an area rug?
Area rugs are large rugs that generally cover a whole area of a room, without stretching wall to wall or being fixed to the floor like a carpet. You can also use area rugs to create zones in an open plan living area. One large rug might be used to mark out the dining area, for example, which means that the above guidelines about rug size can be overridden. It is also possible to choose a larger area rug for a separate dining space, especially if you have wooden or laminate floors.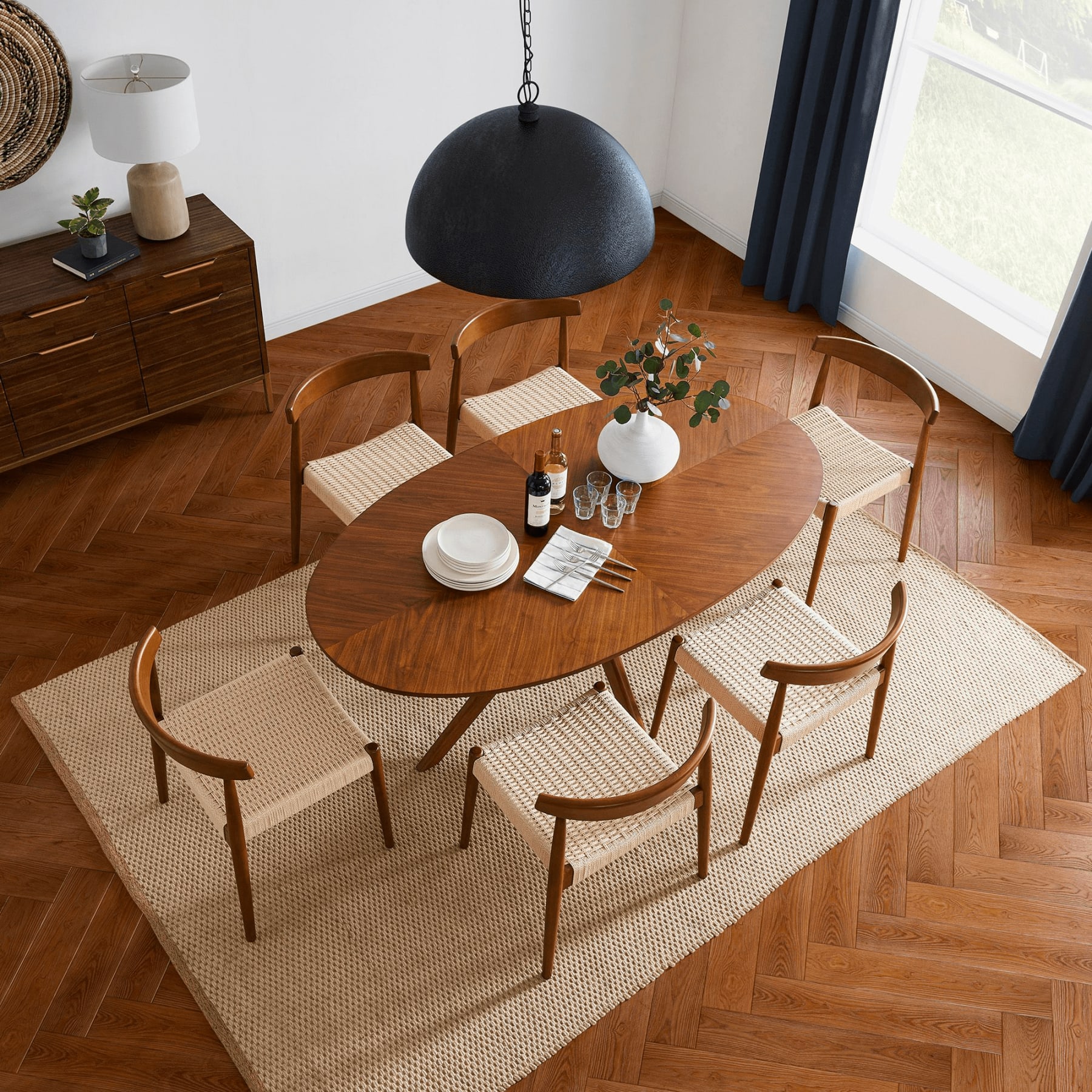 If your dining set features curved edges like the Brighton Oval Dining Table, pairing it with a large rectangular rug can lend visual appeal to your space.
Should you have a rug under your dining table?
You don't have to place a rug under your dining room table, but doing so will help to mark your dining zones in open plan areas. Styling your dining room with a rug can also help to create a cohesive design scheme, making your dining table look more at home in a space.
How big should a rug be under a dining table?
The above tips are loose guidelines on how big your dining room rug should be in relation to the size and shape of your dining table. It is also helpful to consider the size and shape of the room.
What material should a dining room rug be?
As dining rooms are high traffic areas where "oops" situations such as spilling food and drinks may occur, it's ideal to select hardwearing, durable rugs that are easy to clean.