As the crisp autumn breeze begins to fill the air and the leaves transform into vibrant reds and golds, it can only mean one thing – Thanksgiving is just around the corner!
One of the key elements that can turn your Thanksgiving feast from ordinary to extraordinary is a tablescape. A well-designed dining table sets the tone for the entire meal and creates a warm and inviting atmosphere that encourages conversation and connection.
Let's dive right in as we explore a range of Thanksgiving tablescape ideas that will help you create a memorable and visually stunning dining experience for your guests.
Thanksgiving tablescape tips
Decide on a theme
Start by selecting a theme or concept for your tablescape. This theme will guide your decor choices and create a cohesive look.
Choose a theme that resonates with your personal style and the atmosphere you want to create for your Thanksgiving gathering. Common Thanksgiving themes include rustic, elegant, modern, and monochromatic (like black and white).
The theme you select should harmonize with your interior design to create a seamless transition from your everyday living space to the Thanksgiving table.
Don't be afraid to mix and match
If you can't decide on one specific style, don't be afraid to experiment and switch things up! This concept encourages you to combine various elements, styles, and textures to create a unique look.
To successfully mix and match your Thanksgiving tablescape, start with a central theme or color palette to serve as a unifying thread. From there, experiment with different combinations of elements, keeping in mind balance and cohesiveness.
For instance, combine a rustic burlap runner with sleek white plates for a modern yet rustic look. You can also try pairing vintage china plates with traditional silver or gold flatware for an elegant touch.
@little.winnie has a small vase of flowers as the centerpiece of the Seb Extendable Dining Table Set.
Use matching dinnerware
Depending on the theme you choose, ensure that your dinnerware, glassware, and utensils match. Using matching dinnerware ensures consistency and a cohesive look to your dinner table.
If you don't have dinnerware that matches your theme or color palette, start with classic white plates. They are versatile and you probably already have them in your home. Simply add some decorations around them to tie them with the theme.
Have a centerpiece
When it comes to decorating your table, having a centerpiece can create a focal point and enhance the overall atmosphere of Thanksgiving.
A classic choice for a centerpiece is a floral arrangement with seasonal flowers like sunflowers or roses. You can arrange seasonal decor like pumpkins or gourds in woven baskets and place them in the center of the table. A runner with fresh eucalyptus or pine branches is also a great option to consider.
Use a sideboard
With so much decor and food on your table, it helps to have an extra surface space to place dishes and drinks! A sideboard or buffet cabinet allows you to keep some of these dishes within easy reach without overcrowding the dining table.
The Lily Sideboard is used as a makeshift bar, placed in the dining room. Picture credits: @cozyspaceinterior and @hausonthehorizon
Functionality aside, a sideboard can balance the visual weight of your tablescape. While the dining table is often the focal point, a well-decorated sideboard complements the overall design by providing a harmonious backdrop or as an extension of the theme.
Recommended read: Sideboard vs Buffet vs Credenza: What's The Difference?
5 Thanksgiving table decorating ideas (based on your dining table type!)
Rustic farmhouse
If you already have a modern farmhouse look going on in your dining area, embrace the beauty of the season by incorporating rustic elements into your tablescape.
With your wooden dining table, adorn it with a burlap or linen table runner. Add a centerpiece of pumpkins, gourds, and candles for a charming and cozy feel. Vintage-style dinnerware completes the look of this tablescape, making your table feel like a rustic harvest feast.
Create a modern farmhouse Thanksgiving tablescape with the Miles Dining Table and Austen Chair in White Wash. Also pictured: The Lilou Jute Area Rug.
Autumnal bounty
Celebrate the abundance of autumn by showcasing the season's bounty on your table. Arrange colorful autumn vegetables, such as heirloom carrots, squash, and corn, as a captivating centerpiece.
Scatter autumn leaves or mini pumpkins around the dining table for an authentic touch, and display some sunflowers to brighten up the space. This tablescape not only looks beautiful but also pays homage to the essence of Thanksgiving.
Create an autumnal bounty Thanksgiving tablescape with the Seb Dining Table Set. Also pictured: The Marc Oval Jute Rug.
Gold glamor
For a touch of opulence, consider a gilded Thanksgiving tablescape. As gold is the star of this theme, choose gold or metallic accents throughout your design – from gold-rimmed dinnerware to golden candleholders, or even a gold-framed pendant light.
Gold pairs extremely well with marble, so this look would be great if you have a marble dining table. Gold also works beautifully with black, white, deep burgundy, or emerald green as accent colors - so don't forget to sprinkle some of those colors around the dining table.
Select crystal or glass stemware with gold details. Champagne flutes or wine glasses with gold stems and bases add a glamorous touch to each place setting.
Create a gold glamor Thanksgiving tablescape with the Kelsey Marble Dining Table Set.
Sleek and minimalist
There's nothing wrong with keeping things sleek and simple, even when it comes to Thanksgiving!
Start with a minimal color palette consisting of neutral and earthy tones. White, black, gray, or soft beige are excellent choices. These colors serve as the foundation for your sleek and minimalist look.
Use simple dinnerware, glassware, and decor with clean lines. Avoid patterns or elaborate embellishments as they can create a cluttered look. Use plain cloth napkins or tablecloths to match well with the minimalist look. You can also add a sprig of fresh herbs for a touch of color and fragrance.
Create a sleek and minimalist Thanksgiving tablescape with the Lily Dining Table and Simone Performance Bouclé Chair.
Monochromatic (black and white)
This tablescape theme is a modern and visually striking approach that relies exclusively on the classic combination of black and white. This elegant and minimalist theme creates a sophisticated atmosphere for your Thanksgiving gathering - different from the usual autumn colors and vibes.
As the name suggests, the core of this theme is the use of black and white. Begin with a black or white tablecloth and consider using contrasting place settings (i.e. black tablecloth with white tableware, or vice versa). If you already have a black dining table, you can skip using a tablecloth to really bring attention to the table's color.
Create a monochromatic centerpiece such as white flowers or black candles. Keep decorative elements minimal to maintain the theme's simplicity. You can incorporate small black or white porcelain pumpkins or geometric candleholders.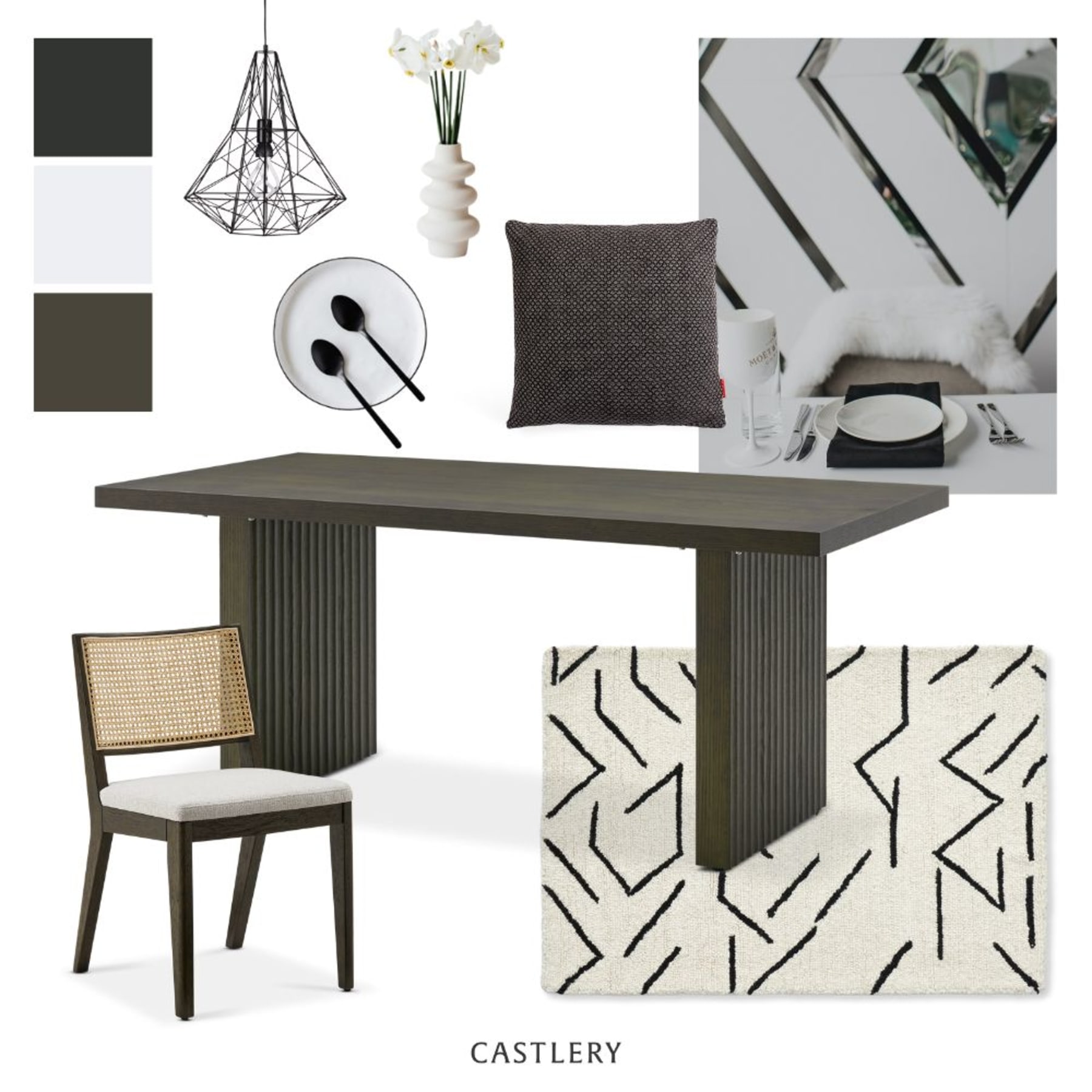 Create a black and white Thanksgiving tablescape with the Sloane Dining Table and Sloane Cane Chair.
We hope these Thanksgiving tablescape ideas offer inspiration to help you craft a visually stunning Thanksgiving feast. No matter what theme you decide to go for, your Thanksgiving tablescape can be a canvas for your creativity and a reflection of the warmth and gratitude of the holiday season.
With a well-designed tablescape, you'll create a welcoming ambiance that sets the stage for cherished moments with your loved ones. This Thanksgiving, let your table be a symbol of abundance, gratitude, and togetherness.