When it comes to designing the ideal dining space, getting the measurements right is crucial. A dining table isn't just a piece of furniture - it's the centerpiece of your dining room, where family and friends gather to enjoy meals and quality time together.
To ensure that your dining experience is comfortable and aesthetically pleasing, you need to pay attention to several key dining table measurements.
In this article, we'll walk you through 8 essential dimensions to consider when choosing or setting up your dining table.
8 key dining table dimensions
Table length
The length of your dining table is perhaps one of the most critical measurements as it determines how many people can comfortably sit around and whether it can fit into your space.
The Rio Teak Dining Table is the biggest dining table in our collection, with a length of 94.5 inches. Picture credits: @finding.jules
A standard rectangular dining table typically ranges from 60 to 84 inches long, accommodating four to eight people comfortably. However, larger tables can go up to 120 inches or more, which is great for grand gatherings.
Round dining tables should have a length of 54 to 60 inches for comfortable dining.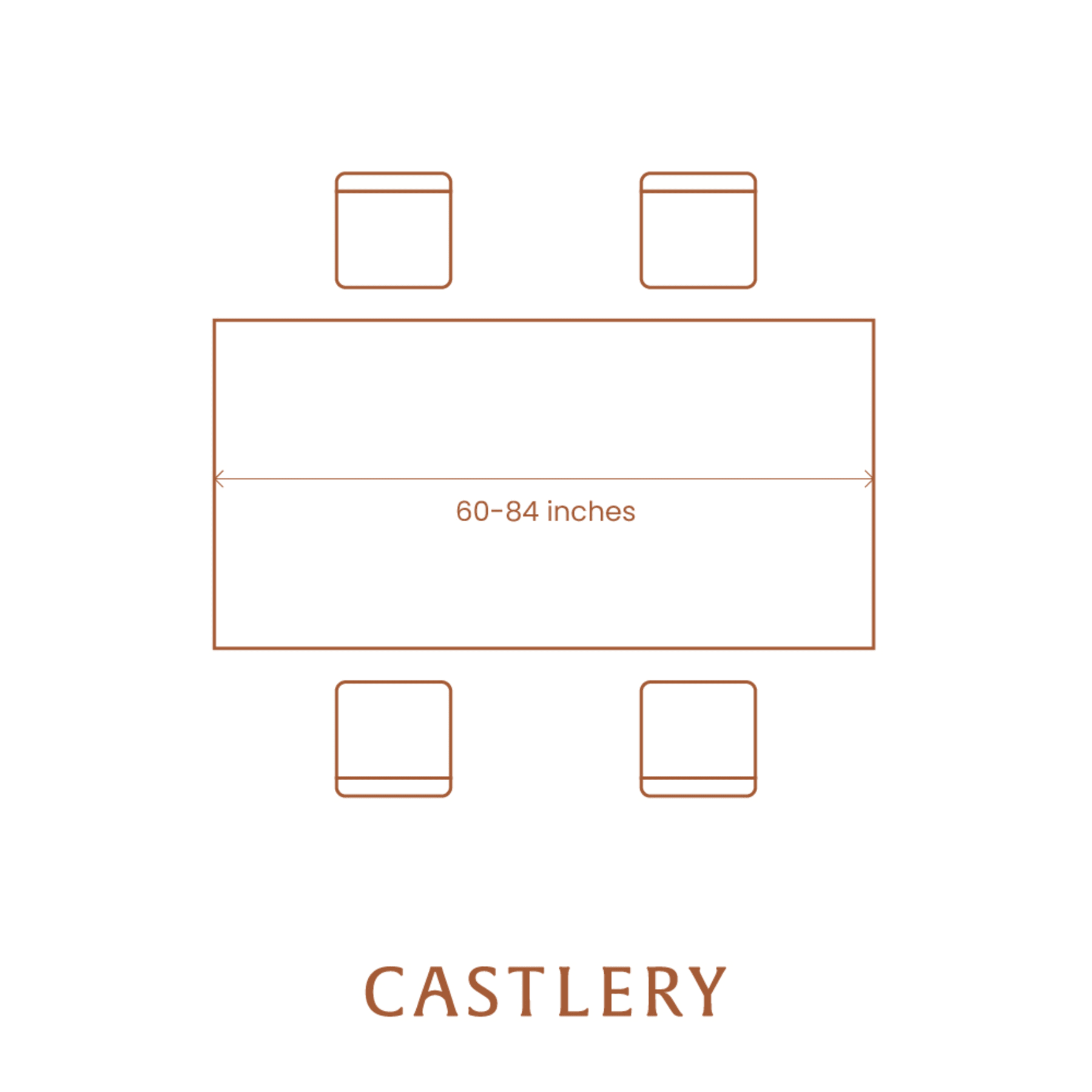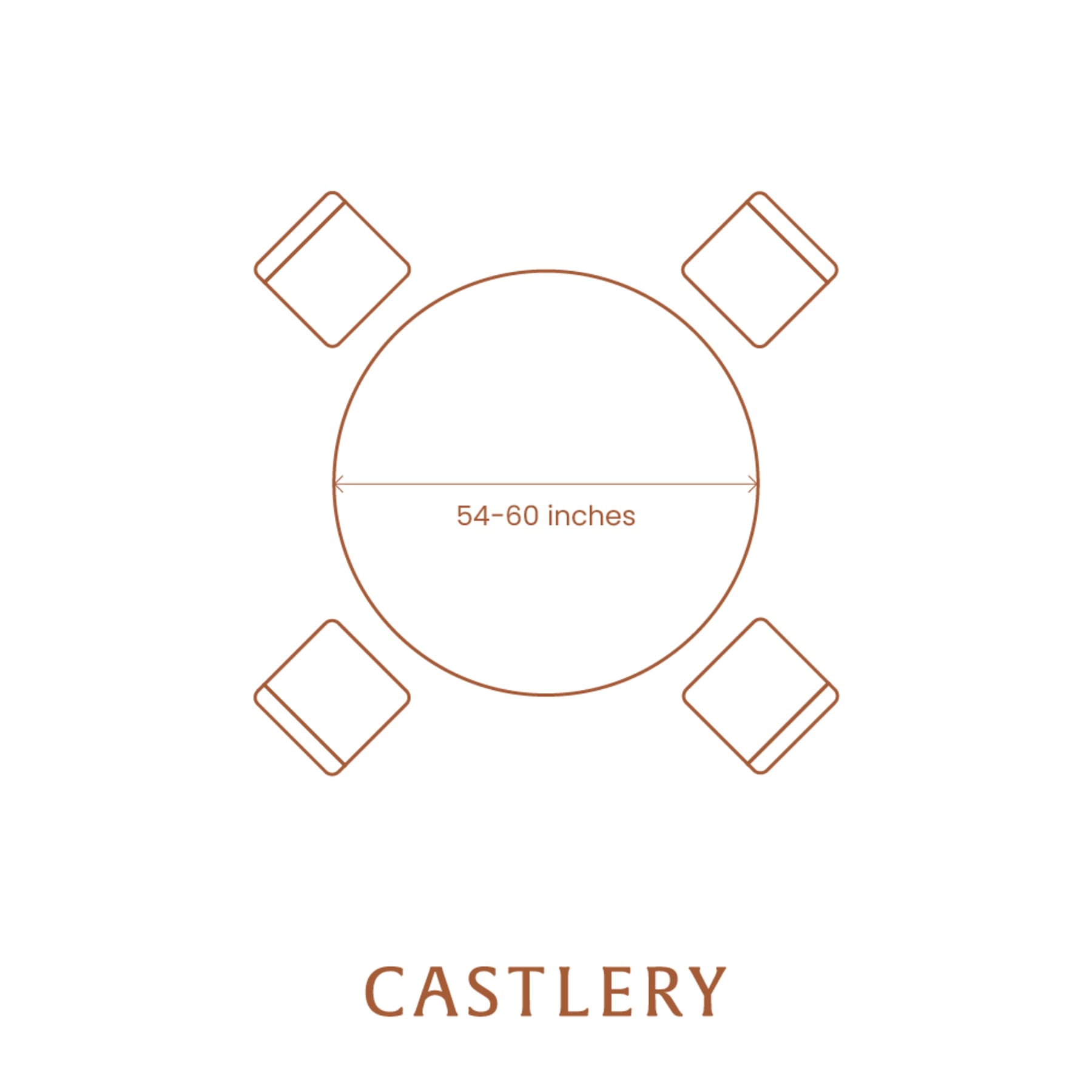 Table width
The width of your table is equally important as it influences the functionality and aesthetics of your dining space.
A wider table provides more space for each diner, allowing them to have sufficient elbow room and preventing them from feeling cramped during a meal. It's also vital to have wider table dimensions if your household frequently has communal-style eating with shared dishes.
The Theo Round Dining Table has a width of 47.2 inches. Picture credits: @duanmackenzie
A width of 36 to 42 inches is common for rectangular tables, allowing enough space for place settings and centerpieces. Round dining tables should have a diameter of at least 54 to 60 inches to comfortably seat four people.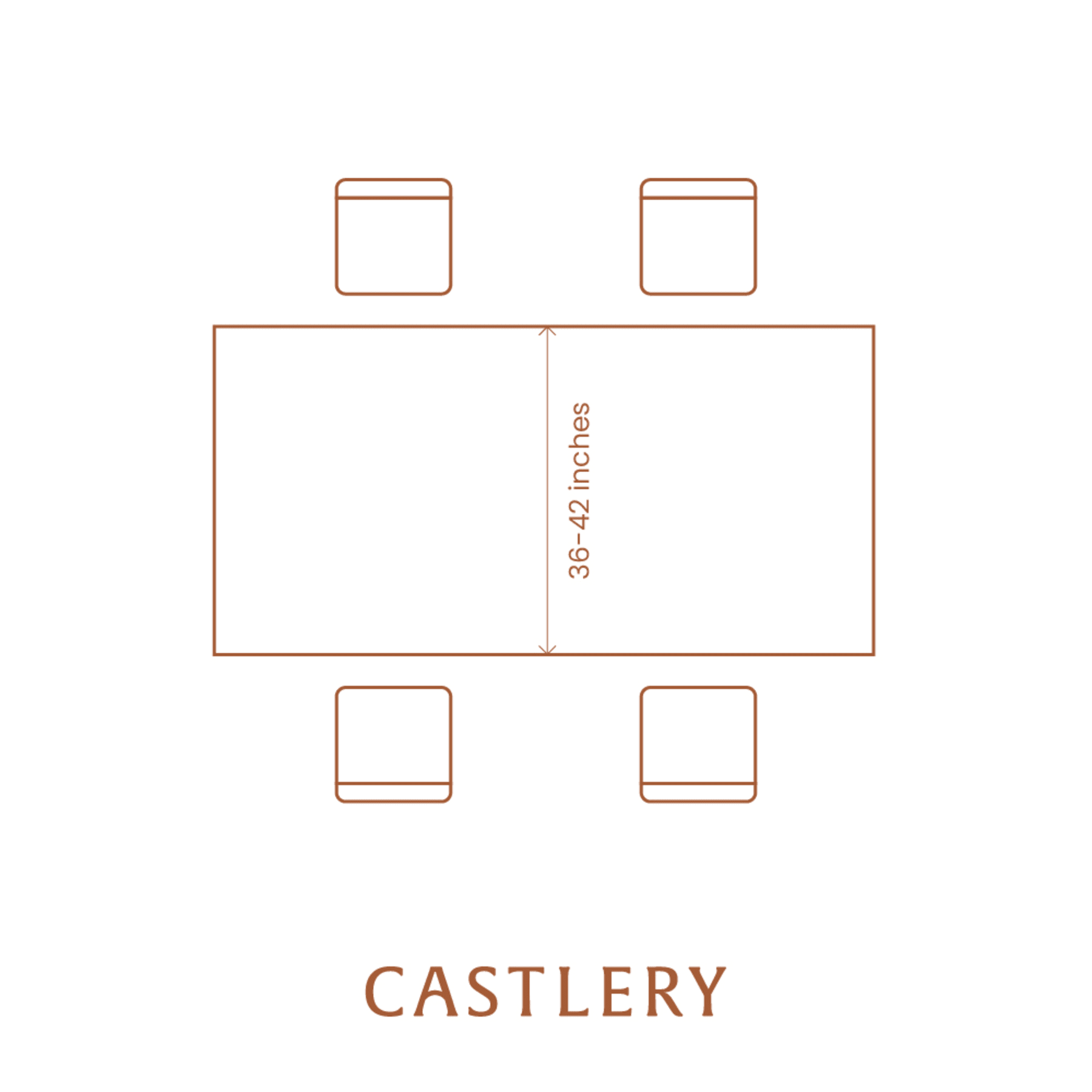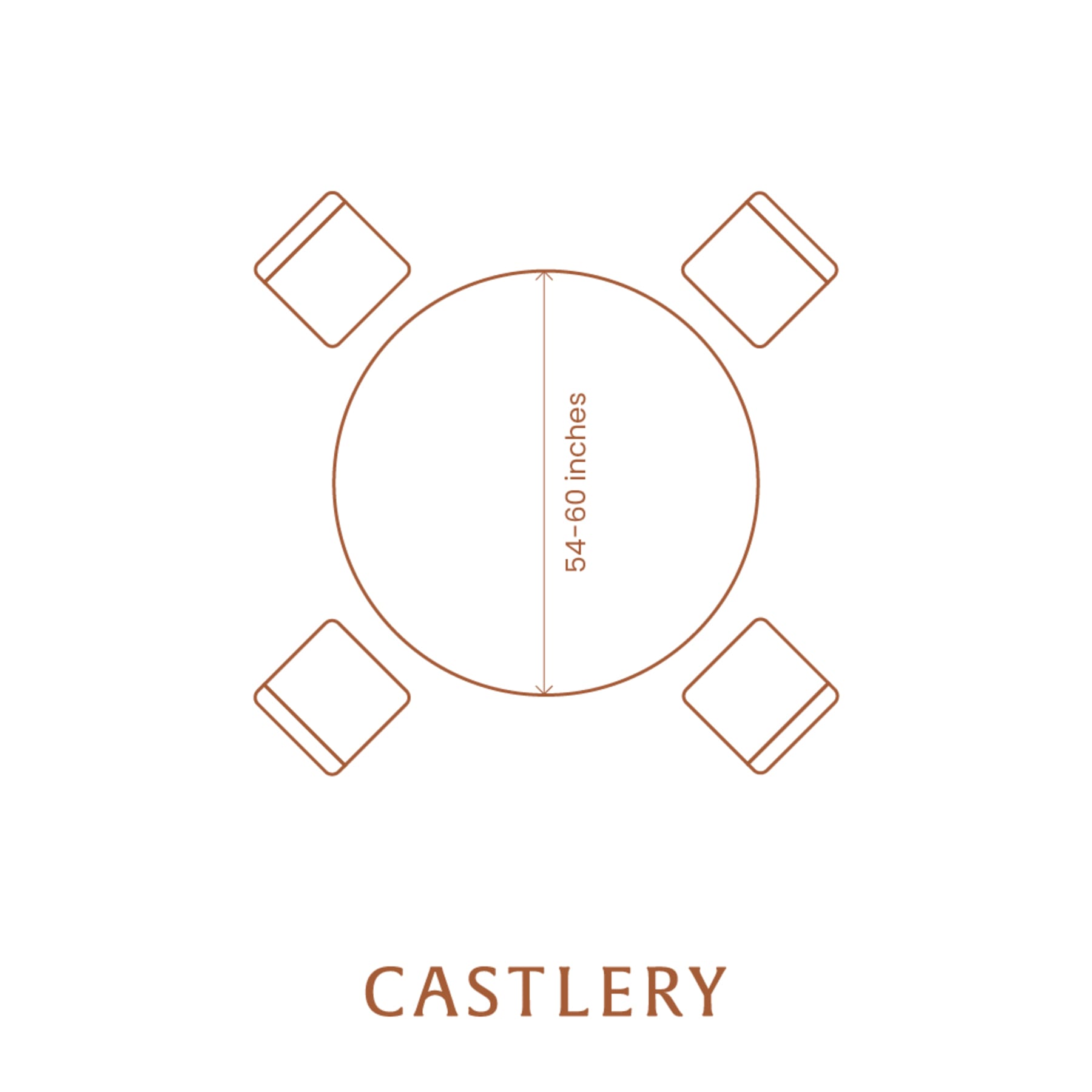 Table height
This dimension refers to how tall the tabletop stands from the floor and is a crucial aspect of creating a functional and visually appealing dining space.
The Dillon Extendable Dining Table has a table height of 29.9 inches. Also pictured: Austen Chairs in White Wash.
The standard height for most dining tables falls within the range of 28 to 30 inches. This height is designed to accommodate standard dining chairs and provides a comfortable seating position for most individuals. At this height, diners should be able to rest their forearms comfortably on the table's surface.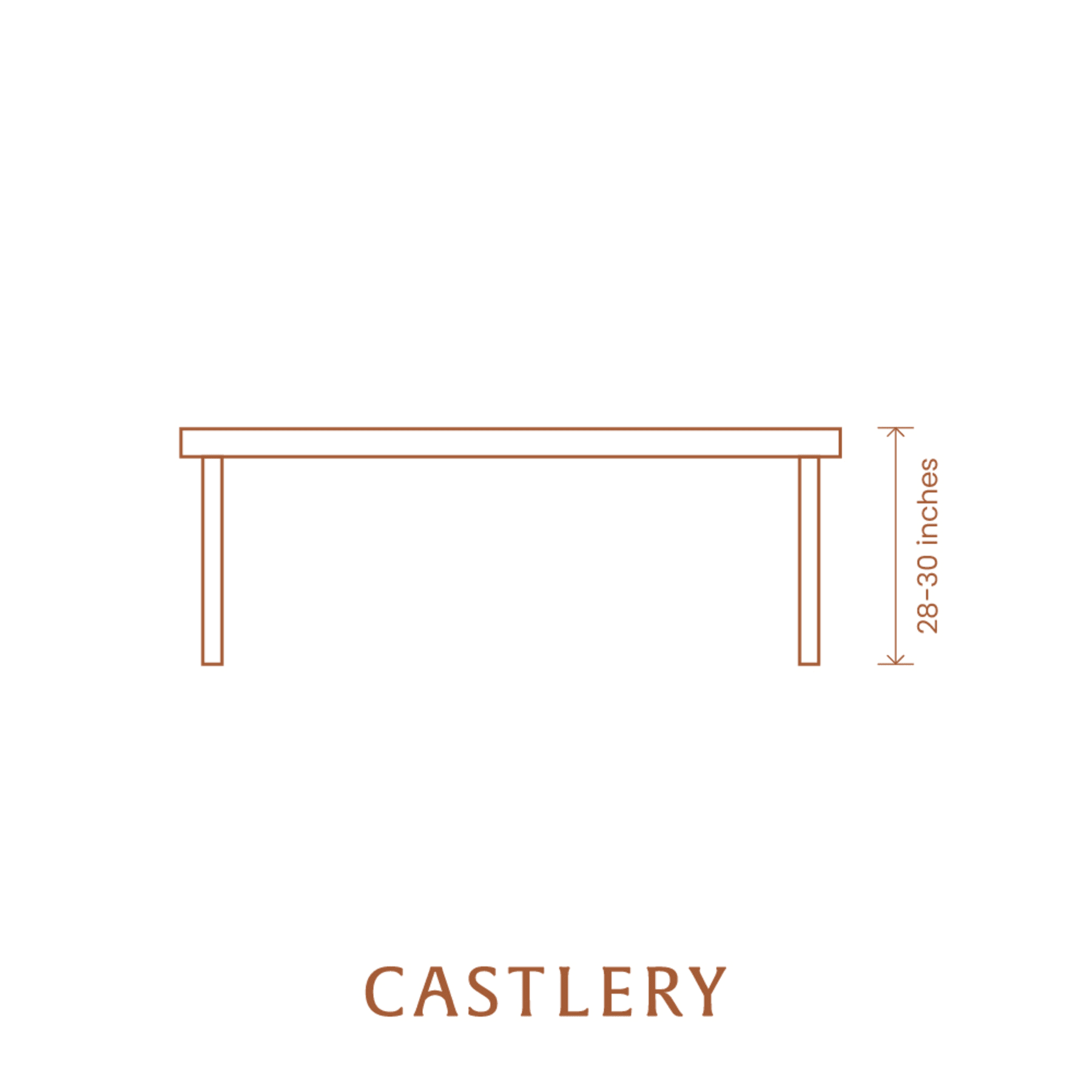 Counter-height tables, at 36 inches tall, are perfect for casual dining and can be paired with counter stools. Bar-height tables are even taller, at 42 inches, suited for standing or bar stool seating.
Tabletop thickness
The thickness of the tabletop is often overlooked but can affect the visuals and functionality of the dining space.
A very thick tabletop may create less available space between the chair and the table. This could make it uncomfortable for your diners' as there is less legroom when getting in and out of their chair. Furthermore, a thick tabletop can overwhelm the space, especially if you have a small space.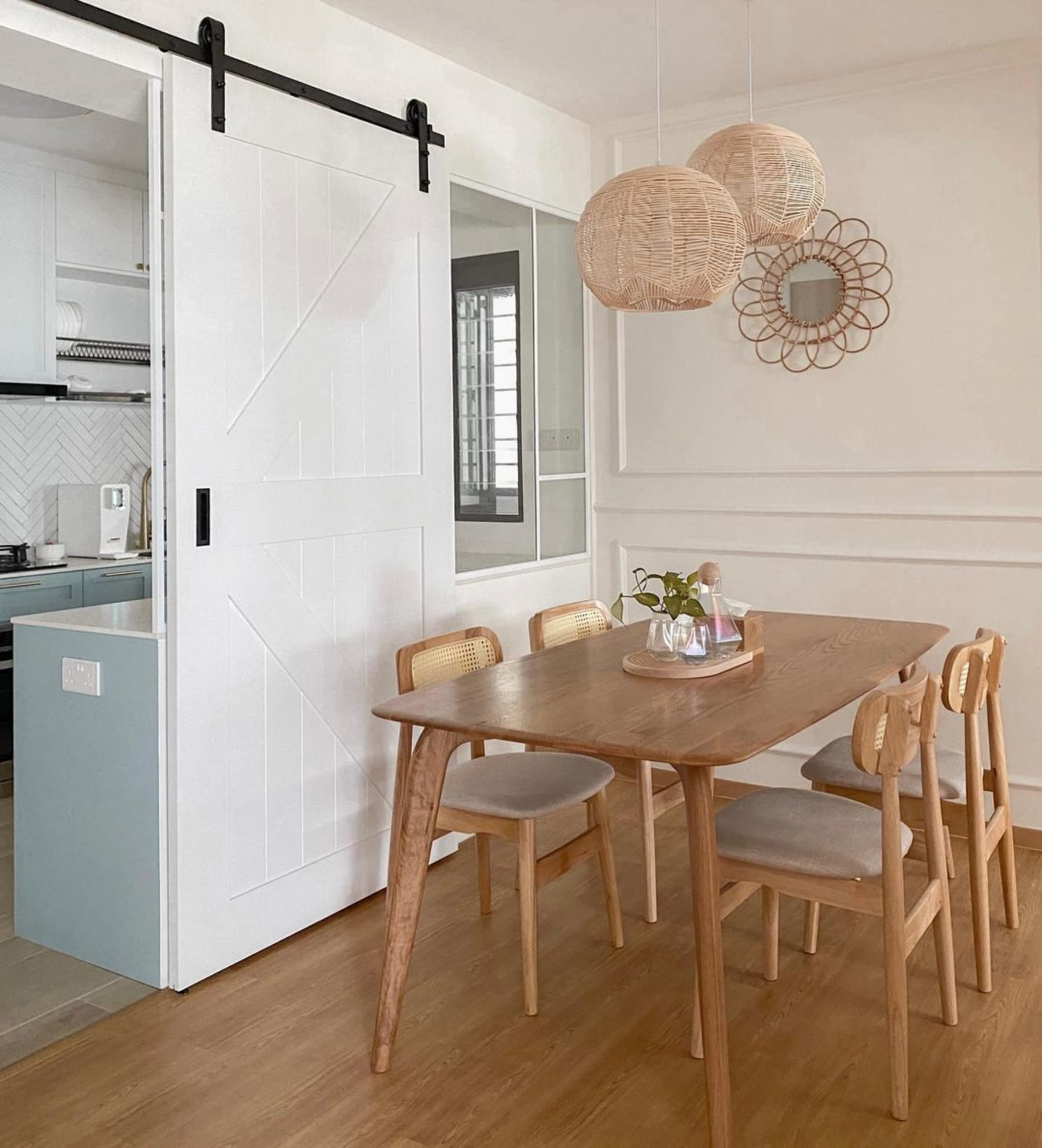 The Vincent Dining Table in Oak is great for small spaces with its slim silhouette. Picture credits: @cherriepei.id
Aim for a range of 3/4 inch to 1 inch in tabletop thickness, which is considered the standard dimensions for many dining tables. This strikes a balance between aesthetics and functionality, providing a clean look while offering adequate durability.
Table clearance
Don't forget to consider the clearance space around your dining table to ensure that it is free from obstructions, allowing for comfortable movement and use of the table.
You'll want at least 36 inches of clearance between the table edge and any walls or furniture to allow for easy movement. This provides room for chairs to be pulled in and out without scraping against the wall and prevents diners from feeling squeezed between the table and the wall.
If you use extendable dining tables, don't forget about the space around the table when it's extended!
Make sure there is ample space around the table when it is extended. Pictured: The Seb Extendable Dining Table.
Chair space
Ensure ample space between the chairs for a comfortable dining experience. Pictured: The Miles Dining Table paired with the Edith Cane Chairs in Black.
Plan for around 24 inches of width per dining chair to ensure ample elbow room for each diner. If your dining chairs have armrests, account for the additional width they occupy. You may also need to consider a wider table since armchairs require more space than armless chairs.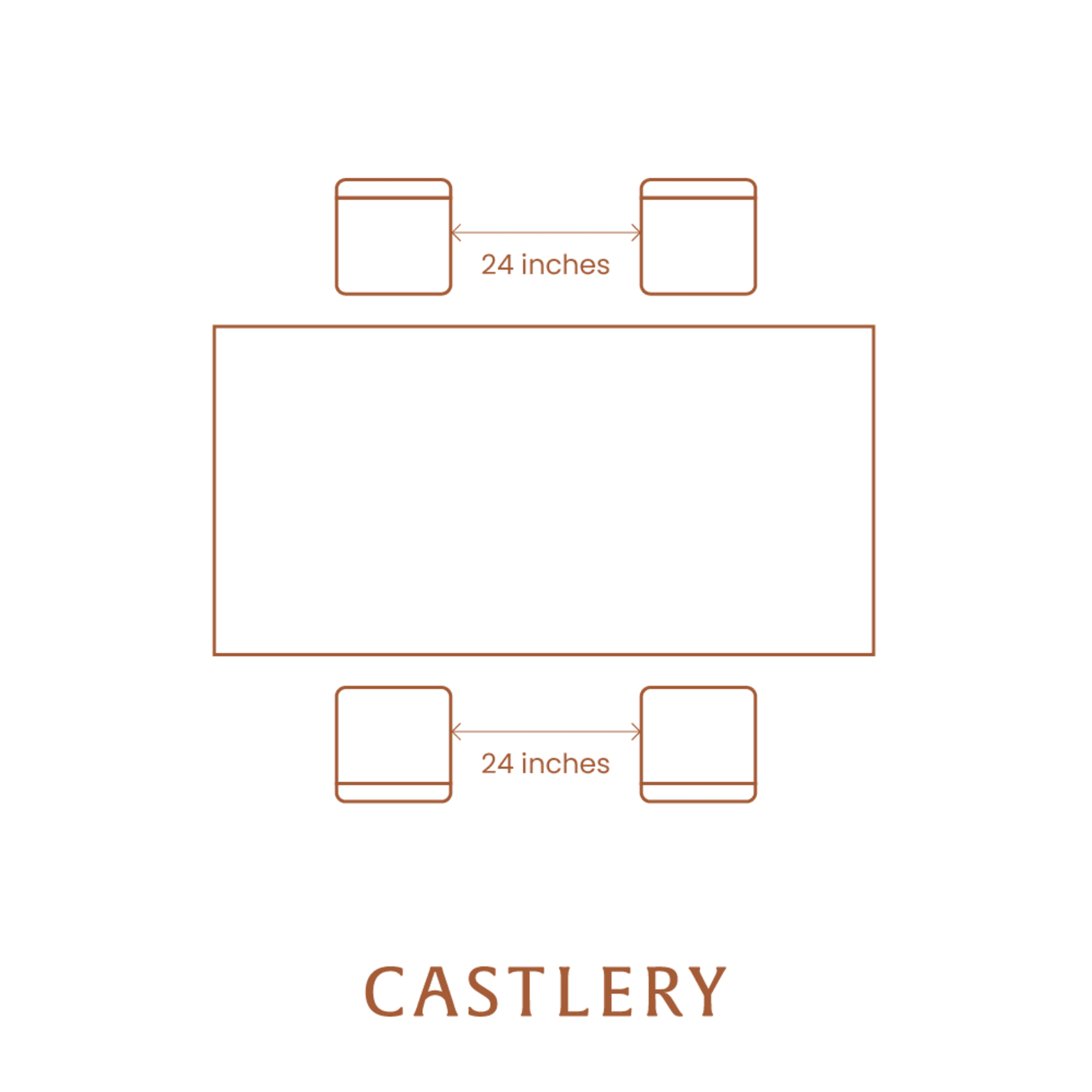 Chair-to-table clearance
Take into account the space between the chair seat and the tabletop to allow for comfortable seating. Proper chair-to-table clearance is vital for an enjoyable dining experience, preventing awkwardness and discomfort during meals.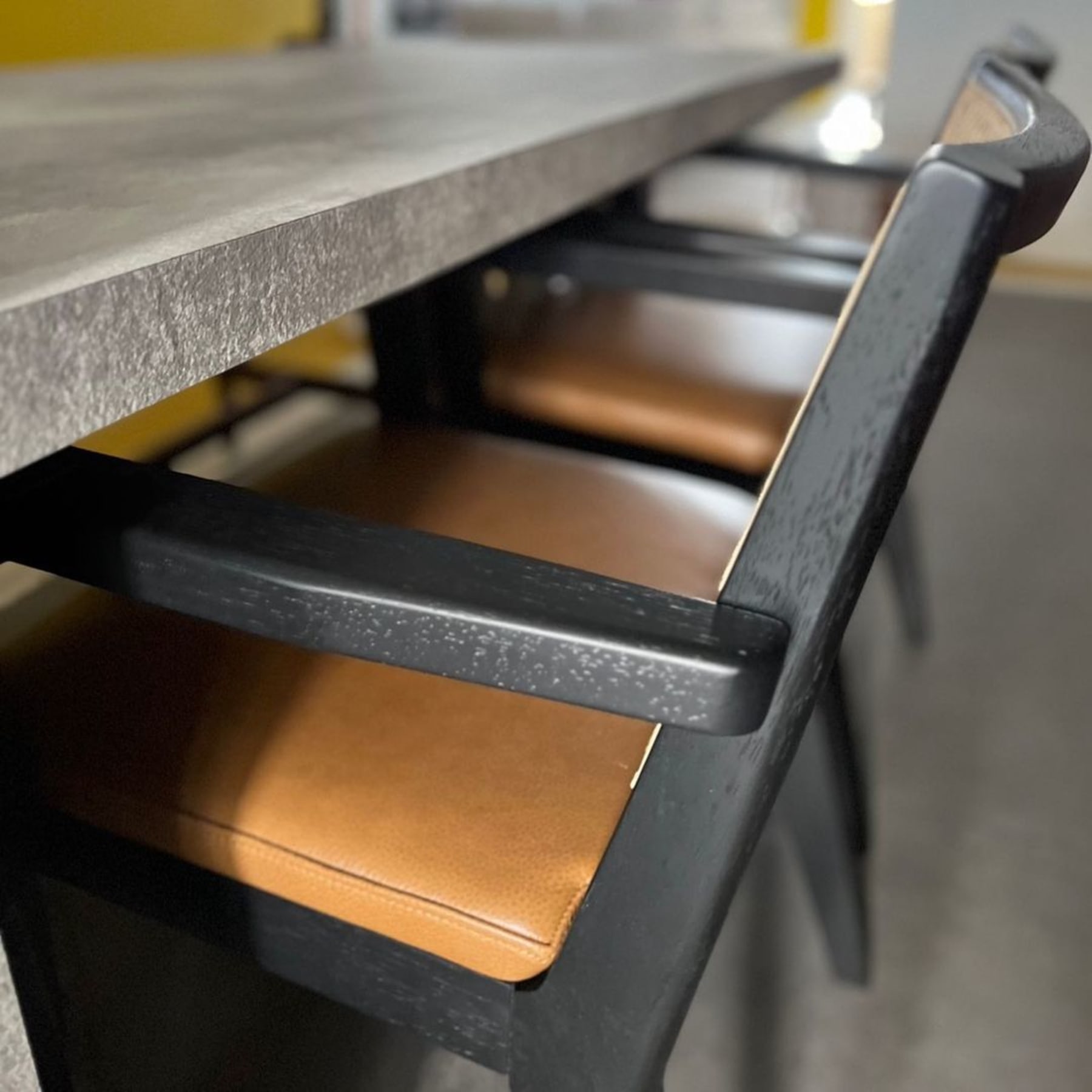 The Sloane Cane and Leather Chair has armrests (and an armless option).
Ideally, there should be about 10 to 12 inches of clearance between the seat of the chair and the tabletop. This ensures that diners can comfortably slide their legs and thighs beneath the table without feeling cramped.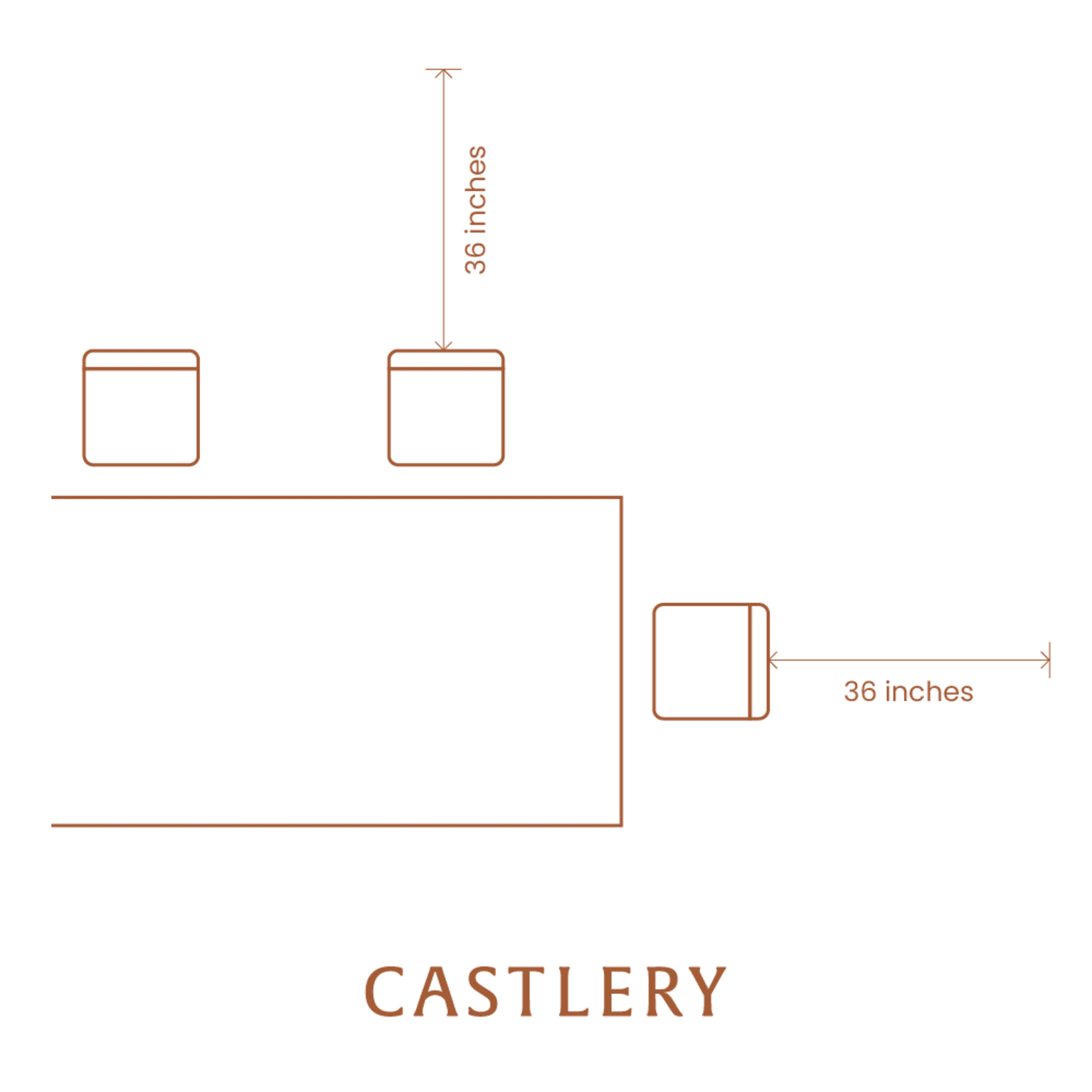 Once again, if your chairs have armrests, consider their height as well to ensure they fit comfortably beneath the table.
Table-to-light fixture clearance
If you have hanging light fixtures, remember to measure the distance between the table and the light. You wouldn't want guests (or even yourself) to bump their heads when standing up from their seats.
A common guideline for the height of a hanging light fixture above a dining table is to hang it approximately 30 to 36 inches above the tabletop. This range typically provides a balanced distribution of light, ensuring that diners have a well-lit dining surface without the fixture being in their line of sight or being a potential safety hazard.
@almafied maintains a good distance between the overhead pendant light and the Kelsey Marble Dining Table in White Wash. Also pictured: The Austen Chairs in White Wash.
Summary of dining table measurements
Here's a summary of the standard dining table measurements you should take note of:
Measurement

Dining table type & size

Dimensions

Table length

Rectangular, standard

60 - 84 inches

Round, standard

54 - 60 inches

Table width

Rectangular, standard

36 - 42 inches

Round, standard

54 - 60 inches

Table height

Rectangular & round, standard

28 - 30 inches

Tabletop thickness

Rectangular & round, standard

3/4 - 1 inch

Table clearance

Rectangular & round, standard

36 inches

Chair space

Rectangular & round, standard

24 inches

Chair-to-table clearance

Rectangular & round, standard

10 - 12 inches

Table-to-light clearance

Rectangular & round, standard

30 - 36 inches
By keeping these essential dining table measurements in mind, you can create a dining area that not only looks beautiful but also functions seamlessly. Whether you're hosting intimate family dinners or large gatherings, the right table dimensions will enhance your dining experience and make your dining room a welcoming and comfortable space for all.