A dining table is not just a piece of furniture - it is the heart of your home where family and friends gather to share meals and conversation.
Choosing the right dining table and chairs can be overwhelming with the myriad of options available in the market. However, with some careful consideration and planning, you can find the perfect dining set that complements your home's style and meets your functional needs.
Let's dive deeper into 6 tips to choose the right dining table and chairs for your home.
Consider the space
The first step in choosing the right dining tables and chairs is to consider the space available in your home.
Measure the area where you plan to place the dining set, including the length, width, and height. This will help you determine the size of the dining table and chairs that will fit comfortably in your space. Keep in mind that you should leave enough room for chairs to be pulled out and for people to move around the table without feeling cramped.
Also, if you're a believer in Feng Shui dining room rules, keep in mind that an even number of chairs is ideal - so make sure you have enough room for 4, 6, or even 8 chairs!
Think about functionality
Consider how you plan to use the dining table and chairs. Will it be used for everyday family meals, formal dinners, or entertaining guests?
The functionality of the dining set will influence the size, shape, and material you choose. If you have a small family and need a dining set for everyday use, a round or square table may be a good option as they take up less space and encourage conversation. On the other hand, if you frequently entertain guests, a rectangular table may be more suitable as they provide ample seating and a formal look.
The Seb Extendable Dining Table blends well in this all white home. Picture credits: @thehanselstudio
You may also want to consider an extendable dining table if you have little space but often have guests over.
Recommended read: 5 Reasons to Get An Extendable Dining Table
Choose the right material
The material of the dining table and chairs not only affects durability and maintenance, but also the aesthetics.
Solid woods like teak, oak, and walnut are classic and versatile materials that each have their unique colors and grains. Wooden tables are known for their warmth, durability and timeless appeal, making them a popular choice for many homeowners.
Glass dining tables are modern and sleek, which makes them the perfect choice for contemporary and minimalist styles. Glass table tops also create an illusion of space, which is great for small spaces. Do note that they require more maintenance and are fragile, especially if you have children.
The Theo Round Dining Table's white glass table top and conical base creates a focal point in any dining space. Picture credits: @ann.aludra
Marble dining tables are luxurious and elegant, which are perfect for formal dining rooms. However, they can be heavy and expensive, and they require regular maintenance to prevent staining and etching.
Consider the style of the dining room
The style of your dining table and chairs should complement the overall decor of your dining room and home. Consider the existing furniture, color palette, and interior design of your space when choosing the style of your dining set.
For example, if you're going for a modern look, a sleek table and chairs with a clean cut design would gel well, like the Sloane Dining Set. On the other hand, if you prefer a rustic look, this Miles Dining Table Set would be the perfect choice.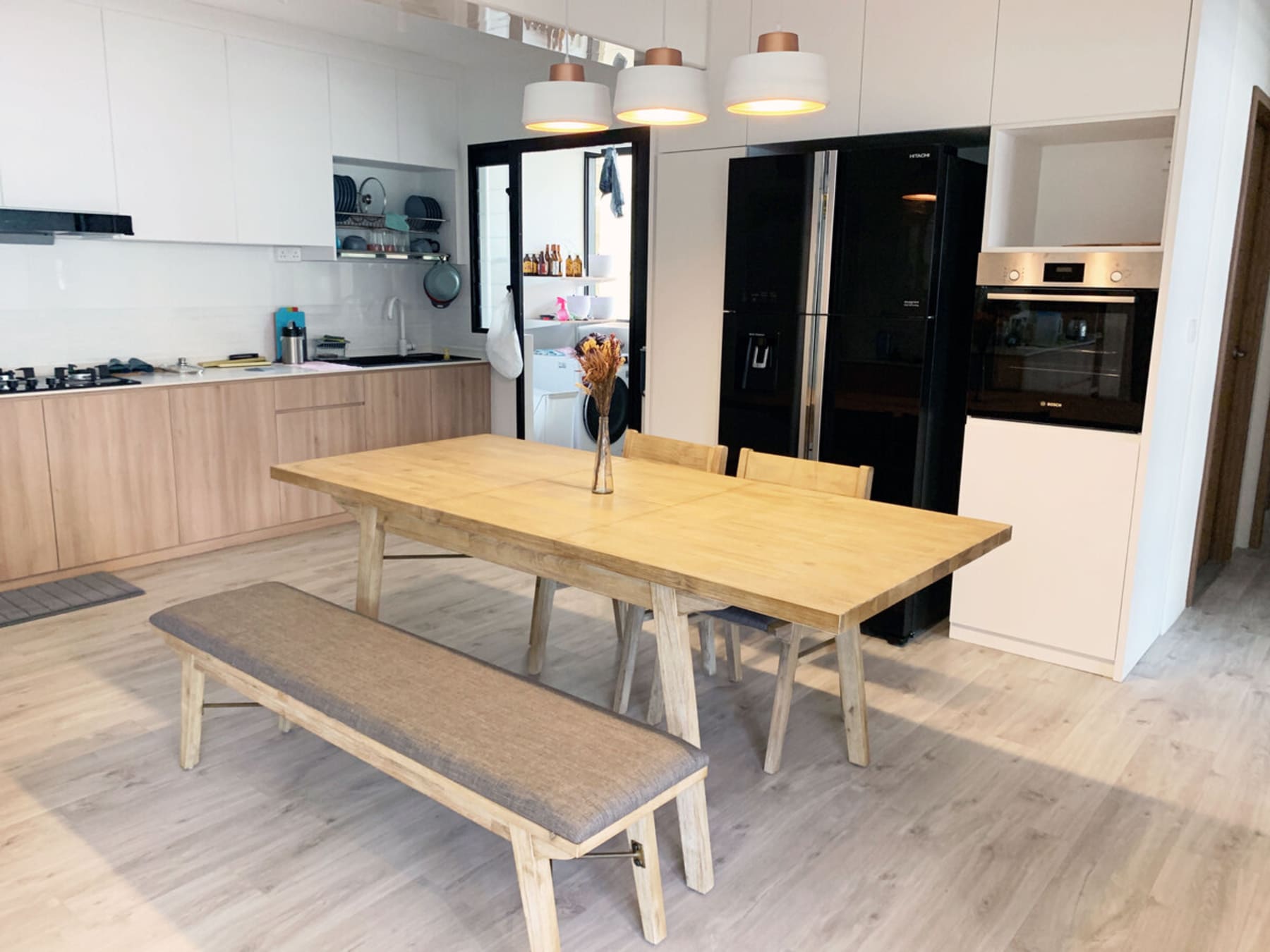 The Miles Extendable Dining Table with Bench and 2 Chairs comfortably fits 4 to 6 people.
Ensure that the dining set is comfortable
When choosing a dining table and chairs, comfort is an essential factor to consider in your purchase. After all, you and your guests will be spending a significant amount of time sitting at the dining table.
Look for chairs that have comfortable padding, supportive backrests, and an appropriate seat height. If you're using benches, place them against a wall if possible so that you can rest your back on the wall for support.
Don't forget about the base
This is often overlooked by many when purchasing a new dining table, but the base of the table makes a bigger difference than you think! Are you able to cross your legs beneath the table? Is there enough space for your knees when you scoot all the way in?
To maximize the seating space, you might want to consider a pedestal base so that it's easier to squeeze in an extra chair or stretch your legs out. You can also get dining tables with legs that are thinner or nearer to the corners.
Choosing a dining set is an important decision for any homeowner because not only does it complement your dining space, but it serves to meet your functional needs. By considering the factors listed above, you can choose the perfect dining set that will enhance your dining room's look and feel and transform it into an inviting space that you'll love having your meals in.