Pictured: Our Seb bed and Seb bedside table take the spotlight in this industrial-chic bedroom concept with their rustic and refined acacia grain patterns and modern curves. Image credits: @qanvast and @livspacesg
Most people tend to oversimplify bedroom furniture shopping because there are only a few essentials needed – a bed frame, mattress, bedroom storage and a pair of bedside tables.
But there's more than meets the eye to creating your bedroom sanctuary. Here are 5 things to note:
1. Pick the Right Bed Frame for Bedroom Size & Habits
The first thing we usually think of when choosing a bed frame is its design. A full wooden bed frame exudes a modern and timeless look such as our Logan bed, with its clean lines and minimalistic silhouette
Pictured: Our Logan bed is constructed from sturdy mahogany wood and is complemented by the matching Logan bedside table.
The Joseph bed is also a stellar choice which has an elevated base that makes the bed appear to be floating mid-air. It also comes with a fabric headboard for additional comfort.
Pictured: Complete your morning routines or daytime naps from our modern Joseph bed which uplifts the style and comfort of your bedroom.
Enjoy reading in bed? Bed frames with padded headboards are ideal, although adding a variety of throw cushions and pillows also works.
The popular Adams bed's upholstered headboard is made with quality fabric and angled for supreme comfort to provide an optimal lounging experience.
Pictured: Our Adams bed has solid pine woods slats, stunning accents and a lavishly upholstered frame to bring out the best in your bedroom aesthetic.
2. A Comfortable Mattress Goes Beyond Back Support
One man's rest is another's disturbed sleep. Apart from a mattress' ergonomic support, other features such as the type of fabric used also makes a big difference.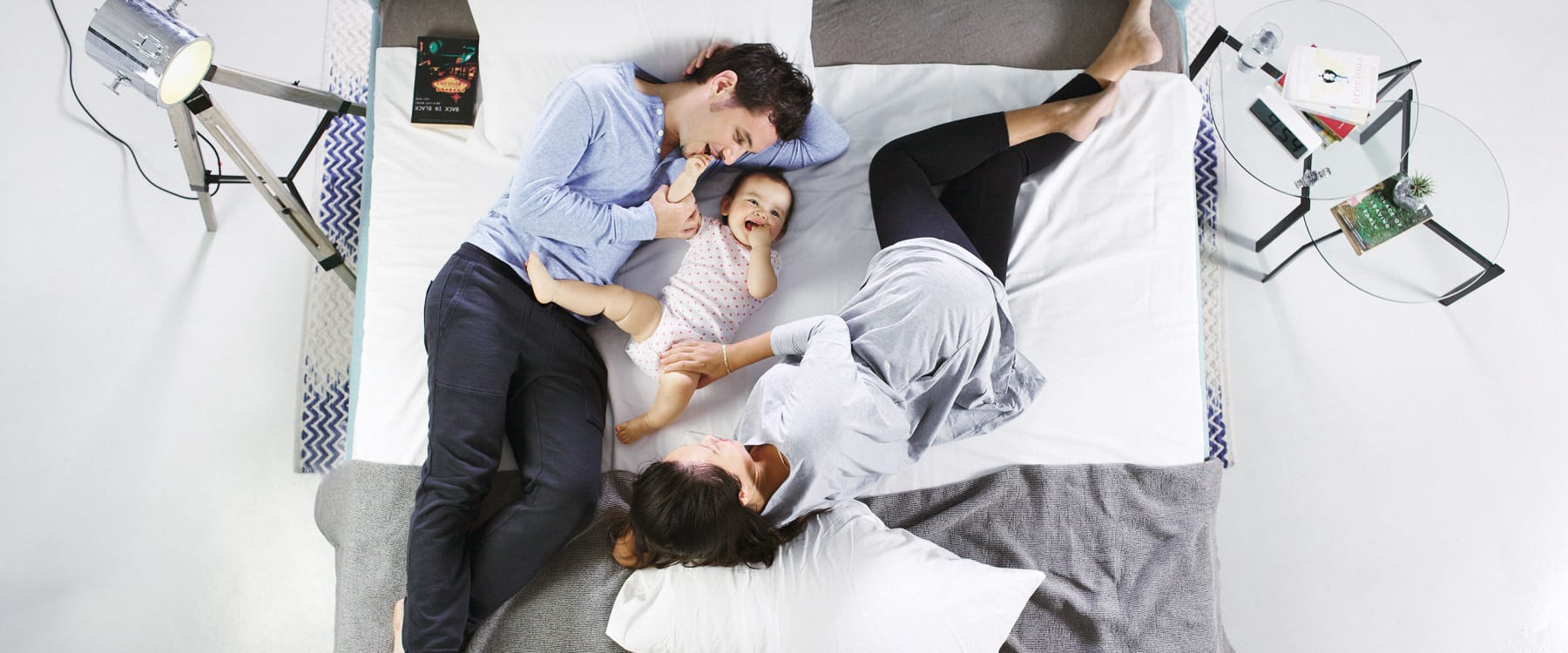 Got sensitive skin? Look for a mattress top that's made of organic cotton fabric such as the Alber mattress. It not only helps reduce skin irritations, it also breathes better. And because it absorbs moisture well and dries fast, it helps eliminate excessive sweating.
Pictured: The Alber's organic cotton pillow top is great for those who are sensitive to synthetic fabrics.
In fact, there's nothing worse than waking up at night because the mattress feels too hot. If you overheat easily, select a mattress with cooling fabric like the Cornell mattress. Its organic fabric has a cooling technology perfect for hot climates in Singapore.
This ultra luxurious mattress also features an advanced dual pocket spring system and premium supportive foam, so it adjusts to your body without disturbing your partner.
The Cornell's double pocket spring and reinforced foam ensure a luxurious trip to dreamland.
Picking a mattress that accurately addresses your needs can dramatically increase your level of comfort. With 10-year warranty on all our mattresses, you can truly rest easy.
3. Don't Overlook the Bedside Table
Bedside tables are incredibly convenient for placing items you reach for daily, can even take your interior design game up a notch.
For small rooms, a sleek and compact bedside table is sufficient for essentials like reading glasses, mobile phone and watch. If you need more storage, bedside tables that feature generous double drawers are best.
Pictured: Rest easy with our Joseph bedside table by your side with its accessible storage compartments and sturdy build.
If you're looking for something different, try our Mika end table out for size – it comes in a cylindrical silhouette and has plenty of storage room for you to stow away your essentials.
Pictured: Our Mika end table is a contemporary classic which gives a modern feel to any bedroom it graces because of its unique shape.
4. Turn Your Bedroom Storage into a Vanity
Bedroom storage like dressers and sideboards not only complete the look of your bedroom, but are essential for organising small clothing items and accessories.
Pictured: Our Hudson sideboard comes in a rich brown acacia wood design which sets the tone for a stylish and sensible bedroom look.
If you prefer a vertical orientation for your storage configurations, dressers usually feature a single column of drawers which makes it perfect for narrower spaces with a tighter fit without having to compromise on storage space.
Pictured: Looking for a statement piece? Our Isla dresser has a sophisticated frame and white lacquer outlining the creamy tones of the oak wood grains which make it a standout addition to your bedroom.
A great space-saving tip is to turn your storage furniture into a vanity area by leaning or hanging a mirror above. Decorate the top of your dresser and sideboard with personal trinkets or display your favourite perfumes and colognes.
5. Make it personal and comfy with tactile add-ons
To add personality and visual interest to your bedroom, it's important to style your room with soft, tactile pieces and décor accents that reflect your sense of style. It will also make things comfier and more relaxing for you.
A pouf (or two) is good way for adding comfort to your bedroom. It can double up as seating or a footstool, and can be placed around the room according to your needs.
Pictured: Our Tobias pouf has an elegant chevron weave and plush seating for versatile seating choice.
A mirror is also a stylish way to dress up your personal space and give you another angle to take your #ootd selfies from!
Pictured: Our Edward Standing Mirror is a full-length standing mirror which has an intricate ribbed glass panel for an extra dimension of style, and can effortlessly make your room seem more spacious as well.
Furnishing your bedroom may seem straightforward but these tips could be the difference between a basic bedroom and the slumber haven of your dreams.
Shop your dream bedroom today!