As Summer leaves us with its trailing bit of warmth, we are reminded of the change in seasons following the Autumn chill. While checking for drafts and bringing out the thicker throws, we are once again greeted with the orange and red hues of nature outdoors. Like every year before, it's time to wind down and stay in from the cold. However, must Fall always be a time of stagnation and slumber? Here are 3 ways to liven things up this Fall and bring in exciting palettes into your Fall furniture and decorations.
Going bolder
What brings people together if not for the cold weather and promises of festivities like Fall? Invite friends over for a party by the fireplace, and be sure to accommodate everyone in the spacious Marlow Sofa. Wide and donned elegantly in white, Marlow is dressed to impress as a signature piece of furniture in your home this season. Available in a variety of sizes to support seating multiple guests, Marlow is suitable for bigger families for family bonding, and is customizable as a family. Construct and reconstruct your Marlow into one big sofa, or a few smaller ones depending on how it fits into your room.
For smaller households, the petite Sacha Armchair is a great alternative to the larger Marlow, wherein you can opt for one small, uniquely designed armchair instead of multiple. Contemporary and bold white furniture such as Sasha and Marlow also amplifies the warm Fall hues to lighten up the room and mood. Sporting a post modern abstract style, Sasha is made to capture the attention of whoever enters the room
@home.style.by.tiff lounges in her comfy Sacha Performance Bouclé Armchair, a versatile statement piece in any living space.
Incorporating leather pieces
Spotting warm tones all around, Fall is the perfect match for the vintage household classic - leather. Known for its durability, leather sofas match best with any solid wood furniture, and initiates warm quality time. Timeless in both durability and presentation, leather is a favorite in both vintage and modern homes, allowing long term usage not only in Fall but also throughout the seasons.
In light of the recent vintage revival, leather is reintroduced as the classic representation of chic elegance in homes, pairing especially well with the romantic undertones of Fall. Our solid wood Miles TV Stand serves as a perfect partner to the Mateo Leather Sofa, setting the scene from a romantic vintage film noir flick.
Being the softest and deepest sofa in our collections by far, Mateo invites you to sink in with your loved ones and enjoy quality time together by the fireplace. Explore your creativity when pairing Mateo, especially with uniquely shaped furniture such as the Julian Pouf. For even more depth to the room, add in the Lorenzo Area Rug as a contrasting accent to the natural tones of Mateo to add depth to the room.
The Mateo Leather Sofa pairs seamlessly with the Vincent Coffee Table Set (in Oak) and is even more inviting with a sprinkle of character through soft accessories. Picture credit: @jessiefinds
Entering the outdoors
Handcrafted with care, the Maui Loveseat in Charcoal will prove itself to be a staple in modern outdoor Fall furniture. Weather resistant with a sleek and elegantly curved backseat, Maui is ideal if you're after both functionality and personality. Sink into its soft cushions and sip on a hot chocolate to fully immerse yourself in the Fall mood.
After the excitement of Summer days, Fall need not be a stop to the fun; explore new bold, contemporary, colors and designs of furniture that adds a touch of creativity to your living space.
Whether your interior design is modern, vintage, or a mix of both, discover your perfect Fall furniture at Castlery and reimagine Fall in your own way.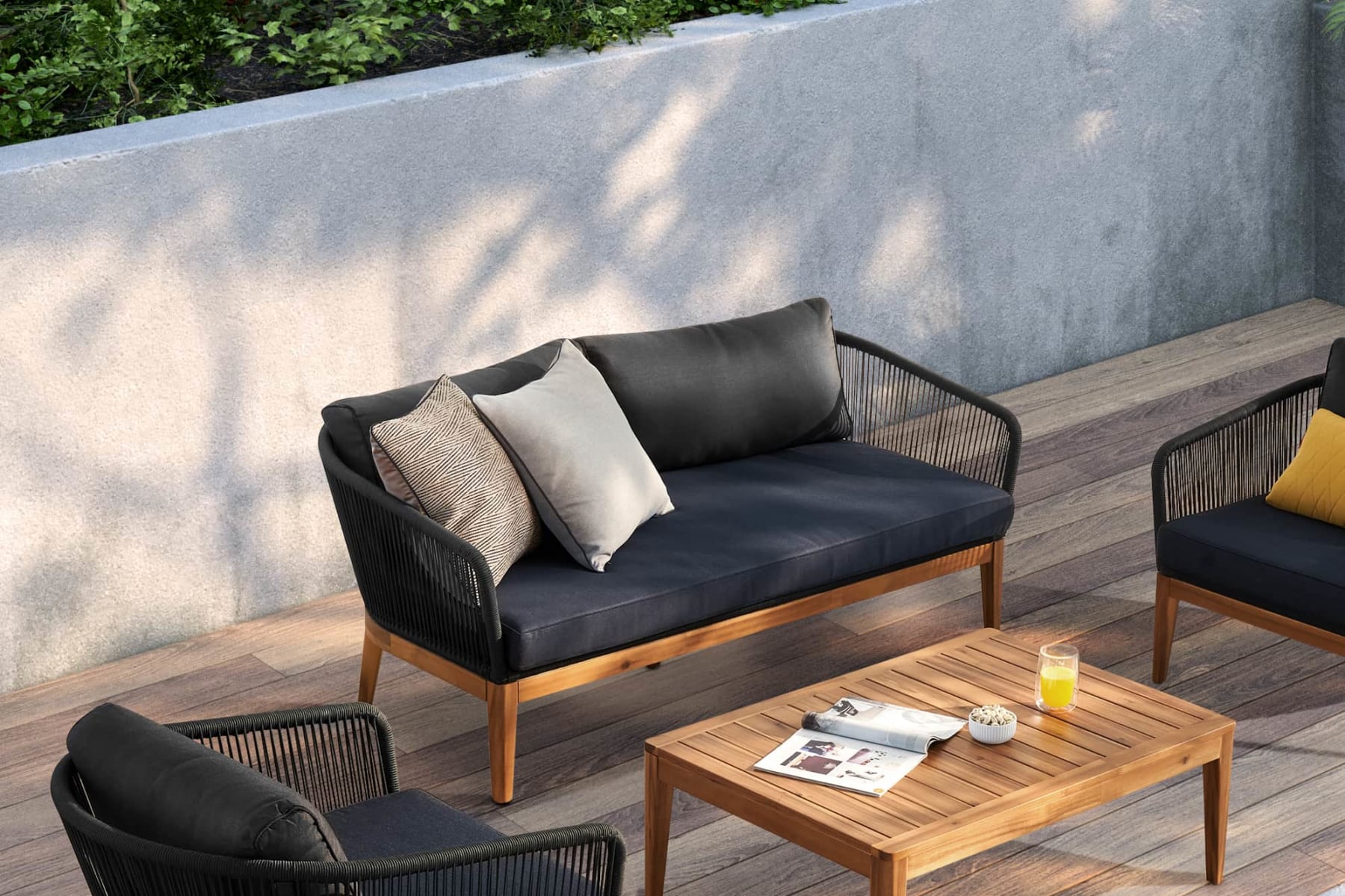 Hang out with your friends in the breezy outdoors in the evening with the Maui outdoor collection - couples can cosy up on the loveseat and those who value their personal space can enjoy the spacious lounge chair. Leave your snacks and drinks on the Maui Coffee Table.
How do I choose the right style of Fall decoration for my home?
Grab attention quickly with bolder designs such as the Sacha Armchair, or the classic Mateo Sofa; for outdoor furniture, stand out amongst the orange tones with the Maui Loveseat in Charcoal. Keep a creative mind and experiment with a different design that may very well complement your current style!
What are the essential Fall furniture I should opt for?
Sofas and armchairs are just as essential as throws and rugs, to provide a space for bonding and relaxation. In terms of outdoor furniture, cushions and coffee tables can add a flair of design to the patio, and give you the chance to enjoy the scenery from the comfort of your home.
What are different ways of bringing Fall into the home?
While Fall is commonly associated with neutrals and soft shapes, now's a great time to get experimental and bring in brighter colors and bolder designs into your furniture considerations. Consider bigger indoor furniture such as the Marlow Sofa that can host many guests, or enjoy some alone time with the unique Sacha Armchair. Explore outdoor furniture such as the Maui Loveseat in Charcoal, to fully immerse yourself in the Fall environment.