We all love a good quality sofa – one with plush seating and ever-so- supportive back cushions, that you can snuggle up in and stretch out on after a long day.
A good sofa can be life-changing, but how do you shop for the right one? From fabric choice to seat depth, there are quite a few considerations to make.
In this guide, we'll spell out everything you need to know about picking the right sofa for your home, obvious or otherwise.
1- Pick the right fabric for your needs.
The perennial question that sofa buyers often begin with – fabric or leather? Both options have their merits and we've covered our case on leather here. If you've decided on a fabric sofa, the decision-making doesn't end here.
There are plenty of fabric choices available today, with different materials, textures and colors. From soft velvets to high performance polyester, each has its own qualities and properties.
To zero in on the right fabric choice, first think about how your sofa will be used and who will be using it from a practical standpoint.
For sofas that will see plenty of mileage in high traffic areas like your living room, the best fabrics would be ones that are durable and easy-to-care for like polyester or a mixed composition that would hold up well over years of lounging, even in a temperate climate.
Many of our sofas come with removable cushion covers for ease of cleaning, like our Bambu 3-seater sofa. Image credits: @aarikalee)
At Castlery, our performance fabrics are designed to withstand frequent use and come with easy maintenance, making them suited for households with kids and pets! They also come in a myriad of textures and colors you can customize with.
To help with your decision-making, you can order up to three free Castlery swatches to feel and view them in person.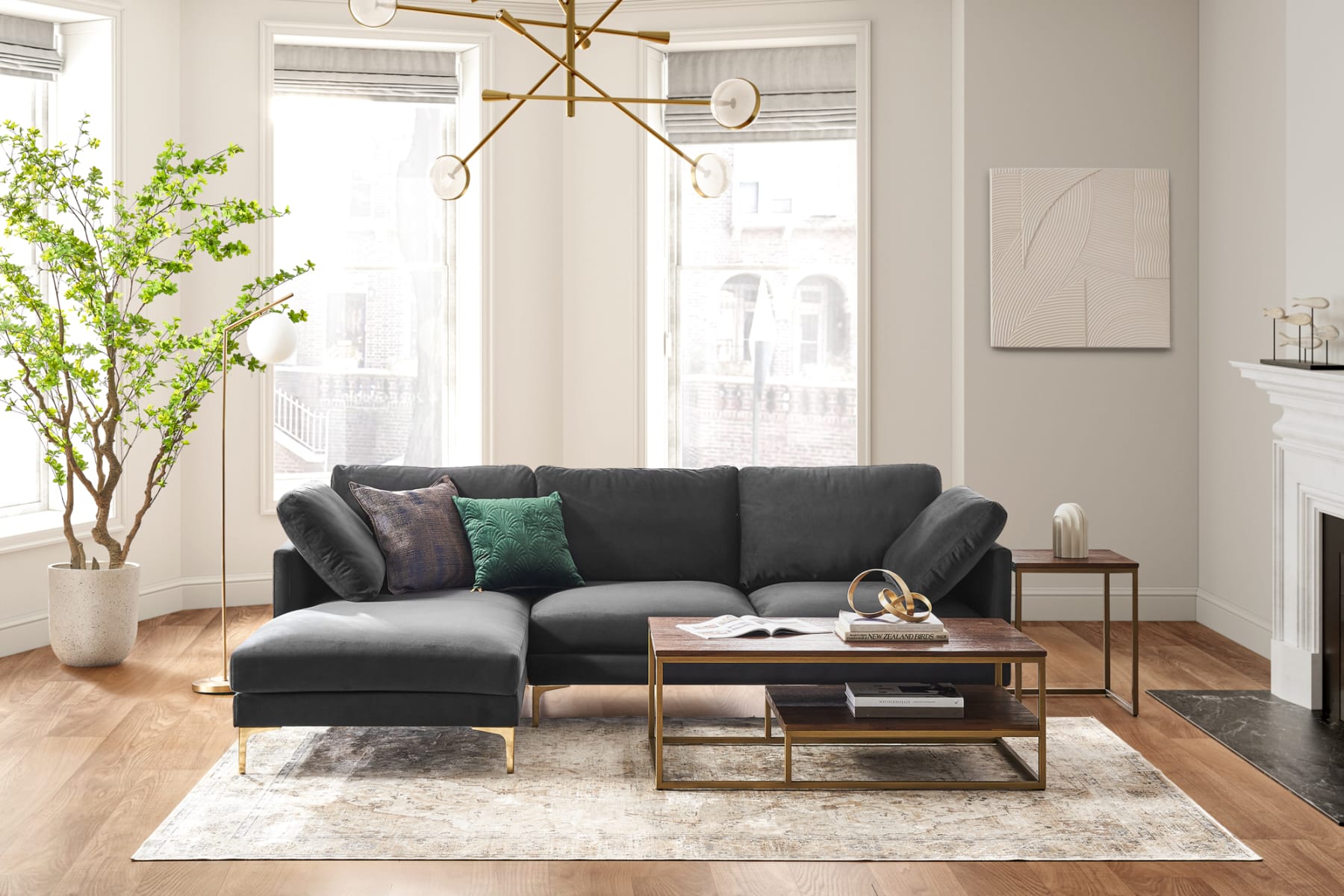 The Adams Chaise Sectional Sofa in black velvet would be an ideal choice for busy households bustling with activity.
It's also important to consider the size of your sofa when thinking of fabric colors and choices.
You can't go wrong with a solid colour or a neutral tone for large sectional sofas. Want something with more visual interest? Fabrics with a subtle play on texture work for both large and small sofas.
The natural grey hue of our Adams L-shape sectional sofa keeps it looking timeless and easy to style. Image credits: @styledbypt
2- Go beyond standard measurements.
A huge spacious sofa may be a homeowner's dream. But you may not always be able to go big, depending on your space constraints and needs.
For starters, pay attention to the height, length (across the back) and depth (front to back) of the sofa.
Does it leave you with enough space to comfortably walk around it? Is the sofa height suited to your height?
Any time is nap time on the Tana Chaise Sectional Sofa . Image credit: @aubreyhearty
Seat depth also plays a large part in your comfort. A comfortable, snuggle-worthy seat depth ranges from 57cm and up.
Lesser-known measurements can affect your enjoyment of the sofa as well. For instance, a sofa's leg height can affect how spacious the room looks. Longer legs elevate the sofa and give an illusion of a roomier interior.
Our Gable 2-seater sofa's elevated legs give an impression of airiness in this cosy living room set-up. Image credits: @yuberlicious
3- Match the way you live.
As creatures of habits, it is important to shop with your preferred lounging style in mind.
Do you like stretching out with your legs splayed? Our sectional sofas will be right up your alley. Alternatively, you can add in an ottoman or pouf as an easy go-to for extra leg support.
If you prefer a more flexible arrangement to suit various needs and occasions, our popular modular sofas like our Alfie or Todd sectional sofa will give you that freedom of arrangement.
Pictured: Our Todd sofa collection. Its modular system allows for flexible configurations. Image credit: @seveninstyle
4- A solid frame matters.
There's a reason why sofas are deemed as investment pieces.
Spending on a quality sofa can last you for years to come, and one of the things that make that price tag worthwhile is the internal framework of the furniture.
A solid wood frame can retain its stability for up to 15 years and beyond, but cheaper frames might warp and give away within a few years.
To ensure our sofas can stand the test of time, Castlery sofas have been developed through a stringent manufacturing process to ensure high quality construction standards for our solid timbre frames.
We also offer up to a three-year warranty on our sofa frames and more.
5- Think of your interior theme.
Still feeling clueless about what sofa style to go for? A good way to pick a suitable style is to ensure it matches with your home interior theme and vibe.
Pictured: A cosy, contemporary theme with our Pebble sofa collection for a warm and stylish interior. Image credits: @finding.jules
According to our annual trend report, here are some of the interior styles that are currently popular; their corresponding hallmarks, and our sofa recommendations!
• Contemporary: Sleek, clean, sophisticated and classy
We recommend: Adams, Alfie and Pebble.
• Scandinavian: Simple, minimalistic, warm and woody
We recommend: Capella, Beck and Tana.
• Mid-century Modern: Timeless, elegant and with tapered dark wood looks
We recommend: Wayne, Jeanne and William.
• Art Deco: Curvaceous, opulent and bold
We recommend: Jacques and Ines.
–
Feeling more prepared on your search for your dream sofa? You can start with our modern selection of two, three, or sectional and L-shaped sofas!