As sure as night follows day, spring follows winter, which follows fall. As each season changes as it always does, we need to catch up in its footsteps and maintain our property. Before fall arrives, It is a really good idea to clean out the guttering around the property to ensure new leaf falls don't clog up the drains. Another good idea is to check for drafts or insulation concerns to help you deal with the incoming cold weather.
It is not just the outside of the house that we can recondition to ready our homes for fall; there are plenty of changes we can implement inside to reflect the changes in nature and make our living, eating, and sleeping areas more suitable for the new season.
Keep reading to find out more about what you can do to make sure your home is 100% ready for fall this year.
Experience cloud-like lounging with the Dawson Chaise Sectional Sofa. Picture credit: @amy.fritz
Get your home ready for the cold
A tell-tale sign of the end of summer and the start of fall, is the noticeable drop in temperature; this can happen slowly and subtly, or occur almost overnight. Your home needs to be ready for the drop, otherwise you might be left feeling cold. Other than checking that your heating systems are in good working order and that no new cracks or drafts have appeared, you should also add some warmth to your bedroom and living spaces with thicker duvets, blankets and rugs. Consider switching to a wool rug to prepare for the colder season; the Lorenzo wool rug or Desi wool area rug can help to retain warmth in the space and a touch of antiquity to the room's atmosphere.
Around doors and windows, start to hang heavier drapes and curtains to prevent heat from escaping but make sure to open during the days to let light into your home.
The Lucas Performance Bouclé Sofa, Andre Coffee Table and Lorenzo Wool Area Rug complements each other well and brings warmth to any living room. Picture credit: @jessmaple_
Material and color choices
Fall is the time for textured and warm-toned fabrics to shine; pair these materials with cushions or throws to bring a touch of color and life to your upholstery. Depending on what material furniture you have chosen for your main living area, perhaps a leather sofa, bouclé sofa or other fabrics, this will determine what other textile choices you may need to make.
It's not just the choice of material that is important for fall, but the color too. While we often associate fall with warm, neutral tones, get experimental this fall with vintage hues such as rustic blues, reds, greens with our Amber Swivel Chair, or Maui Loveseat.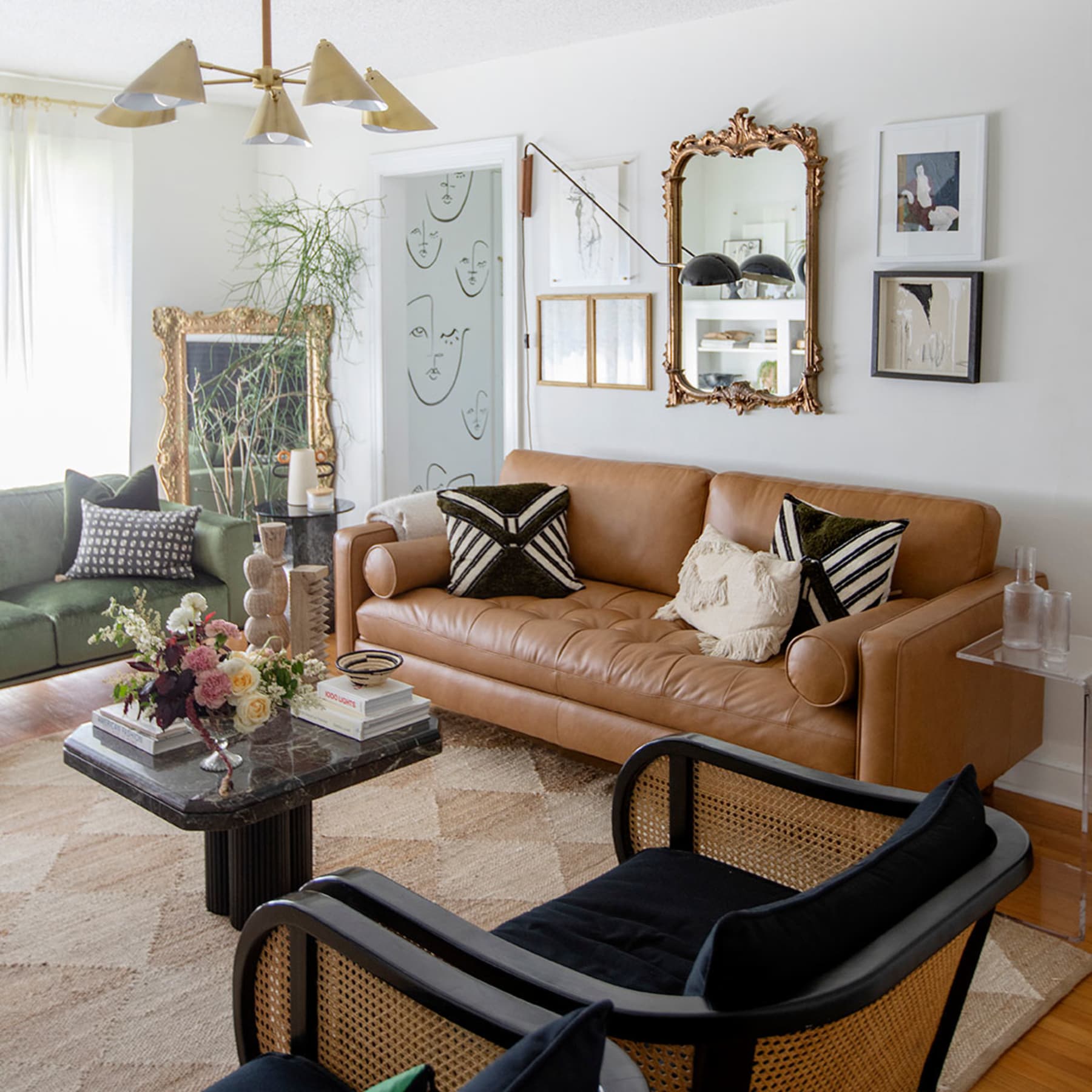 The Madison Leather Sofa working its mid century modern charm in @margaret.wright's living room
Seating style
Fall is the best season to stay in and wiggle under a throw while watching a movie, and we have just the sofas to snuggle into for the weather. Our modular sofa offers maximum cuddle space, and the Jonathan leather extended sofa or Dawson chaise sectional sofa can be great additions for fall-time living. Alternatively, curl up on the quaint Cammy Armchair near the fire or heater with a hot chocolate for maximum personal comfort.
For the social butterflies, arrange your sofas and rugs around the fire for maximum comfort for you and your guests, or if space allows, a modular sofa with deeper seats like Dawson or Jonathan are spacious enough to allow comfortable lounging for hosting bigger groups. Entertain your guests by the fire with wooden fireplace TV stands such as Luka and Claire, as you will find there is nothing more homely than catching a vintage film with the family around the crackling fire in fall.
Fall dining
Unlike the extreme weather in summer and winter, fall allows for comfortable outdoor dining with just a sweater. Choose a dining table that allows you to treat guests to an authentic fall experience both indoors and outdoors.
The Sorrento Outdoor Dining Table is stylish with sleek proportions and is a great fit for a laidback dining experience in Fall.
When can you start preparing your house for fall?
As summer nears its end and the days gradually get shorter; this is when you can start preparing. However, as every year is different, be aware of the weather forecast and temperature so you will not start preparing too early or too late.
How do I get my house ready for fall?
Consider how the colder temperatures and shorter days will affect your daily life; while you might still be able to enjoy some outside dining in Fall, your general lifestyle may start to move indoors. So, take measures to ensure you are comfortable and warm. Check your heating system to ensure it works and rearrange furniture to optimize heat circulation from heat sources.
What color choices are best for fall?
Choose colors reflected in the natural world, such as oranges, browns, and rusty reds, or explore rustic color pangs such as darker greens, blues, and reds.