The 4th of July is a special time to celebrate the nation's independence, and what better way to mark the occasion than by revamping your home with new furniture?
With the 4th of July just around the corner, it's the perfect opportunity to find incredible furniture sales to transform your living space. Whether you're looking to upgrade your bedroom, revamp your dining area, or add a touch of style to your outdoor spaces, we've got you covered.
In this article, we'll present you with 9 picks that are sure to impress!
Top 9 furniture picks this 4th of July
1. Modern performance fabric sofa
The first item on this list that is sure to add a touch of modernity to your home is the Marlow Performance Bouclé Curve Sofa. Marlow exudes artful sophistication with its curved silhouette and tufted design. Its spill-resistant bouclé fabric is a delight for hosting guests as you don't have to worry about cleaning up.
The Marlow Performance Bouclé Curve Sofa makes a bold statement piece in @mintchaico's home.
With an armless design and deep seats, this sofa provides generous seating space for your guests.
2. Japandi sectional sofa
If bold and loud designs aren't really up your alley, the Owen Chaise Sectional Sofa is the perfect minimalistic sofa that pulls you and your guests in. Its solid walnut wood leg frame coupled with plush fabric seats gels well with a Japandi-themed interior design and creates an inviting vibe.
@heydavina's Owen Chaise Sectional Sofa creates a warm and inviting vibe.
Owen's open base makes the space feel lighter and easier to clean. To add on, the cushions and covers are removable, allowing you to easily maintain and clean the sofa.
3. Contemporary chaise sectional sofa
The Pebble Chaise Sectional Sofa is a modern contemporary piece that will make a great addition to any space. The sofa's gently curved edges and armrests elevate the otherwise simple design. Its slim black legs give it a clean look, and the brass leg caps add a sophisticated contrast.
The Pebble Chaise Sectional Sofa in Ocean Blue adds a pop of color to @travelwithtalia's living room.
Like Owen, Pebble also has an open base which makes it much easier to clean. The cushions and covers are also removable for easy maintenance.
4. Wingback headboard bed frame
What makes the Dalton Bed a unique piece is its wingback headboard that creates a cocooning effect to make you feel safe and secure when you're in bed. Its tall headboard (47.2 inches) gives off a luxurious feel, similar to what you'd get in a high-end hotel.
The Dalton Bed creates a cocooning effect with its wingback headboard. Picture credits: @thehappyhome.project
Dalton's slim silhouette and curved edges elevate the traditionally boxy design of the bed, ​creating a calm environment in the room.
5. Contemporary oak veneer TV stand
If you're looking to elevate your space with a TV stand, the Sawyer TV Stand is guaranteed to do that. This TV stand is a sleek piece with a color-blocking contrast - mixing black and natural oak to create a statement in your living room. Sawyer's slabbed legs that appear to extend through the body create a boxy look and add visual contrast from all angles.
The Sawyer TV Stand adds a beautiful color-blocking contrast to your space. Also pictured: The Ventura Jute Area Rug.
Doors open to reveal adjustable shelves at 3 customizable heights, providing you with ample storage needs for all your essentials. Furthermore, there are sufficient holes in the backing to allow for proper cable management.
The Sawyer TV Stand allows you to mount a TV of up to 75 inches comfortably.
6. Modern rotatable coffee table
The Andre Coffee Table perfectly harmonizes architectural elegance and storage functionality into a coffee table that will elevate your living room. This coffee table is topped with a smooth walnut veneer and rotates to reveal a concealed storage space for magazines or coasters.
The Andre Coffee Table is a statement piece in @cassierandolph's living room.
Andre's central swing mechanism creates a swivel effect that allows you to easily rotate the tabletops to multiple configurations. When fully extended, it has a width of 55 inches, giving you ample surface space for drinks and decorative items.
7. Slatted outdoor dining table
With summer coming in full swing, you're probably going to start lounging and taking dinners outdoors. To give your outdoor dining space an upgrade, the Sierra Outdoor Dining Table is the perfect choice with its charming silhouette and slatted tabletop.
The Sierra Outdoor Dining Table is weather resistant, making it perfect for the outdoors. Also pictured: The Sierra Outdoor Dining Chairs.
Sierra's wood resin tabletop gives the look of wood but has the physical properties of plastic. This means lower maintenance and a longer lifespan, even in the summer heat.
8. Modern outdoor lounge chair
With its airy weaved backrest and curved circular silhouette, the Riley Outdoor Lounge Chair provides a comfortable lounging experience outdoors. Its tub-seat design provides comfort and support so you can lounge for long periods.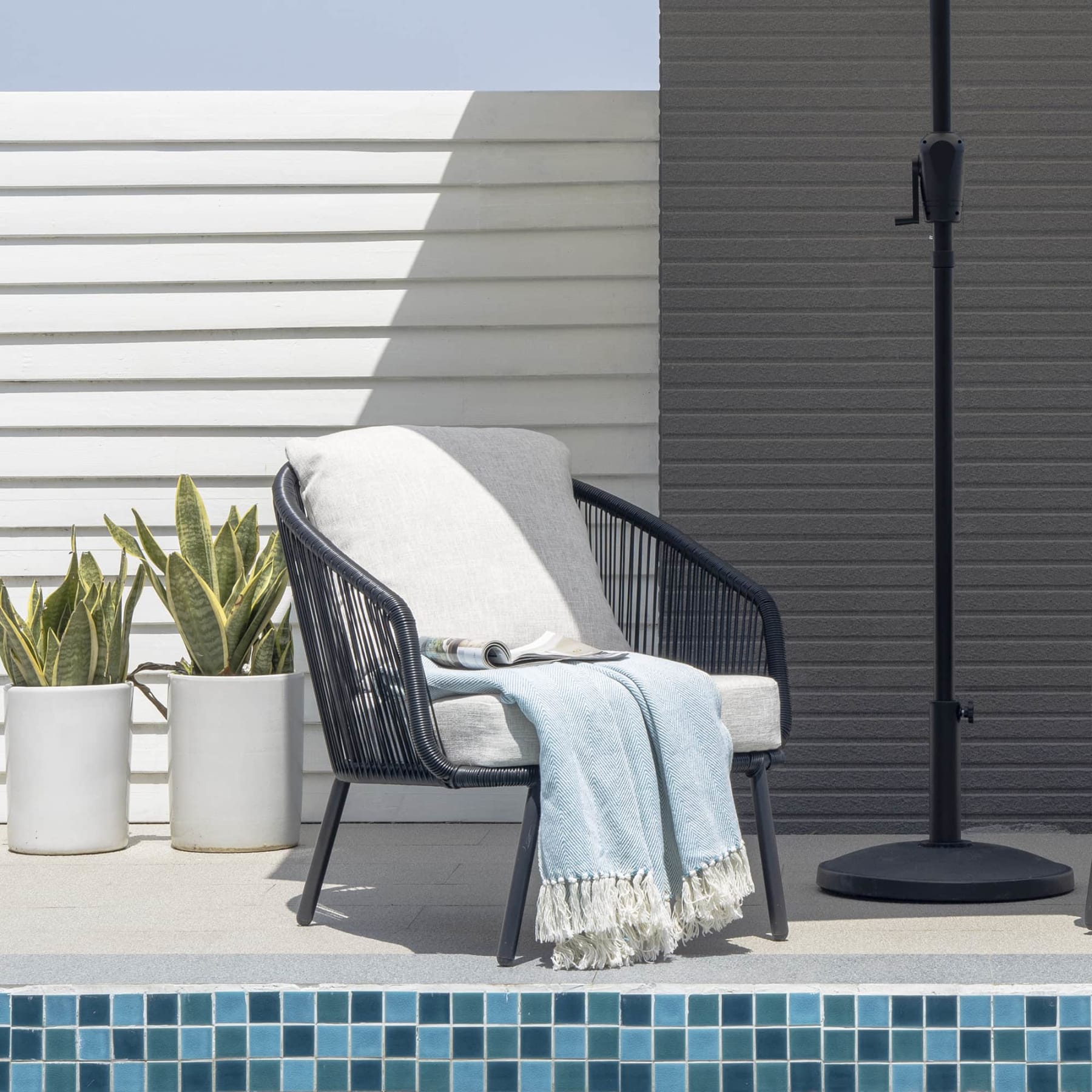 The Riley Outdoor Lounge Chair has a roped backing and curved frame to provide comfort and support.
The black aluminum frame coupled with gray fabric seats gives this lounge chair a modern and sleek look, allowing it to blend seamlessly with several design styles.
9. Wicker outdoor dining chair
The Newport Outdoor Dining Chair has woven wicker seats to add a natural element to your outdoor furniture. With a black frame and legs, this creates a stark contrast with the woven wicker seat, adding visual interest to your outdoor dining area.
The Newport Outdoor Dining Chair has woven seats which add a natural element.
Take advantage of upcoming 4th of July furniture sales to find the best bargains and elevate your space. Whether you're looking to upgrade your living room, bedroom, or outdoor area, the 9 top picks mentioned in this article will help you make the most of the sales.
That said, when you shop with us this 4th of July, enjoy up to 30% off selected products. Shop our 4th of July Sale pieces and create your dream home!