Wood is a beautiful material to choose for a dining table. Its natural grain and tone only gets better with age, and it can work in almost any design style (depending on the table). However, the downside of using a natural material is that you need to put some time and effort into maintaining it. But the good news is that just a little care can go a long way. With just an hour or two's maintenance every now and then, your wooden dining table will look beautiful for years to come.
With all of this in mind, we've created this guide to protecting your wooden dining table. Not all wooden tables are the same, however, so before you start you need to try and ascertain a few key facts about yours.
What you need to know
The most important thing you need to know is what kind of wood the table is made from. Is it a soft wood like pine or cedar or hardwood like teak or oak? This will determine what kind of treatment it may require (see below) and what kind of damage it is most likely to sustain. You should also ascertain whether the table is solid wood, as some wood furniture can be veneer, which means that a thin strip of wood will be glued to the exterior surface. This will also determine what kind of treatment can be applied as well as if you can carry out maintenance work such as sanding.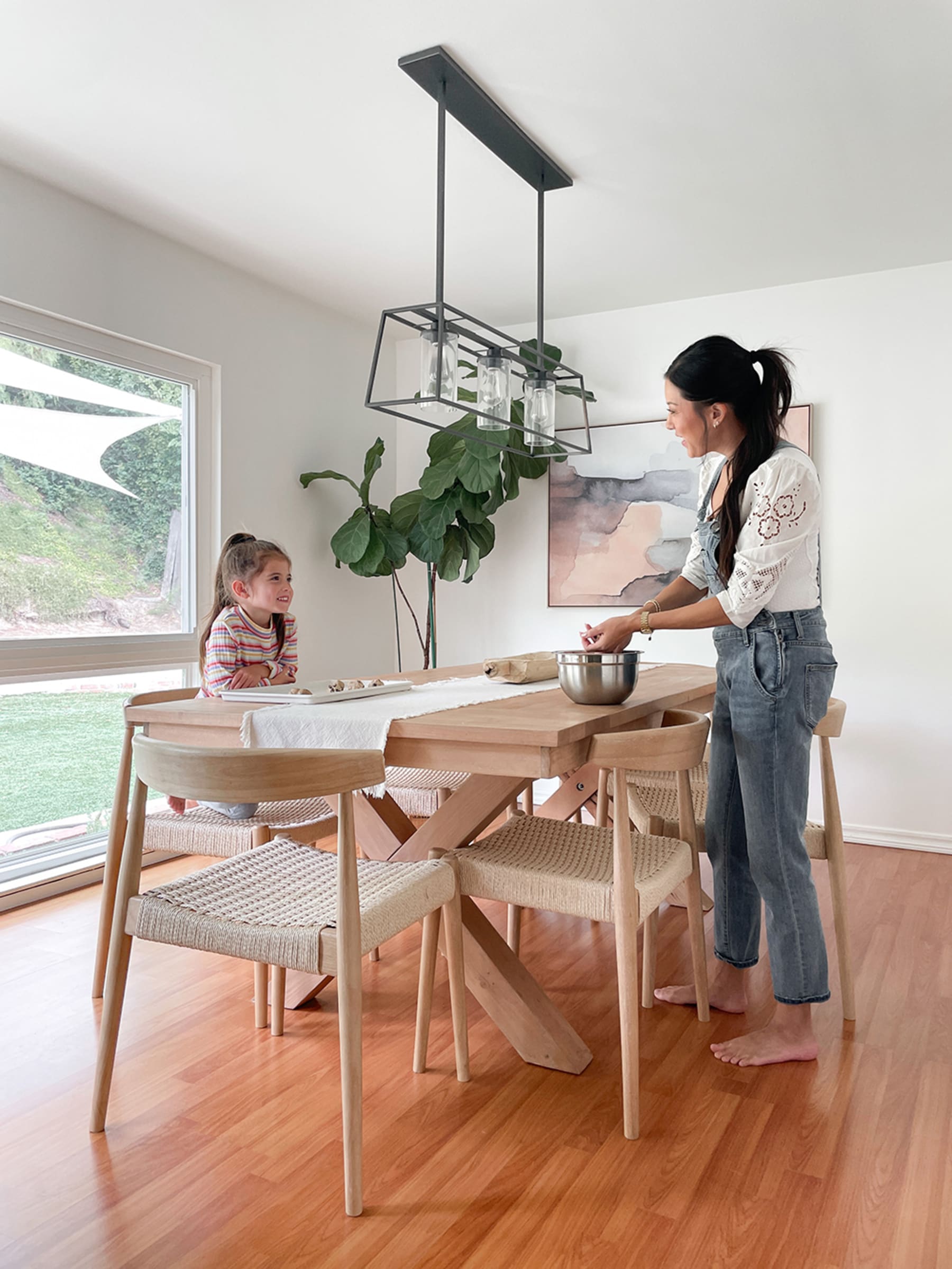 @leeann.braun and her daughter cleans the Rio Teak Dining Table before a meal
You should also think about whether the table has already been treated, with either a stain, varnish, or oil. In some cases, it may be necessary to remove old treatments before applying new coats. Once you have figured out all the above, now you can start thinking about prevention and protection.
Prevention
Of course, as is usually the case, prevention is the best form of protection. To maintain the look of your wooden dining table, wipe away any food or drink that gets spilled onto the table straight away to prevent staining. You may even consider using a tablecloth or placemats as this will prevent damage to the surface from heat, spills, and abrasions. Try and use coasters for glasses and cups, especially if they contain liquids that are likely to stain, such as wine, tea, or coffee. And if you are placing dishes that are very hot on the table, straight from the oven, then always use a protective mat to prevent scorching or marking.
Protection
Of course, over the course of time and everyday life, your wooden dining table will be exposed to accidents, wear and tear. So, to give it the best chance of looking good, you need to treat the wood surface to help boost its protection against these threats. Generally, that means using a specialized wood treatment such as an oil or varnish. Oils work by penetrating the grain of the wood and preventing any other materials from getting in. Varnishes create a hard barrier or surface layer that acts as a first line of defense. Wood responds very well to oil, so use a special wood oil and ensure it is dry before use. You may need to apply a couple of coats of any treatment, with a very light sand in between each to help it penetrate the surface more thoroughly.
If your dining table is being used outside, then the type of treatment you need will be different from inside dining tables. Outdoor dining furniture will be exposed to elements such as sunshine, rain and temperature differences, so it will require several coats of a specialist outdoor treatment. In addition, it is always a good idea to use a cover or store in a dry place when not regular use.
Maintenance
@jaimelyncarney ensures that the plates and décor used on the Sorrento Dining Table does not scratch or damage its surface
No matter what kind of wooden dining table, chair or benches you have, the key to keeping them looking their best is maintenance. All of the above advice about protection and prevention are true. But these are not just one offs. Wood takes some care and attention to look its best. So, you may need to oil or re-varnish the surface of the wood every 6-12 months to keep it nourished and prevent drying and cracking. If your table is in a bad condition, then it may need to be sanded down more thoroughly before applying new coats of treatment.
FAQ
What can you put on a wood table to protect it?
If you really want to protect your wooden table then you can use a tablecloth or place mats to prevent spills and stains, as well as heat damage. However, this does mean covering the natural wood of the table, so there is also a range of invisible treatments you can apply to help protect the wood.
What can I use to protect my dining room table?
You can treat wooden dining tables with a range of products to provide it with additional protection. This includes wood oils, varnishes, and some stains. You can also paint wooden tables, although this does cover the natural wood grain and can be very difficult to remove should you change your mind, so think carefully before you get the paint brushes out.
How do I protect my wood table from heat marks?
Always use placemats, coasters or heat resistance mats when placing hot plates, pans or dishes onto the tabletop.